The best of holidays are the ones that let you immerse yourself in a fantasy or life you wouldn't otherwise have led. We're not talking playing principessa in a Tuscan palazzo or full-time beach-bum at a surfy Tulum retreat…
No, we've picked the unique hotels with bags of character, art-splattered walls, or the kind of architecture usually reserved for Grand Designs participants, and the most unusual hotels around the world, who've switched up their original purpose, embraced the experimental, and in some cases, done away with bricks and mortar altogether. Brace yourselves, things are about to get wonderfully weird…
RANCHO PILLOW
Texas

Sure, Keep Austin Weird might be the more famous of Texan city's mottoes, but in Round Top, home of a legendary annual antiques fair, a 90-minute drive outside Austin, things get stranger with a very unusual boutique hotel indeed.
Rancho Pillow is the passion project of Sheila Youngblood, an artist with a personality as joyfully cacophonous as a gospel choir, which has flooded over into the to-the-maximalist decor: a rollicking sweep of neon brights and lights, all the prints, Latin American folk-art finds, vintage curios and Youngblood's own works.
Plus there are well-dressed teepees, alfresco bath tubs, fire pits to sing around, and events that foster a sense of community, such as fair-like feasts, pop-up shops and live music – even if it's the wonderful kind of weirdness you'll want to keep all to yourself.
BATTY LANGLEY'S
London

For a most unique hotel, you need a most unusual muse, and – as his name suggests – Bartholomew 'Batty' Langley was certainly that. A noted eccentric of the Georgian era, Batty got on Horace Walpole's wrong side, ended up in prison for debt and named his four sons Hiram, Euclid, Vitruvius and Archimedes.
He was also a freemason, and wrote design books such as A Sure Method of Improving Estates and Ancient Architecture, Restored, and Improved – rather fitting subject matter for a stay set in a revived 17th-century brick building on a cobbled street in Spitalfields.
Suite names pay homage to other local legends, such as courtesan Kitty Fisher and the Earl of Bolingbroke, and decor is a riot of Georgian maximalism, with obesely-stuffed four-poster beds swathed in velvets, heavy draping, stern portraiture and a few follies, such as a bathroom hidden behind a bookcase.
BRINDOS LAC & CHATEAU
Basque Country

Let us float, or gently glide over, an idea to you: a set of stylish secluded cabins, only accessible by boat, set on a glittering Basque country lake beside a grand 1930s mansion. We love it – and it's been proved buoyant in Brindos Lac & Château, one of France's more unusual hotels.
Concerned about going a bit Willem Dafoe in The Lighthouse? Never fear – staff have electric boats they'll happily sail over to your sun deck to pick you up as needed, but you may decide just to top up your tan, bubble away in your Nordic bath, or swim up to shore for some fine seafood dining. And lacustrine living has been fleshed out with an on-water spa and cocktail pontoon.
The Hispano-Moresque mansion is a glamourpuss timepiece dripping in chandeliers, where bars have globes filled with spirits or radioactive decanters of chartreuse, so stop by for an apéritif, but don't stay too late – there's something rather dreamy about literally floating off to bed.
PIONEERTOWN MOTEL
California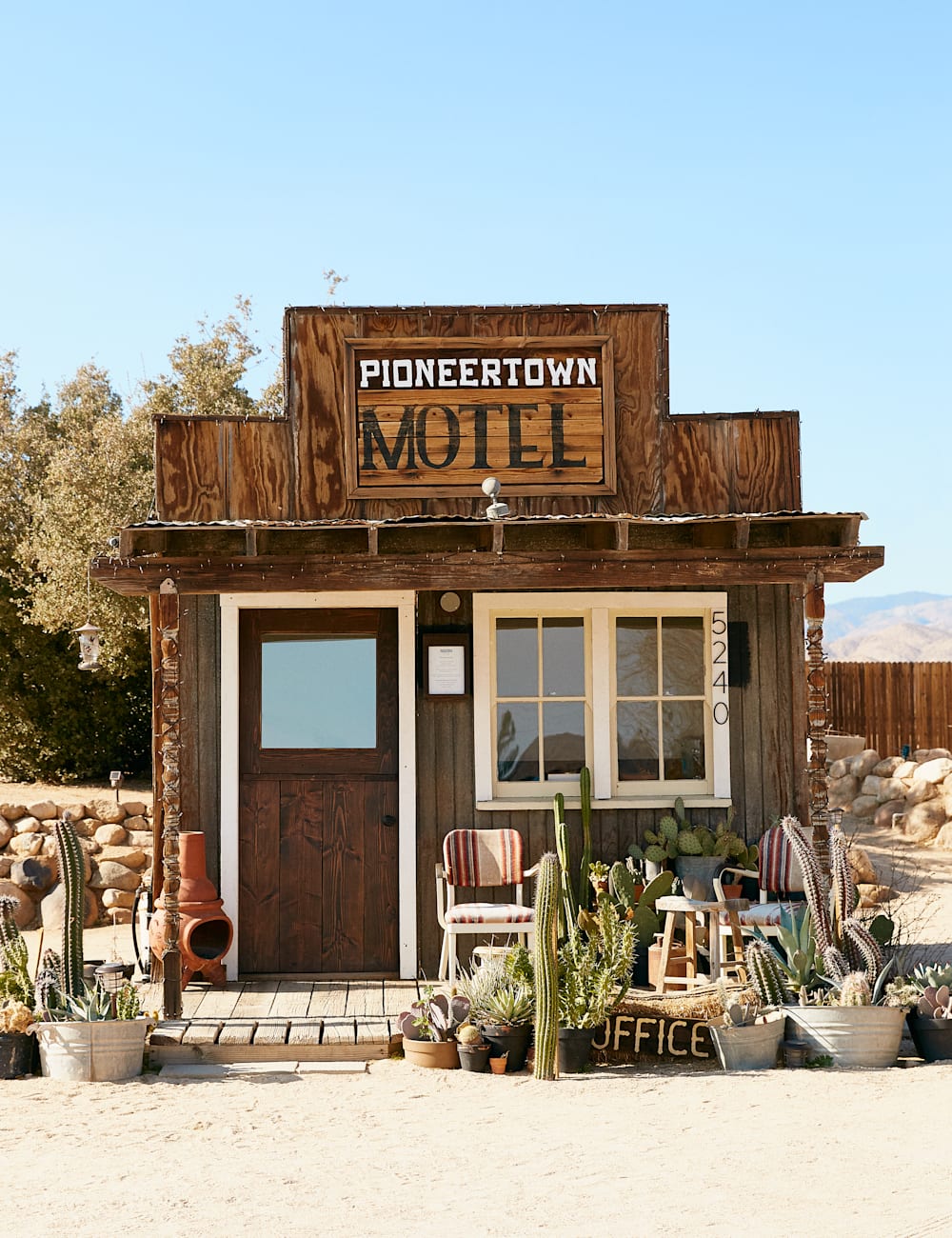 In the shimmering heat of California's Morongo Basin desert, you'll see jackrabbits hop through, bighorn sheep bustle about, the mystical Chemehuevi petroglyphs, erroneously green blooms, cacti of all shapes and sizes, and steadfast Joshua trees.
But, you might also see Spiritualized, Robert Plant, Vampire Weekend and the Arctic Monkeys giving a soundtrack to raucous evenings, or Ke$ha and Feist hopping onstage for open-mic nights. (Or maybe even our reviewer in search of a new hat.)
Pioneertown Motel offers a thrilling dichotomy between soul-searching desert quiet and turn-it-up rounds of whiskeys at honky-tonk Pappy & Harriets next door. A cool slice of Americana, built by Western star Roy Rogers in the 1940s (rumour has it he brought his horse Trigger into the saloon), this unique hotel adds all kinds of wild to the west.
WILMINA
Berlin

Germany's capital is adept at dealing with the nuances of architecture which has a complex past, and the conversion of a courthouse and women's prison (where resistance fighters and anti-regime activists were held during World War II) into unique hotel Wilmina has been responsibly and beautifully done.
There's poignancy in its nod to the past (one cell has been left as it was, as a kind of mini museum, some windows still have bars on, and the exercise yard has been grown into a wild garden), hopeful in its refits (stepwells are now flooded with light, rooms are bright white and charmingly dressed), and – as befits Berlin – it's achingly cool, with art collaborations to realise it as a gallery space, a roof terrace overlooking Charlottenburg and romantic eatery.
HOTEL CHETZERON
Switzerland

The minds behind one of the most unique ski hotels in Europe had the stroke of genius to repurpose a gondola station into a breathtaking Swiss hideaway. Set more than 2,000 metres up, Hotel Chetzeron might have its head in – or peeping out above – the clouds, but, in the restaurant where the gondolas used to glide in, vast windows give you Alpine panoramas for the ages, from the Matterhorn to the peak of Mont-Blanc.
It also couldn't be more ski-in/ski-out, set in the middle of a red run, and its Brutalist form is built out of natural rock, so it does little to distract from the landscape. When you're not on the slopes bask in the steamy alfresco pool, do fondue under a giant floating shark sculpture (we don't know why, but it works) and get piste in the candlelit bar.
THE PATRICK & JOAN LEIGH FERMOR HOUSE
Greece

Of the unique hotels of the world, the Patrick & Joan Leigh Fermor House – which can only be booked during three months of the year, when it's not a museum or writer's retreat – is as much of a maverick as its owner Sir Patrick 'Paddy' Fermor.
This piece-of-history house on the Pelopponese's south coast was one of the great loves of his itinerant life (the others being his patient wife Joan, and a Romanian princess whose Moorish castle was the model for the living room's decor).
When he wasn't off capturing German generals in World War II or swimming the Hellespont, this Hemingway-esque 'travel writer' entertained the likes of John Betjeman, Evelyn Waugh and – his student – Bruce Chatwin, with anecdotes from thousands of books or by singing Hindustani or German songs backwards. The house still brims with his energy, and offers an equally one-of-a-kind getaway.
ARCTIC BATH
Sweden

It was hard to imagine that the duo behind the Arctic Circle's Treehotel could come up with anything more imaginative than mirrored cubes invisibly hidden in trees and giant bird's nests for grown-ups, but then came Arctic Bath.
Easily one of the most unique hotels in the world, this Swedish stay looks like a cross between a floating bundt cake and a bushel of sticks a frost giant dropped while out finding fuel – but with sexy results.
Surrounding this curious spa – where experiences run from toasty sauna sessions to ice-cold river dips – is a restaurant serving Sámi cuisine, and floating or stilted-in-the-snow cabins decked out as cosily as a big hygge. Add frosty guided meditations, out-in-nature walks and potential Northern Lights spotting, and this is wellness in the extreme.
MAGIC CAMPS
Oman

There's no hocus-pocus or sleight of hand at Magic Camps in Oman's Wahiba Desert, just pure mystical wonderment as you roll out over a surreal landscape of dunes in a Jeep, ride camels or surfboards on the sand, and sleep under unfiltered galaxies.
Your lodgings might be made of canvas, but staff are well-prepared and will build you an oasis with a real bed, private bathroom, Berber blankets and romantic lanterns.
And, this is the unique hotel stay for honeymooners, whether you're curled up in the shade together on embroidered cushions, sharing mezze plates as the sun sets and lantern-dotted slopes light up, or looking up and realising that you don't need to journey far into space (or explore a strange monolith) to exclaim 'My God, it's full of stars!'
AMAN SUMMER PALACE
Beijing

What makes the Aman Summer Palace one of the most unusual hotels in the world? Well, it's a place that was never supposed to be 'usual' and took great measures to avoid becoming so.
The rulers of the Qing Dynasty would be apoplectic that their sprawling Unesco World Heritage site residence and estate – once forbidden to all but the imperial family, courtiers and staff – is now available to guests for sleepovers. Of course, this Beijing pad is still quite exclusive (this is an Aman, after all), offering luxe minimalism in decorous pavilions, a huge spa specialising in traditional Chinese medicine, private cinema, squash court and more.
Explore the palace through a private gate, take tea ceremonies, or learn ancient arts and crafts: paper-cutting, calligraphy, kite making…leaning into the sort of leisurely lifestyle the royals of old might once have enjoyed here.
KEEMALA
Thailand

Keemala hotel, in the lush west-coast hinterland of Phuket, looks like it was written by a Thai Tolkien. It has four styles of villas, each based – very loosely – on styles of ancient tribe dwellings. So you'll spy thatched roofs, pitched canvases, giant wooden seed-pods or wicker baskets nestled amid the trees, each with its own private pool and sleek tropical-modern interiors, making it assuredly one of the more unusual boutique hotels in Thailand.
But there are no hobbity missions to complete – your journey to peace stops and starts here, and you'll pass your days meditating over burbling waterfalls in the dedicated cave, cocooning yourself with herbal compresses and other holistic healers in the spa's pods, or practising muay Thai. One unique hotel to rule them all.
SHINTA MANI WILD
Cambodia

Comparing an adventure stay's pursuits to Bond feels a bit lazy, but there's an undeniable 007 suavity to ziplining into a bar where a gin and tonic (or martini) is waiting for you (awkward harnesses notwithstanding).
And Cambodia's Shinta Mani Wild doesn't slow down when it comes to experiential travel at its most luxurious; you might picnic on a rock set amid rushing waterfall streams, drinks packed into an icy rock crevice, lose yourself in the 4.5-million acres of the Southern Cardamom National Park, or join an armed anti-poaching team as they head out to confiscate snares (staff know what they're doing because they're largely reformed poachers and loggers).
Bill Bensley has ravishingly styled opulent indoor-outdoor dwellings – some set below the zipline or that seem to surf the river at high tide – because HM's finest expects a high level of service.
SEQUOIA YACHT
Indonesia

The most unique and unusual hotels aren't always – strictly speaking – hotels. Take Sequoia Yacht, for instance, which happens to be a boat. It's only available for exclusive charter, but has very close quarters – just three wood-lined suites, all surprisingly roomy and stylish, so why would you want to share?
During your stay you'll cruise out on a 'water safari' through Indonesia's Coral Triangle, which is dotted with thousands of tiny isles, and depending on the seasonal course you follow, you'll explore around nine or 10 over your stay. Perhaps climbing volcanoes, bathing on pink-sand beaches, hanging with local tribes, scuba-ing through disco-bright reefs – existing among a richly biodiverse cast of sea-dwellers. To ensure smooth sailing, there's a 10-strong crew, including a chef, Padi-certified dive instructor, masseur and more, at your beck and call, plus cinema nights and a fully stocked bar. Bon voyage, indeed.
MONA PAVILIONS
Tasmania

Look along the banks of Tasmania's Derwent River and you might be forgiven for thinking that the alien invasion is nigh. No, those strange geometric – and highly aesthetically pleasing – crafts are actually where you'll be staying at Mona Pavilions.
Certainly one of Australia's most unusual hotels, it's an extension of edgy arts hub Mona (Museum of Old and New Art), whose central themes are sex and death and whose owner has described it as an 'adult Disneyland' – so you'll be sure to see even more strange things throughout your stay (don't forget to pack the more seductive mouse ears).
In keeping with its creative heritage Mona's pavilions are all named after architects and artists, and with their glazed walls and topsy-turviness, could well be on display themselves. And if you need something stiff to digest all that's going on here, well, the estate also has a winery.
AWASI PATAGONIA
Chile

It already feels like a privilege to stay in Patagonia's Torres del Paine National Park, where flame-licks of red rock tower over hulking spearmint glaciers, guanacos skip across golden ruffles of pampas fields and stern granite peaks cluster in jags by crystalline lagoons that you might spot flamboyances of flamingos shimmying through.
But, Awasi Patagonia has managed to add even more highs to the very vertiginous ups here. This unique hotel's luxury cabins are camouflaged into the landscape, offering scenic seclusion – but, when you're ready to emerge, a private guide and Jeep are on hand for adventuring, perhaps a hike up the famous peaks, less-exerting horseback ride, sailing catamarans past monumental icebergs, or stargazing.
You're sure to connect with the land, (guides will happily include you in their conservation work), so much so that you'll find yourself firmly rooted come check-out.
MASHPI LODGE
Ecuador

While it's commendably usual for hotels to have serious eco-cred these days, Mashpi Lodge, in Ecuador's Andean Highlands, is a unique hotel stay for its radical Earth-kindness. Quito mayor Roque Sevilla wrested back the land from loggers and built the hotel in sections offsite so as not to disturb the trees.
In doing so, he's created a safe haven for the Chocó Bioregion's diverse fauna and helped boost the UN's climate-action goals, while also training local staff and providing a rather luxurious research post for parabiologists.
For guests, it makes learning fun – and, like the surrounding greenery, you'll soak up knowledge by osmosis as you ride the Sky Bike or Dragonfly Gondola through the treetops, meditate in the Hummingbird Station, tour the Life Center or follow trails below swinging howler monkeys.
Things get curiouser and curiouser with our collections of remote camps, historic castles, or indoor-outdoor hotel rooms…