Berlin is new territory for me, so when my friend and I hop off the train at Charlottenburg, not quite so fresh from our 6am flight, I'm stunned by a surrounding stillness that I, perhaps naively, assumed would be rivalled by the fabled fast pace of Germany's capital. I mean, you'd expect a street known as 'Berlin's runway' to have its fair share of flurrying travellers, but it's just market-bound locals and trailing pups that pass us by.
Local antique bookshops that brim with well-loved classics, and quaint family-run restaurants hesitant to conform to a modernised city lend a sense of nostalgia to Charlottenburg's main drag, Kanstrasse, as we loudly rumble our suitcases down its mismatched cobblestones.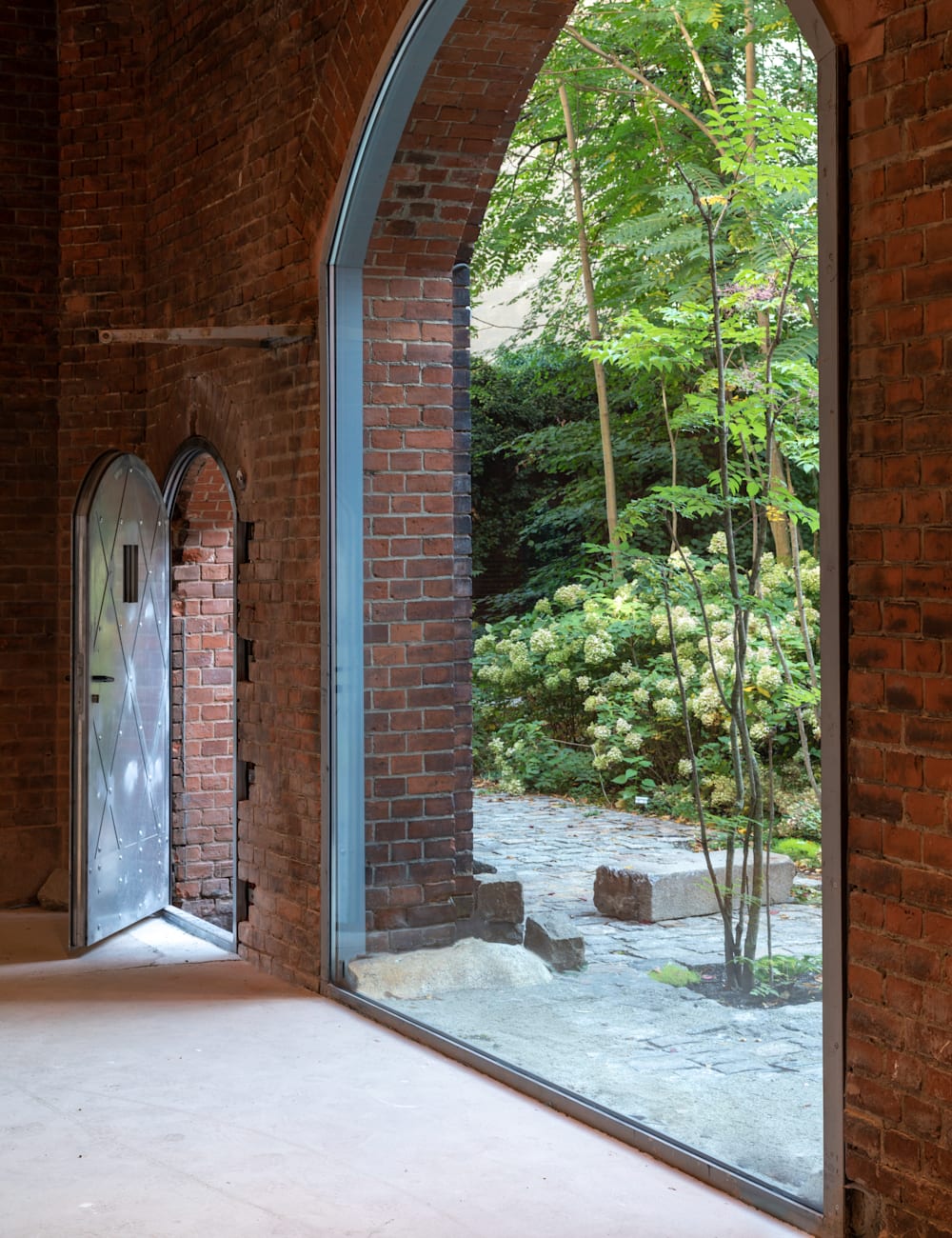 Five minutes later, just as my daze is passing, we arrive at Wilmina. An easy-to-miss entrance, tucked between unassuming apartment blocks and framed with yellow-hued hanging lights, greets us almost as warmly as the cheery concierge who's awaiting our arrival.
Our room isn't quite ready, but there's plenty to learn in the meantime, so we set off through buzzer-locked doors (all will make sense shortly) and overgrown gardens with our new smiley pal for a quick lowdown on the hotel's chameleonic history – and rest assured, it's extensive.
Originally a prison for female resistance fighters during World War II, before morphing to house young offenders, the building's iconic redbricked walls carry a heavy past that piqued the interest of architect power-couple Almut and Armand Grüntuch.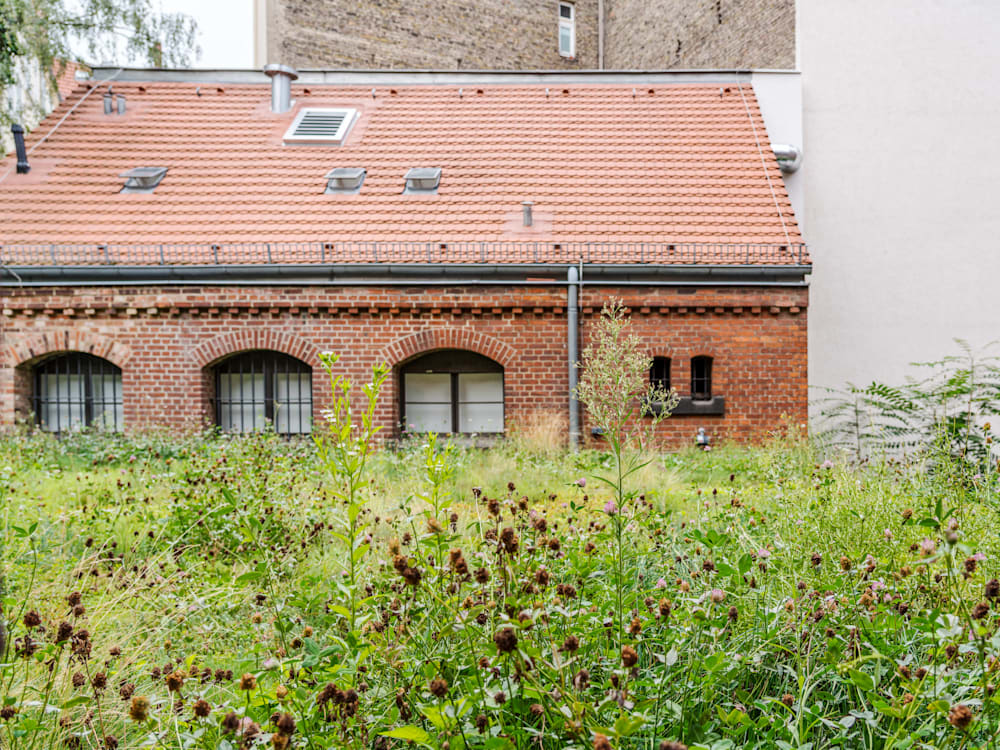 After successfully bidding against a storage company (snooze), the Grüntuch's spent 10 years renovating, delicately designing and preserving to ensure the building's history was not wiped out, but instead warmed with peaceful interiors, calming tones and bounds of natural light; now, flat-pressed-floral prints reflect on walls once carved with tallies, pastel-pink azaleas bloom where inmates wandered, and Bocci's famed glass-blown pendants gracefully swing between five formerly-netted floors.
Once I've spent a moment absorbing the heaviness of Wilmina's past, I'm brought back to its current serenity by my friend's whispered exclaims at the fireside lounge and self-serve tea bar – certainly a far, though welcome, cry from its original form.
After a few sips of elderflower-infused white tea (even the drinks are relaxing), we're guided to our fifth-floor room, where windowed walls let in a stream of the day's sporadic sunlight and minimalist all-white interiors keep in style with the hotel's blanket-like placidity.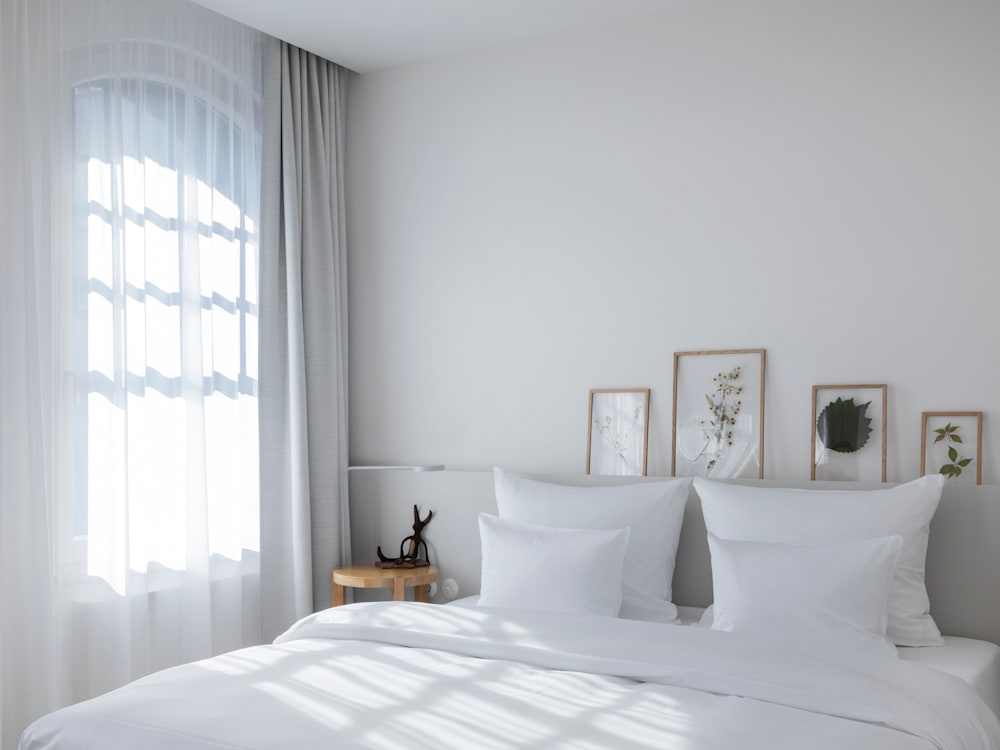 Once suitcases are strewn and we're well acquainted with our home for the next few days – we know exactly where the sauna is – we decide to head out to locally-loved and highly recommended Galander, a speakeasy-style bar where expertly mixed cocktails are sipped by enthusiastic aperitif-ers at tarot-topped tables and in red-leather booths.
But we can't stay away for long, for Lovis restaurant draws us willingly back to Wilmina's away-from-it-all ambience not long after our gimlets are polished off. An impressive feat for a former prison.
Unlike the bright and budding bedrooms, the hotel's restaurant channels something a little darker; Bocci's stapled pendants that we never tire of photographing are now dimmed against sweeping brick walls that once bordered the prison's courtyard, and a grand arched window is wired with climbing ivy.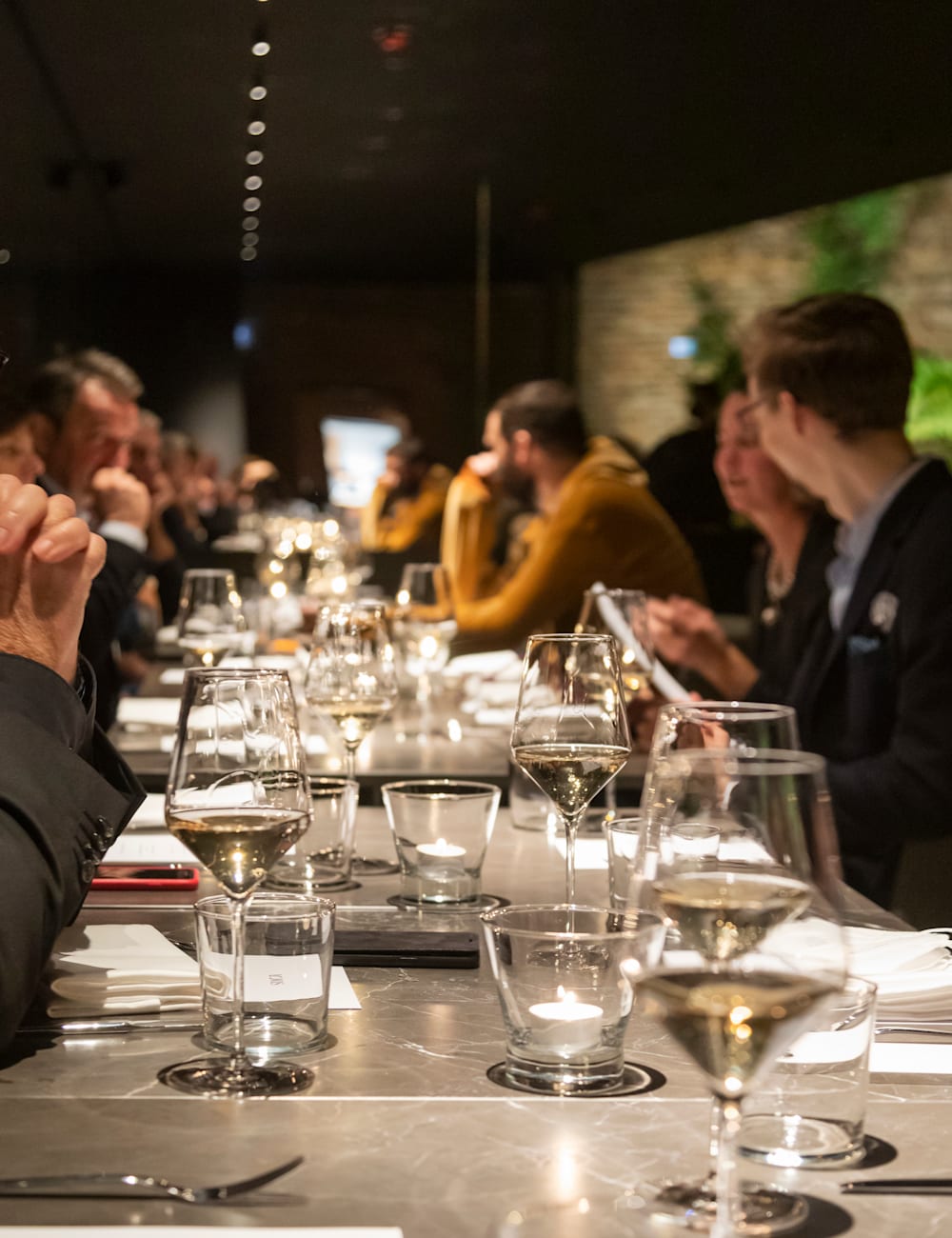 Once we're done ogling our surroundings and umming and ahhing over chef Sophia Rudolph's impressive Germanic-inspired menu, we finally land on the aged entrecôte, which arrives adorned with pickled chillies and dosed in a jus for the ages.
As if gimlets and grilled steaks aren't enough, the thoroughfare bar draws us in for one last drink from in-house guru Nils – who not only shakes up a killer cocktail, but who has also created a custom menu based entirely on taste (even our attempt to peep at the ingredients is rebuffed by an anonymous row of unbranded bottles).
A No.25 is on the cards for us, picked solely on its limited description: 'Nut. Tea. Lemon.' We have no clue, but our bartender's subtle nod gives indication we've picked well. And that we had. Sufficiently stuffed, the labyrinth of botanical gardens guides us back for a well-awaited rest.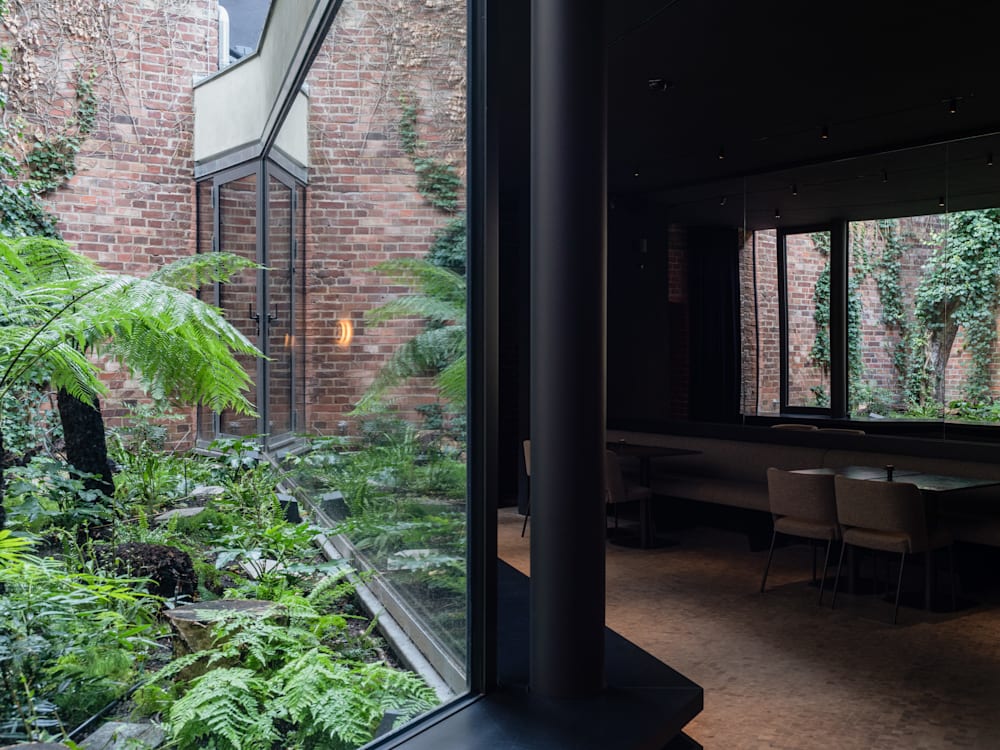 After a lengthy slumber a buffet breakfast awaits in the library: a serious spread of cheesy scrambled eggs, buttered mushrooms, freshly-baked sourdoughs and infused greek yoghurts (yes, plural).
Refuelled and ready to go, our day is spent walking up Kantstrasse to Kurfürstendamm, past swinging monkeys, in-and-out of eccentric coffee shops for periodic pauses, and hopping between trains in a desperate attempt to blend in with the effortlessly cool commuters that surround us.
As our feet start to fail us it's time to head back to our reposeful retreat for a private sauna session that we can only hope restores any long-lost energy levels we'd optimistically set out with this morning. Thankfully, an hour in the eaves does just that, and before long we're off on the hunt for one of Charlottenburg's many famed family restaurants.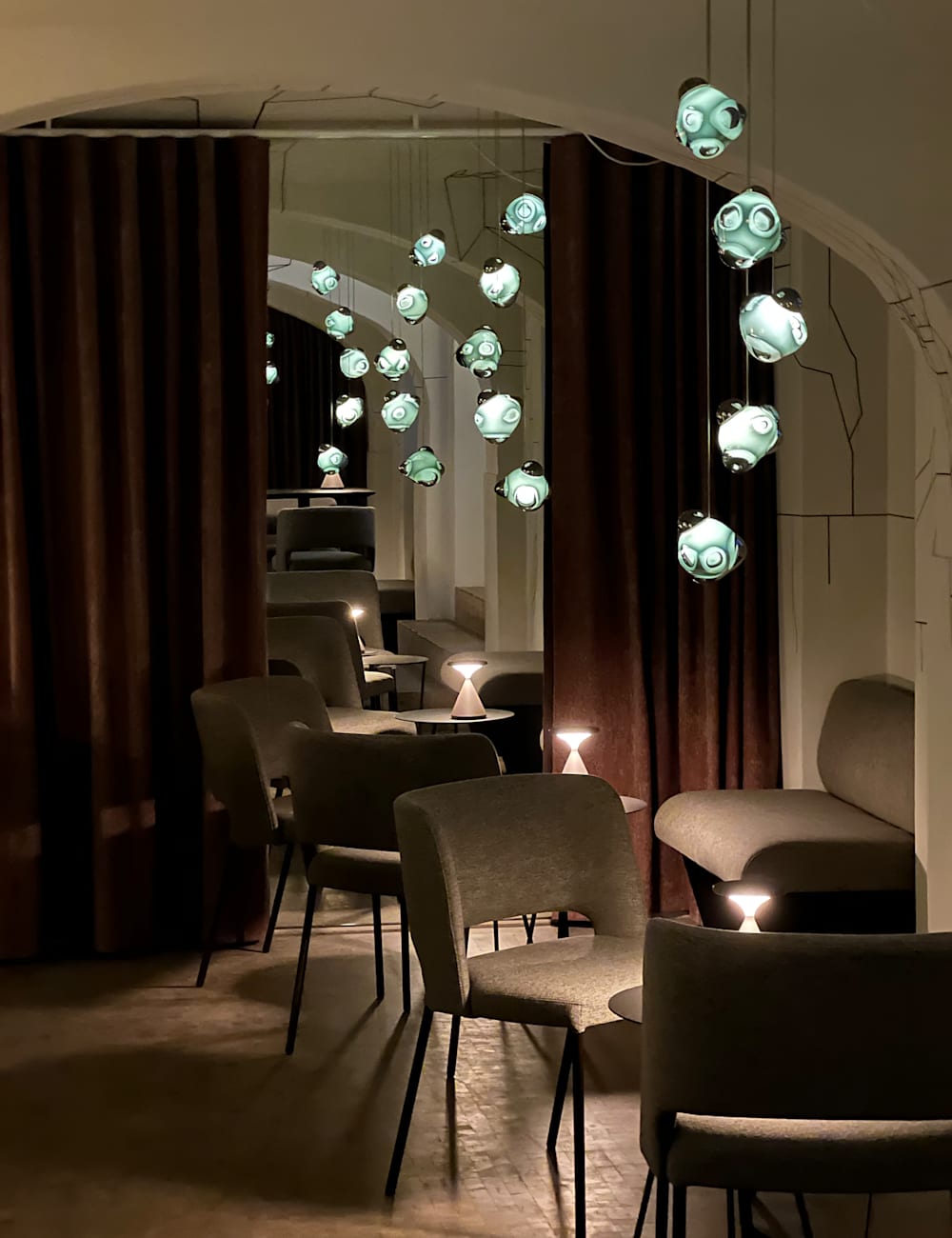 And Mamma Monti more than delivers. It may not be streetside currywurst, which you'll find in abundance, but this small Italian gem serves up flamed spaghetti alla ruota before your eyes, pairing it with rich local reds and a humility seemingly exclusive to Berlin's un-tourist-tainted west. Following a cocktail-with-a-view at the bustling Monkey Bar, we roll home, much like the cheese wheel our dinner was cooked on, craving Wilmina's sweet solitude for one final night.
As we head back east for the airport, I think of how there's a sweeping sense of irony to willingly staying somewhere so many were once forced to be. But it seems to be this ability to weave an inherent serenity into the fabric of a building with such a sordid past that makes Wilmina what it is.
For this, the Grüntuch's masterpiece warrants a visit from all, even if just for one of Nils' cocktails. Bis bald, Berlin. I'll be back.
Reclaiming the court: how the NoMad did justice to a London landmark