The villages in the Cotswolds are like stepping into one of Richard Curtis's daydreams; rows of charming cottages, historic pubs, the ideal escape from city life. And while the Cotswolds certainly puts on a good show in the summer, when climbing flowers and blooming cottage gardens add even more charm and vibrancy to the iconic golden stone buildings, there is something equally special about spending a cosy weekend here in winter or early spring.
Not only is this the quietest time of the year to visit, but with potential snow, mist and moody skies the landscape becomes even more dramatic and beautiful. Whether it's a hot toddy in front of a roaring fire or having a steaming alfresco aromatherapy bath, this is a place to bunker down, indulge and explore.
Spanning five counties (Gloucestershire, Oxfordshire, Warwickshire, Wiltshire and Worcestershire) and 800 square miles means we could list endless restaurants and villages to visit. However, if you only have 48 hours in the Cotswolds, here is a slightly more manageable selection of places we recommend…
EAT AND DRINK
The Swan at Thyme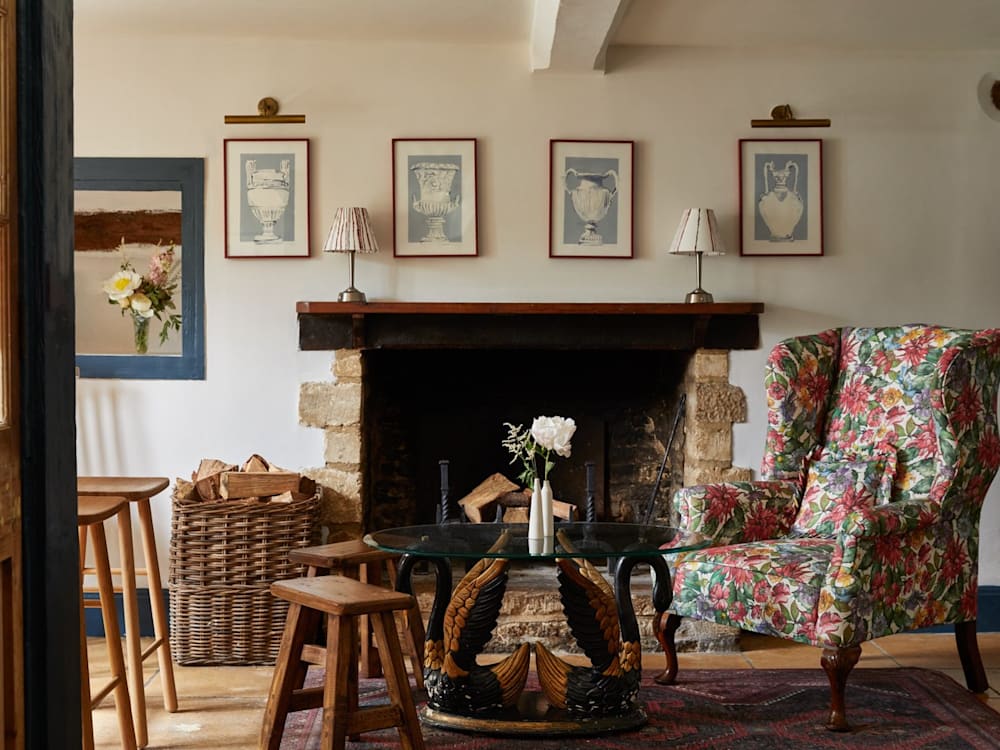 Given this list is all about cosy winter destinations, we have naturally decided to focus on pubs which serve hearty classics. After all, what is a brisk walk without the promise of roast potatoes at the end?
The Swan is in the beautiful village of Southrop (where Kate Moss got married) and first opened in 1606 as a bakehouse serving bread and ale. The inn has been renovated under the same project as the Thyme hotel, and is relaxed and homely, with well-loved wooden furniture, floral arm chairs, low beams and baskets filled with wood for the roaring fires.
Before you ask, of course it serves a fantastic Sunday roast every week – we recommend leaving room for the apple crumble or sticky toffee pudding. [Book]
The Wild Rabbit at Kingham
This is another ancient inn that has been lovingly restored by Lady Carole Bamford, the mastermind of the Daylesford empire. This is an idyllic and stylised take on a country pub – there are even topiaried rabbits either side of the entrance and, yes, lots of Farrow and Ball is involved.
It's not all about aesthetics however: the menu is comfort food at its finest with seasonal produce sourced from the Daylesford estate which is a short walk away. We recommend walking off your lunch with a stroll through postcard-cute Kingham, and playing a game of 'which cottage will I move to one day'. [Book]
The Cotswolds Distillery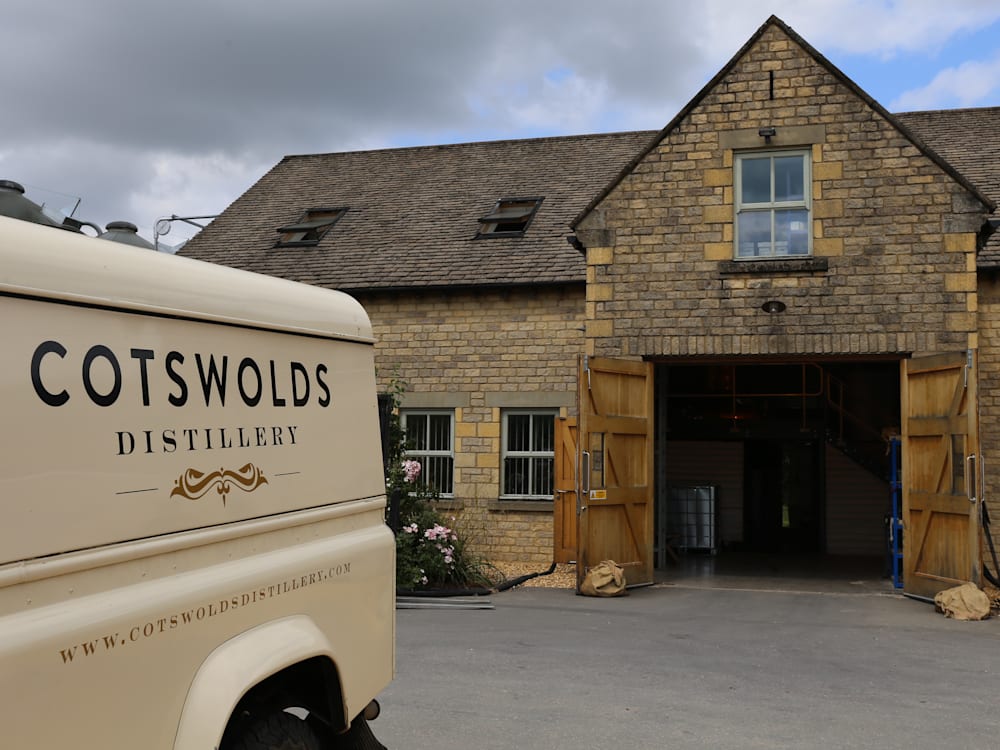 If you want to learn something while you drink, why not try the gin-blending masterclass at the Cotswolds Distillery where you will learn all about the history of this spirit while sipping on a G&T.
You have a tour of the distillery before blending your own gin with a range of botanicals and finish the evening making a martini with your bespoke blend. [Book]
SHOP
Cutter Brooks
New Yorker Amanda Brooks is the former fashion director of Barney's NY and, in 2012, decided to take a sabbatical and moved to live on a farm in Oxfordshire. 10 years later she is fully immersed in Cotswolds life and has opened a shop, Cutter Brooks, inspired by her love of the English countryside aesthetic.
It's like a cottage-core treasure trove, with everything from 19th-century quilts to beautiful nostalgic knits by Sea New York. [Shop]
Sasha Wilkins: Found Studio Barn
Fashion writer Sasha Wilkins (also known as Liberty London Girl) has also moved to the Cotswolds and is focusing on her growing passion for antiques. She has an amazing eye for vintage china, framed maps and colourful glassware, among other things, and has a studio barn on the Miserden Estate where you can rummage through her finds.
This is a small operation, so you can either order items directly on her Instagram account or send a message to book an appointment to visit the studio. [Shop]
Daylesford
Daylesford is now an institution in the Cotswolds and a place you simply must visit if you're nearby. This sustainable farm near Kingham was founded by the aforementioned Lady Carole Bamford two decades ago and has now expanded to be a remarkable success story and a brand loved for its beautiful organic produce and refined countryside aesthetic.
It has a farm-to-table philosophy – fruit and vegetables that are harvested from the market garden on site, cheese is made in their creamery and beautiful breads are made in the bakery.
There is so much to do at Daylesford, from cooking courses, to wreath-making classes, to browsing the homeware shop. There are also three restaurants next to the shop, so you don't need to wait to get home to see how special the produce is. [Shop]
Antiques hunting in Stow on the Wold 
There's nothing like rummaging through antiques shops on a Saturday afternoon, and Stow on the Wold has a reputation for being one of the best places for furniture and art galleries.
Grab a cup of tea and have a meander through this beautiful hilltop town keeping your eyes peeled for treasures.
EXPLORE
Blenheim Palace

Many of the houses and gardens in the Cotswolds are closed to visitors in the winter, but Blenheim Palace is a special place to visit at any time of the year. This is one of the largest homes in England, which was given to the 1st Duke of Malborough in 1704 and then was the birthplace and ancestral home of Sir Winston Churchill.
It's as grand as you'd expect, and we recommend you prioritise seeing the formal gardens and the Palace state rooms. [Visit]
Bicester Village
You'll have heard of Bicester Village – the designer outlet centre on the edge of the Cotswolds – and it can make for the perfect addition to a weekend in the countryside.
There is a huge selection of designer brands, such as Prada, Gucci and Burberry, along with homeware and beauty brands such as Soho Home, the White Company and Jo Malone. If your tolerance for crowds/shopping is pretty low, though, you can also relax at Soho House-sprung eateries Cecconi's and Farmshop. [Visit]
Arlington Row in Bibury

Arlington Row in Bibury goes by another name – either 'the prettiest street in the Cotswolds' or 'the most photographed street in the country.'
It's simply a cluster of quaint stone cottages with slate roofs, so if you're in the area it is worth wandering through the village and fantasising about a cottage-core future. (Fun fact: this street is a popular filming location and was used for Bridget Jones Diary.)
A foraging walk 
The Cotswolds is the most beautiful landscape for long walks and there are so many popular trails to explore, but we also recommend trying a foraging walk where you can get out in nature while also learning more about the plants you are walking through.
The Cotswolds Forager offers private two-and-a-half hour walks for up to four people from £150 (more on weekends and holidays). In this time you'll learn about how you can use foraged food as a flavour in your cooking and the health benefits of these plants. And, for an extra charge, he can even arrange a private chef to cook you a special meal afterwards using the spoils from your walk. [Book]
UNWIND
The Meadow Spa at Thyme
Thyme is one of the most special places to stay in the Cotswolds; a boutique hotel designed to be a 'village within a village'. It has been a large-scale restoration project of the manor house, farm buildings and cottages on the magical Southrop Manor estate, with the most thoughtful attention to detail.
The Meadow Spa is one of the most beautiful (and photographed) spas in the UK – it has a beautiful homey feel with exquisite sage green tiles and vintage-style chairs which makes you instantly relax. We recommend indulging in the Botanical Bothy: a 90-minute treatment of breathwork and techniques to release tension and restore calm.
There are two beautiful outdoor baths where you finish the treatment with a herbal dip in front of a roaring fire on a private veranda. What a way to soak in the countryside.
Try sound healing or yoga at Bamford Spa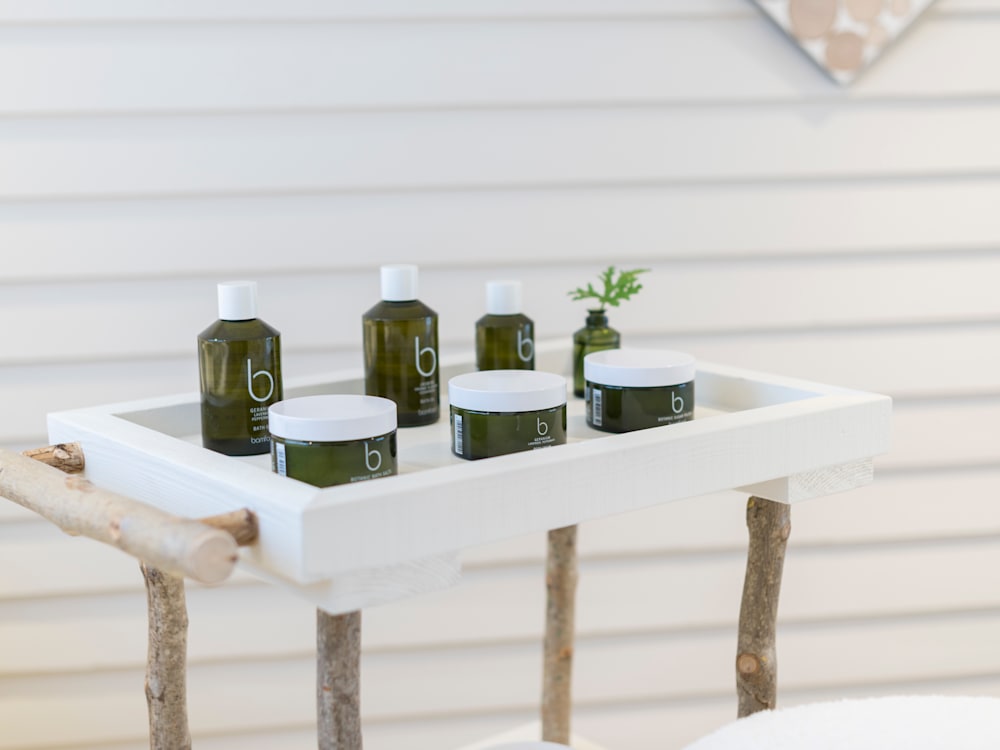 Daylesford is not just a place for browsing organic groceries and high-end homeware. The Bamford Spa has a full timetable of classes, from sound healing with alchemy crystal singing bowls in the afternoon to early-morning vitality yoga.
It also offers 'wellness walks' every Friday and Saturday, where you can join a group on an hour-long walking meditation through the grounds of the farm.
For more inspiration on where to stay, see our boutique hotels in the Cotswolds.