Those contemplating a city break in Paris are faced with an impossible choice: which enchanting arrondissement to stay in. The first is great for first-timers with the Louvre and Jardin des Tuileries, the seventh has the Eiffel Tower, and the twentieth has growing hipster cachet, but for us, the fourth and third are the charmers, which is where you'll find Le Marais district.
In Le Marais, Paris has a place of delightful diversity, where Hausmann's neoclassical renewal barely makes a dent, so narrow cobbled streets and peaceful garden squares reveal timbered and turreted mediaeval buildings and 17th-century hôtels particuliers. Yet a whoosh of redevelopment in the Seventies, and adoption by Paris's LGBTQ+ community has kept it au courant and ever welcoming, with full-throttle nightlife to boot.
The Centre Pompidou displays its innards and street art livens up crumbling walls close to the grand residences of literary greats (Victor Hugo, Colette…), you can gorge on Pierre Hermé macarons or fill up on babka and bagels from the old Jewish Pletzl, and both sustainable or vintage indie boutiques and established department stores make for Euro-depleting sprees. Whatever you do here, do it right with our guide to Le Marais.
STAY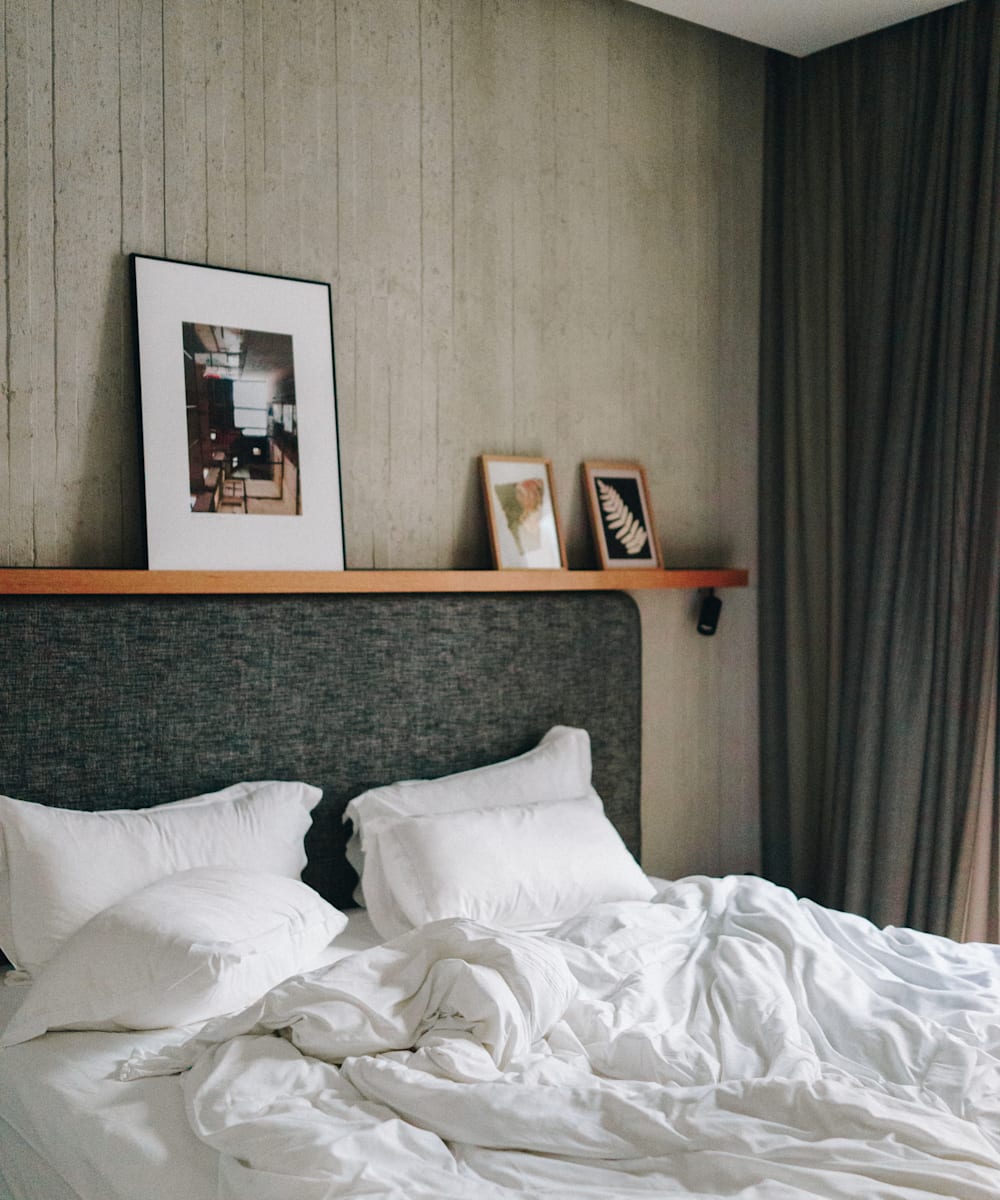 Le Marais – or more specifically, the Haut-Marais, its cool northern quarter – has several stylish home bases close to the action. Named after the famous engineering school and museum, Hôtel National des Arts & Métiers is a slickly oiled machine of clever design (a burnt-wood bar, textured-leather wall coverings, hand-painted screens…), excellent Italian chef-fery, and a near-psychic mixologist.
Or luck might have you checked in at Hôtel Providence where the rooms are cosy yet characterful, with walls wrapped in Persian rugs or profuse with palm print, starburst headboards and a well-stocked cocktail cart.
And, Sinner Paris is no hail Mary pass, quite comfortably delivering a winning combination of bold Tristan Auer decor, a saviour of a spa and hammam, and a bar where there's no need to be on your best behaviour.
DO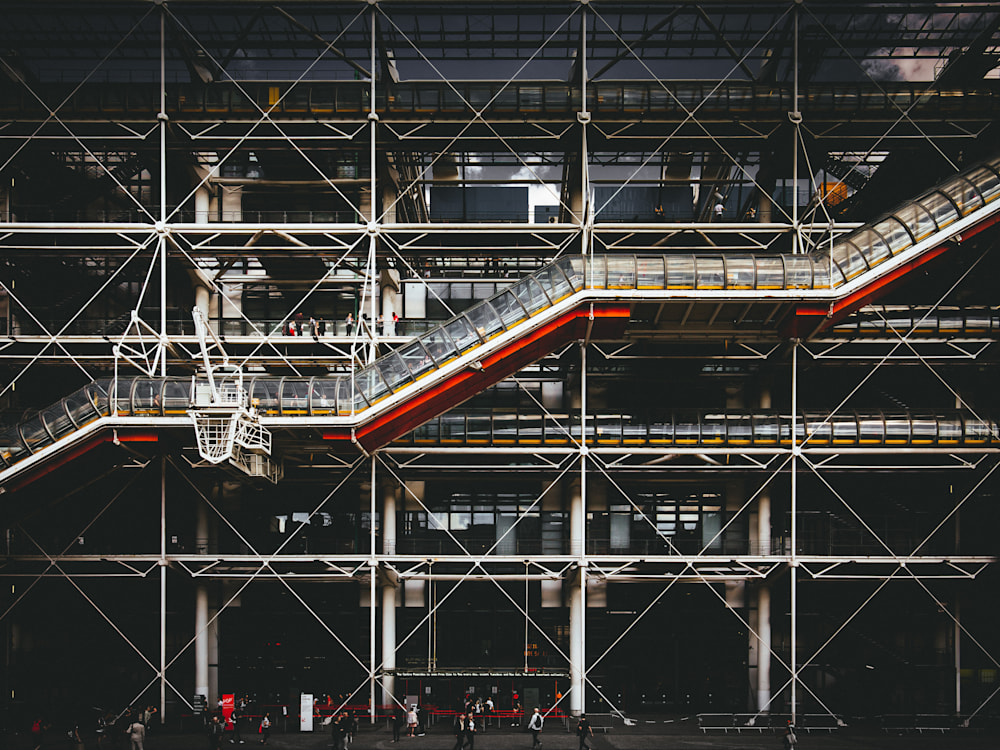 Culture vultures, there's a lot to pick over in Le Marais, starting with the Centre Pompidou, even if only to muse over Renzo Piano's love-it-or-hate-it building. Its modern-art collection is vast and vaunted but there are some great views to enjoy from the eatery at the top, too. Musées Cognacq-Jay and Carnavalet hone in on Parisian history, using story-telling objets in rampantly opulent spaces.
Picasso has his own dedicated showcase, and belle body-con is celebrated at the Azzedine Alaïa Foundation. Next-gen talents are displayed at the likes of Galerie RX – where four artists are given the run of the blank-canvas halls – and H Gallery. While Denise René's roster is filled with Bridget Riley-esque 'Op'-and-comers and established abstract stars, and Perrotin gives the playful and profound a platform.
The Museum of Hunting and Nature subverts traditional curation to examine the relationship between man and animal, using impressive taxidermy mounts in vivid tableaux, and as Paris's Jewish quarter, it's fitting that the sombre yet vital Mémorial de la Shoah is set in Le Marais.
To the far west of the arrondissement, tucked away in 16th-century stone cellars, are the Musée de la Magie and des Automates, for live magic shows, interactive illusions and a diverting array of moving parts. And of course, Paris's town hall is as extra as you can imagine, with Renaissance-inspired exteriors and interiors given a lick of paint by no less than Ingres and Delacroix.
Bibliothèque Forney has a quieter appeal for bibliophiles, but the Hôtel de Sens it's housed in is equally Disney-esque in stature. Fatigued from architectural abundance and visual feasting? Pause for a picnic in Place des Vosges, a historic green square of spectacular symmetry and scenic serenity. Or, head to Square Georges-Cain to listen out for the electronic birdsong of artist Eric Samakh's Le Rossignol Electrique installation.
CAFFEINATE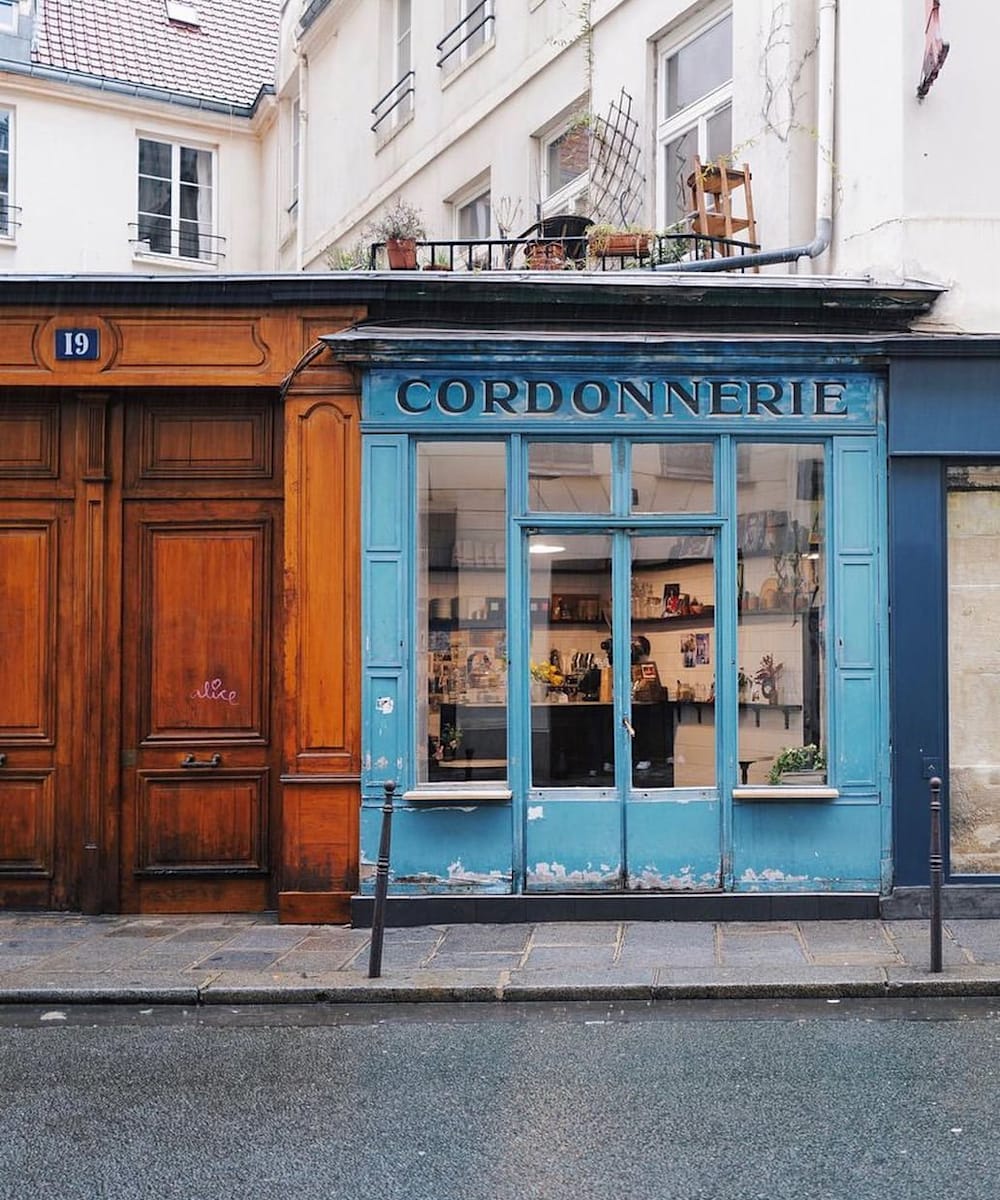 Any arrondissement worth its coolness chops doubles down on its serious coffee scene, and Le Marais gives both bean and leaf their due with a number of tea salons. Boot Café's faded elegiac sign confusingly reads 'Cordonnerie' after the cobblers it once was, but now this tiny hotspot fixes kicks by way of stiff brews.
Loustic is endearingly eccentric (the owner dubs himself a 'sassy uncle') yet still passionate about roasts. With sweetly slapdash decor (including a mural of the dormouse from Alice in Wonderland), Le Loir dans La Théière has steaming teapots and house-made cakes. And colourful Aurava (35 Rue Pastourelle) clearly has an expansive floral budget and fragrant things to sip within.
LUNCH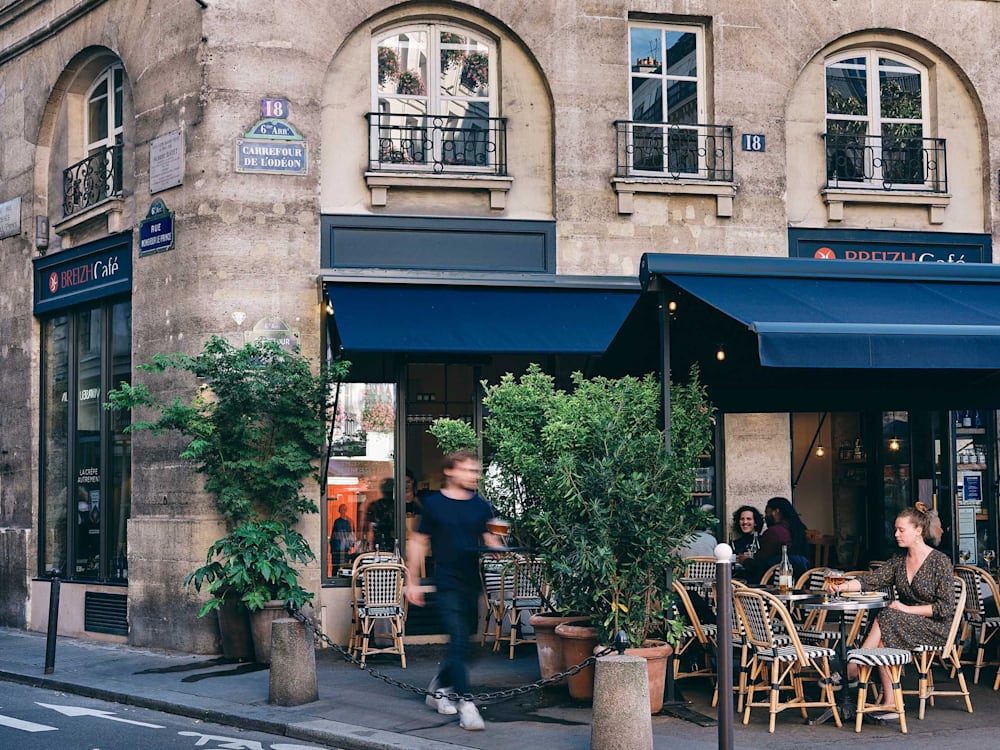 Ambience is key when it comes to staging a lingering lunch à la Française, and the charismatic Marais lays it on like Président butter on a baguette, whether by trad bistro or hip burger joint and frou-frou food hall, or if you're keeping it kosher with a falafel stop.
Maison Plisson is divided into an upmarket deli and eatery, and owner Delphine deep dives into artisanal providers to elevate even the most humble French dishes. Grab a Thonet chair at Capitaine for Michelin-starred, Breton-by-way-of-Asia eats (the three-course lunch is a very reasonable €29).
Paris's chic-burger trend carries on at PNY in cheery pink and turquoise surrounds. In multidisciplinary art space Lafayette Anticipations, Mātēr café rails against lactose intolerance, offering decadent cheese dreams in the form of mimolette waffles, gooey toasties and French toast topped with whipped goat's cheese and jam.
For crisp, golden, crêpes enveloped around smoked herring, crème fraiche and caviar; or Brittany ham, egg and Comté, Breizh Café is a legend of these parts – save space for the Suzette-style sweet, flambéed with Grand Marnier and yuzu.
You can't explore the best restaurants in Le Marais and not eat a falafel at some point; there are many to choose from, but L'As du Fallafel (the 'ace of falafel') has earnt its aggrandising name for good reason. And, if you want an Insta-friendly backdrop, ​​Le Ju's alfresco seating has a canopy of rainbow umbrellas.
SHOP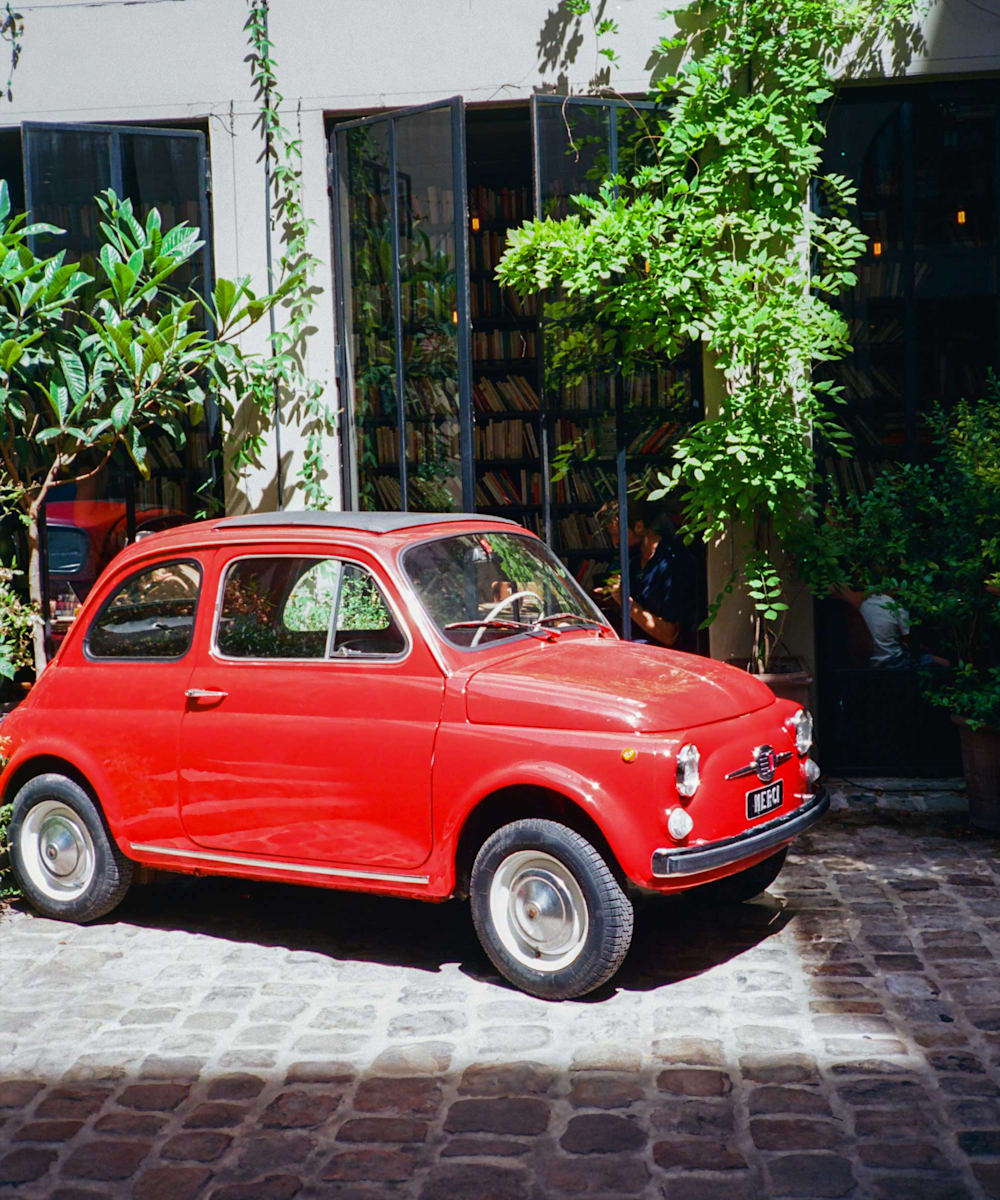 Grand-dame department store Le BHV covers a lot of ground when it comes to acquisitiveness, with 900 brands over 45,000-square-metres of space – which it's why it's still in business after nearly two centuries. If you still have any strut left in your Louboutins after that (although really, those aren't the smart shoe choice here), give Le Marais' indie brands and boutiques some love.
The Broken Arm, who stock Comme des Garçons, Ann Demeulemeester, Raf Simons and other cult labels, will leave your limbs coolly garbed but your wallet ruined. It also has a small café. And Noyoco's comfy unisex staples are ethically and sustainably made.
Menswear is a particularly strong suit (or piece of directional streetwear) of Le Marais, with the likes of L'Eclaireur and Royal Cheese serving niche and heritage brands, and three-storey concept store Merci has something for all – seek out the dinky vintage Fiat out front (which changes colours with the season) and stock up on anything from straw bucket-hats to watering cans, to totes, scrunchies and more (all assuredly on-trend), before stopping for a croque and slice of chestnut cake in the tome-lined Used Book Café.
Prefer your purchases pre-loved? The vintage stores in Le Marais are the sort of treasure troves that might throw up a spiked Fendi collar, Gucci kimono, Dior Converse, or more random rediscoveries. Try Odetta Vintage, La Boutique de Cara or Thanx God I'm a VIP; or drift over to Le Village Saint-Paul to trawl for antiques at dozens of stalls.
SNACK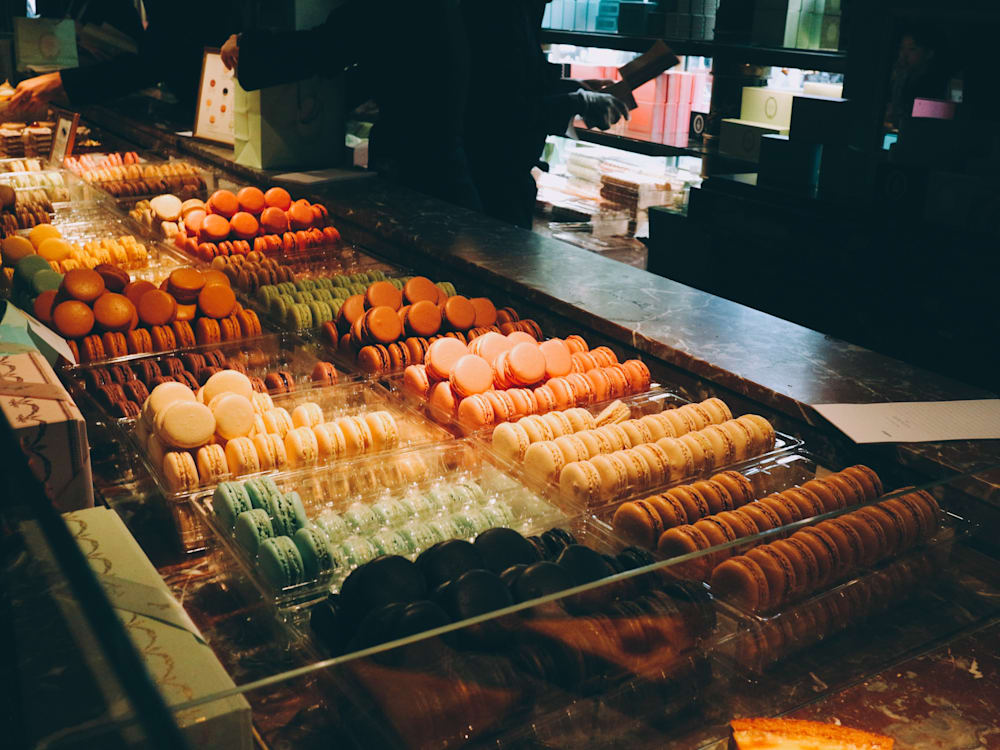 Le Marais district's pâtisseries are – bien sûr – continuing the grand tradition of elevating pastries and cakes into something you could display in the Pompidou. Hit Yann Courvreur for glossy domes of mandarin, lemon and thyme tarts and hazelnut praline mousses embossed with cocoa-dusted foxes; pretty-in-pink Bontemps La Pâtisserie for flowery strawberry tarts and filled shortbread hearts; playful Chez Bogato for animal-themed cupcakes, whimsical cake-pops and macaron 'burgers'; and Popelini for their famous choux.
If gourmet chocolate bars, pralines and pâte de fruit are your pick, try Jacques Genin, Edwart or Les 3 Chocolats; Pierre Hermé retains his macaron-king crown, but his rose, raspberry and lychee isfahan and 2,000-layer praline cake show off his wider skillset.
And along famed Rue de Rosiers, seek out the glint of Sacha Finkelsztajn's sunshine-yellow bakery; started by Jewish Polish immigrants in the 1930s, today it's renowned for its babkas, bagels, strudels of various sorts, and vatrouchka cheesecake. Or if you want an artisanal loaf to linchpin a picnic, Sain Boulangerie's have crusts you can knock on and light airy centres.
DINE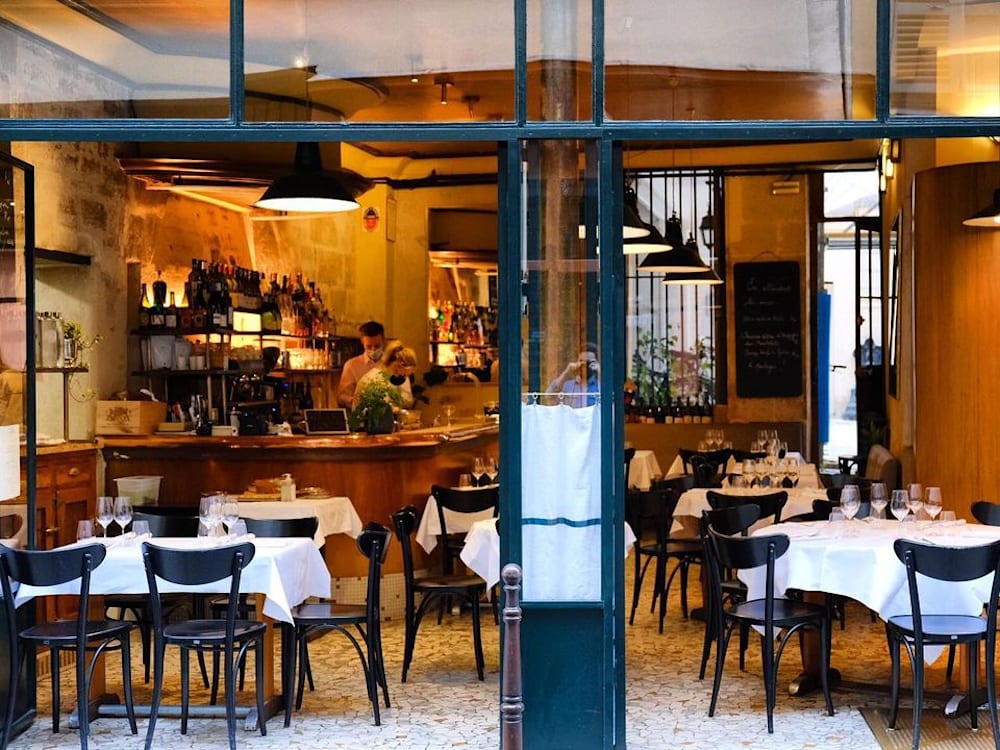 French svelteness goes out the window when it comes to dinner in Le Marais; well, not entirely – the tastefully tousled groups you'll see will still somehow be catwalk-ready, but they need somewhere to gather decorously.
Take cheekily named Derrière – a tucked-away spot dressed like a house where you can dine on a bed or in a pseudo living room; we particularly like the secret bar hidden behind a wardrobe upstairs.
Parcelles, on the other hand has no such gimmickry, simply a classically elegant dining space dating back to 1936, unfussy traditional menu (country-style pâté, veal sweetbreads in hazelnut butter, chocolate tartlets), and a sense of insouciant cool.
Timbered, with copper pots on the walls and close-quarters seating, Robert et Louise is also charmingly throwback where steaks are grilled over fire, duck comes glazed in honey and the fromages and saucissons are extensive.
With BigLove, the Big Mamma group continue their truffley, creamy, cheesy domination in a lively Italian-inflected hangout. Les Foodies' name seems a touch gauche, but the Thai-Italian, Cordon Bleu-trained chef uses his full flavour arsenal on the menu, with black fettucine, shrimp and pak choi in a miso bisque; chicken-mousse-stuffed guinea fowl in a green-curry sauce; or scallop with wasabi, truffle, orange and blackberry.
DRINK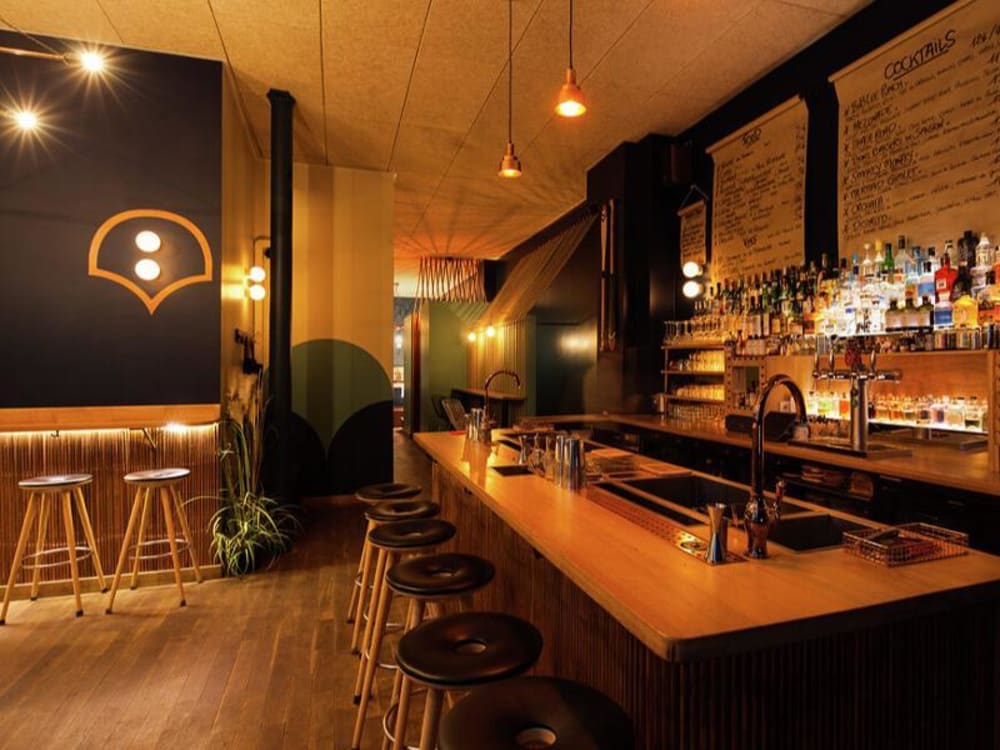 Whichever kind of night you're looking for – quiet wine-savouring, disco-ball-lit cocktails, a very late one – Le Marais district has it. La Perle may have been swept into some notoriety after a certain John Galliano rant occurred there, but retains its place-to-be-seen status.
Copperbay has a curious nautical theme, but intriguing sweet and savoury cocktails (including ones inspired by tapenade, babaganoush or tiramisu) keep it on an even keel. Atop old-school celeb haunt Vins Des Pyrénées is Le 1905 who have a bobo tucked-away terrace.
All neon, disco balls and funky floor lighting, Andy Wahloo offers unbridled fun and a vintage book filled with imaginative cocktails. While Candelaria is a sultrily lit taqueria with tequila- and mezcal-spiked sippers (say, chilli mezcal with tamarind and roasted pineapple; or pickled-ginger tequila with lime and fermented raspberry).
Le Pick Clops has a retro Fifties feel and convivial atmosphere, with occasional live music, and the much newer Nellu Wine Bar has scoured the continent, from Champagne to Slovenia, to compile its craft-wine list. And part-bookstore La Belle Hortense (31 Rue Vieille-du-Temple) combines literature and libations even if the words get a bit blurry after a few bottles.
And backing up the rainbows that abound throughout the arrondissement, this is the OG Paris 'hood for LGBTQ+ nightlife. Gather gaily at laidback drinkery Les Souffleurs, which starts with slick barmen shaking up apéritifs, and ends with DJ sets and packed bodies. Or forego bedtime altogether at Le Cud, which only opens at 11.30pm and carries on till 6 or 7am.
Cherche our stylish stays city-wide with our luxury and boutique hotels in Paris