Despite the relatively short distance between New York's Manhattan, where I live, and Boston, I admittedly haven't spent much time in 'Beantown' beyond my college-era, bar-hopping years.
Booking an autumn weekend at the Newbury, an elegant new hotel on the edge of Back Bay, seemed like the perfect opportunity to take in a different side of the city, and in a convenient area for strolling with visiting siblings and their very energetic kids. (Along with its 'Beantown' moniker, Boston is commonly regarded as America's Walking City.)
For those unfamiliar with Boston, Newbury Street is one of the city's major commercial thoroughfares. On weekends, its sidewalks are teeming with pedestrians and shoppers. The Newbury's building, which sits at the corner of Newbury and Arlington Streets – and was formerly the Ritz-Carlton – shares its block with upscale names such Rolex, Chanel, Valentino and Tiffany, yet the hotel's welcoming staff will quickly dispel any expectations of snobbishness.
They won't seem bothered as you gape, oohing and ahhing (as I did), at the hotel's darkly-marbled lobby, a stunning example of elegant, yet understated grandeur. Just beyond the front desk, there's a dimly-lit library where guests can enjoy a momentary respite with coffee and pastries in the morning, or linger over board games and a cocktail as the day extends. For such an upscale property, the vibe is decidedly low-fuss. It's 'do what you will' here, something I appreciate at any good hotel.
With November's chill on the horizon, I had chosen a fireplace suite for myself on one of the hotel's top floors. The sprawling corner suite featured a wraparound layout with a sizable living room – large enough for a dining table, a well-sized desk, and a cushiony, L-shaped sofa – and, of course, a fireplace.
The suite's description included the service of a 'fireplace butler' who will arrive at your calling to present a menu of kindling choices – birch, oak, and cherry, for example – before constructing a gentle blaze to cozy up beside, preferably with a glass of wine and some light bites. (Those arrive via the butler too). Alas, the weather was unseasonably warm that weekend, which meant no crackling fires and more strolls about town.
The afternoon of my check-in, Newbury Street was abuzz with pedestrians and ebullient restaurant patrons spilling onto the sidewalk, everyone marvelling over the summery temperature. I was happy to have the opportunity to walk and work up a solid pre-dinner appetite, too. I'd heard stellar things about the hotel's rooftop restaurant Contessa, (overseen by the same culinary team behind iconic New York restaurants such as Carbone and the Grill), where I would be taking my siblings for dinner that evening, and needless to say, I was already excited just to have scored the reservation.
A few hours later, freshly-showered and dressed-up for the night, I arrived on the hotel's 17th floor and immediately understood why Contessa was a notoriously hot ticket: it's gorgeous!
The glass-enclosed restaurant looks out over twinkling Boston, while the Ken Fulk-designed interior invokes an elegant garden trattoria, lifted from another time and place. It's thoroughly contemporary-feeling, while exuding plenty of retro glamour, and given Contessa's popularity amongst hotel guests and locals alike, it's quite literally the Newbury's crowning jewel.
And then of course there was the food, a swoon-inducing lineup of Northern Italian-inspired fare, supplemented with an extensive wine list, and dangerously good negronis. I commandeered the menu and ordered several dishes for the table, including the luscious, fresh burrata; the umami-packed butternut squash carpaccio (the sleeper hit of the bunch); and the octopus agrodolce, a flavorful balancing act of smoke and acid.
For their entrées, two of my siblings ordered the popular spicy lobster cavatelli, a creamy, silky emulsion of sauce, lobster and noodles, which we all ended up adoring. Hard as it may be after such a filling dinner, I'd advise saving room for dessert, most especially the Torta de Boston. My sister nailed it, when she compared its paper-thin layers of crunch to a Ferrero Rocher chocolate bonbon in fork-able form.
The only thing to make the spectacular night even better was knowing that my weekend sanctuary was just an elevator ride away. Back in the room, I took in the various thoughtful, considered touches like the decorative Villeroy & Boch coffee cups in a punchy floral pattern, which lent a dose of color to the rest of the room's otherwise neutral palette.
In lieu of traditional 'Do Not Disturb' door hangers, there were chic tassels, and the bathroom's toiletries by Byredo featured a custom-formulated scent inspired by the softly-draping willow trees in the public garden across the street.
The next morning, I headed downstairs for breakfast at the Street Bar, the hotel's ground-level, speakeasy-style café and nighttime watering hole, before the arrival of my brother and sister-in-law, with my two young nephews in tow.
Thanks to a freshly-pressed green juice, and a fortifying yoghurt and granola parfait, I was ready for the long morning's walk through the Commons, past the Old State House, and down to Faneuil Hall, where the youngsters delighted in an interactive dinosaurs exhibition. From there we continued on towards the waterfront, stopping for brunch along the way, before ending our amble at the New England Aquarium – another great option for kid-friendly venues.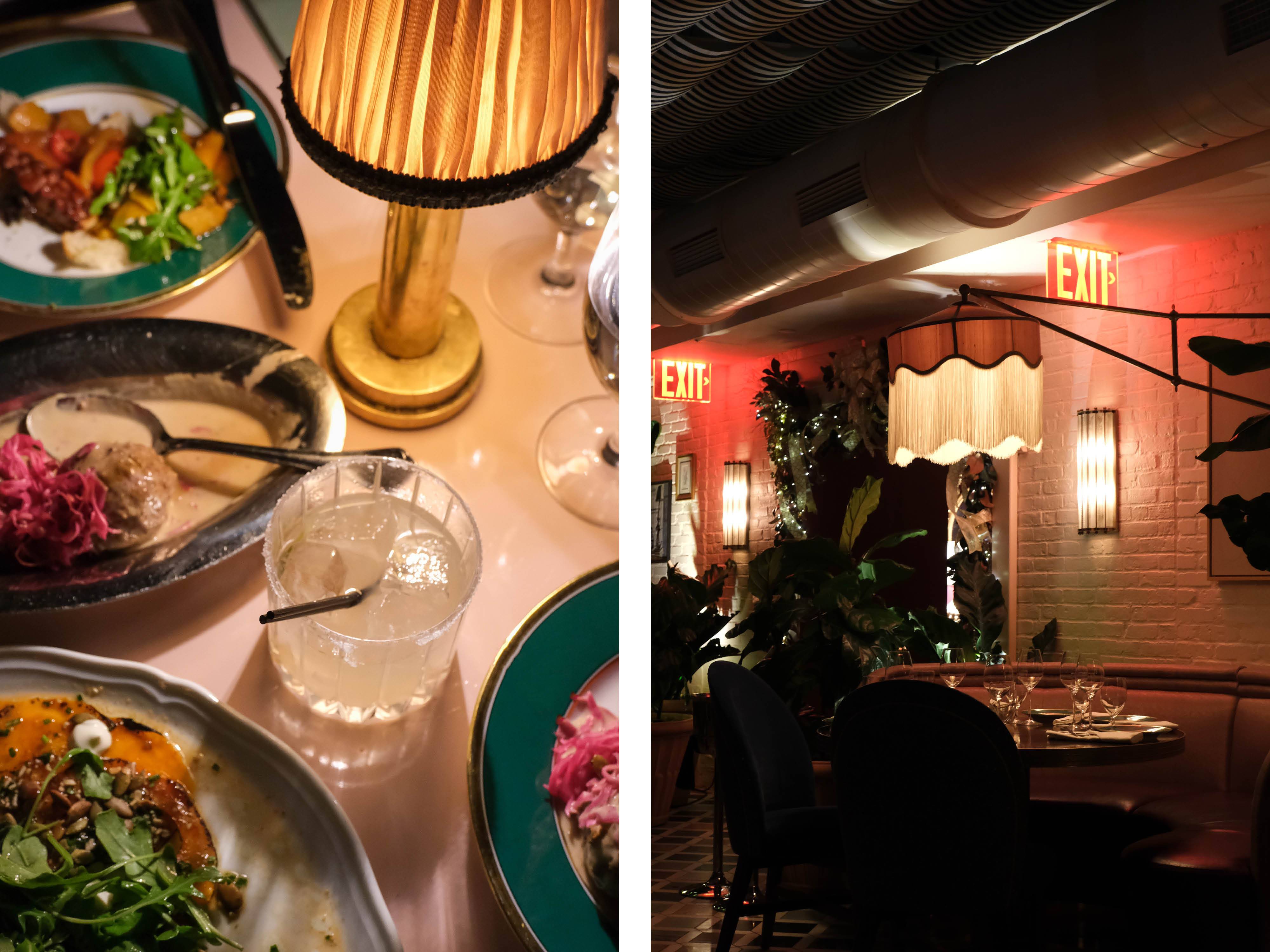 Back near the hotel, I opted for a light and solo Sunday evening supper at Krasi, a welcoming and stylish wine bar specializing in Greek mezze where I could perch myself at the kitchen-facing counter with a glass of Assyrtiko and some melitzanosalata, a thick dip of smoky eggplant and charred red peppers.
It was still too warm, and I was admittedly far too tired from the wonderfully full day, to call upon my suite's fireplace butler that night, although the thought did cross my mind. It was just as well, I said to myself before drifting off to a peaceful night's sleep, it would be one more reason to visit Boston – and the Newbury – sometime again soon.
Find out more about the Newbury or explore our complete collection of Boston hotels
All photography by Hannah Dace
---
Laura Neilson is a New York-based fashion, culture, and lifestyle writer – for the likes of The New York Times, WSJ Magazine, US Vogue, Interview, Porter, Air Mail and more – who firmly believes that traveling outside the Big Apple only makes her heart grow fonder of it. So, she travels a lot, partly thanks to her large family and her numerous siblings who have spread out across the globe from Amsterdam to Boston to the Caribbean.