If action-packed excursions are what bring you wedded bliss, we've got a (white-water) raft of intrepid adventure honeymoon destinations with one-of-a-kind stays in every stopover, from glamping tents in the Canadian wilderness to cabins in a Colorado mining town and overwater villas near snorkel-ready reefs. Ready to dive in?
CAMBODIA
Embark on an adventure honeymoon to Cambodia to find lush landscapes, traditional khmer towns and villages, the bucket-list destination of Angkor Wat, the bustling capital city of Phnom Penh and foodie-oriented Siem Reap.
ROSEWOOD PHNOM PENH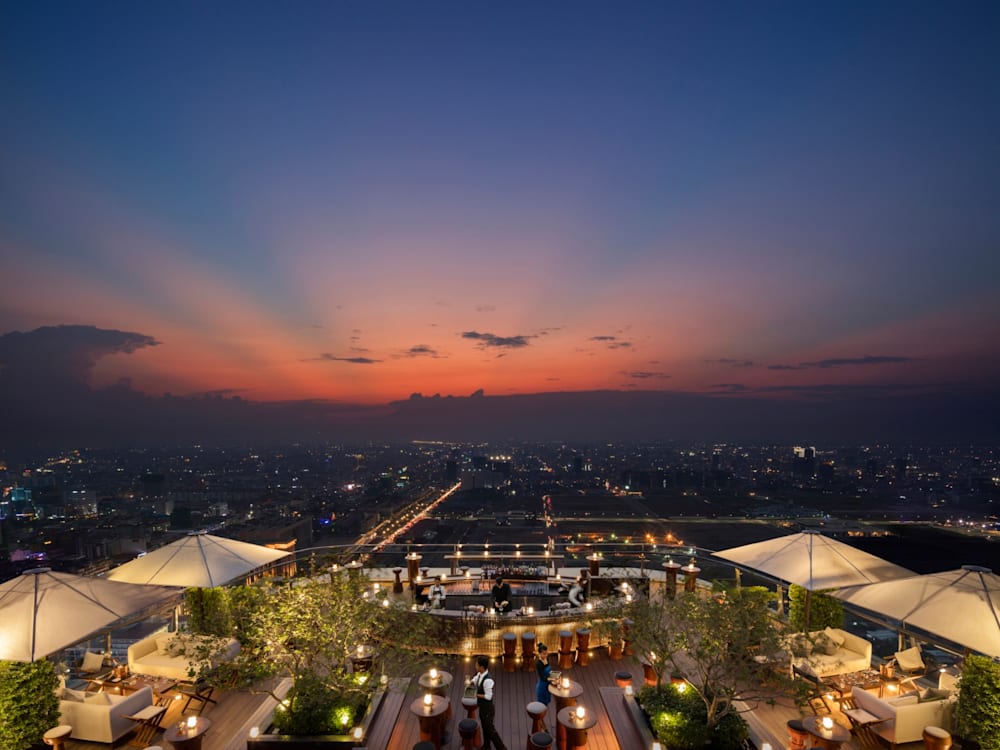 Admittedly a more genteel start to proceedings, but the Rosewood Phnom Penh does have a head for heights, occupying the uppermost floors of a city skyscraper. As you exit the elevator into the 35th-floor lobby, its oh-wow views are framed by floor-to-ceiling windows. A hushed refinement fills every elegantly dressed nook, from its raft of top-notch dining spots to its sunshine-flooded spa and ritzy sky bar.
ZANNIER HOTELS PHUM BAITANG, SIEM REAP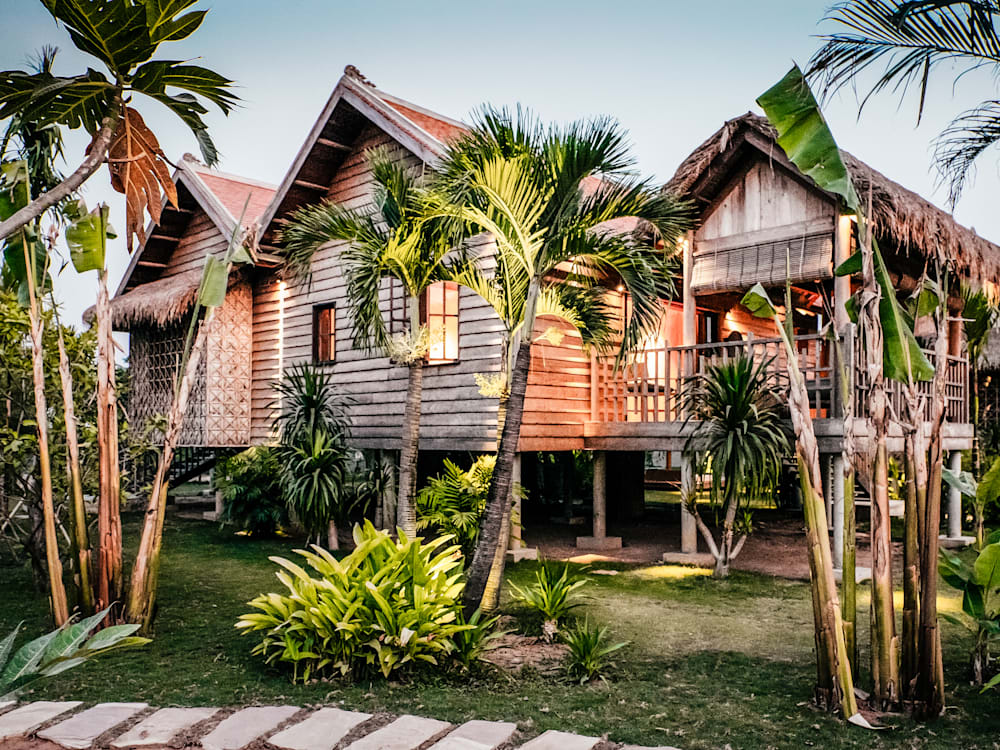 Tucked away among the paddy fields near the temple complex of Angkor Wat, Phum Baitang is a world away from the bustle of nearby Siem Reap town. Perched high on stilts in luxuriant tropical gardens, this all-villa resort has the rustic charm of traditional Khmer wooden houses, albeit ones with hand-picked antiques, freestanding baths and private plunge pools.
SIX SENSES KRABEY ISLAND, SINAHOUKVILLE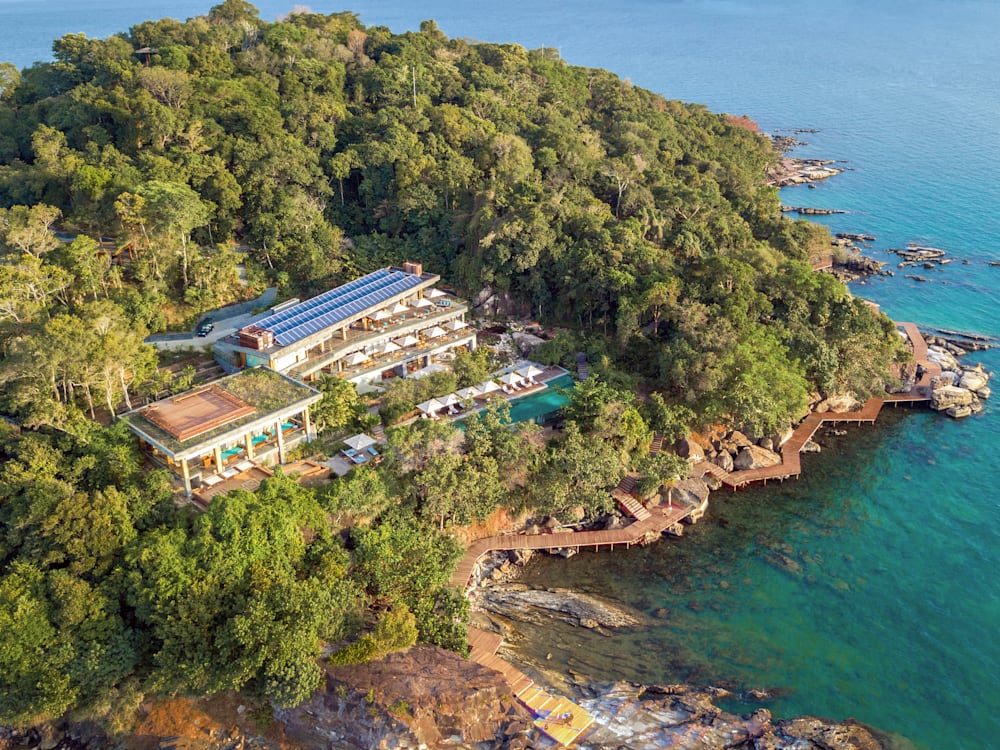 Six Senses Krabey Island satisfyingly hard to get to – a boat ride from a dock near the regional Sihanouk airport – but that only adds to the allure and exclusivity. When you arrive, you'll find your modernist villa secluded in the jungle, with your very own plunge pool. Wander the boardwalk paths and you'll find palm-fringed beaches and snorkel-ready reefs, as well as kayaks and paddleboards for venturing offshore.
SHINTA MANI WILD, KIRIROM NATIONAL PARK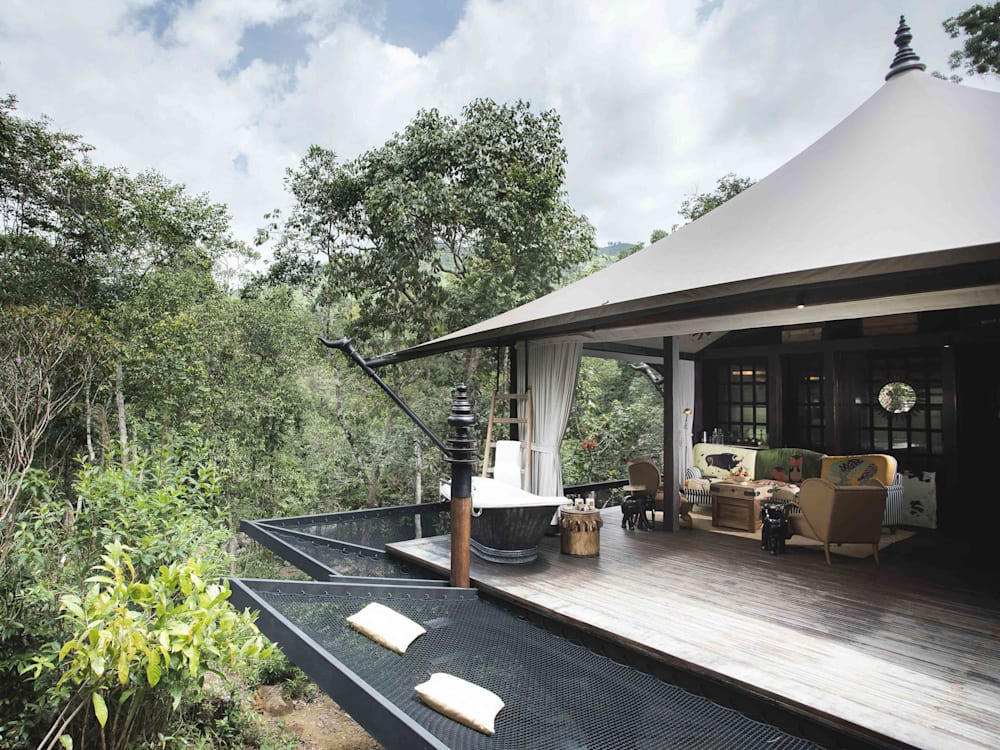 Architect Bill Bensley's tented suites, scattered along a babbling river, make improbably lavish retreats from which to plot adventures: the zipline entrance straight into the cocktail bar sets the tone. Wildlife-spotting, jungle-trekking and estuary-exploring are de rigueur at Shinta Mani Wild (the clue's in the name) – all the better to savour the delights of a plump king-size bed, river-view hammocks and petal-scattered bath after a long day of hitting the trails.
PERU
Looking for a real adventure? With the dramatic landscapes of Lake Titicaca, the time-capsule city of Cusco, and the mythic citadel of Machu Picchu, Peru will provide. With rainforests, mountains and ancient Incan cities waiting to be explored, set up camp in one of our Peruvian boutique boltholes and you'll have somewhere stylish to retire after a day of adventuring.
TITILAKA, LAKE TITICACA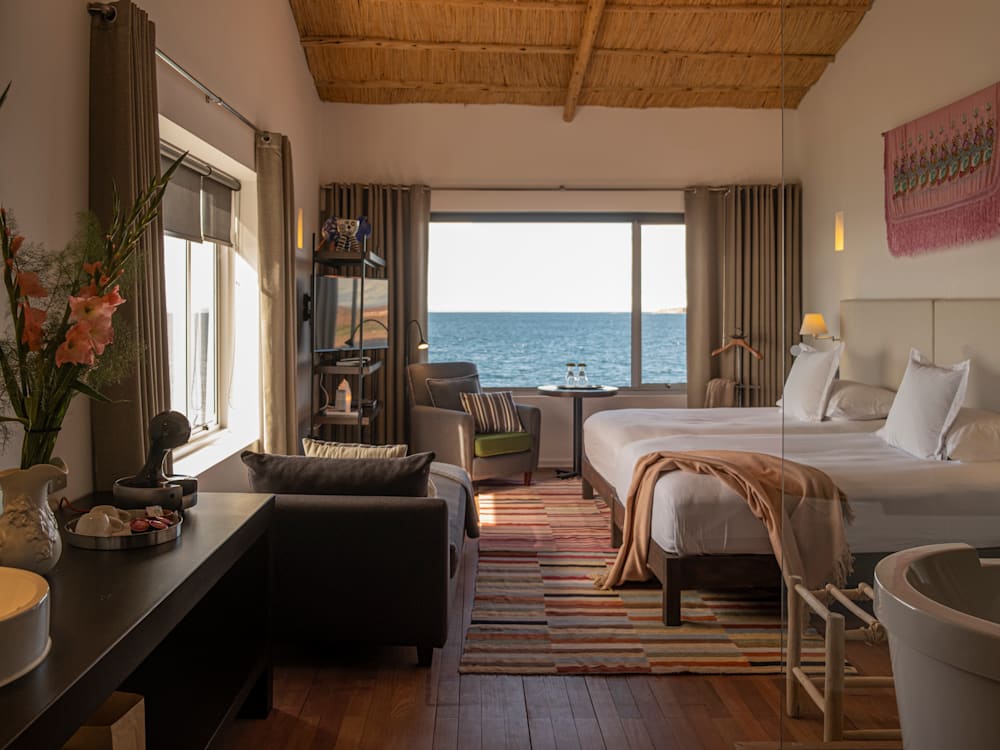 You might dismiss the sight of a luxurious boutique hotel on the world's highest navigable lake as a symptom of altitude sickness but, nope, Titilaka is real. This whitewashed cottage has 270-degree views directing focus to the vast and serene waters, which glow orange at dawn and dusk. The hotel provides in-room oxygen masks for guests who need altitude adjustment. For those who've adjusted, the lake is ideal for early hikes, boat explorations and day trips to see Isla del Sol, the island where the first Incans lived.
INKATERRA MACHU PICCHU PUEBLO, AGUAS CALIENTES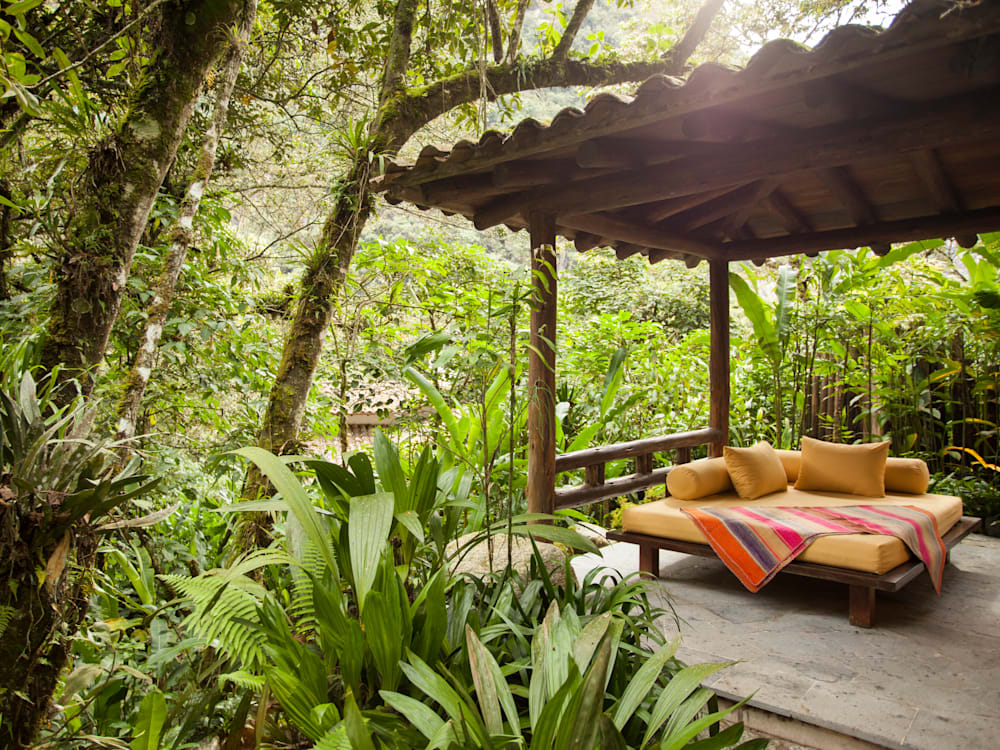 Yes, Aguas Calientes is typically a stopover destination en route to the famous ruins, but the eco-friendly Inkaterra Machu Picchu Pueblo warrants more than an over-nighter. After a day on the mountain trails, as you put your feet up with a pisco sour in the privacy of your casita, take a moment to marvel at your surroundings at this luxe Inkaterra hotel, as much a triumph of construction as of nature. You're in the high Andes, sharing five hectares of pristine cloud forest with hundreds of birds, butterflies and orchids.
ATEMPORAL, LIMA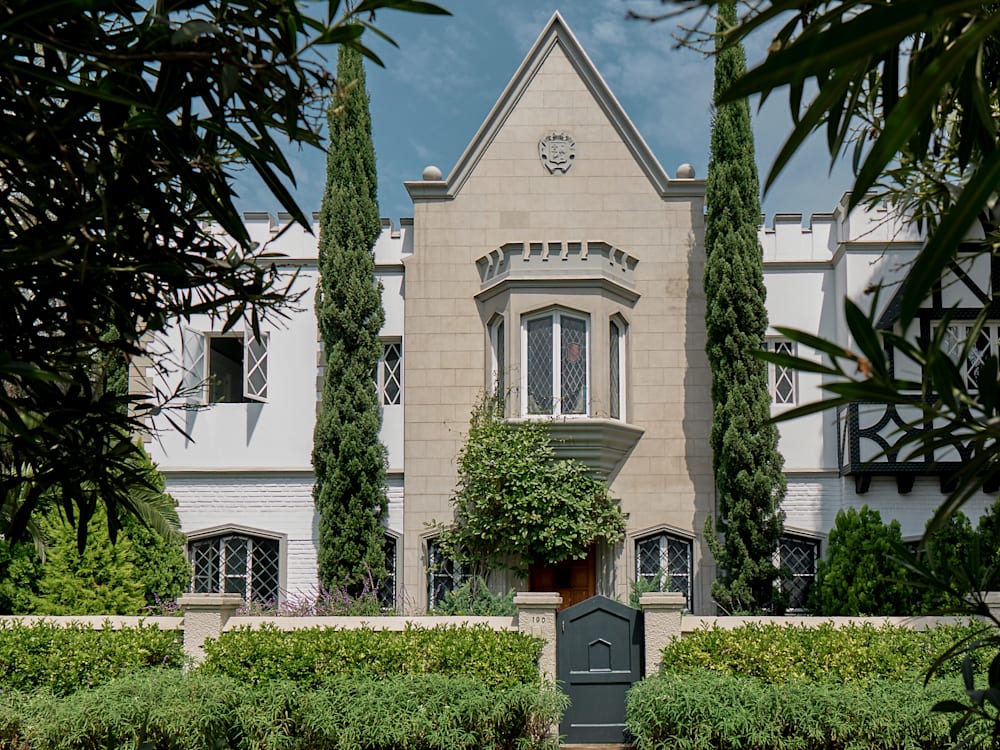 The owner of Atemporal has a thing for the British countryside and styled his townhouse on an English manor, but with added antiques and modern artworks sourced from all over Peru and beyond. Lima is huge, so make your home this classic casa in the Miraflores barrio to tackle it one cevicheria at a time – the capital can claim nine of the 50 best restaurants in Latin America.
BRITISH COLUMBIA, CANADA
In Canada's southwest, British Columbia is wilderness with emphasis on the 'wild'. Vancouver Island makes the perfect adventure honeymoon destination with its rugged coastline and forested nature reserves putting mountain biking, hiking, whitewater rafting and heli-fishing on the menu.
WICKANINNISH INN
Nature is your entertainment centre at the Wick. The hotel artfully frames the most spectacular scenery so that – despite the fact that you're cosseted in luxury – the raw power of the great outdoors is close enough to touch. The forests and reserve are packed with hiking trails and the area is also dense with wildlife. Arrange to go bear-watching, or take binoculars outside to catch a glimpse of bald eagles. On the water, head out to look for whales or catch fish.
NIMMO BAY WILDERNESS RESORT
When the call of the wild reaches fever pitch, few places answer quite like Nimmo Bay. It's one of the most sought-after lodges of its kind, as famous for its wildlife as it is for its part-of-the-family-style hospitality. Bears and bobcats may have the run of the woods, but the lodge is a haven of creature comforts, including cedarwood hot tubs, a floating sauna and a toasty bar stocked with whiskies and fine wines – the perfect cap to a day's heli-fishing or whale watching.
CLAYOQUOT WILDERNESS LODGE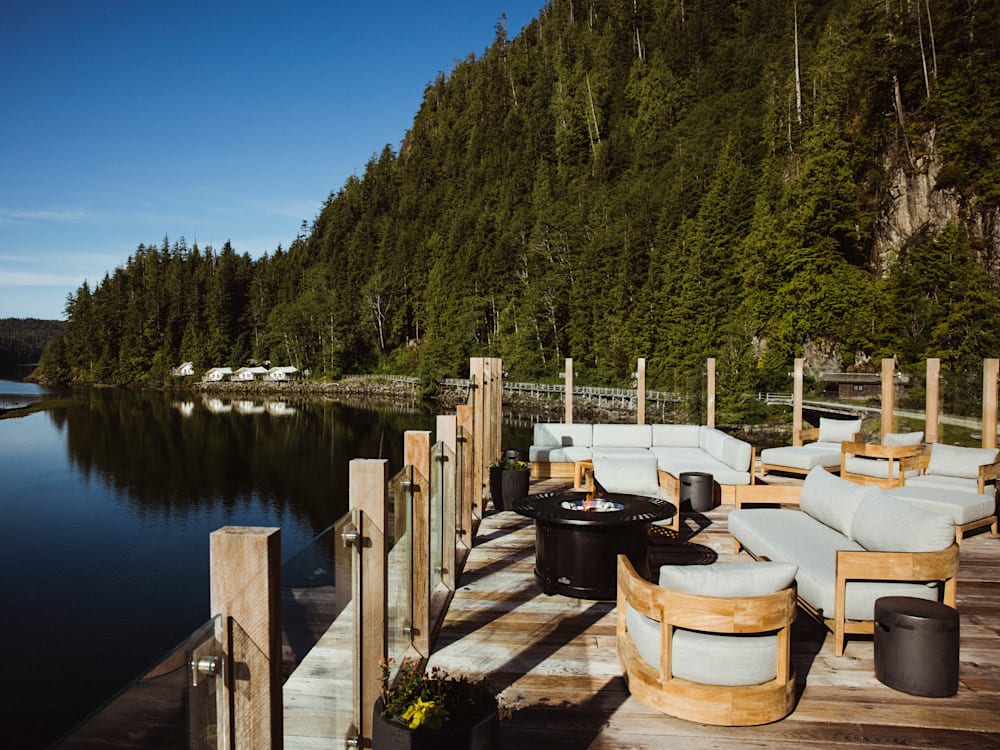 Clayoquot Wilderness Lodge's Sound setting is home to an astonishing variety of wildlife, from sea otters and orca pods to black bears and cougars who live among the ocean inlets and coastal rainforest. Everything from fine dining to rock climbing is covered in this luxurious all-inclusive resort, but it's the experience of drawing open your tent flaps and stepping into the Unesco-listed nature reserve that shines above all else.
COLORADO, US
What could be better than taking your new life 'pardner' for a Rocky Mountain honeymoon in Colorado? It makes for an exhilarating escape all year round: there's world-class skiing in winter and wildflower-strewn trails to hike in summer. Our itinerary will take you from the jet-set town of Aspen, through convivial Telluride, and into boutique cabins in an abandoned mining town.
HOTEL JEROME, ASPEN
Be sure to dust off your boots before stepping foot inside the Hotel Jerome, a landmark Aspen stay that's looking chic and shiny following an elegant Stetson-to-pointed-toe revamp. Now one of the esteemed Auberge Resorts Collection, there's a sleek new lobby bar, mod bistro, spiffy spa and the notorious J-Bar (a favourite of Hunter S Thompson) remains to attract an A-list crowd.
MADELINE HOTEL & RESIDENCES, TELLURIDE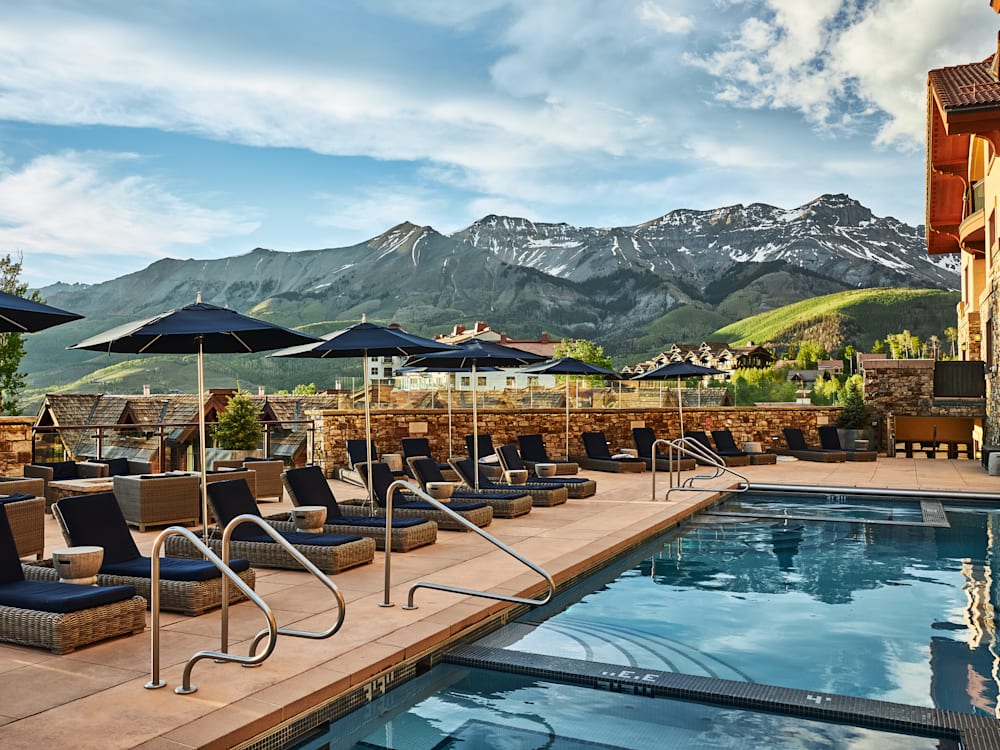 Tapping into the expertise of the Madeline's team alone you can go heli-skiing, snowmobiling with a champagne picnic, ice climbing, snowshoeing or Nordic skiing. In summer, there's fly fishing, hiking, helicopter tours with mountainside picnics, backcountry horse riding and high ropes courses amid mesmerising mountain scenery.
DUNTON HOT SPRINGS, SAN JUAN MOUNTAINS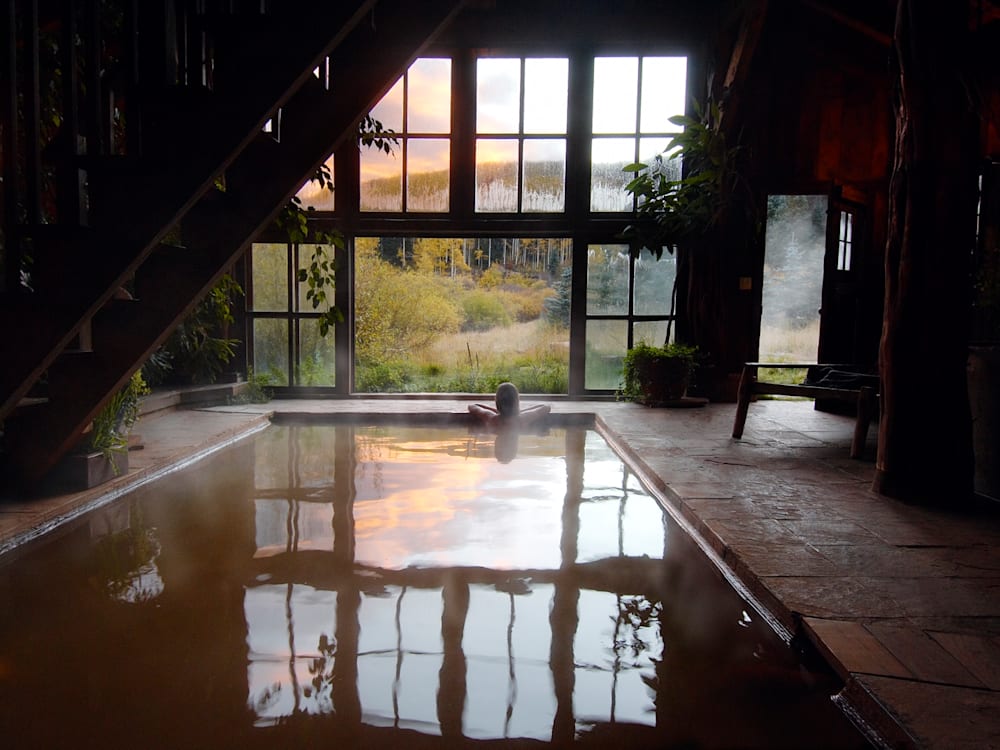 Buried in rural and rocky Colorado, Dunton Hot Springs hotel is a mountain-surrounded former mining town, reincarnated in boutique cabin form. The old village Dance Hall, Bath House and Saloon are part of this unique retreat, where soothing springs, majestic mountains and a winding river make up the great outdoors. Each cabin is cosily kitted out with heated slate floors, unique bath tubs and hand-picked antiques.
RWANDA
A once-divided country, Rwanda has emerged united as a sustainability icon with a prosperous capital, wildlife-stalked savannahs, and protector of the endangered mountain gorilla. Known as the Land of a Thousand Hills, this small country certainly lives up to its name, and exploring the Akagera National Park, Nyungwe Forest and the Virunga Volcanoes will show you why.
ONE & ONLY GORILLAS NEST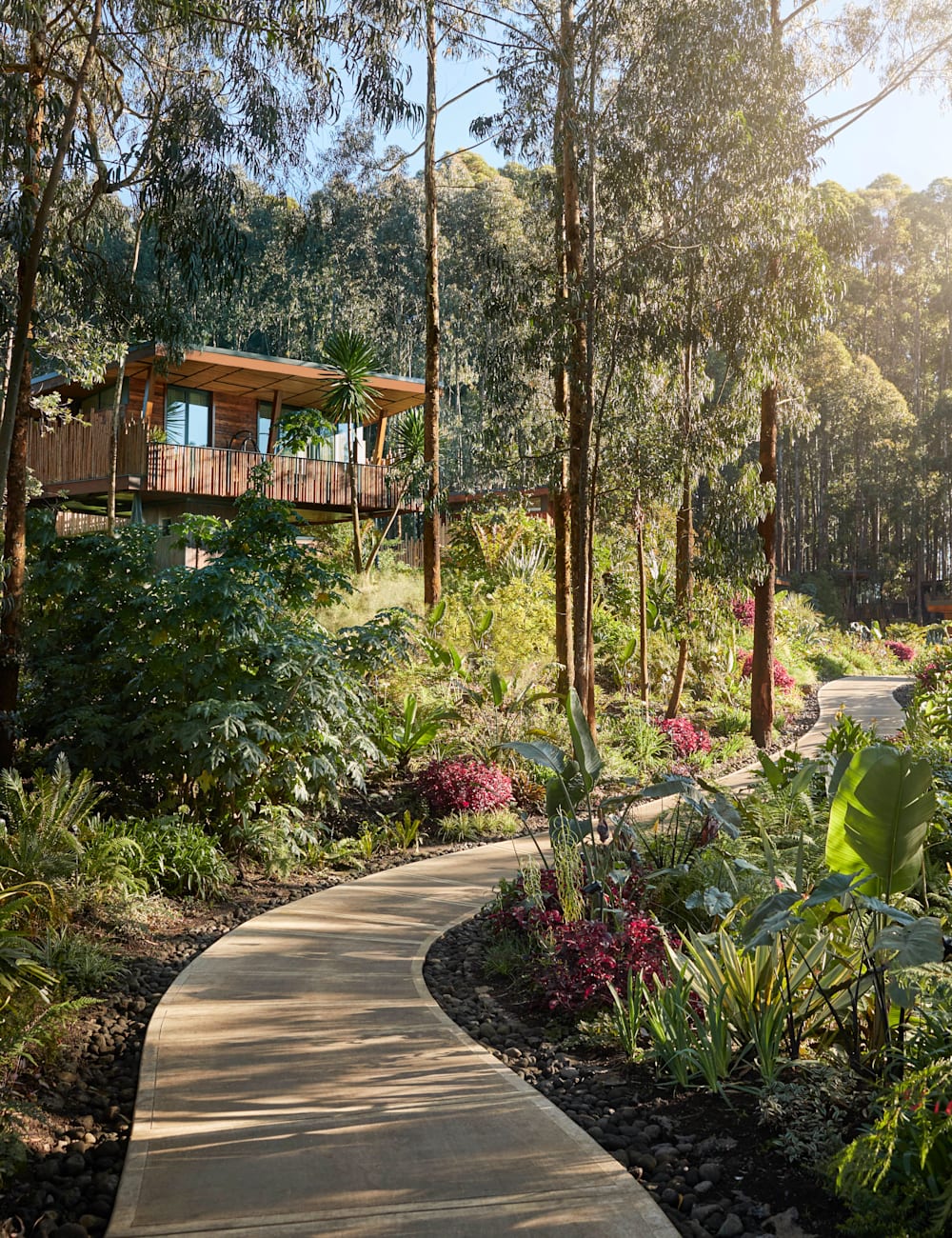 Live out your Dian Fossey dreams at the One&Only Gorilla's Nest: a gateway in the eucalyptus forests of northern Rwanda. There are just over a thousand mountain gorillas left in the wild and this is one of only two places on the planet where you can see them. Back at basecamp, the views of the Virunga volcanoes and the eucalyptus forests keep coming and the spa is ready to soothe sore limbs after your high-altitude trek.
ONE & ONLY NYUNGWE HOUSE
At Nyungwe House, one of Africa's oldest forests is just waiting for treks, where you'll have encounters with the region's rare chimpanzees, flora appreciation (there are more than a thousand species of plants, including a whopping 140 types of orchid) and mountain-biking. Anyone immune to vertigo can complete the Canopy Walk, a 160-metre-long suspension bridge 70 metres above the rainforest, or head up in a helicopter to see it from an (exotic) bird's perspective.
Got your heart-racing? Say 'I do' to our complete collection of adventure escapes