Close your eyes to imagine the perfect summer getaway and you'll likely bring to mind the feel of powdered sand between your toes, the sun arcing its way above a canvas-like horizon and the lull of waves gently lapping at the shore. Stay at one of these hotels right on the beach and that's what you get: a place where barefoot luxury is the bare minimum…
JOALI
The Maldives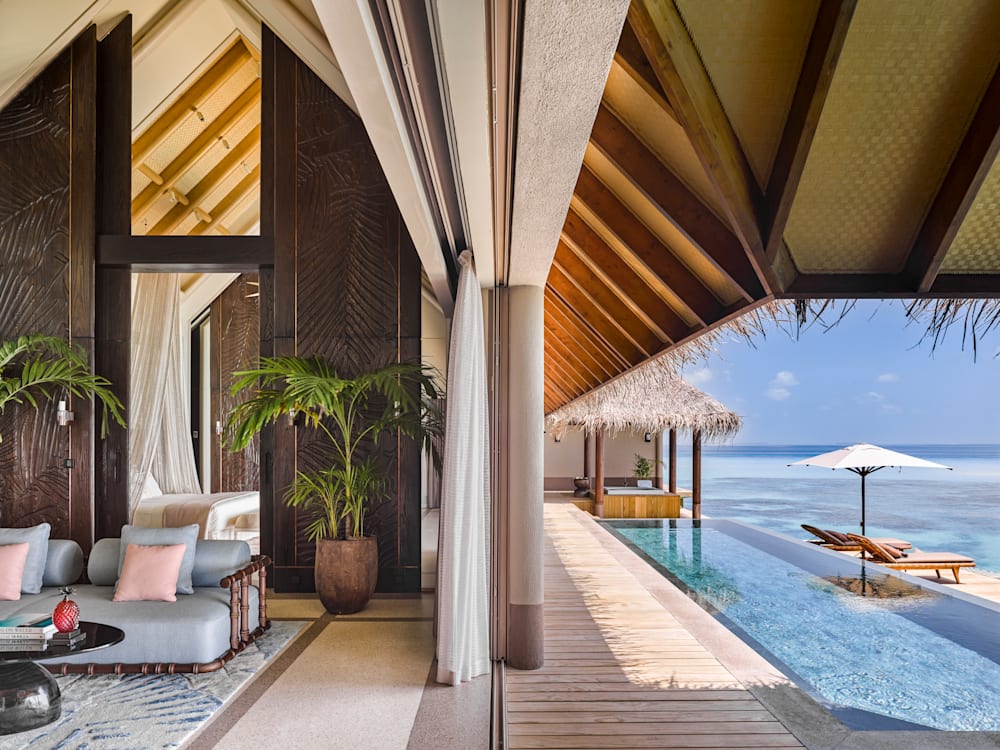 No two words evoke an image of such swoonily sparkling emerald sea as 'The Maldives'. And although you'd be hard-pressed to stay very far from the water on this honeymoon-haven archipelago, few can boast such a spectacular bang-on-the-beach setting as Joali. Overflowing oasis-style pools studded with palm islands mimic the Indian Ocean just steps away, little between them but a snaking strip of powder-soft sand.
Overwater villas are romance-ready with private infinity pools and your personal pink-linen-clad butler poised to deliver on any whim. An abundance of nature-inspired art, too, elevates the ambience beyond your run-of-the-mill luxury paradise. Want to amp up the woo-factor to eleven? This beachfront beauty inhabits its very own atoll idyll, so you can take your pick of any spot on the island for a moonlit dinner à deux under the twinkling canopy.
WILD COAST TENTED LODGE
Yala National Park, Sri Lanka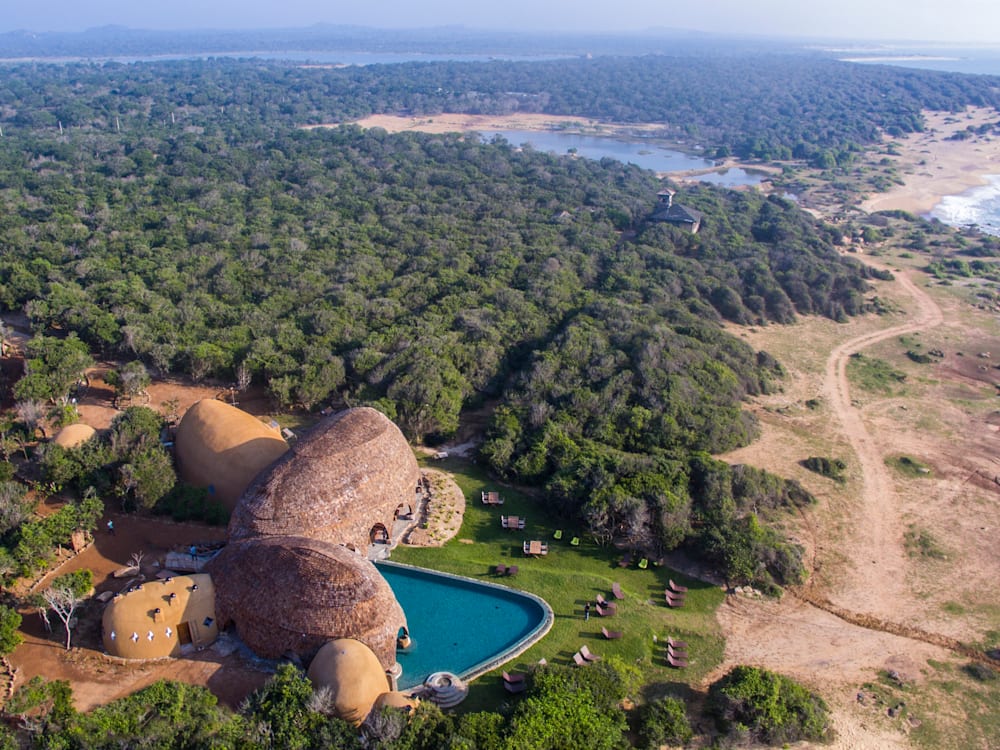 You feel reborn daily as you emerge blinking from your canvas-walled cocoon, rubbing your eyes in renewed wonder as you gaze over this stretch of south Sri Lankan coast. Nestled among scrubby coastal bushland, the luxe larvae-like lodgings of the Wild Coast Tented Lodge playfully mimic the boulders strewn along the long neighbouring golden sand.
Their leopard's paw-shaped layout alludes to the area's famous feline, too, being located just outside Yala National Park – one of Sri Lanka's most wildlife-rich nature reserves.
Gazing over this stretch of rugged beachscape from the cooling confines of the lagoon-like pool is a wonderful way to while away many a holiday hour. If you're lucky, you might catch a local elephant herd strolling along the beach too. But for full immersion, plunge yourself into the surrounding wilderness with an expert ranger. You could be treated to memorable encounters with any of the dozens of its jungle-dwelling denizens.
IBAGARI BOUTIQUE HOTEL
Bay Islands, Honduras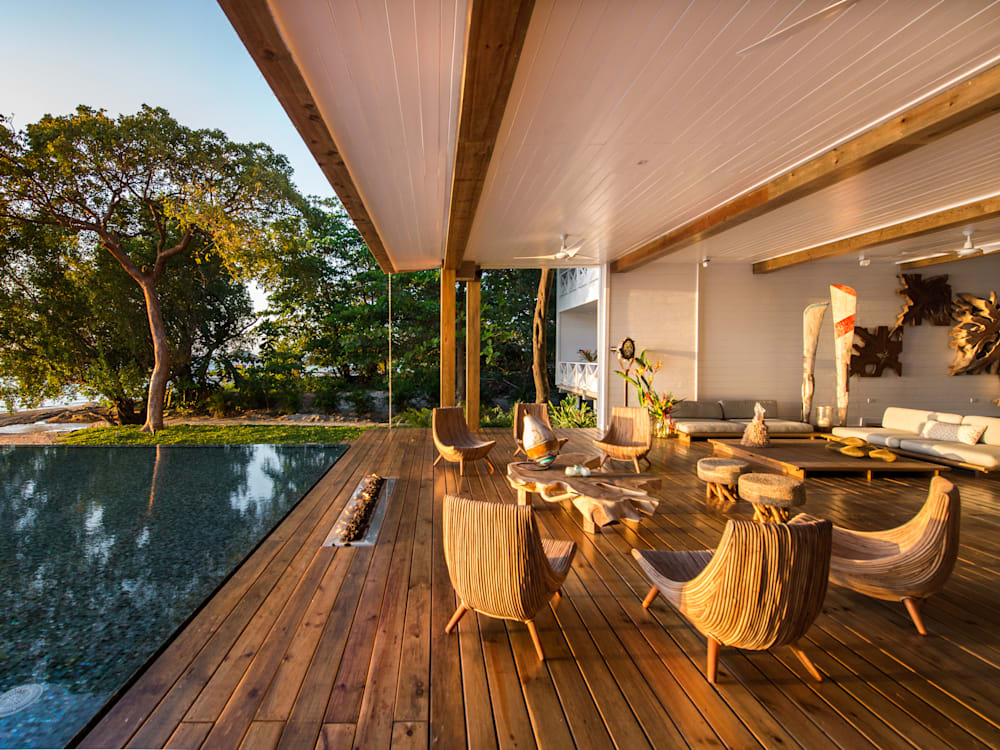 At the Ibagari Boutique Hotel you'll struggle to spot where the hotel ends and the beach begins. Not just because this beachfront beauty is barely a stride from the shore, but the wonderfully woody Honduran hideaway has been crafted to blend seamlessly into its seaside setting. Beachy touches like a sandy-floored restaurant and sundowner-ready sand-pit for grown-ups all add to the coast-hugging feel.
A breezy open-air layout also means Pacific vistas from practically every corner of the property, so you'll soon be hankering to get stuck into the gamut of watersports this island is famed for.
The hotel has its own dive centre providing personalised sub-aquatic adventures for every level from scuba newbies to wetsuit veterans, and of course, the dive-boat jetty is just a flipper flop away. Afterwards, decompress with one of the hotel's wellness sessions, from sound healing to cacao ceremonies to art therapy, all within soothing eyeshot of the Big Blue.
SIX SENSES ZIGHY BAY
Oman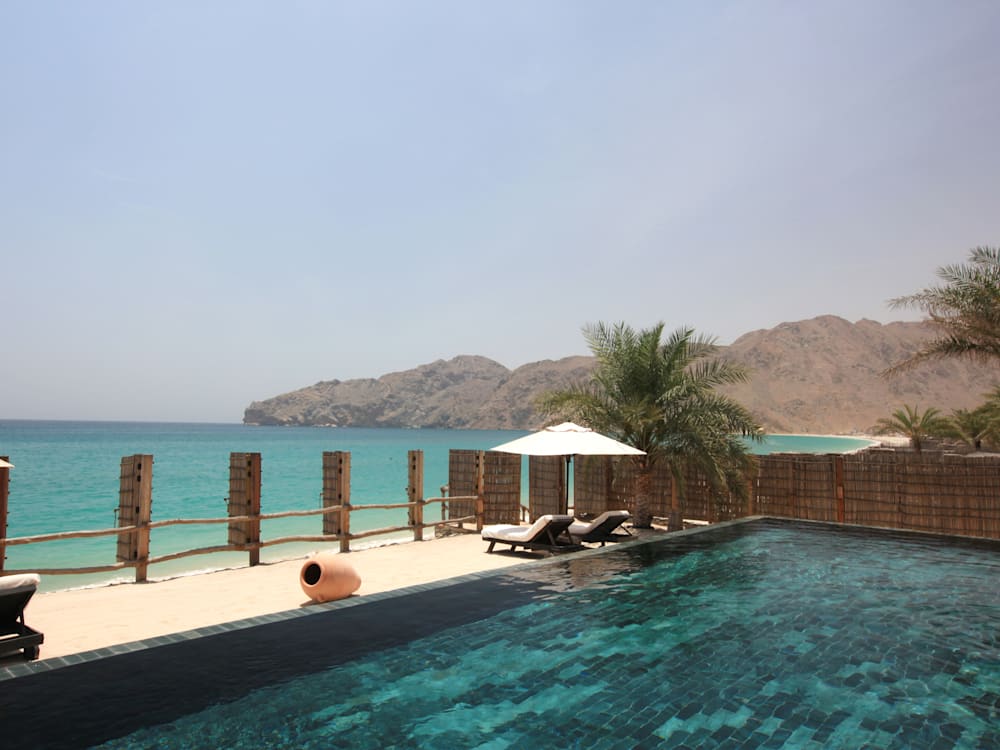 A looming barren sierra makes for a biblically dramatic backdrop to the broad swathe of shimmering sapphire waters it overlooks. And cradled between the two like a desert oasis – albeit a five-star one – is the Oman outpost of Six Senses hotels. It's not just the encircling Hajar Mountains that create a geological feeling of seclusion, but the scale of the village-like resort does so by virtue of size, too.
Choose to arrive at Six Senses Zighy Bay by speedboat or tandem paraglide flight – yes that's an option – and the sense of remoteness is complete.
Of course, there's the privacy of your individual standalone stone-walled dwelling, too. Each comes with a lounger-lined plunge pool, private sand 'garden' and an outdoor shower – nothing says secluded like being able to venture outside in the altogether. Plump for the most coveted beachfront villa and bamboo gates swing open right onto the sand and a hop, skip and jump from splashing into sea.
SUSURROS DEL CORAZÓN
Nayarit, Mexico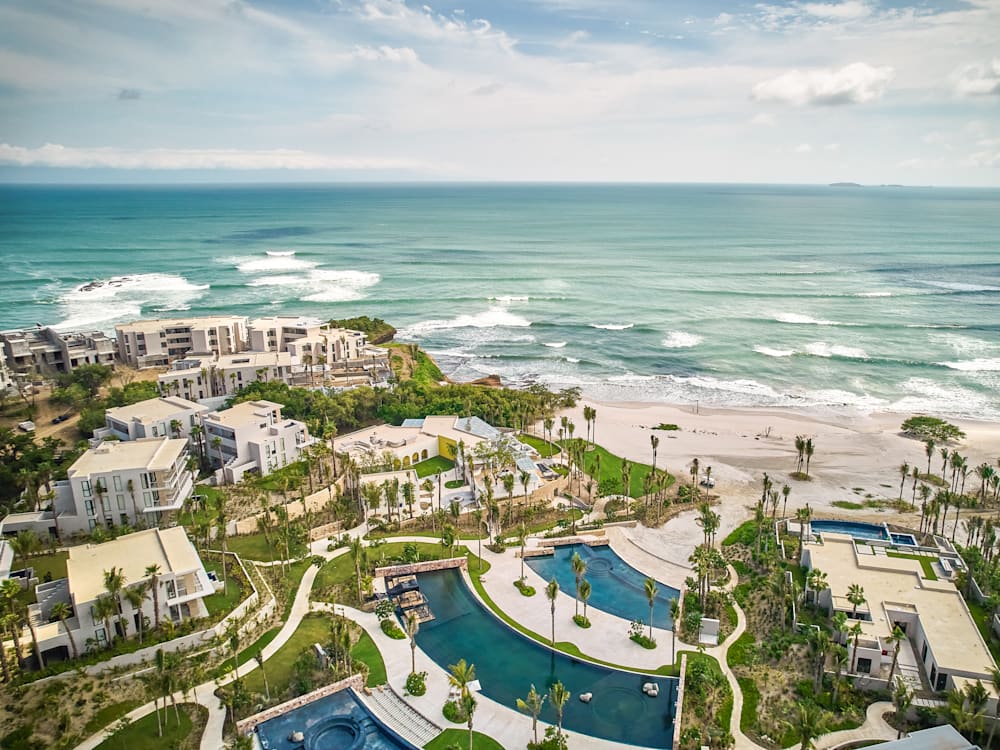 Most couples with kids know that proximity to the beach can make or break a getaway. So staying just steps from the sand is the family-holiday holy grail.
Wedged between jungled cliffs and pristine beachscape, Susurros del Corazón not only delivers on this coveted toes-in-the-sand setting, but also provides a slew of kid-focused facilities to give parents that all-important downtime from the little darlings. And poolside popsicle carts to boot.
This elegantly crafted Mexicana-luxe hotel in Nayarit is set away from the busier end of the Punta Mita private peninsula – where every A-lister from Gwyneth to Leo has been tele-papped.
There's still loads to do along this ruggedly eye-pleasing stretch of Pacific, with surfing high on many must-do lists – little Smiths as young as five can join immersive three-day surf programmes. The mini-club offers a dizzying array of activities too, from nature experiences to hands-on cooking lessons. And when the padres are suitably de-stressed, adventures like whale-watching sea safaris and Sierra Madre mule rides provide that precious fun-for-all time together.
HOTEL ALAIA
Punta de Lobos, Chile
Considered one of the most spectacular surf spots in the Southern hemisphere, Punta de Lobos' reliable swells and long left-breaks have been drawing the wave-riding crowd for over half a century.
And perched just where the long sweep of ash-tinted sand meets rocky headland, Hotel Alaia has claimed a prime position overlooking these Chilean Pacific wilds. Inside, a minimalist melange of polished concrete, reclaimed timber and rattan weave echo the rugged natural beauty of the coastal scenery, on permanent display through ubiquitous floor-to-ceiling windows.
Don't worry which of the dozen rooms to pick, they're all identical – stylishly understated with dune-and-sea views you can soak up from bed, bathroom or terrace.
All this ocean-gazing should have given you a serious itch to hit the surf, and the hotel can arrange everything you might need from coaching to wetsuits.
Winter is the best time of year for surfing here in Chile, and when you'll most appreciate a post-surf soak in a wood-fired hot tub. A fire-warmed restaurant also provides a cosy, wood-scented setting for dinner where they only use produce from within 100 kilometres. But with some of the world's finest wines produced nearby and an ocean flush with seafood, why look any further?
DEXAMENES SEASIDE RESORT
Western Peloponnese, Greece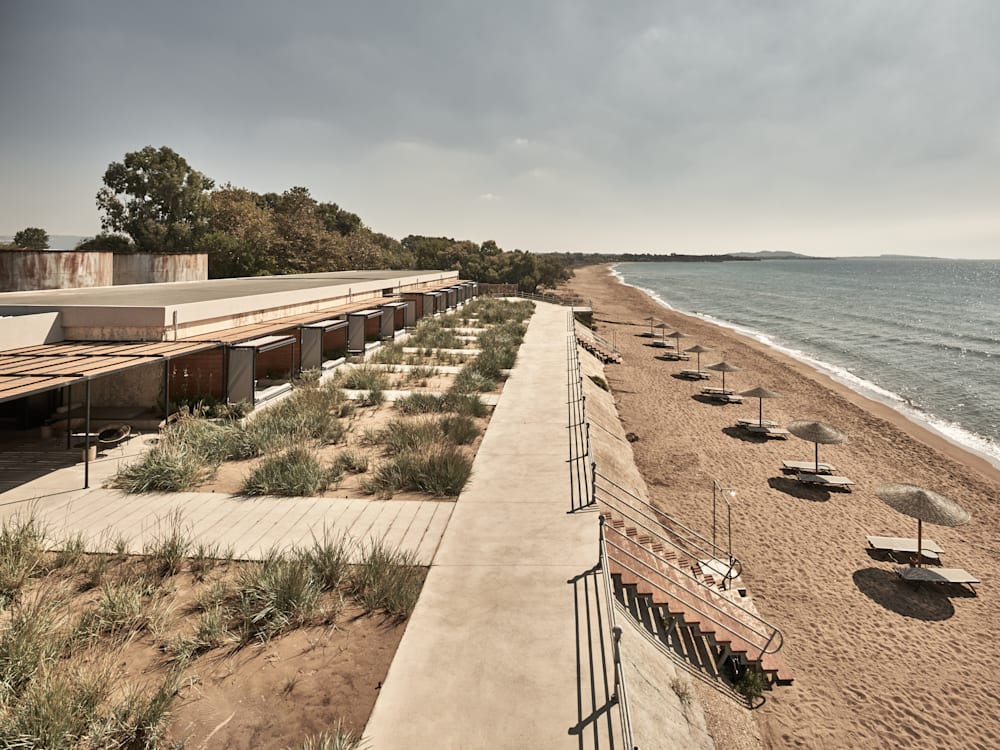 Sunny beachfront hotels and post-war wineries aren't two things you easily connect. And that's just one of many factors that make Dexamenes Seaside Hotel so thoroughly unique. Clever design minds have retained much of the brutalist character of its industrial incarnation, restyling it all from a palette of concrete, steel, timber and glass.
Suites have been forged from old fermentation tanks. Chemistry labs and admin offices have been converted into bright beachfront villas. Huge silos once used to crush grapes have been repurposed for the likes of private dinners, art installations and – of course – wine-tasting.
The hotel has just shy of 100 wines you can gargle, swallow or spit, or just enjoy a glass or two with dinner in the chic restaurant converted from the former engine room. A bar extends from a broad terrace down onto the beach, a beautiful strip of golden sand in the Western Peloponnese lapped by the emerald Ionian Sea.
It's no surprise this artful conversion has garnered a bounty of design gongs, but the natural beauty of the Grecian coastline still steals the show.
LA SAMANNA
St Martin, the Caribbean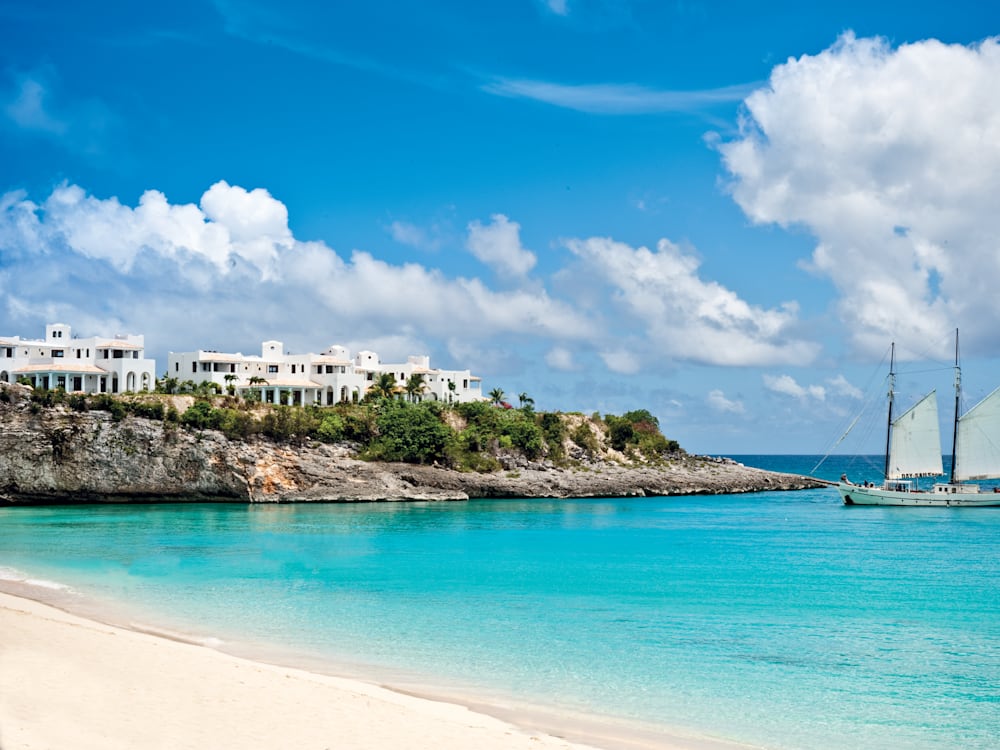 Of course, you can do it up the Tour Eiffel, on a Venetian gondola, or overlooking a Santorini sunset, but you can't top a dazzling white-sand beach as the romantic backdrop for popping the Big One. And plonked on one of the most spectacular beaches in the French West Indies, La Samanna makes for a fittingly dreamy place to stay while you're gearing yourself up for that special moment.
Sip on courage-buoying rum cocktails from a pair of all-day bars or snuggle up on a beach cabana daybed and have them delivered – those swoony Caribbean views follow you wherever you are.
The hotel's spa, set up on the hill, also offers candlelit couple's sessions. Come evening, don't miss a romantic beat and book your dinner by the pool for illuminated fountains that elegantly spout at night. Take a post-dinner stroll through the fragrant organic gardens, and down to the moonlit sands, waves softly swooshing against the shore. It's now or never, now where's that ring…
Make a party of it with our pick of the world's very best beach clubs.