Centuries-old châteaux, seductive beaches and a healthy slosh of the world's finest wine – there's a reason Hollywood stars and starry-eyed honeymooners have long staked their claim to the south of France.
Now, though, we're throwing open the French windows to the Little Smiths. Mini Michelin-starred menus, beach clubs and bespoke playhouses await budding bon vivants, and parents in need of an evening off will find nannies waiting in the wings. From prime Riviera real estate to Basque Country boltholes, here are the best sun-blessed stays where luxury knows no age.
LA RÉSERVE RAMATUELLE
St Tropez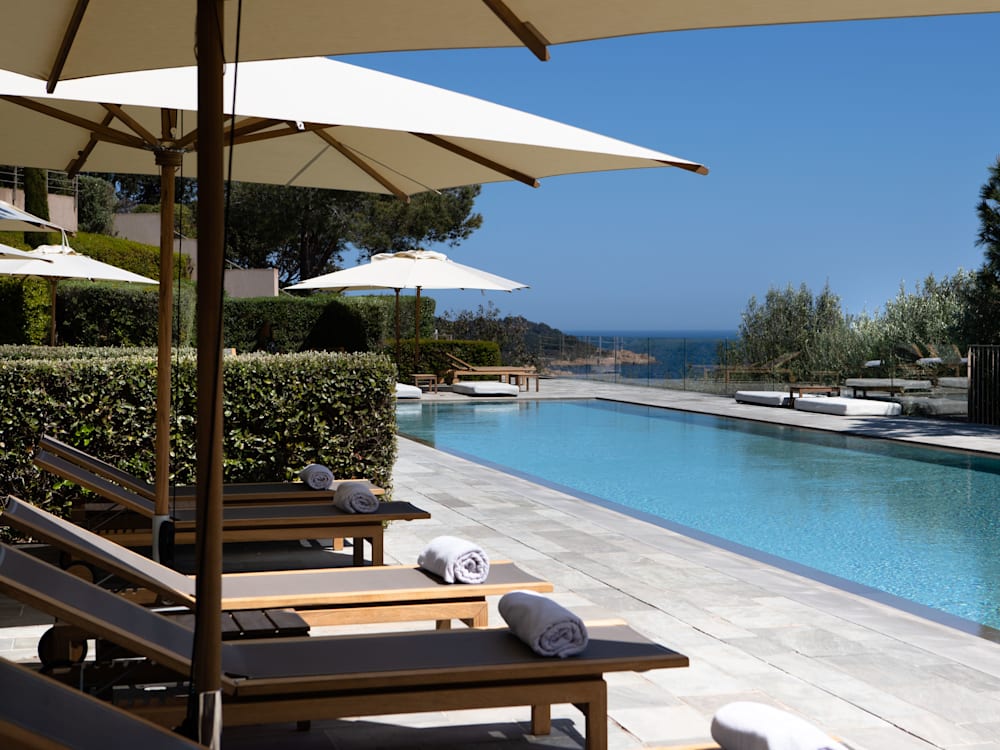 So, you're impossibly chic parents who've raised children with a taste for the finer things? It's a tough life, but we've got you covered. At La Reserve Ramatuelle, a hilltop retreat just south of St Tropez, travelling avec Little Smiths doesn't mean forgoing golden age Riviera glamour.
Top billing may go to the mesmerising Med views, but the super-sized spa is a worthy co-star. There's a menu of two-dozen treatments, from close up-ready facials to balneotherapy, plus an angst-banishing menu of treatments for teens, too.
Provençal seafood takes centre stage at La Voile, under the expert direction of head chef Eric Canino. If you fancy going full VIP, the kitchen can match the menu to your body's biorhythms – oh là là. In need of a post-lunch pick-me-up? Cue the olive-shaded pool. Plunge in for a paddle or pose artfully atop a beanbag, glass of something eminently sippable in hand.
Achingly stylish suites and villas offer ample acreage for families, and the nanny stands ready should St Tropez's nightlife call your name. When white sands beckon, don your Bardot-inspired best and head over to the hotel's beach club, a Philippe Starck-designed A-lister on the famous Pampelonne beach.
LILY OF THE VALLEY
La Croix Valmer

If it takes a village to raise a child, then perhaps it takes a 2,000sq m wellness village to detox from the process. Lucky for you, Lily of the Valley has just that – and you can bring the babe in question along, too.
Here, health-boosting and stress-busting are serious business – the inhouse team of naturopaths, dieticians and trainers see to that. But the spa experience is only as intensive as you choose. Hardcore health nuts can book onto a retreat for a full schedule of futuristic fitness classes, high-tech therapies and tailored treatments.
Otherwise, go it alone and chart your own sauna-hopping, frosé-sipping and Starck interiors-admiring adventure. Dining is a similarly devil-on-your-shoulder affair – stick to worthy plant-based plates at one restaurant, or succumb to classic French indulgence worth spoiling the diet for at the other.
So far, so grownup. But hey, all that homework takes its toll, too. Nerve-soothing sea views abound at the family-friendly pool, and down at Gigaro Beach, little ones are welcome at the Lily by the Sea beach club. And beyond the hotel, the pine-hugged hills and sun-baked beaches of La Croix-Valmer promise all kinds of kid-friendly adventures.
CHÂTEAU ST PIERRE DE SERJAC
Montpellier

Once upon a time, the prospect of a château and winery where families are not only welcome but well catered for might have seemed a vin-fuelled flight of fancy. Not so at Château St Pierre de Serjac, a 19th-century manor whose fairytale looks are only the start of the story.
With a flick of a wand, the estate's original buildings have become 36 self-catering boltholes. Options include vineyard-view villas for up to eight and a period cottage so picturesque it might as well be made of gingerbread. Goldilocks wouldn't know where to start.
Sleepy days here pass with cypress-shaded picnics and rounds of pétanque. Heroes-in-training also have their pick of outdoor adventures – a stint of horse riding, hiking, sailing and kite-surfing through the lush Languedoc should stand them in good dragon-slaying stead.
The grownups' three wishes – pampering, fine Gallic grub and gallons of Languedoc wine – are also granted. Sink into blossom-scented solitude at the Cinq Mondes spa, take the edge off further with a winery tasting tour, then retire to the restaurant's terrace to dine, happily, on seasonal delights ever after…or at least until way past your bedtime.
LE MAS DE CHASTELAS
St Tropez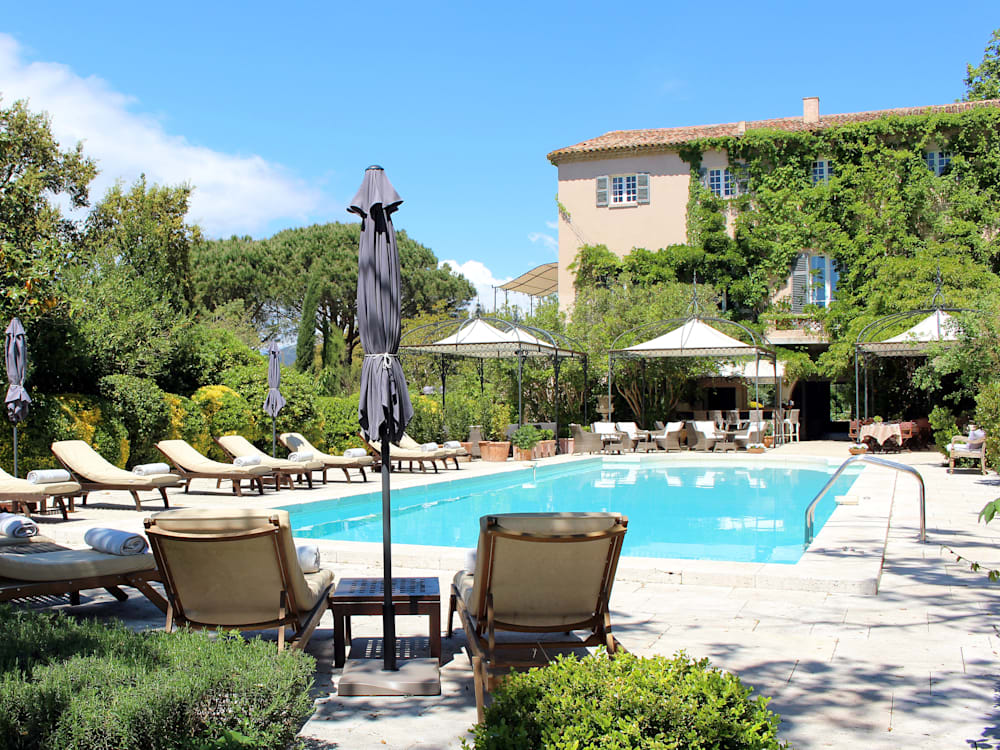 It takes some going to make St Tropez seem passé. The queen bee of the Riviera has been honing its rep as a well-heeled honeypot since the Bardot buzz. But just inland in gentler Gassin, Le Mas de Chastelas has been quietly putting in the hours, too.
A hotel since the sixties, this easy-mannered mansion is all set to lure you from the cobble-stomping crowds and into its laid-back country house cocoon. Heed the call of the hush through the wrought-iron gates, where temptations to suit all tastes await. Some rooms make much of the maison's 17th-century roots, with terracotta tiles and tulle-canopied beds; others sport glossy modern getups. The hotel's Pied Piper charms continue at La Table du Mas, where alfresco suppers of classic French fare unfold on the cypress-shaded pool terrace.
Temptations await for les jeunes (and the jeune at heart), too. Kicking off strong, kids are given a box of Calins de Saint-Tropez biscuits on arrival. Run-of-the-mill paddles won't cut it after a rummage in the pimped-up poolside toy box, and ice-cream floats at the bar provide, perhaps literally, the cherry on top. Le soir, live piano music and champagne cocktails persuade parents to linger.
And should the gilded siren song get the better of you, St Tropez and its celebrity beaches are a shuttle-ride away.
CAPELONGUE
Luberon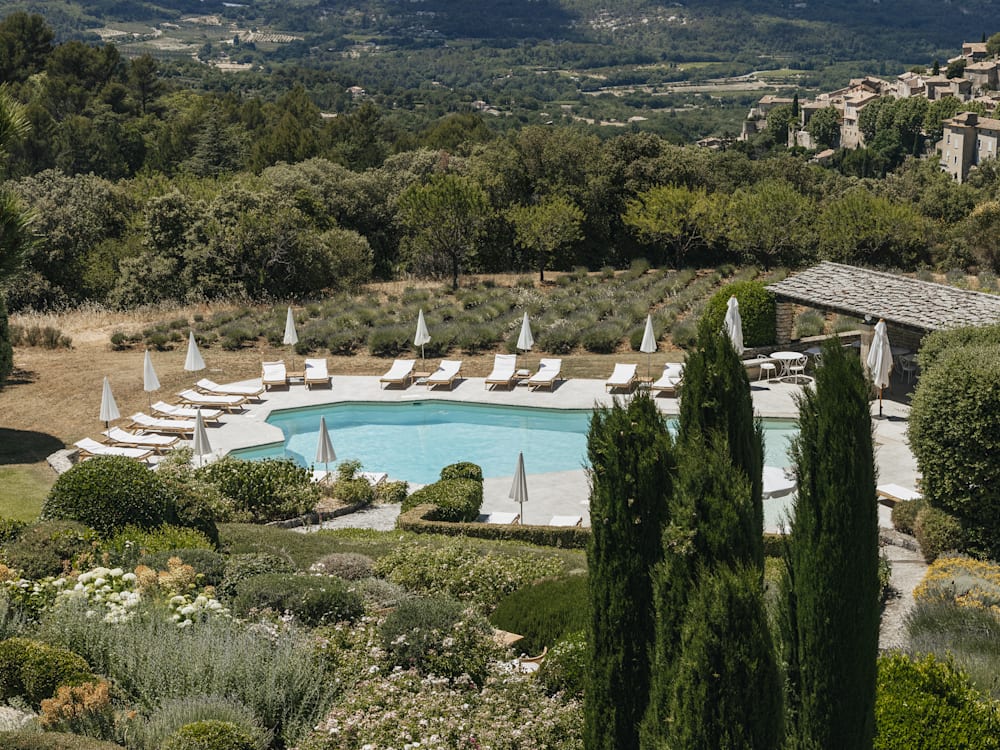 If judge-y side-eye from the smugly sprog-free is sending you running for the hills, there are worse places to wind up than Capelongue. At this hillside country pad, perched above as-bonny-as-it-sounds village Bonnieux, the sleepy cicada-hum rhythm of la vie Provençale is fair game for families, too.
Stroll the estate, swim lavender-scented laps in the pool and – sigh – if you must, stir yourself for a game of badminton or pétanque (or crucial supervision from the sidelines).
Michelin-starred La Bastide and the come-as-you-are Capelongue Café have both made a fine art of farm-to-table fare; curated kids' menus at both keep petits epicureans in the culinary loop. Otherwise, make like Monet's Luncheon on the Grass gang and set out through the cypresses armed with a fromage-filled picnic basket.
Markets, mediaeval monuments and mountain views await in Luberon's wealth of cobblestone villages. Peter Mayle spent a memoir-worthy year in this neck of the woods; if only the summer hols stretched on as long…
DOMAINE DE FONTENILLE
Provence

A château, a 17th-century vineyard and a full sketchbook's worth of verdant views – as far as South of France escapes go, you'd be hard-pushed to find a finer vintage than Domaine de Fontenille. The house wine label, sourced from 35 hectares of time-tested terroir, will turn grownup heads. But Domaine doesn't stint on life's enfant-friendly finer pleasures, either.
If you have haute artistic hopes for your little wonders, a stint in the region that once saw the likes of Cezanne, Van Gogh and Picasso put brush to canvas certainly can't hurt. In line with Provence's painterly pedigree, every room features pieces from the owners' modern art collection; if a stay here doesn't inspire something worthy of the fridge door, what will?
But school's out for summer, so skip over to the former dovecote turned toy-stuffed 'Children's House', saying 'bonjour' to the hotel's highly befriend-able bunch of resident donkeys along the way. The pool, pétanque court and flower-perfumed lawns make for further letting-off-steam territory.
Speaking of steam, the spa's hammam stays open late, perfect for slipping away for some solo time while someone else takes the bedtime-story shift. Even better, book the babysitter and curl up in the fire-warmed bar, a glass of Fontenille's homegrown rosé in hand.
BRINDOS LAC & CHÂTEAU
French Basque Country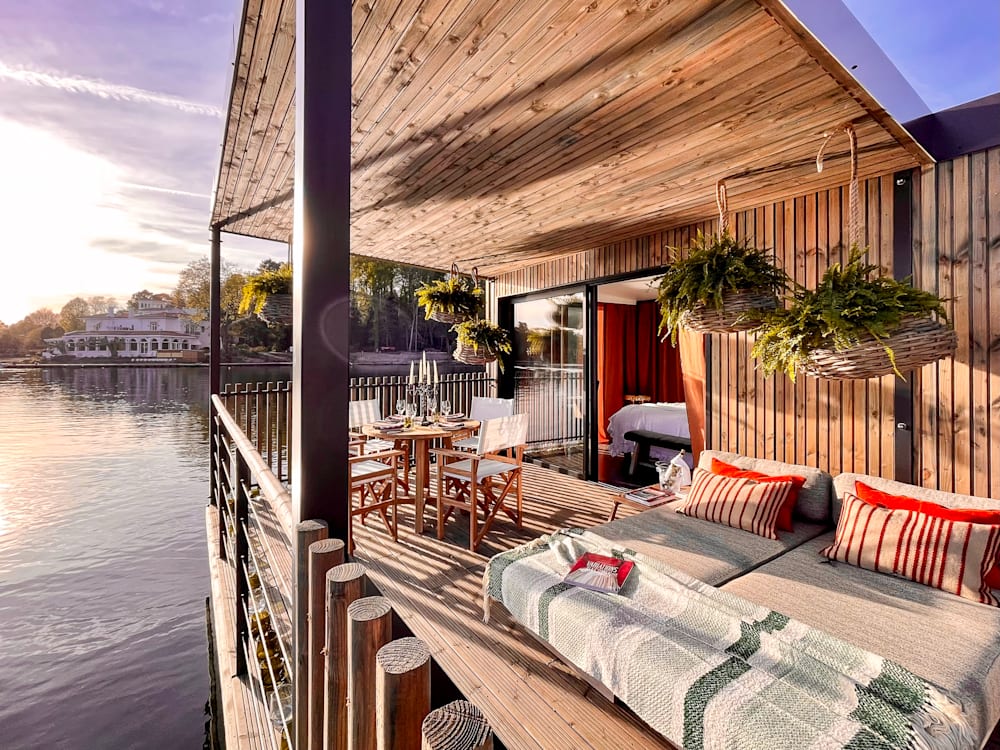 Enid Blyton, eat your heart out. When it comes to escapades à la campagne, the Pays Basque is hard to beat – and Brindos Lac & Château, a stately lakeside resort with a buoyant sense of fun, has played a blinder. Come on, how's one of France's largest private lakes for a playground? Here, pastimes include paddleboarding, e-boat puttering and leisurely forest-trail picnics. For whole families of hardcore water babies, floating lodges reachable only by boat are an option.
Seasoned renovators Millésime know a thing or two about material pleasures, too. The Hispanic-Moresque mansion was refitted with art-deco flair in the 1930s, and their 21st-century take leans elegantly into that vintage chandelier-lit glamour.
Coddling continues in the hammam, where you can keep watch over lakeside shenanigans from your hot-tub hideout. When the warmer months roll around, the floating spa ramps up the relaxation with a full summertime schedule of pontoon yoga and lily-perfumed treatments.
In fact, the best of life chez Brindos unfurl lakeside. Bask in waterfront views and border-straddling Basque cuisine in the restaurant's conservatory. On sun-baked evenings, it's all aboard the pontoon bar to sample the signature berry-sweetened cocktails.
And now to reveal the pièce de résistance of picky-eater appeasing – the hotel has a chocolaterie, where locally made chocolate is served – in liquid, cake and brunch form – in large enough quantities to keep even the most terribles of enfants sweet.
Continue your whole-clan holiday further afield with our favourite family-friendly hotels