Away from the gurning and glow sticks, Ibiza's best beach clubs offer a more sophisticated, (literally) laid-back form of clubbing. Throw shapes to the waiter for another margarita, shimmy over to the restaurant for sushi, or strike a pose on your sun lounger… all to the rhythmic throb of Balearic beats – without all that unsightly effort.
BLUE MARLIN
Cala Jondal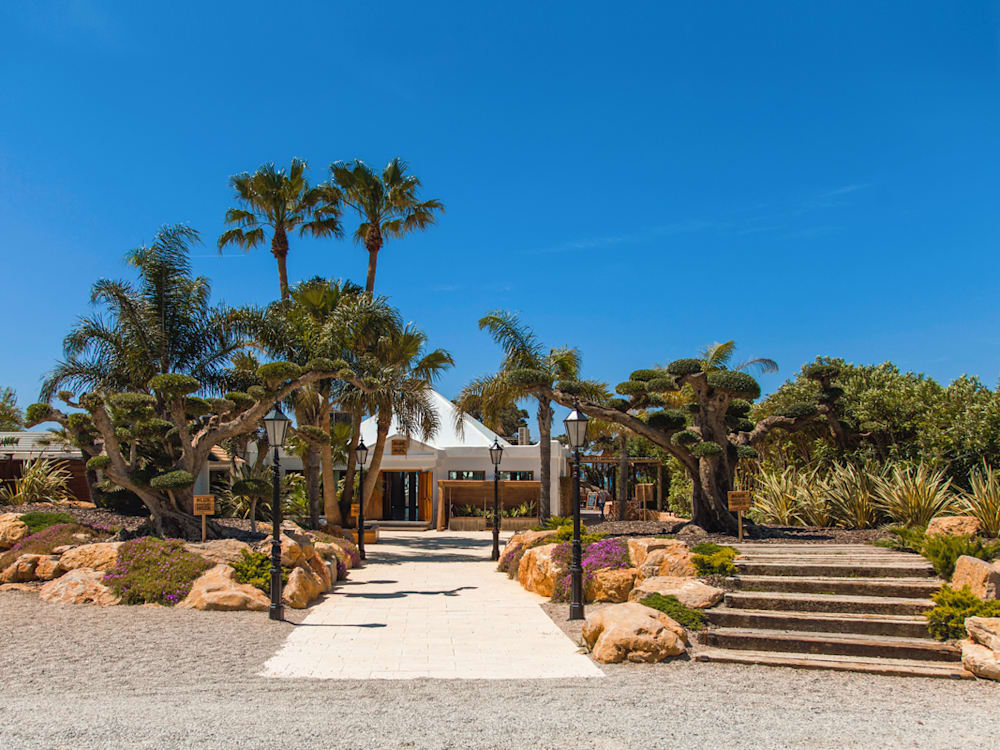 If there's one spot on the island that has bottled the glammed-up hedonistic essence of Ibiza's beach club scene, it's the Blue Marlin. Its reputation as a celeb magnet is well deserved, with a roll-call of the rich and famous that includes A-lister royalty like Beyoncé.
A private jetty means easy access for superyacht squillionares anchored just offshore, who swoop in to dine on Wagyu ribeye and Veuve Clicquot cocktails. That said, the scene is distinctly cosmopolitan too, attracting a healthy mix of holidaymakers and up-for-it locals who throw it down at big-name DJs into the night.
Where to stay It may not be close by, but if you want to arrive at the Blue Marlin in style (and you really should) the Nobu Hotel Ibiza Bay can make that happen.
Also sporting its own jetty, you can boat directly to the beach club for a glitterati-approved entrance. This five-star beachfront beauty has its own dress-to-impress nights, too, together with a toes-in-the-sand chiringuito and that famously fabulous Nobu dining.
BEACHOUSE
Playa d'en Bossa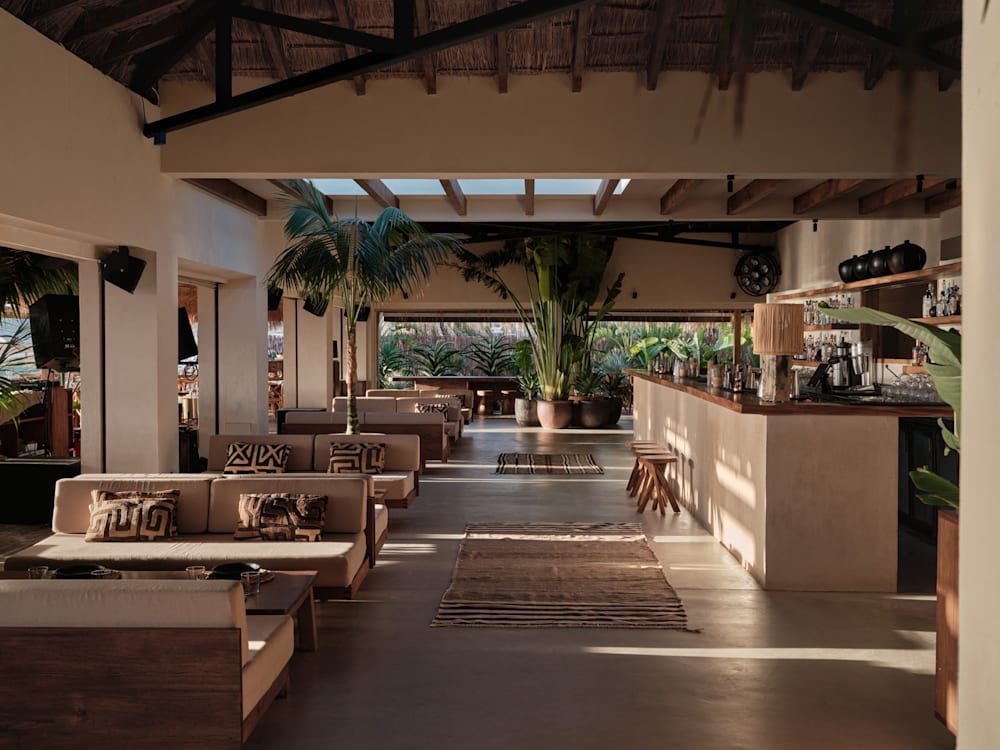 Occupying a prime slice of Ibiza shoreline, you'll find Beachouse set at the south end of the island's most popular playa – d'en Bossa. Despite this, a distinctly beach-shack chic prevails, all sun-bleached driftwood, palm-frond weave and bamboo dappled sunlight.
Free sunrise yoga sessions add to the oh-so-boho credentials, resident DJs lean towards the more chill end, and evenings are more about moonlit dinners than full moon parties. Plus, there's a parent-pleasing beach club rarity – a daily kids' club to help keep the little ones from harshing your holiday mellow.
Where to stay Tucked a couple of miles inland, secluded Pure House Ibiza is enveloped in 30 acres of neatly landscaped, pine-nestled gardens dotted with olive trees, plump cacti and fruiting orchards.
Gleaming whitewashed walls, honey-hued stone and earthy-toned interiors also all add to the quintessentially Ibicenco air of this revamped 19th-century finca. A real slice of Balearic idyll that's still a mere scooter-pootle from the beach.
NIKKI BEACH IBIZA
Playa de s'Argamassa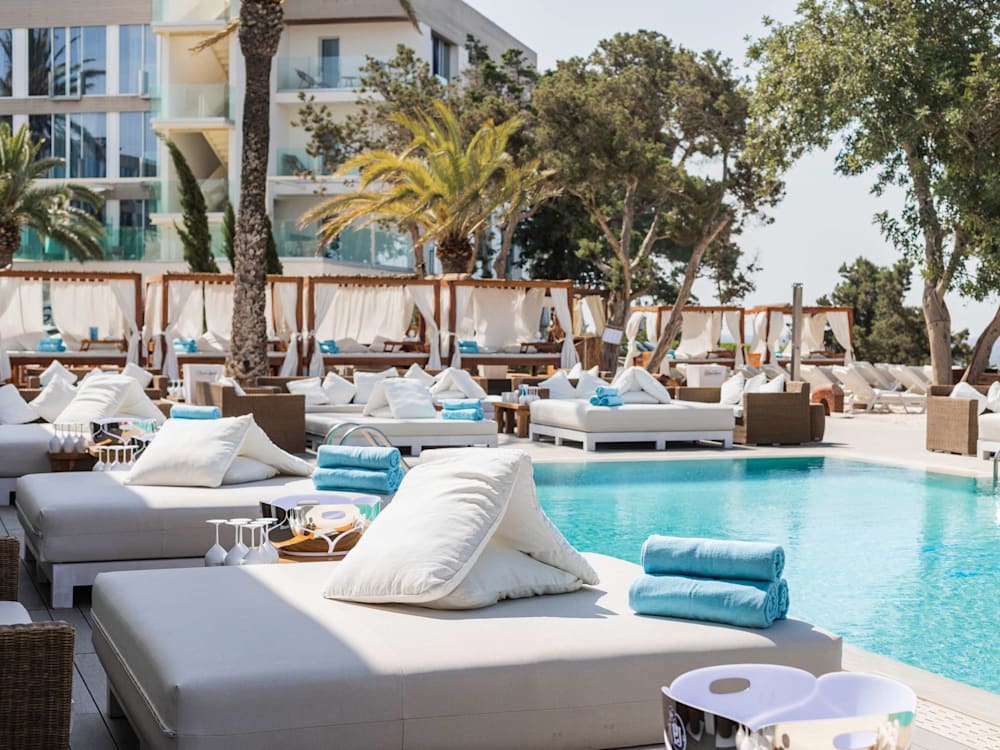 The Ibizan outpost of Nikki Beach doesn't deviate far from the brand's signature formula of sleek cork-popping fun – and why should it? Although set on a more remote corner of the island, the scene is certainly still of the see-and-be-seen variety.
Poolside Bali beds are the prime real estate, though bag a sea-view lounger and you won't be disappointed. Expect live shows from ambulating sax players to fire breathers, plus the occasional familiar face on the decks: everyone from Idris Elba to Fatboy Slim have turned their hand here. Get there on Sunday for a bottomless champagne brunch.
Where to stay When you're done with all that beach club bravado, the blissful confines of Ca Na Xica provide the perfect antidote. A cypress-lined T-shaped swimming pool occupies the centre of immaculately landscaped grounds, where almond, olive and citrus trees dot rust-coloured earth.
White-cube suites open to campo-view terraces and inside-outside bathrooms. A sun-striped restaurant overlooks fields of swaying barley. Expect spontaneous sighs aplenty.
COTTON BEACH CLUB
Cala Tarida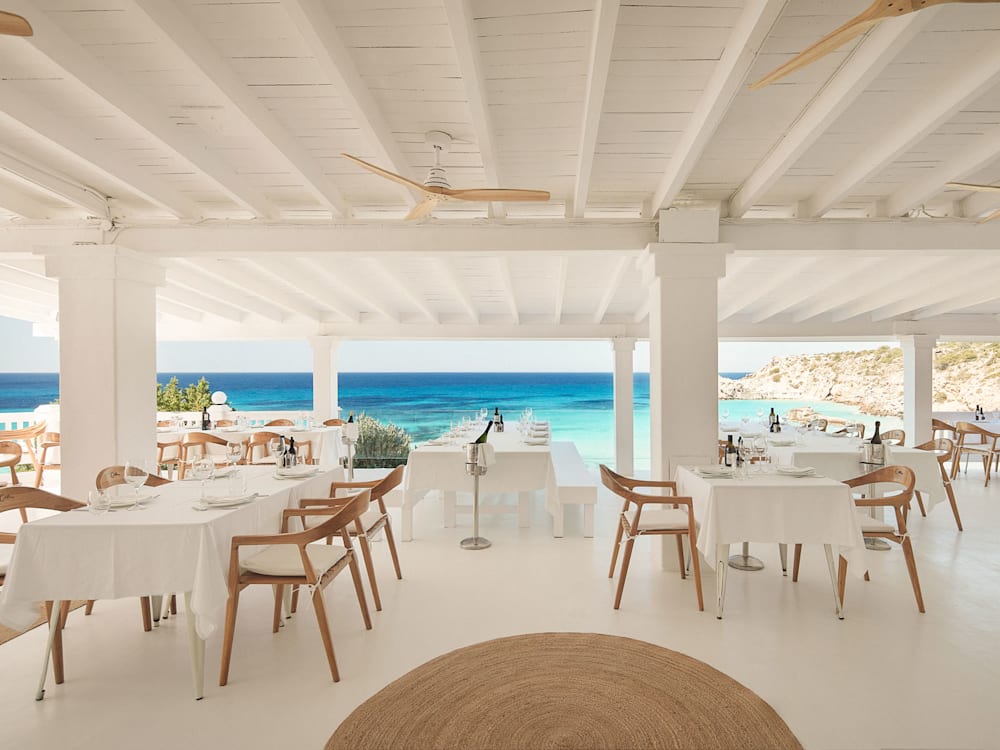 Although a white-on-white palette is de rigueur across much of the island, Cotton Beach Club is positively dazzling in its adherence to the aesthetic. As well as magnifying the turquoise intensity of Balearic waters it overlooks, the effect makes everything pop from the salmon sushi platters to zingy signature cocktails.
A cliff-top setting adds to the magnificence of it all, plus steps lead directly down to picture-postcard Cala Tarida. A west coast setting also provides front-row seats – or king-size daybeds – for those famously resplendent Ibizan sunsets.
Where to stay Ibiza doesn't generally do sprawling, but it's easy to forgive 7Pines Resort's outstanding exception. Somewhere between a pine-scented seaside village and seriously upscale urbanisation, this family-friendly five-star resort really does have the lot.
Count on a huge sea-view spa, a slew of restaurants and bars, and two pools – one with dramatic vistas of mystical Es Vedrà. And if you want to get closer to the mystical landmark, a trio of nippy Pershing yachts are waiting to oblige.
NASSAU BEACH CLUB
Playa d'en Bossa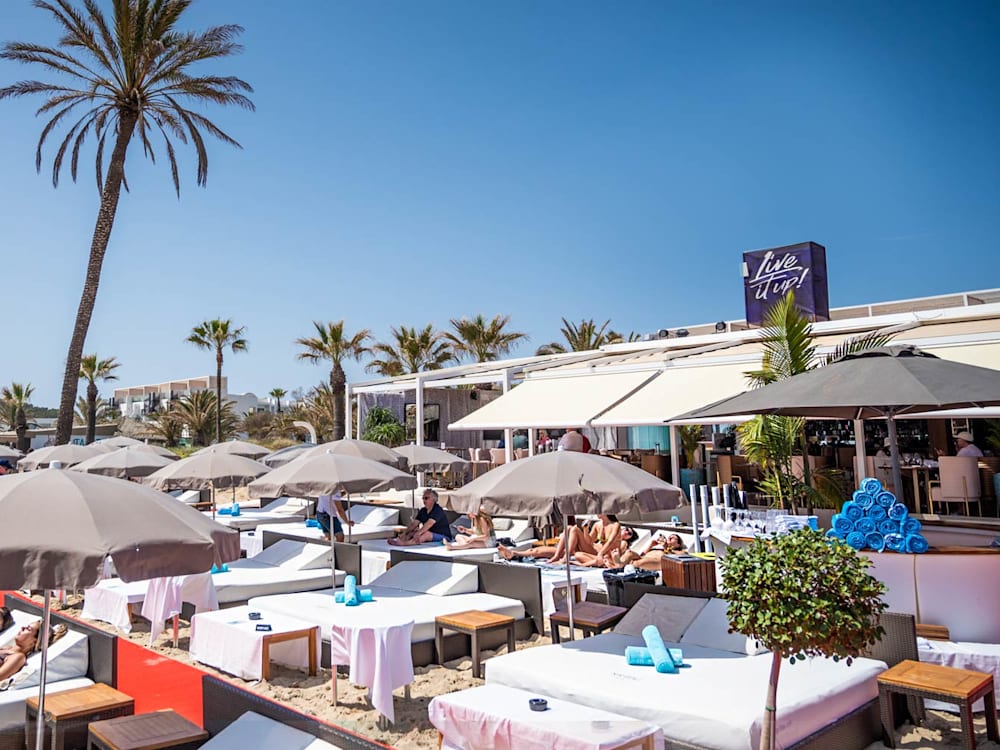 One of the pioneers of the beach club concept, Nassau have it nailed. With its boudoir-meets-Bali aesthetics, glitzy shimmer and obligatory dollop of Boho-chic, they pretty much wrote the how-to on Balearic beach clubbing.
They are aptly set at the south end of Ibiza's liveliest of sandy strips – Playa d'en Bossa – with a fun-forward approach to entertainment. From their signature spark-spouting champagne tub to rolling a red carpet down the beach, they certainly don't hold back from the theatrics here.
Where to stay From one iconic brand to another, stay at the Standard and you've sure done the Ibiza experience in style. This iconic mini-chain's Ibizan outpost cranks up the Balearic chic to the max, pulls the knob off, and throws it in the pool. Whether you're pre-toxing in the tropical rooftop bar or detoxing in the intimate spa, The Standard is always anything but.
EL SILENCIO
Cala Moli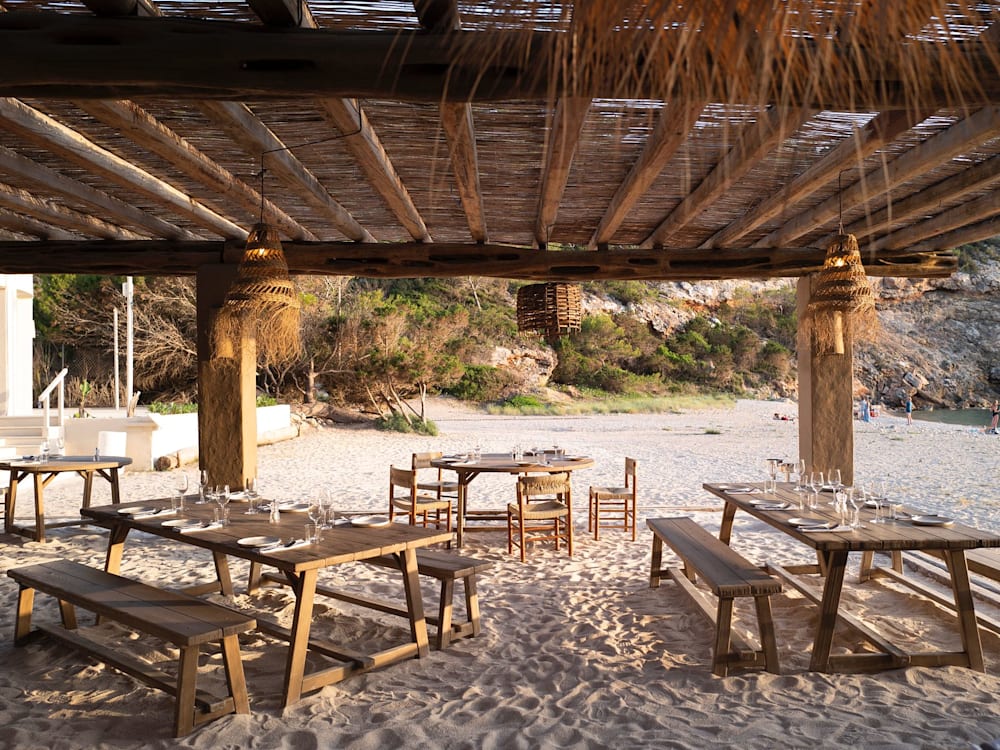 The Balearic outpost of David Lynch's typically Lynchian institution in Paris, El Silencio attracts musicians, fashion designers, chefs and artists to contribute to its inventive cultural programme. And all that creativity translates to the dancefloor, too: its party component, with sets from top-bill DJs around its knock-out pool, is renowned.
Where to stay Margarita-laced brunches set to deep house, daily rooftop yoga sessions, spa soothing with island-grown botanicals, and wagyu or toro with caviar from a former Sushisamba chef? Oku is the ideal tonic to El Silencio's spirit of adventure, with its minimalist rooms in earthy tones (all with balconies, some with 'back to mine' terraces), a resident DJ and the largest pool on the island.
ELEMENTS EIVISSA BEACH CLUB
Cala Benirràs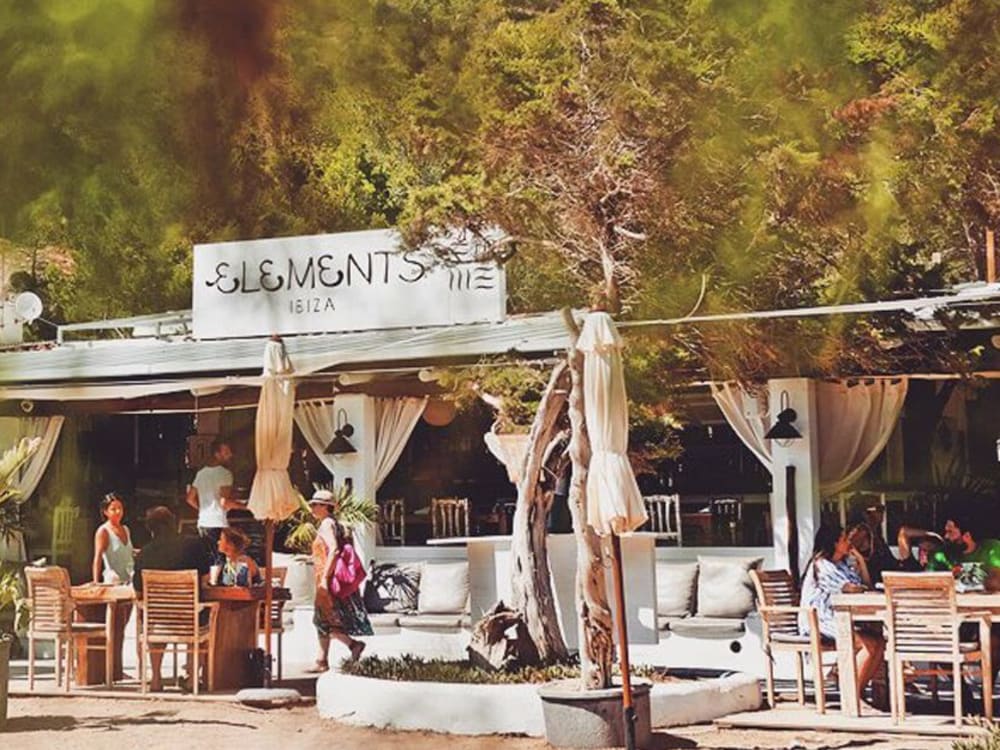 Strip away the glitz and Ibiza is still a hippy at heart. And channelling that flower-power energy in the northeast corner of the island is Elements Eivissa Beach Club. It's set on Benniras Beach, one of the island's more 'alternative' playas (note the sunset bongo-botherers), where a welcoming, come-as-you-are attitude is paired with a blissed-out sense of remoteness.
But don't think this supremely laid-back nature means they're slouches in the kitchen, with a menu featuring superfood smoothies, daily-made pasta and seafood plucked from the surrounding waters.
Where to stay Just a few coves along the coast, Six Senses Ibiza continues in the same soulful spirit. The spectacular 20-acre site somehow blends effortlessly into a broad panorama of shimmering sea and pine-clad sierra.
The complex is genuinely jaw-dropping, not only in its setting but its scope with almost every imaginable experience offered within its achingly chic confines and stunning Balearic locale. Impeccable (award-winning, even) sustainability credentials help you feel even better about your choice of stay.
Prefer your own pad? Check out our private villa collection in Ibiza