Every year, NYFW begins the cycle of fashion weeks that occur twice annually in the world's sartorial capitals, and it's damn near impossible not to get swept up in the immaculately dressed glamour of it all: appointments, shows, screenings, live streams, scrambling across the river from Eckhaus Latta in the Lower East Side to Gabriela Hearst at the Agger Fish Building.
But if that all feels a bit too much, it's perfectly possible to live out your fashion fantasies at any time of year. All you need is a chic location, haute design and bars worthy of the most raucous after parties. So leave some room in your case, fashion lovers, here are the most stylish boutique and luxury hotels in New York…
ROXY HOTEL
The screen icon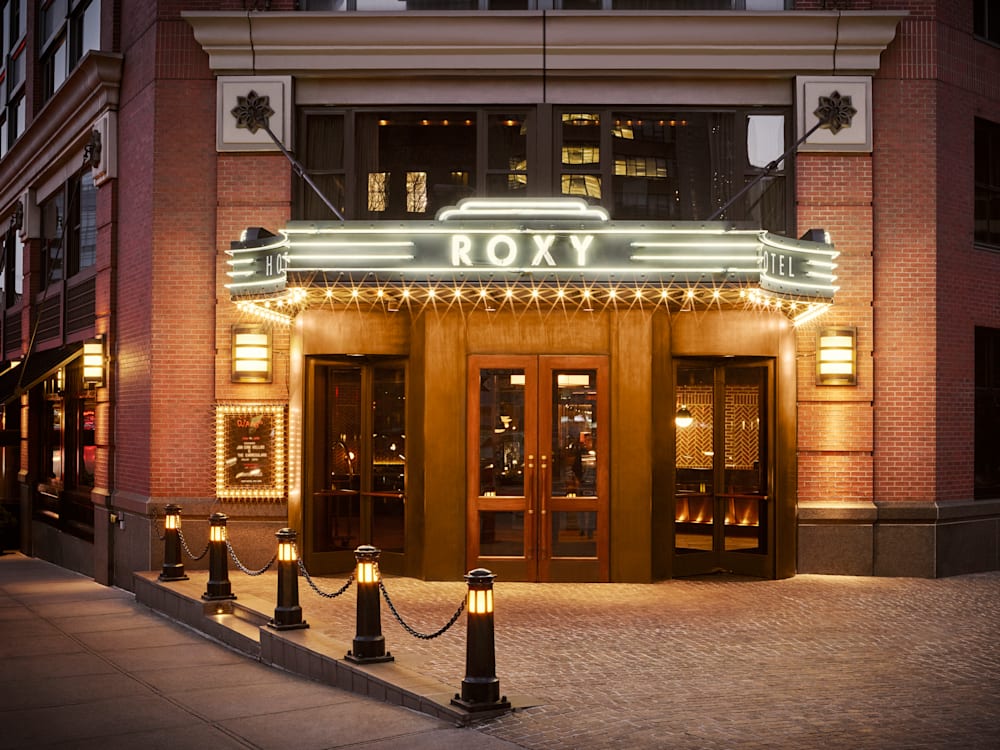 At the heart of buzzy Tribeca, the Roxy is always a magnet for the city's creative set, its hip musical heart evidenced in everything from the basement jazz club to the Teac record players and Marshall speakers in the studio rooms, suites and penthouse.
But come fashion week, this downtown spot is something of a safe haven for the fashion savvy, who can often be seen typing up reports from the runways across the street, sipping Jack's Stir Brew Coffee (one of the city's favourite caffeinators) or, post-show and pre-party, slipping into the oyster bar for happy hour. There's even a private cinema for indie debuts and classic screenings.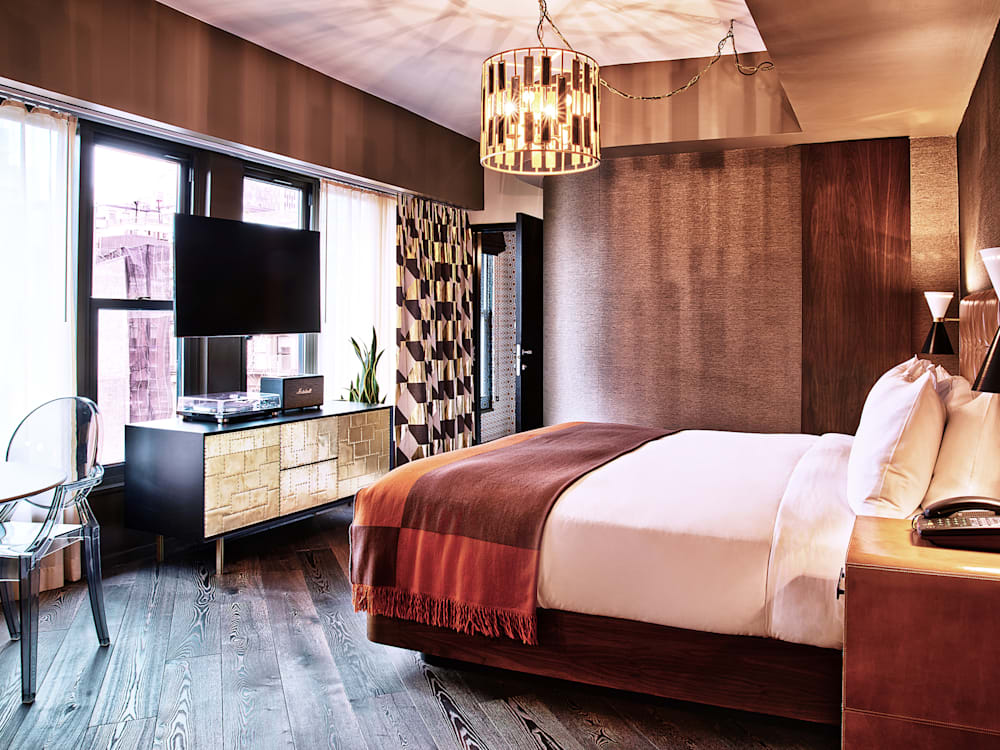 Prêt-à-Rester The Roxy is achingly trendy, but it wears its reputation as lightly as a Halston halterneck. The room design embodies a similar 70s allure, with bold retro-patterned wallpaper forming the backdrop to mid-century furniture and quirky touches (including acoustic guitars, Smeg fridges and even a pet goldfish).
Dress code Channel the jazz age. Up-dos and sequin-spangles for ladies; white tees and braces for gents (wingtips optional).
PUBLIC NEW YORK
The crowd-puller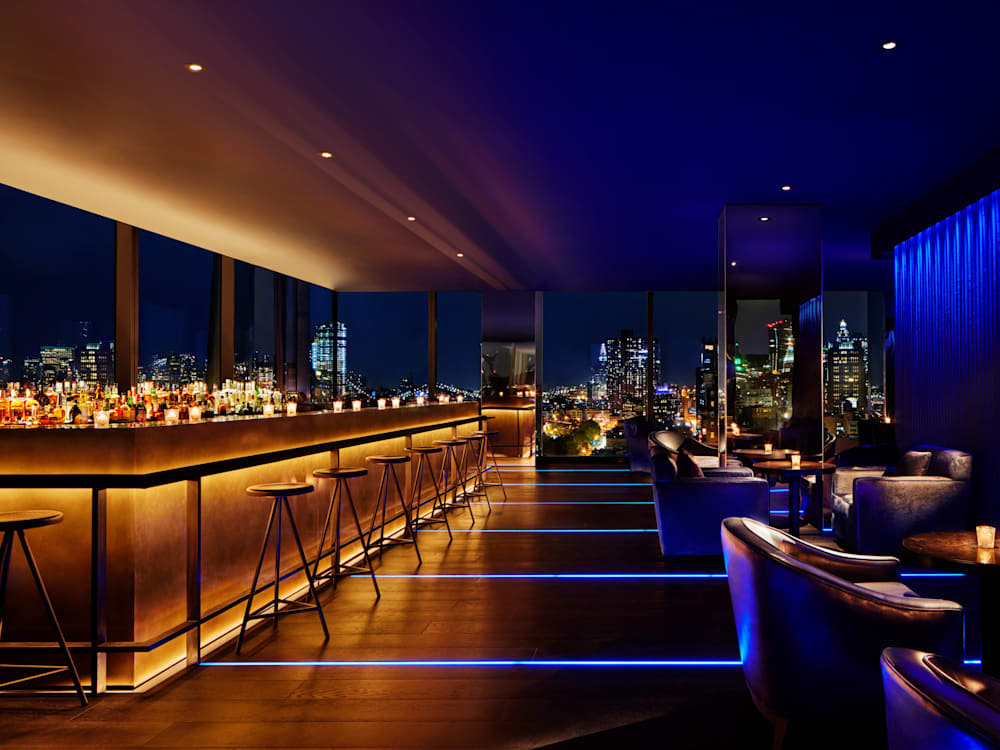 This Lower East Side hotspot, the brainchild of revolutionary hotelier Ian Schrager, is a natural hit with the fashpack. Indeed, Julia Fox headed here after opening LaQuan Smith's AW22 Show, partying at the recently launched Popular restaurant before heading up to the penthouse. Clearly, this hotel is not only conveniently located for NYFW's demanding nighttime schedule, but a nocturnal destination in its own right.
The focus – as the name Public implies – is on cool communal spaces, and hopping between the buzzy lobby lounge, cocktail bar Diego, and a rooftop bar that has knockout 360-degree Manhattan views makes a room key feel like the hottest ticket in town. To zoom along its oft-Instagrammed escalator among the modish crowd is akin to storming the catwalk – but this one ends with refuelling at superchef Jean-Georges Vongerichten's Public Kitchen.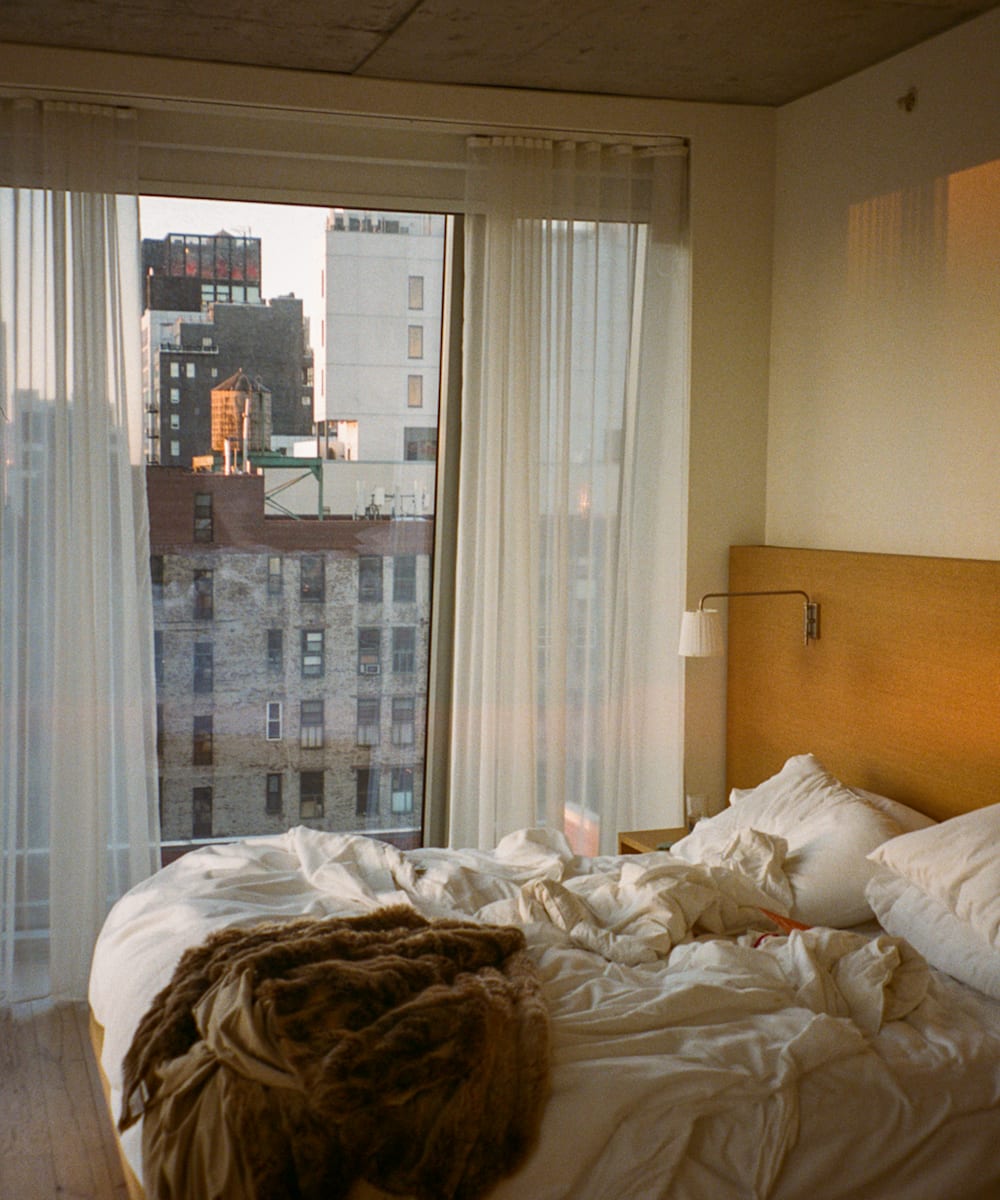 Prêt-à-Rester For all its high-octane revelry, Public also delivers on perhaps the most elusive thing in this city: a good night's sleep. An atmosphere of simplicity pervades, with minimal decor, bleached wood and floor-to-ceiling windows. It's hard to beat waking up to views of the skyline through those – drinking it in is the ultimate tonic for a jet-lag hangover hybrid.
Dress code There's no place for fusty formality here. Understated style rules, or anything fit for a dancefloor.
SIXTY SOHO
The number to know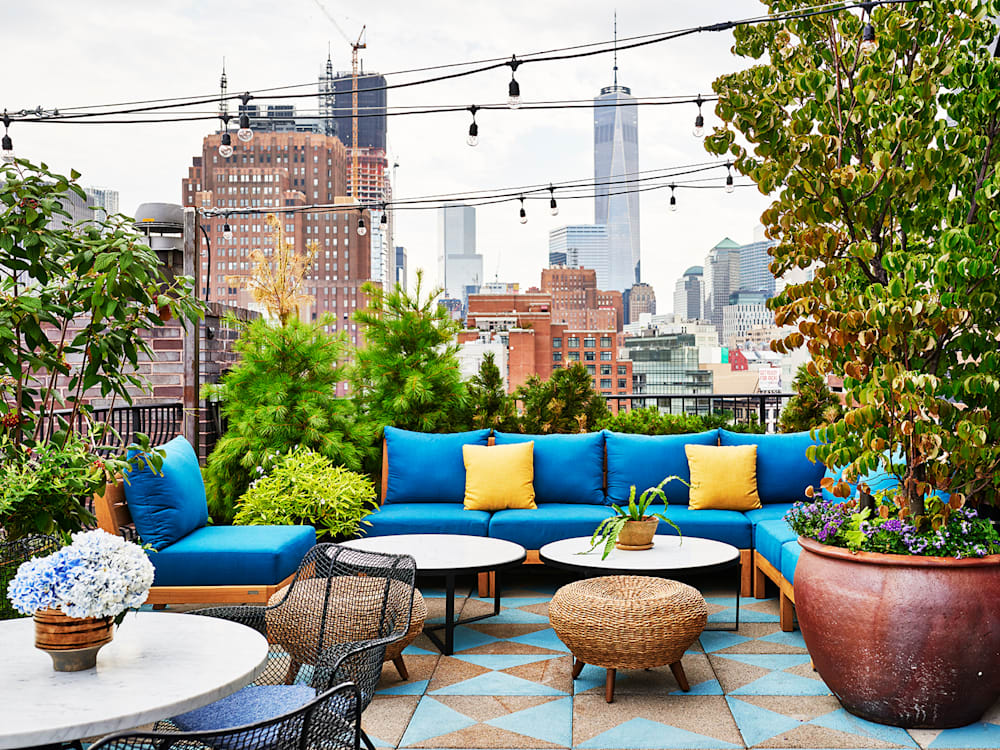 Walking from Sixty Soho to Spring Studios (home to many of NYFW's biggest shows) takes fewer than 10 minutes. That's especially good news for guests of this well-hidden boutique hotel on a quiet block of Thompson Avenue, who will probably want to soak up the home comforts, check out the seasonal rooftop bar Above Sixty Soho, and get a quick Parisian hit at Bistrot Leo.
The westside location is also great for other fashionable hotspots, including the Piers and Industria Superstudio. But at any time in the fashion calendar, there's serious retail allure here; it's surrounded by an abundance of big brands, independent boutiques, and vintage wares, making an ideal match for the hotel's downtown-cool dress code.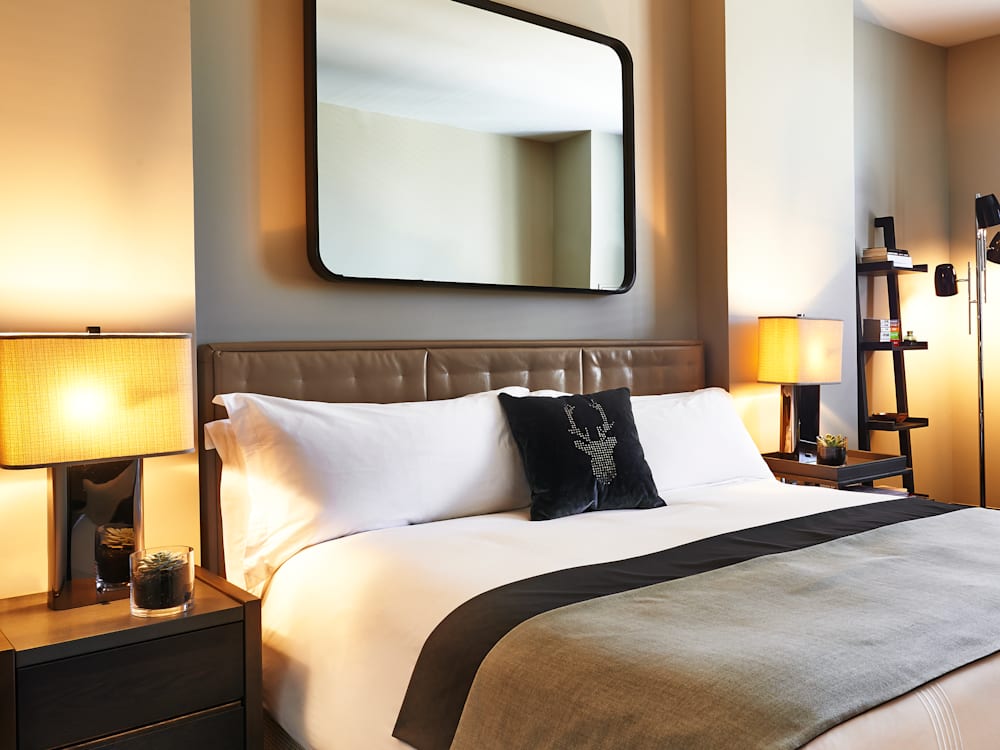 Prêt-à-Rester Most of the recently renovated rooms are on the smaller-but-perfectly-formed side, with dark hardwood floors and muted jewel tones that wouldn't be out of place in a Gucci campaign. The higher you go, the better the views, naturally, and those above the eighth floor offer an unrestricted lookout across the city.
Dress code Mix cool downtown finds – boyfriend jeans, fab vintage pieces – with label-chic accents.
THE LUDLOW
The scene spot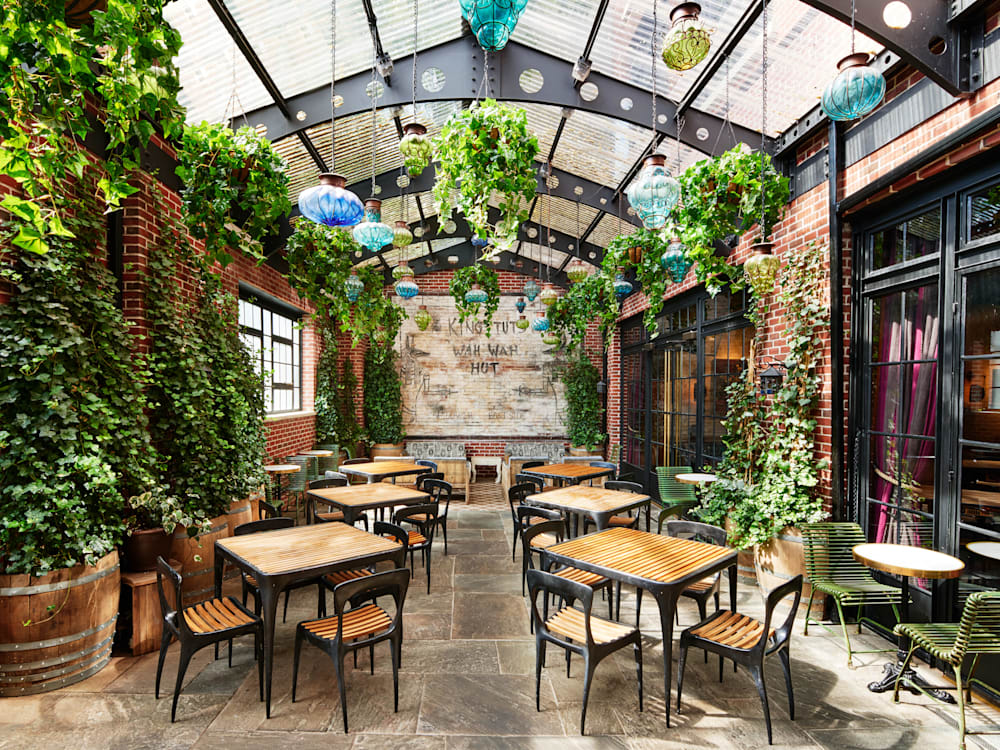 The Ludlow is a popular meeting spot for NYFW's more industrious attendees who congregate in its discreet trellis-shaded courtyard garden and its fireplace-warmed lounge. It's all effortlessly hip, exuding a vibe that's perfectly representative of its location above the former tenement district of the Lower East Side.
Exposed brick walls, low-slung leather sofas, repurposed wood beams, a hint of Seventies cool and an abundance of the great and the good-looking mean a reservation here feels as great as bagging a spot on a scorching-hot guestlist – maybe even better.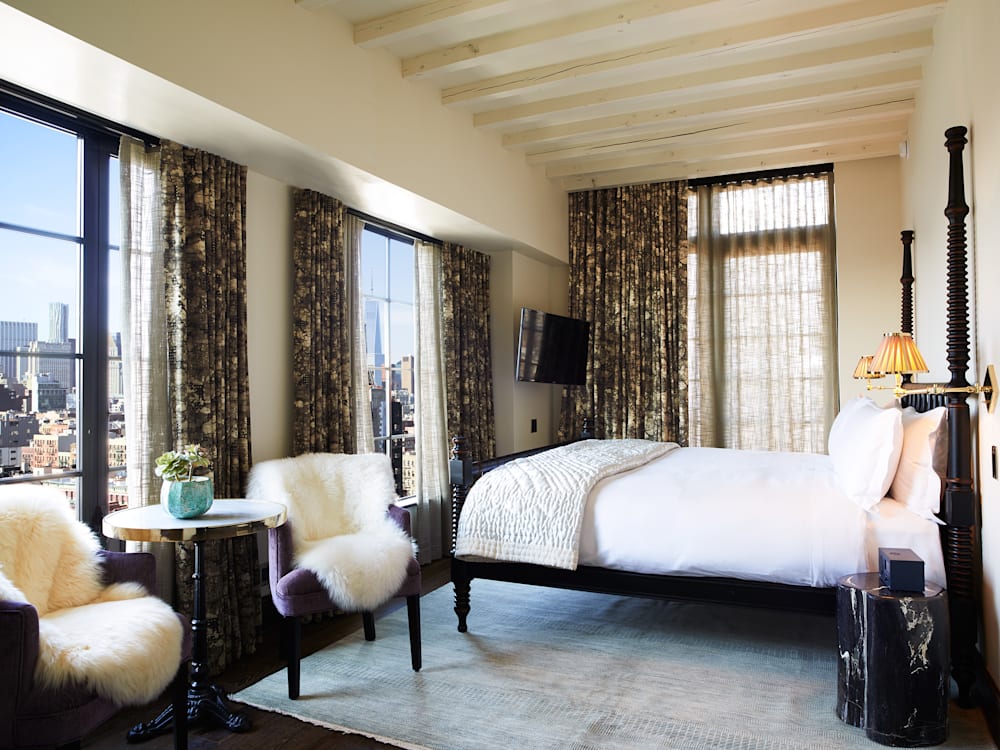 Prêt-à-Rester From the snug 'Studio' rooms to the Loft King with its sweeping terrace on the 15th floor, the rooms vary in square footage but share all-important attention to detail. Expect wooden four posters, velvet upholstery, mosaic-tiled bathrooms and large windows overlooking the buzzy streets below.
Dress code Classic labels with a generous dose of streetwear savvy.
THE BOWERY
The classic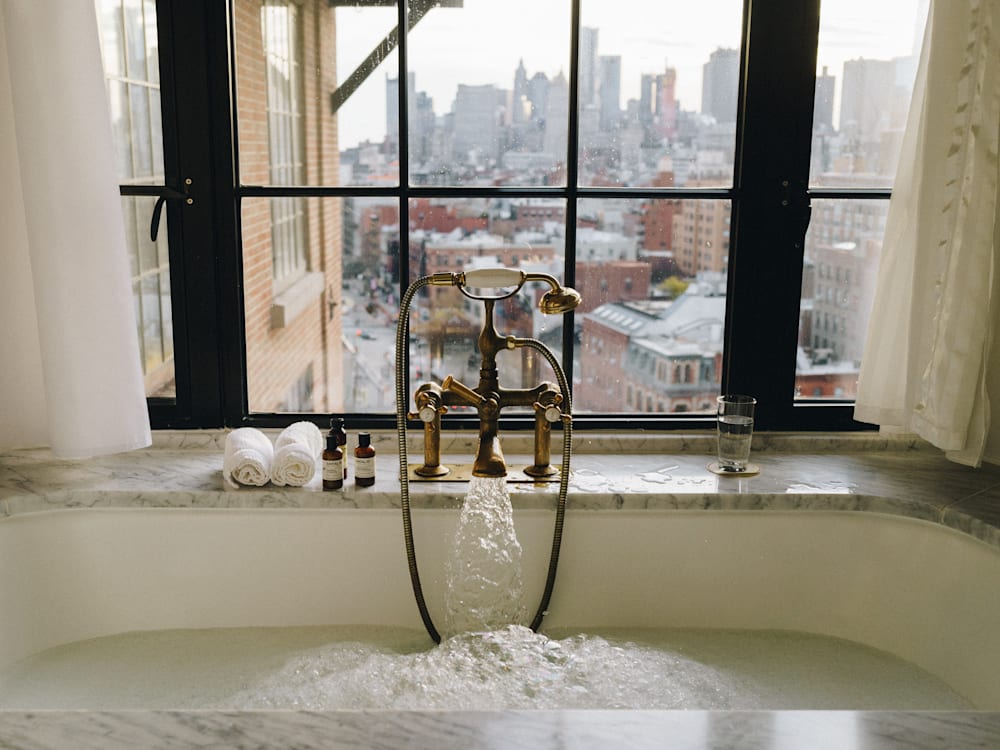 This year the Bowery played host to the Bronx and Banco fashion show – such is the sartorial draw of this boutique gem in the formerly down-and-out hipster haven that is Manhattan's Bowery.
Everything centres around an irresistibly cosy Art Deco-inspired lobby bar, an A-List favourite complete with roaring fire, faded tapestries and dark wood panelling. There's Tuscan charm on tap at Gemma, where pizza and people-watching can be enjoyed from plush leather-banquette booths that hark back to the gilded age of this unsleeping city.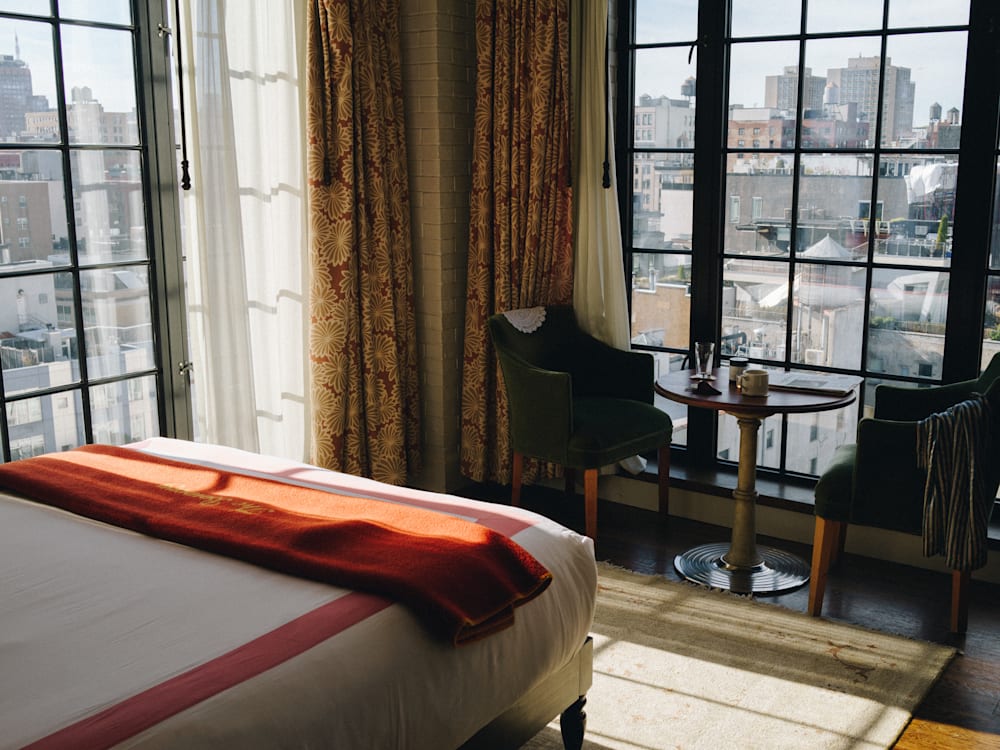 Prêt-à-Rester Light floods in through the vast factory-style windows that line this 17-storey hotel, some of which offer jackpot glimpses of the Empire State Building. The rooms feel classic NYC, but echo the Edwardian opulence promised by the lobby, with Persian carpets, hunter green velvet and marble touches.
Dress code Edwardian dandy, backstage with the Ramones.
MODERNHAUS SOHO
The artistic edge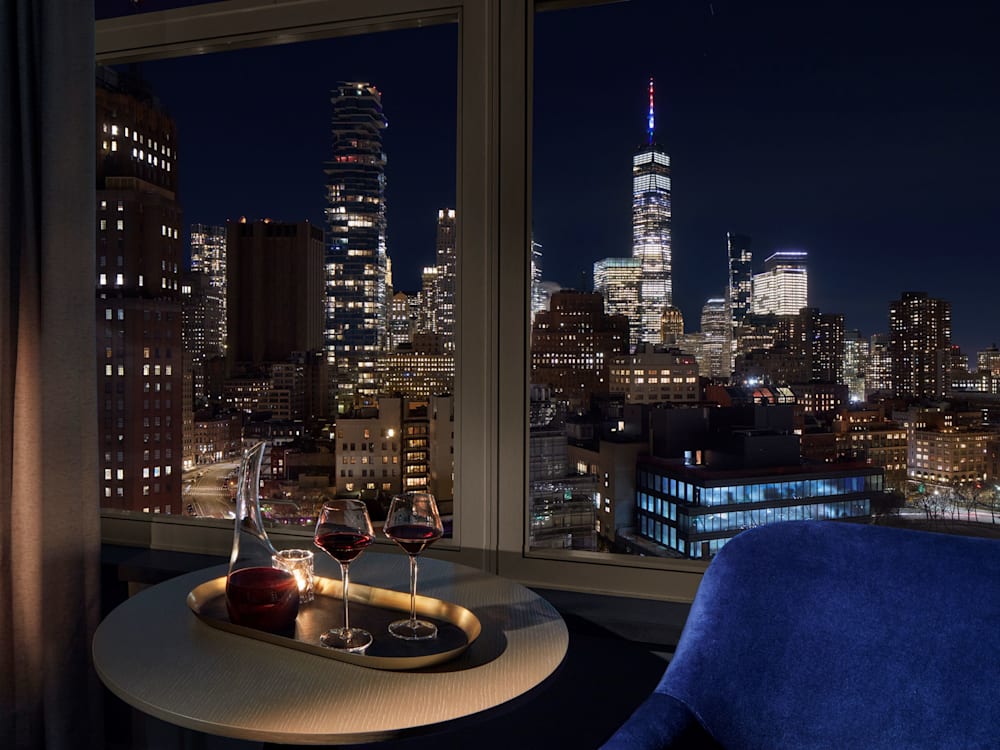 If keeping up with a packed schedule precludes the necessary Met or MoMA pilgrimage, stay at ModernHaus SoHo, which adorns its Bauhaus-inspired aesthetic with an eclectic collection of museum-worthy art. You'll find original pieces by the likes of Kaws, Hans Hartung, Harland Miller, and Alexander Calder around every chic corner.
But in this prime spot, the impressive art collection is almost eclipsed by the commitment to partying; up on the 18th floor, Lower Manhattan nightlife staple Jimmy has been restored to its former glory, its moody decor inspired by Picasso's early blue period, and the rooftop pool plays host to reportedly wild watermelon-frosé-fuelled parties. The next day, guests can recover in style at Veranda, a raved-about restaurant helmed by Michelin-starred chef George Mendes – or seek refuge in Bloomingdale's, which is a seven-minute walk away.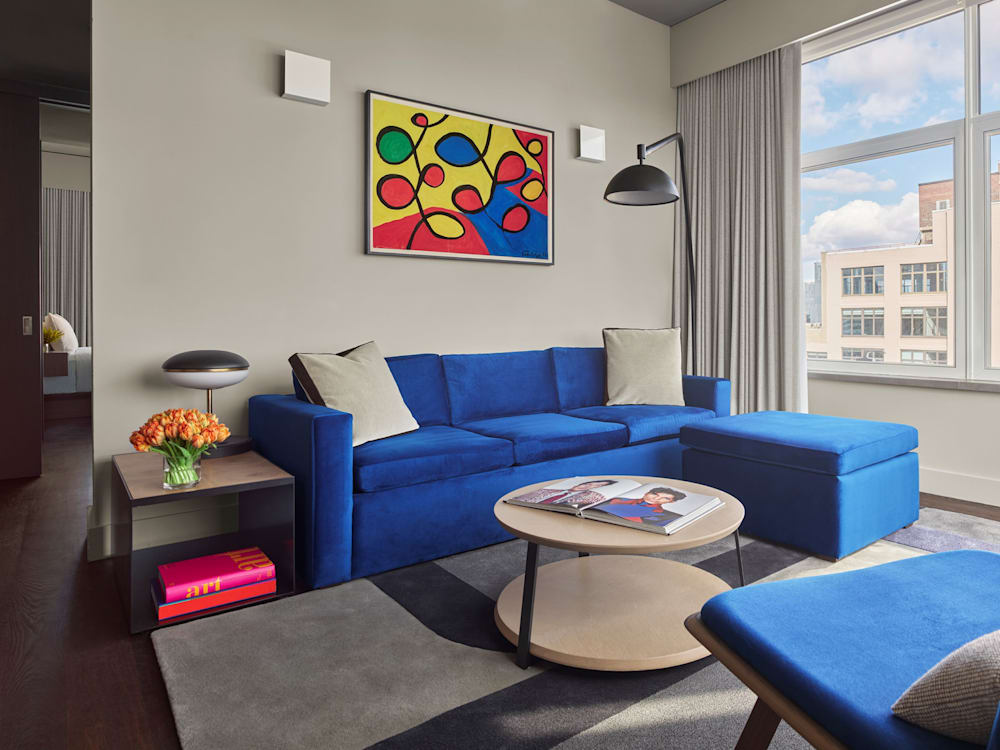 Prêt-à-Rester The rooms are unusually spacious, and every single one comes with knockout city views. If you can tear your eyes away from the skyline, there's yet more vibrant artwork, trendy touches, and reclaimed wooden floors to be admired.
Dress code Sleek silhouettes year round, but balanced with oversized blazers in winter.
Now browse our full ready-to-stay collection of New York hotels