Whether they've been hewn roughly to fit round nature or placed with precision atop a roof to provide a city cool-down spot, a well-crafted pool is often the jewel in a hotel's crown – be it a place for idle dipping or enthusiastic Instagramming. Here are a few shining examples; architectural marvels, shapely scene spots, and plenty of 'Wow, would you check out that view'-ers…
LES ROCHES ROUGES, CÔTE D'AZUR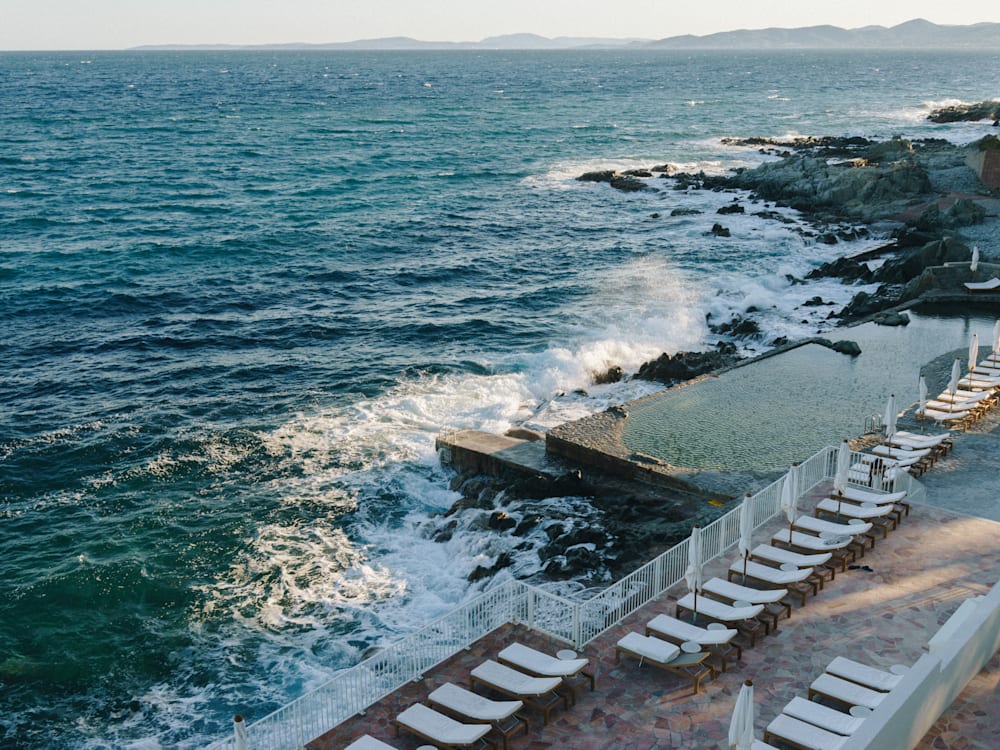 Remember your halter-neck swimsuit and wide-brimmed hat. Boys: pack those short shorts. You'll want to recreate your own Slim Aarons shoot at Les Roches Rouge, whose retro saltwater pool abuts the surf so closely that waves regularly slosh over the boundary line.
The hotel's photogenic rocks reach into the pool as if Mother Nature herself wants in on the centrefold, but even easier on the eye are those views across to the Tintin-inspiring, red-hued île d'Or.
AMANGIRI, UTAH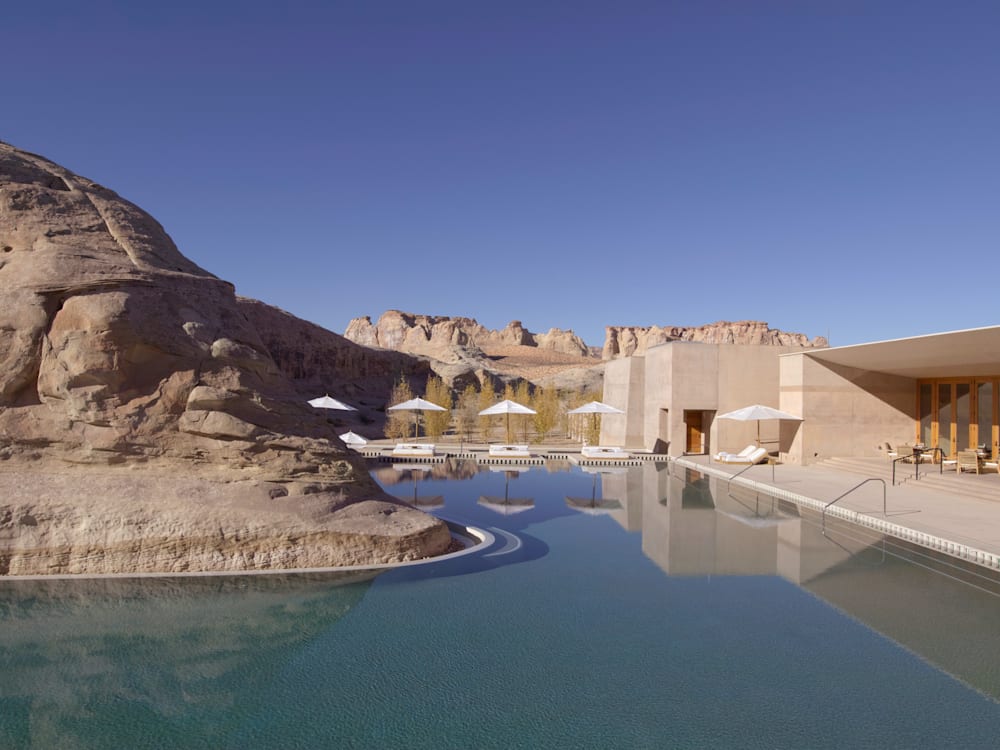 This is a geographically blessed spot for a bit of breaststroke: a 600-acre sprawl of untouched desert ensuring unspoilt views of the soaring Grand Staircase and surrounding red-dust desert flats. The pool at Amangiri's clear, temperate waters curve around the base of a sandstone escarpment; its bulk elegantly contrasted with backlit floating day-beds and a sunken hot-tub.
And while Utah may be a dry state, prickly-pear margaritas can be easily (and legally) acquired here to take the edge off that 'Whoa, am I swimming on Mars?' feeling.
THE NORMAN, TEL AVIV
Adding an infinity pool to the Norman, an elegant 1920s building in Tel Aviv's White City – with its high concentration of Bauhaus buildings – was ambitious, especially when you step out onto its decking and discover how it had to slot into the rooftop like a Jenga piece beside the hotel's slanting skylight and row of cushioned daybeds.
Yet the effect is masterful – from here you can spy neighbouring architectural gems glimmering in the sun, beyond which a strip of blue sea skirts the horizon.
BORGO PIGNANO, TUSCANY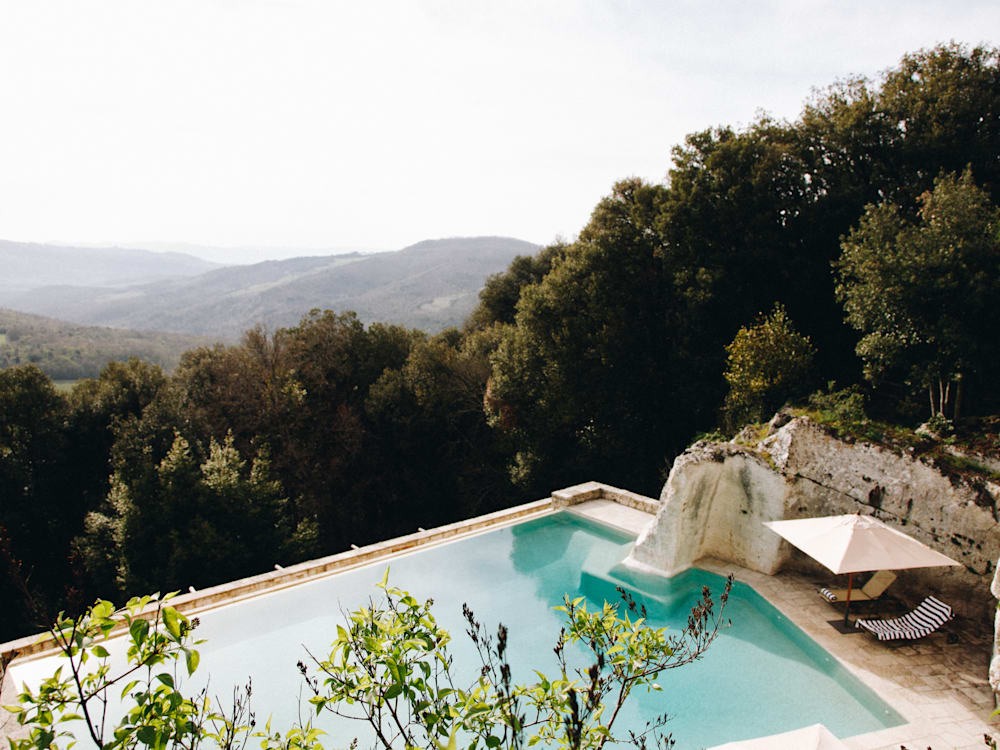 With 750 acres of gorgeous grounds, active stables, and an art gallery to attend to, you could forgive Borgo Pignano if some features of the hotel – say, the pool – was scaled down. But that's just not the style of this 18th-century villa and hamlet originally settled by the Etruscans.
Descend the stone stairs to a pool carved from an ancient limestone quarry, marvel at how a tooth-like tuff has been integrated into the design, and then flop onto a sun lounger for a day that ends with sunset over sepia countryside.
TIERRA ATACAMA HOTEL & SPA, CHILE
Two reasons why we might pass on ascending Licancabur, the Atacama Desert's iconic stratovolcano. Firstly, it was considered divine by the ancient Atacameno people, who believed climbing it brought misfortune.
Secondly, and perhaps more pressingly, we're rather more drawn to the crescent-moon-shaped wicker sunloungers, set beside by the reed-fringed pool at Tierra Atacama Hotel & Spa, which offer front row seats to a sunset that paints the volcano cone a fiery red.
ONE&ONLY REETHI RAH, MALDIVES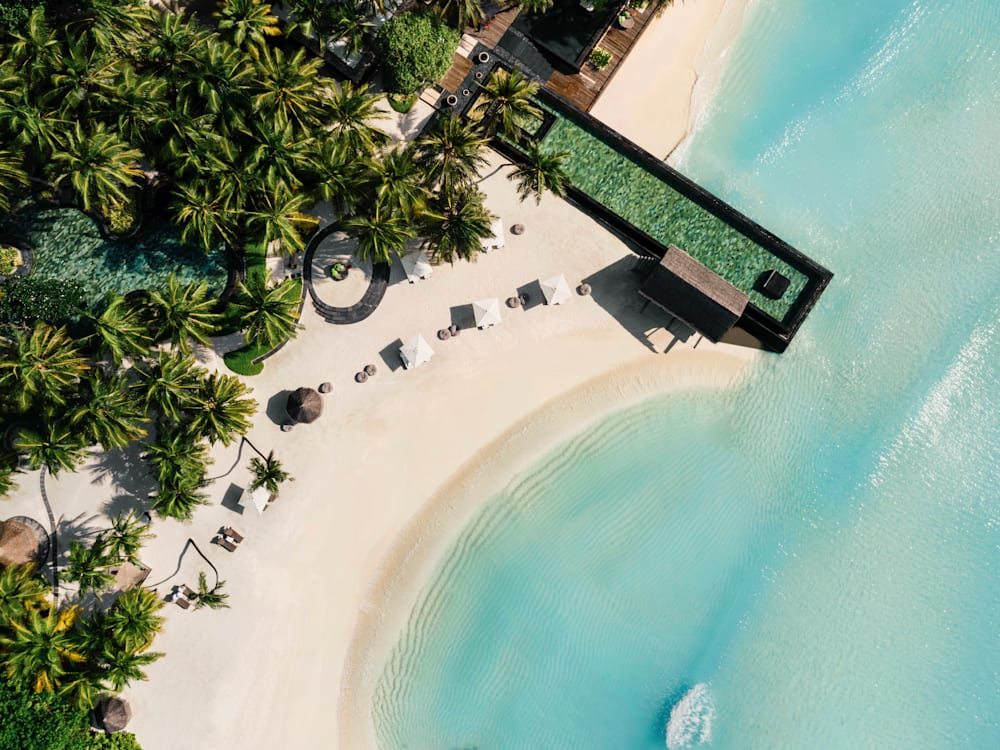 If Mondrian did swimming pools, he might've conceived One&Only's geometric masterpiece at Reethi Rah. The thick, clean, black lines, demarcating the 30-metre lap pool, internal Jacuzzi, and carved stone bed are artfully laid out. But in place of his trademark primary colours, you'll find a gradient of green and gold tiling mirroring the turquoise fade of the lagoon.
The hotel's other pool is a freeform infinity-edge number that features hammock-toting islands, perfect to find yourself washed up on for a lazy afternoon.
MIHIR GARH, JODHPUR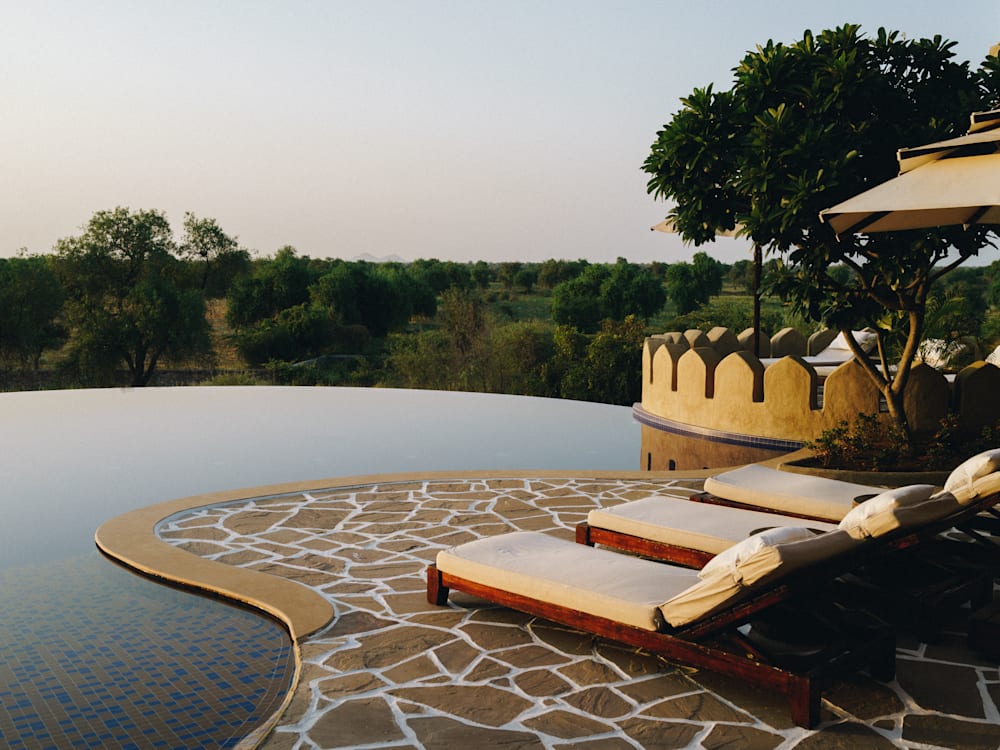 Mihir Gahr rises miraculously like a sandcastle from the surrounding Rajasthan desert – the only building as far as the eye can see. But equally as revelatory is its shapely infinity pool, which bulges out over fragrant champar, bougainvillea and improbably lush lawns with views of the scrubland beyond.
Sure, there are cushioned sunloungers on the slate-tiled terrace, but you might choose to recline on one of the deep poolside couches or in the fairytale wall niche as the squawks of parading peacocks pepper the air.
CAPELONGUE, PROVENCE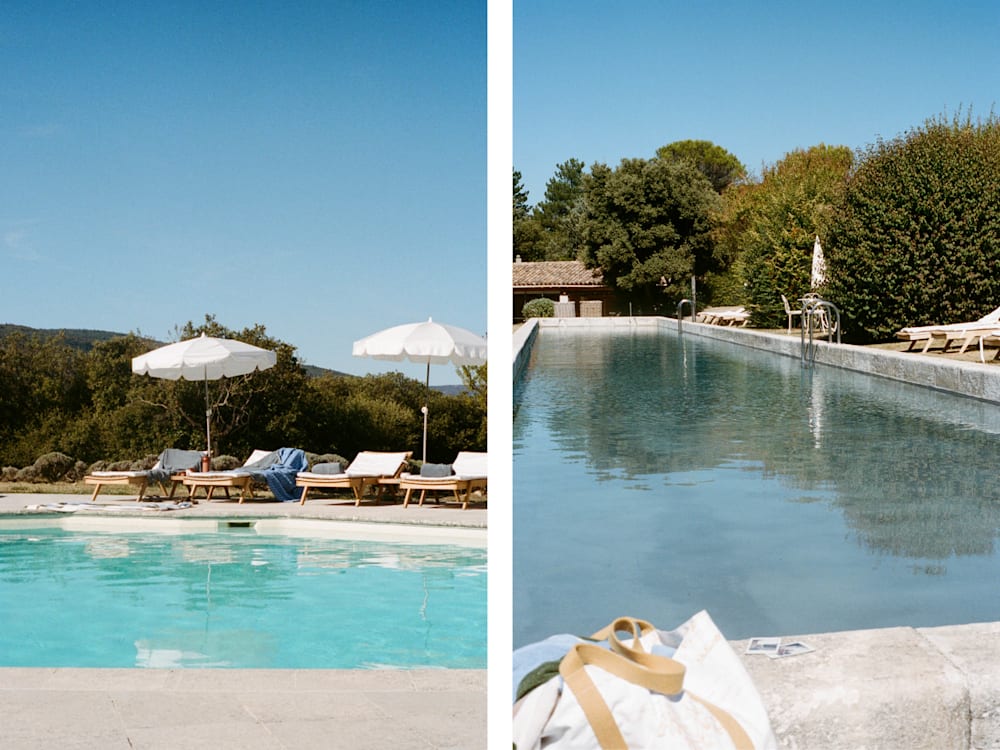 Sometimes, of course, more is more. And when you're ensconced in the picture-perfect Provence scenery at Capelongue, being able to stroll between two prime pools counts as a day's activity.
One is a mere slip of a thing; the slender Tetris piece repurposed as a pool to pose by and cool off in. Conveniently, it's parallel to the by-day restaurant so its perfect for an afternoon of chips and dips. The other is grander, more show-offy, a proper 'location' pool – large enough for laps, with views over beautiful Bonnieux and the lush Luberon beyond, and the scent of lavender drifting from the surrounding gardens.
AVALON BEVERLY HILLS, LOS ANGELES
The Avalon Beverly Hills started life as the Beverly Carlton in 1948 and in its heyday counted Marilyn Monroe, Mae West and Lucille Ball as residents. Perhaps designers Alvin Lustig and Sam Reisbord had these famous future inhabitants in mind when they designed the pool in its distinctly feminine hourglass shape.
Kelly Wearstler redesigned the entire hotel in 1999 but didn't touch its famous pool, so it's still at the heart of the landmark address today, surrounded by intimate cabanas and oversized loungers.
SOHO HOUSE MUMBAI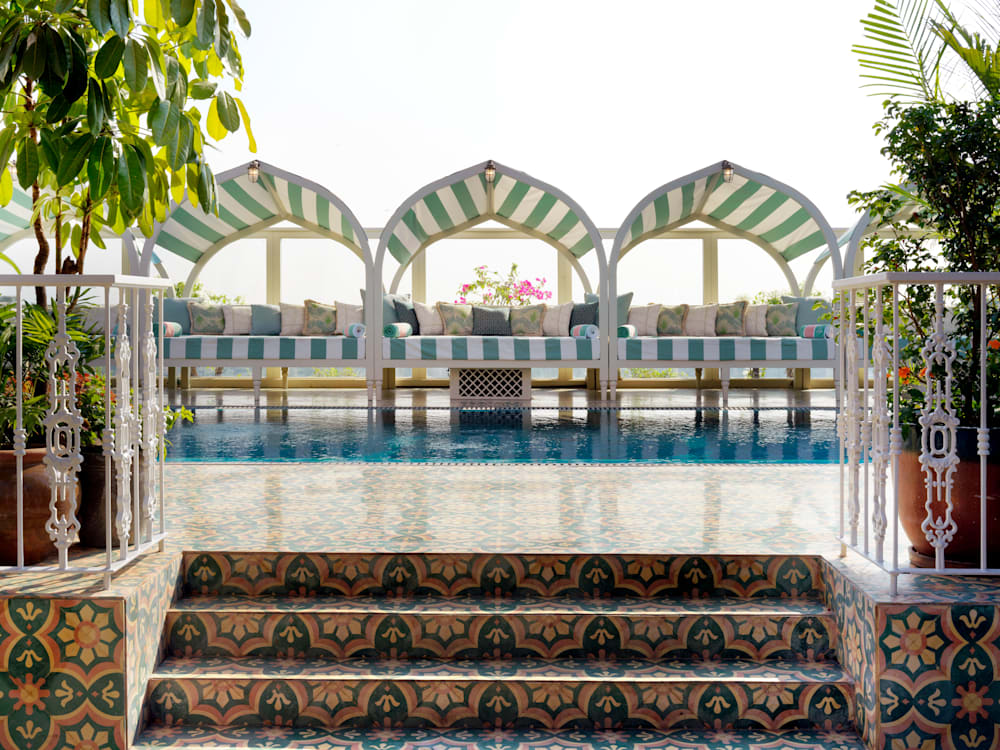 You'd be forgiven for not immediately connecting 'pool' to 'Mumbai', but the famously pool-proficient House group have done so on our behalf. The intimate, 11-storey house is in the beachfront suburb of Juhu, and sports a small-yet-perfectly-formed up-high centrepiece wrapped in a palette of soft blues, mint greens and blossom pinks.
The decor is wonderfully, playfully local – polished teak, sari fabrics and traditional cement tiling complement the leafy greens and rattan – but it's the light that makes Mumbai House's pool a priceless one; designed, as the whole rooftop is, to bathe in the city's famed golden hues.
From poolside to shoreside: discover eight of the best beach clubs in the world