When we think of Ibiza, we think of unhurried evenings, uplifting landscapes and sunrise yoga sessions. Don't you? If you're looking dubious, then you haven't met our crop of health-conscious, stress-eliminating, holistically minded retreats that will help you plug into the bohemian spirit that swirled here in decades past when this humble fishing isle became a hippy haven. These soul-soothing spots slumber far from the island's shoutier side, so read on, peace-seekers, for the quietest, calmest, away-from-the-crowds boutique hotels in Ibiza… 
SIX SENSES IBIZA
For languid eco-luxe
Sending guests into a state of barefoot bliss is what the group are known for and the spectacular Six Senses Ibiza in the island's north is designed to do exactly that – the site commands 20 hillside acres overlooking the secluded cove of Cala Xarraca bay and its crystalline waters. And your conscience can rest as easy as your head knowing the steps they've taken to protect this paradisiacal patch: eco-friendly architecture, a plastic-free water plant and an organic farm to supply hyper-local and seasonal bounty.
Once you've found out that the hotel is home to a photography gallery, a cooking school, a boutique and four restaurants, that rental car might start to look like a bad investment – we wager it'll just gather dust in the car park. There's even a chic nightclub and cocktail bar carved, cave-like, into the cliffs (restrained ravers, rejoice).
The full eight hours Sea View Junior Suites open onto expansive private terraces with lots of outdoor seating and a panoramic ocean view – some also have a bath tub on the outdoor terrace (screened by plenty of greenery, naturally) for sublime alfresco soaks.
Natural highs We wouldn't describe it as a spa so much as a 13,000sq ft wonderland of integrated wellness. There are pools of varying temperatures and health-giving powers, saunas, steam rooms, treatment rooms in catacombs, a boxing ring and an aromatherapy bar. It's peopled by yogic masters, shamans (yes, really), and a revolving door of visiting practitioners offering a full calendar of retreats and one-off events. Stick to signature massages or go experimental with hammam ceremonies, anti-ageing alchemies that 'hack' your biology and guided meditation journeys.
Get your greens When you're ready to venture out, just ask the front desk to fix up all manner of outdoor adventure – hikes, SUP excursions, scuba diving, e-biking and catamaran tours of the coastline.
CA NA XICA
For farm life with finesse
To really meld with Ibiza's mellow side, escape the cluster of the coast and head north for the bucolic farmland of the island's interior. Here, calming Ca Na Xica casts a lulling spell with its orange orchards, olive groves and long grasses. You'll be stunned by the silence within this adults-only enclave – the terracotta stones themselves seem to softly exhale – only broken by the occasional splash as someone dives into the sculptural saltwater pool.
The minimalist design in each suite matches the traditional finca-style architecture: rattan wishbone chairs and wafting white linen curtains pair perfectly with the resplendent countryside views from your breezy private terrace. Wellness-seekers can while away the hours in the whitewashed spa, complete with hammam, sauna, ice bath and outdoor Jacuzzi. As well as a petite gym, you can arrange private pilates, personal training or yoga sessions, particularly useful if you're working up an appetite for barbecued sea bass or charcoal-grilled êntrecote at the hotel's destination dining spot, Salvia.
The full eight hours One of the best places to stay for couples in Ibiza, seclusion seekers should opt for one of the stand-alone, cubist-inspired Premier suites dotted amongst the grounds away from Ca Na Xica's main villa – each has an oh-so-zen ensuite bathroom looking out onto a private bamboo-and-fern-filled garden.
Natural highs There's a selection of stress-busting treatments on offer in the spa – choose from Reiki or lymphatic drainage massages, a detoxifying mud wrap or a deep cleansing Carob facial.
Get your greens The hotel can arrange cycling tours around the enchanting local countryside and there's a choice of beaches in reach: it's a 10-minute drive to Puerto de San Miguel, or 12 minutes to Cala Benirrás, famous for its sunset drums every Sunday.
SEVEN PINES RESORT
For magnetic views
Fringed by fragrant evergreens, Seven Pines is perched on a cliff on the island's westerly edge, the best area to stay in Ibiza for views of Es Vedra, Ibiza's mythical rocky landmark. Actually, you'll feel like a bit of a rockstar yourself at this reclusive resort, though it might be hard to maintain the necessary look of jaded indifference when every sightline reveals a new visual spectacle. To that end, we suggest big sunglasses until you get used to seeing miles of Mediterranean sea glimmer through the glass walls of the infinity pool, the mammoth window-walled lounge in the Pure Seven Spa or all the sleek teak in the Pershing Yacht Terrace (the first design project on dry land by the venerable boat builders).
In addition to all the first-rate facilities, there's lots laid on for little Smiths too, making Seven Pines one of the best resorts in Ibiza for families. There's a dedicated children's pool (so no need to agonise over the decibel level of Marco Polo), a planet-friendly kids club and babysitters available on request.
The full eight hours Cliff Suites are the most secluded, and perfect for anyone who likes the sea in view at all times, or book out one of the four-room Ibizan buildings in its entirety for your own family finca.
Natural highs Every treatment in the Pure Seven Spa is totally tailored to you and makes use of organic and locally-grown salt, herbs and citrus. The spa menu runs the spectrum from Ayurvedic massages to zingy orange and rosemary body wraps. If it's a full body-and-mind overhaul you're after, there are regular retreat programs (choose from detox, fitness, rebalance or weight loss) which promise personal attention from their small army of practitioners.
Get your greens Rev your heart-rate by hitting the running trails that wind through the forest, kayaking the coastline or cross-country quad biking. Need more adrenaline? Ask the concierge and they'll point you to the best outcrops for 'do you dare' cliff-diving.
OKU IBIZA
For a serene pool scene
You'll find the all-new Oku Ibiza in the island's north-west, a five-minute stroll from the clear waters and soft sands of Cala Gracio bay. Everything about this sultry stay is designed to make your shoulders drop a few inches – they've eschewed the traditional Ibicenco look of white-washed walls and seafoam greens in favour of wabi sabi raw woods, earthy tones and shades of taupe.
And any leftover tension will certainly be banished after that first morning of sea breezes on your balcony (every room has one) or energising yoga session on the rooftop followed by a well-earned sprawl on an oversized sunbed by the pool – the largest on the island, no less – where a resident DJ spins mood-boosting beats.
Speaking of your mood, it'll improve even further when you've sampled the menus here. The two restaurants, overseen by a former SushiSamba chef, both mix up Mediterranean and Japanese flavours, but it's the fine dining affair, Oku, which is already drawing locals for its signatures of wagyu with miso, otoro caviar and expertly-prepared sushi. There are abundant options for vegetarians and vegans, too (as well as gluten- and dairy-avoiders).
The full eight hours Much more affordable than they sound, the Penthouse Rooms are on the top floor of the hotel's East building with excellent ocean views and spacious sun-trap terraces for sundowners.
Natural highs You may think you've wandered into a Scandinavian furniture gallery, but it's actually just the gym, fully kitted out with Nohrd wood-panelled equipment that seems almost too beautiful to use. For less strenuous ways to re-energise, book in for a soothing treatment in the intimate spa.
Get your greens Scoot to the Sea Horse Scuba Diving Centre (a 20-minute drive south) for expeditions to explore the Cala D'Hort Marine Reserve – they offer 'try dives' for beginners as well as qualification courses, plus snorkel trips if you don't want to totally submerge.
GECKO HOTEL & BEACH CLUB
For lounge lizards
The smallest and least developed of the Balearic islands, Formentera (yes, we're cheating a bit here, but it's reachable in just 30 minutes by boat from Ibiza) is often seen as a day-trip destination – the vast number of visitors only step off their yacht long enough to have lunch – but those in-the-know spend the night.
Thanks to the island's protected environmental status, there aren't any high rises here, just wild beaches, secret coves, pine-scented walking trails and the sparkling Med as the ever-present backdrop. And then there's the allure of Gecko Beach Club, a glamorous waterside den that's set on a sugary stretch of three-mile-long Migjorn Beach.
Aptly, for a hotel named after a reptile, days here are slow and sun-baked. The enormous swimming pool is lined with pretty parasols and Balinese-inspired private cabanas, the open-air seafront restaurant has a strong emphasis on sustainability and the polished rooms are soothing retreats with a natural palette, letting the full-frontal sea views steal the focus.
But, before you hop into that tempting-looking hammock by the beach for an all-afternoon śavāsana, try the (free) morning yoga class, led daily by the hotel's resident guru, Yiannis Mukta Om, on the shaded outdoor yoga shala.
The full eight hours Couples seeking peaceful paddling should plump for the Pool Garden room dressed in sandy hues with flashes of the hotel's signature cobalt blue. It opens to a split-level patio with a pergola-shaded lounge on the upper deck and a private plunge pool below, all surrounded by your own tree-studded garden.
Natural highs Try one of the Eastern-inspired spa treatments, like the 90-minute Ayurvedic massage with herbal-infused oils or the Champissage Indian Head Massage, said to promote mental clarity (not that you'll need it in these surrounds, unless you'd like to be particularly decisive with the wine list later).
Get your greens Take the hotel's zippy e-bikes for a spin through the Circuitos Verde, 40km of meandering paths that'll take you through Formentera's most soul-stirring landscapes.
NOBU HOTEL IBIZA BAY
For exquisite taste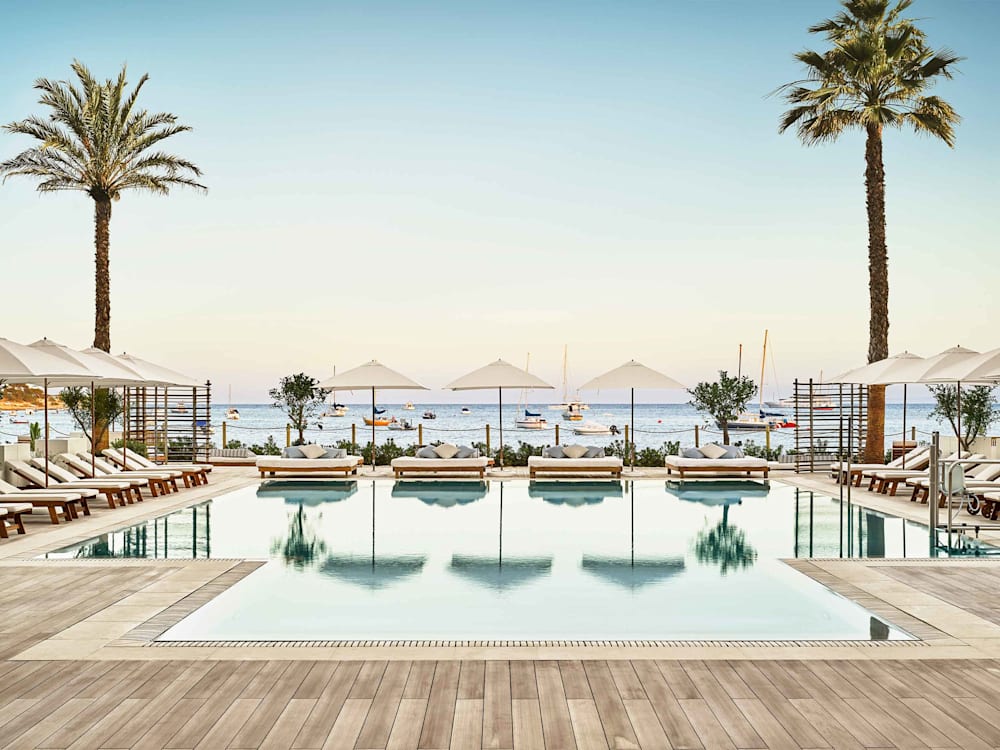 The restaurant that made miso-glazed black cod an icon of a dish has become quite the hotelier too. Nobu Hotel Ibiza Bay joins a string of seductive stays with tantalising ingredients. Take a pinch of Ibiza's free-spirit, a dash of cosmopolitan luxuriance and sprinkle with some local flavour to achieve this dishy beachside hideaway.
All rooms here are charming, but suites with roof terraces, private pools and their own bar prove the most alluring. The beach is close enough to smell the fresh salt air from your terrace, and the hotel's designed so you can seamlessly move from the swinging chairs in the lobby to the chiringuito for cocktails, to the spa for a that's-the-spot massage, nail lacquering and a little titivating at the John Frieda salon.
This may be more of a family-friendly sort – after all, little ones are warmly welcomed and have their own above-and-beyond kids' club – but staff can acquire club tickets, yachts for hire and cut-above excursions for those who still want to live it large. And, after sundowners, guests zhuzh up for nights spent with drinks by the Med set to laidback beats after languid meals of world-class sushi, and yes, that black cod.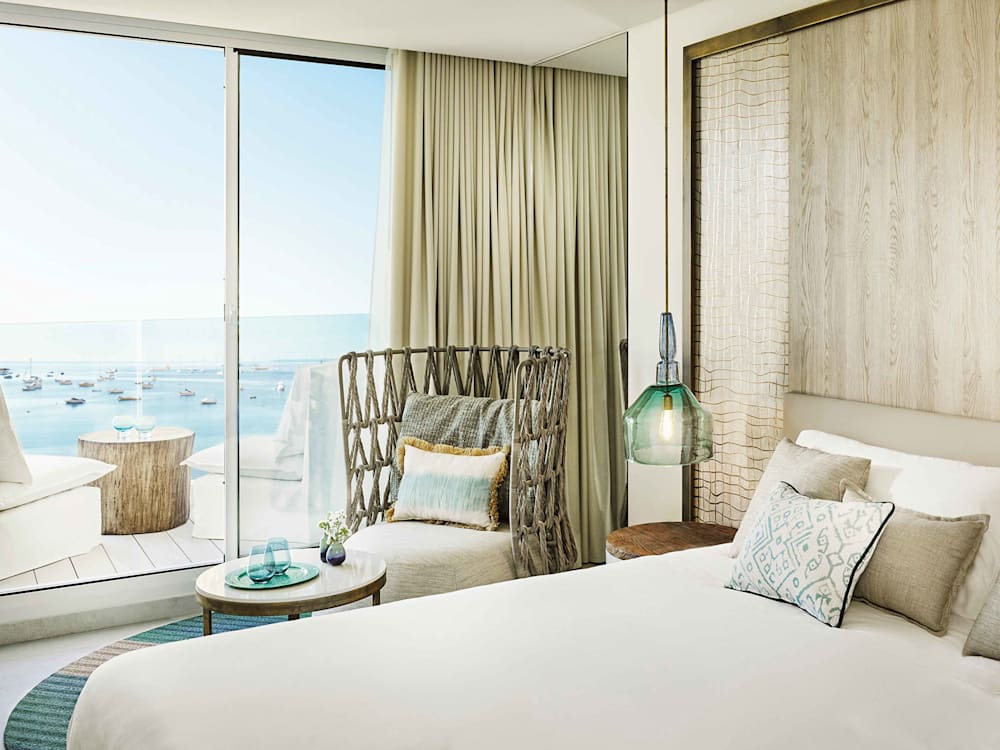 The full eight hours Rooms largely have views of Talamanca Bay and the sparkling Med beyond, and they've been accentuated by resident artisans, using their covetable hand-blown glass lamps, wall-mounted ceramics and rattan furnishings (the on-site boutique sells eco-friendly wares if you simply must have something from your room).
Natural highs Massages at the spa involve shiatsu, Thai pummeling and easing muscles using bamboo stalks; facials are laced with the likes of gold leaf, saffron and frankincense and collagen-stimulating serums; and there's a series of refreshing wraps.
Get your greens if you're staying on a Sunday (from June to September), head to the San José mountains in Cova Santa for healing rituals and house parties held in a cave – plus trippy art performances – at the freethinking WooMoon festivities.
Feeling fully rested? Now explore our complete collection of Ibiza hotels