It's perfect timing for wildlife spotting in Central America – at the tail end of the year and through to spring, there's a violently green hangover from the rainy season, migrating birds return en masse to nest, humpbacks cruise the Pacific coast, and all manner of creatures from jaguars to giant anteaters, tapir to coatimundi, hummingbirds to manatees, emerge to give the circle of life a good spin.
There may be a few showers, and it's the most wonderful – and popular – time of year, so you won't be the only one on the prowl, but for wildlife lovers there's no greater gift than a stay in these luxury jungle lodges and boutique beach hotels in Costa Rica.
LAPA RIOS LODGE
The Osa Peninsula
It's a true privilege to stay in the Osa Peninsula, one of the most biodiverse parts of Costa Rica; even more so at Lapa Rios Lodge (meaning 'river of red macaws', a hint at what you might spy while there), who have become a figurehead of eco-tourism and protectorate of more than 1,000 acres of pristine rainforest, the barrier to 10-times-larger Corcovado National Park.
Fully immersed in the animal kingdom (although your habitat will be a touch more luxurious), you might wake to find a toucan or squirrel monkey perched on your terrace, watch coatis and sloths casually strut and swing by, take twitching to a new level, spotting hundreds of bird species, and find kinkajous and rave-hued frogs on night hikes.
You'll go deep, learning about medicinal plants, sustainable building and bio-gas; check trap cameras along the Osa Trail; and even learn how to become a guide if you feel so inspired. Even better, you'll leave the place in a better condition than you found it, planting tree seedlings before you check-out.
Binoculars up for A staggering 2.5 per cent of the world's biodiversity; you could see just about any Costa Rican critters here
Species of stay For born-to-be wild-ers
MOTHER EARTH VEGAN HOTEL
Guanacaste Province
When you name-check Pachamama in your hotel moniker, you better follow up with some heavy-duty Earth-kindness. Well, 'plant-based' isn't just a food fad at Mother Earth Vegan Hotel: with furnishings, wines, bath products and more made in guilt-free fashion, the hotel commits wholly to the lifestyle. And, when it comes to dinner, even die-hard carnivores will be reaching for the knife and fork rather than baring their teeth when eyeing up the meat-free menu.
All in all, you'll feel that much more saintly when you're watching leatherback turtle hatchlings make for the sea on Playa Tamarindo, snorkelling with manta rays in the Pacific, peeping monkeys and shy big cats before hot-spring soaks amid Sensoria Rainforest's mangroves, and hiking past ocelots and armadillos towards the smouldering craters of Rincon de la vieja national park. It's rare we're delighted to hear someone say they're vegan but, in these eco-sensitive climes, it's a claim that speaks volumes.
Binoculars up for Ocean-dwellers and colourfully plumed birds
Species of stay Hip herbivores – Guanacaste's nightlife is where more wild things are
HOTEL AGUAS CLARAS
Limón Province
Hotel Aguas Claras is owned by a mother-daughter artist duo, and it shows: all-white rooms have sizzling splashes of neon (a hot-pink sofa here, a painted rainbow arch there…), the restaurant is inspired by the bar director Wes Anderson designed for the Fondazione Prada in Milan, and there are clever colourways throughout (we love the red and blue sunloungers).
But we'd expect no less than soulful radiance from a stay that showcases Costa Rica's AfroCaribbean side – set in beach hangout Puerto Viejo (where Ticos take their holidays), a stay here opens up the wonders of the country's west coast: the turtle-nesting grounds at Tortuguero, the monkey- and -sloth-saturated Cahuita National Park, the rich lizard life of Manzanilla rainforest – it's a jungle out there (and a mangrove swamp, wetland, volcanic crater…). After a day ticking off the country's taxonomy, pura vida comes into play – or 'to play' we should say, as piña coladas flow and reggaeton beats rise.
Binoculars up for Dolphins, manatees and crocs
Species of stay Playful cool cats
EL SILENCIO LODGE AND SPA
Bajos del Toro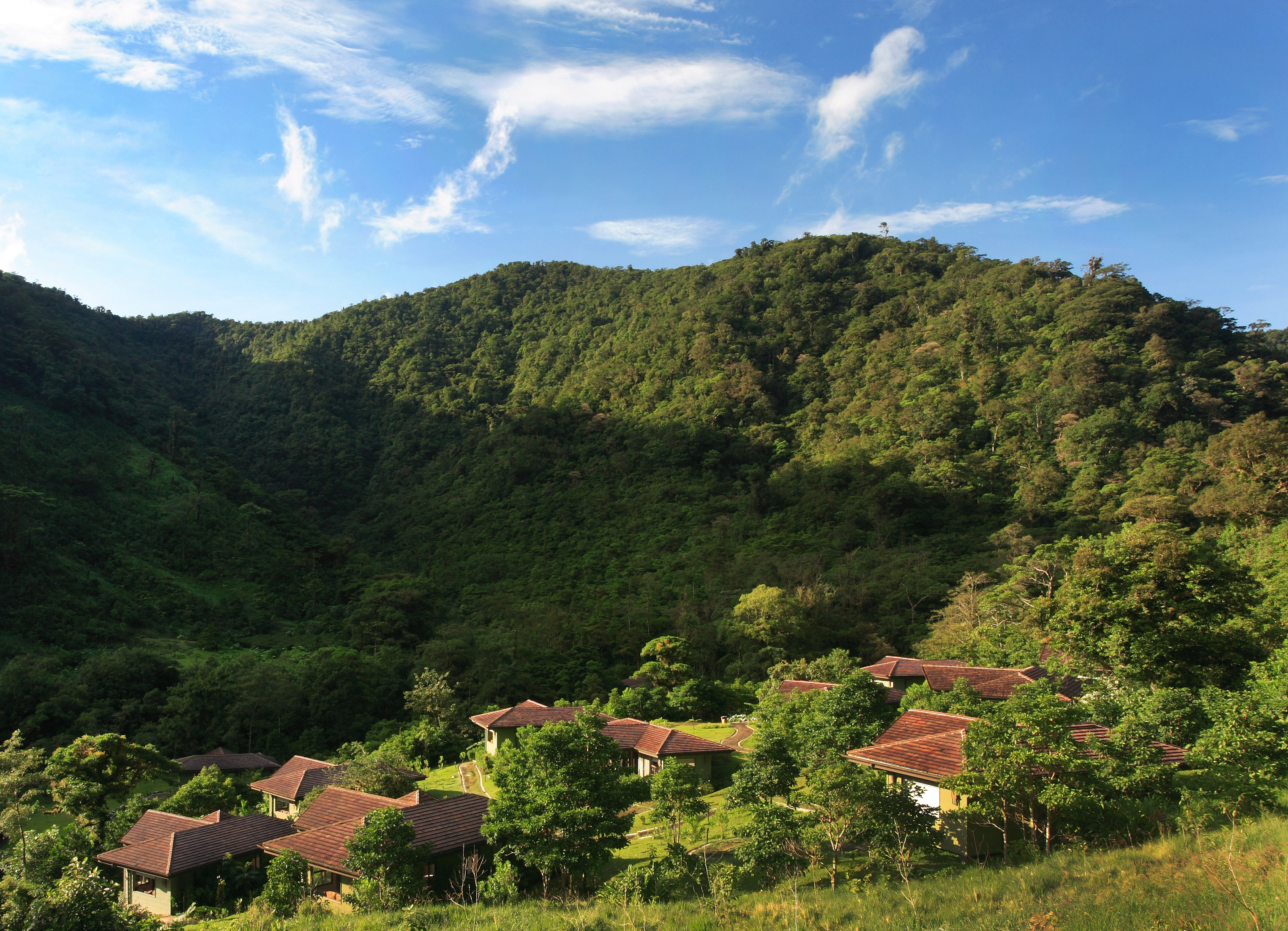 Come to El Silencio Lodge to be enveloped in magical misty cloud forest. The bamboo villas here are generously sized, but look miniscule against the forested dormant volcanoes on guard all around.
But there are creatures great and small to be in awe of here – verbena flowers are even woven around doorframes to encourage hummingbirds to say hello. And it's the ideal setting for scratching that twitch – turn eyes to the skies for a colourful fray of toucanets, sparrows, mountaingems, hawks and the elusive iridescent-green quetzal.
Back on this very green Earth, there are two vast national parks flanking the lodge. Juan Castro Blanco is home to powerful waterfalls (to rappel down if you have the nerve), exotic trees and wild orchids, as well as fabulously hued flocks. While the Poás Volcano has an enormous crater dubbed Colossus, with a winking teal eye of lake at the centre, emerging from clouds of sulphurous steam – quite the sight.
Binoculars up for Birds of fiery feather and misty vistas
Species of stay Everyone who's heard…about the birds
HACIENDA ALTAGRACIA
San José Province
Sloths – they've got it all figured out. We could all benefit from living life in slo-mo, and Hacienda AltaGracia encourages this kind of laziness under the guise of wellness.
Its spa is a collaboration with New York health and fitness experts the Well, but the kind of blue-sky (and Blue Zone) pampering they offer couldn't be further from the metropolis. There are massages infused with adaptogenic herbs, eyebrow-raising wood-therapy devices to eke out knots, energy-healing circles, lunar gong baths and the burning of intentions.
And nurture extends into nature – the San Isidro Valley (another bountifully biodiverse swathe) is almost prehistoric in its untouched wildness. Hop on the back of one of the hotel's indigenous horses (all trained in equine therapy) to venture into the green, or you can watch out for furred and feathered neighbours from a hammock while forest bathing, or from a massage bed submerged in the gentle flow of the Calientillo River. Slothful? Spectacularly so.
Binoculars up for Actually, put them down for this one
Species of stay Hibernatory holism enthusiasts
There are more creatures featured in our full collection of Costa Rican stays