Once upon a time, there were two beautiful princesses (well, one was gender non-conforming, and so a prinxess) from a troubled land far, far away (New York City). Their kingdom was busy, and chaotic, and quite honestly, exhausting.
They set out on a quest – they would find the most comfortable, relaxing place in all the land to rest their souls. They wanted to feel like New York City's most famous princess, Carrie Bradshaw, on their vacation.
They boarded their winged metal chariot (Delta 737, economy class) and it hurtled them towards the realm of Tulum. Mayan ruins, beautiful beaches, pristine cenotes, and influencers galore.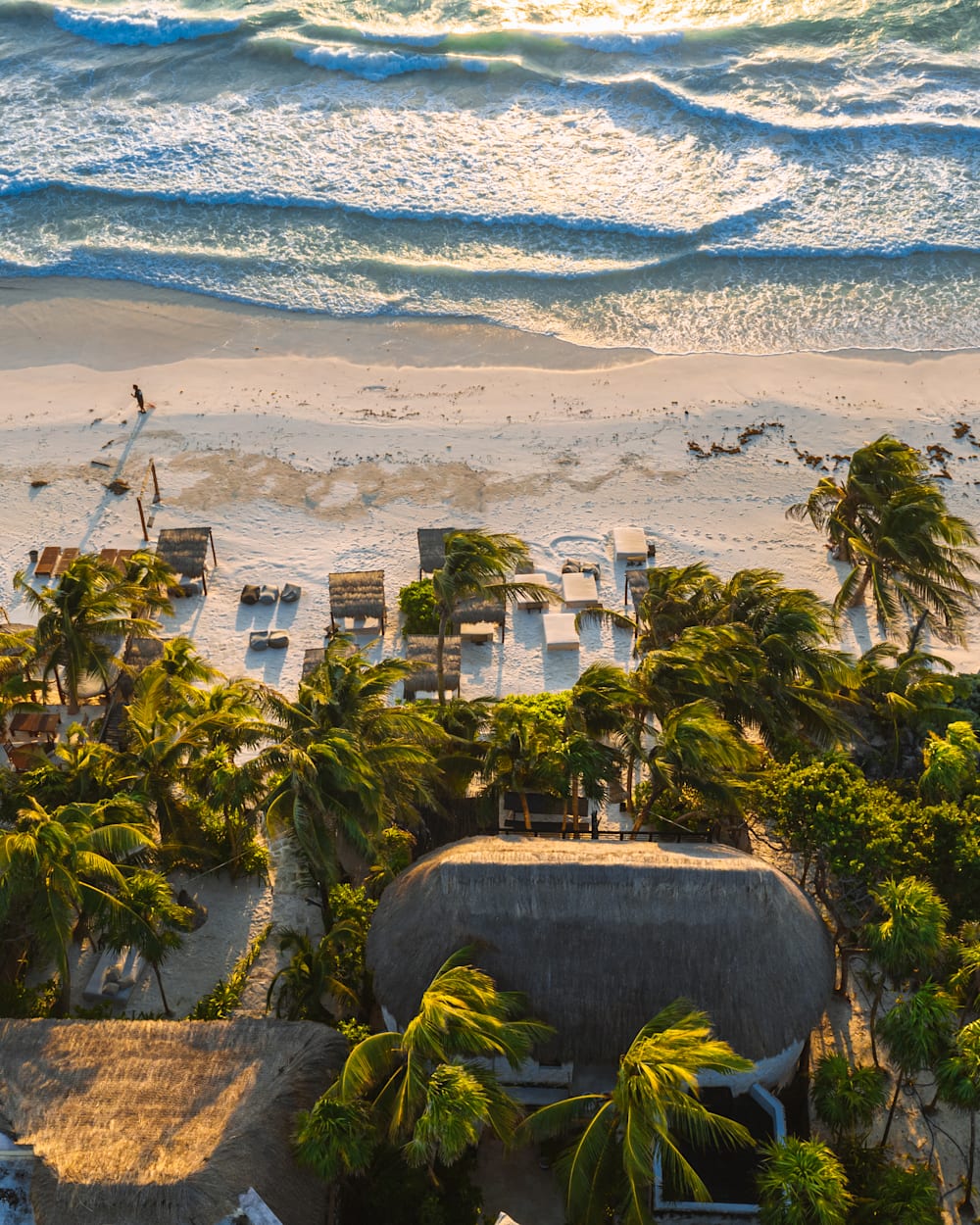 Their eyes feasted on sights such as neon inspirational slogans, linen drop-crotch pants, matcha lattes, the Tuluminati strolling the beach with their phones out. The beach looked like a gorgeous Instagram fever dream, and everyone on it was equally beautiful. Through it all, they spied one simple sign, a sign that stood for so much: Nest.
Here, at last, is where they would find their rest. They were greeted by a woman with a relaxed and warm smile, in a simple green sheath dress with black curls down her back.
Emily showed them down the hotel's sandy paths through palm trees, pointing up to the jungle rooms, and leading them to a beautiful beach where the white walled café restaurant merged seamlessly into the waves. Welcome drinks were served on a platter.
Finally, Emily led them up the stairs to their new beach-side-jungle throne (for the next three days, two nights).
'That reception lady is very cool. Do I need to quit my job and get tan and run a hotel in Tulum?' said Princess Number One.
'Hey, why are you Princess Number One?' Princess Number Two replied.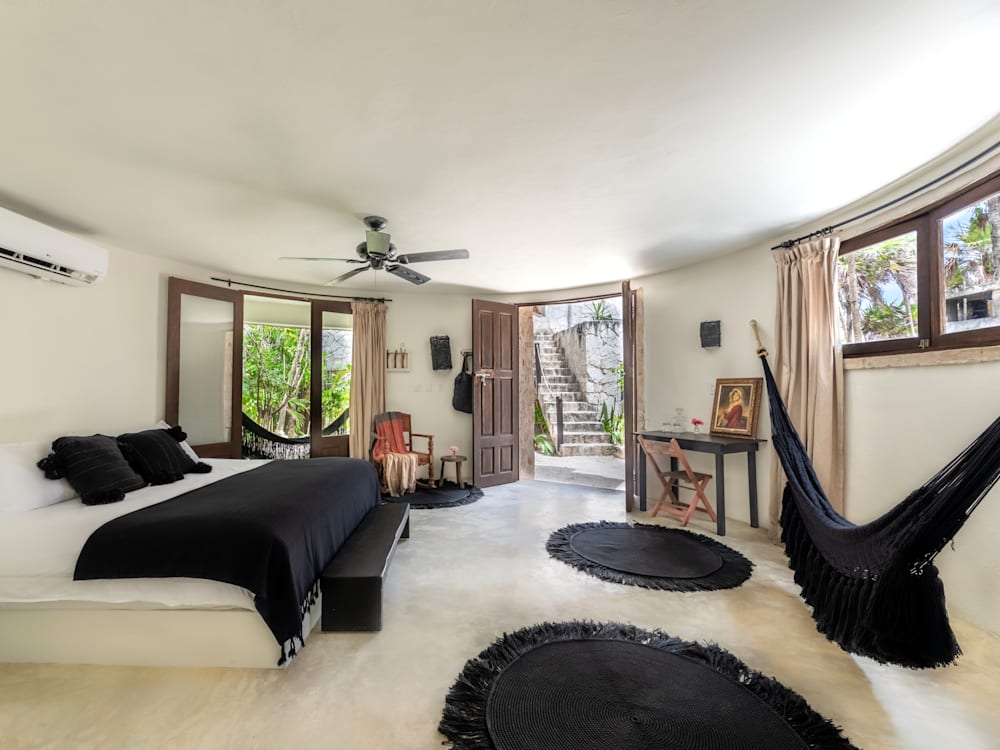 Their room had two conjoined terraces, one with two swinging black hammocks (which only Princess Number Two could figure out how to get in to), and one with chairs for sipping morning coffee. Inside, they discovered a bathroom larger than their royal Manhattan apartment (and with far fewer cockroaches).
It was dominated by a massive open air stone shower with a rainforest head. 'We live in this shower now,' declared Princess Number One.
But then they saw the bedroom: everything white and black and effortlessly glamorous. Throw pillows and round black woven rugs within white stone walls. The ceilings steepled up and away, wood beams visible.
And the bed. Oh the bed! It was the largest bed they'd ever seen, placed atop a stone platform and strewn with rose petals that read 'We R Together.' Princess Number Two had been foolish to ever worry that they couldn't be gay in Tulum.
Emily informed them that the seasonal seaweed (or sargassum, a much more beautiful word for the same thing) made the beach less pleasant between May and November and suggested they swim in the pool at Radhoo, the Nest's sister hotel down the road. At Radhoo, smoking bowls of copal wafted sweet-scented clouds along a pathway of wooden beams and high bamboo. Everything, everywhere, smelled of copal.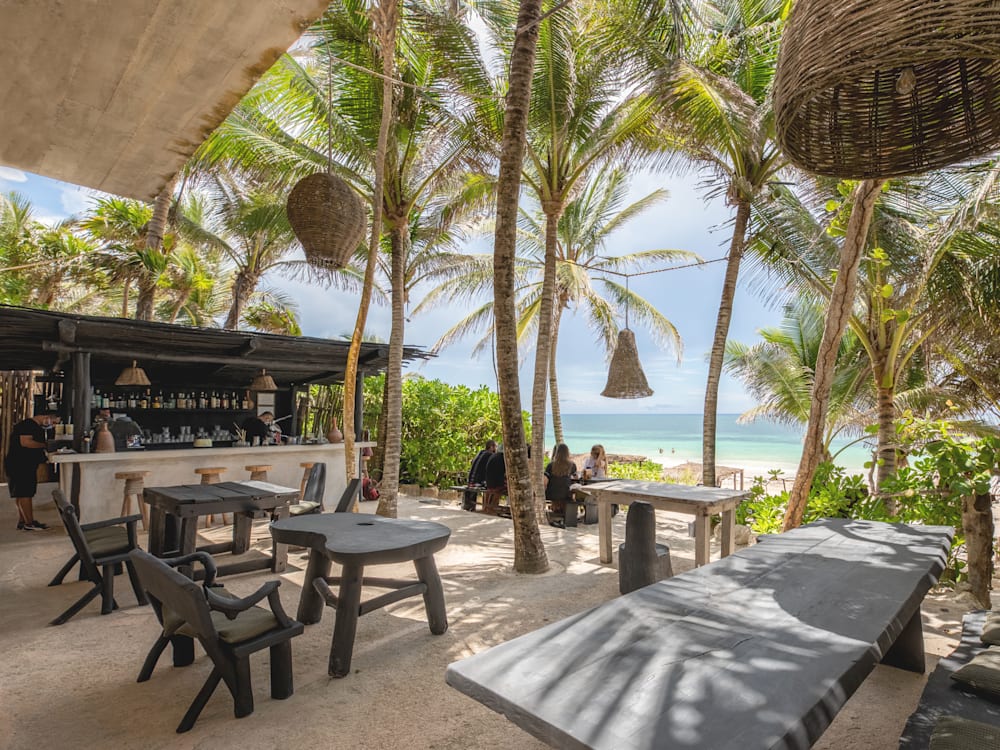 Did it dissuade mosquitos? Maybe! They thought about googling it and then realized they didn't want to look at their phones. It smelled fantastic regardless. And in front of them lay the most glorious pool they'd ever seen.
It looked like it was made of lapis lazuli swirled marble, with a palm tree growing out of the center, and wide enough for swimming laps (which one princess did, while the other one actually enjoyed her vacation).
They sat by the pool's jacuzzi jets reading, while a nice gentleman brought them mezcalitas. 'I was MADE for luxury,' said Princess Number One, despite this being a ridiculous thing to say. They would happily have lived out the remainder of their days at the pool, but Emily had also signed them up for a mezcal tasting at Restaurant Nu, owned by the same hotel group.
Pray for their royal highnesses, for they were two drinks away from becoming court jesters. They arrived before a table set with citrus slices and chocolate. The mezcal was poured with a generous hand, agave that was 14 years old, then 17 years old, then 22 years old.
The princesses made friends with the couple across the table (the princesses were feeling very friendly at this point), who told them that they had returned to the Nest after first staying there for their honeymoon. Tipsy and joyful the princesses made their way back to their room. They had finally remembered their quest to find the most comfortable bed in all the land.
And lo – once in the bed, the princesses regretted not having spent all day there. Though they had contemplated living in the shower and the pool and at the bottom of a bottle of mezcal, it was this particular bed that would truly be their new permanent address.
The sheets were soft and cool. Perhaps a percale? Maybe Egyptian cotton? It matters not. They were the platonic ideal of white sheets. The pillows were cumulus clouds, buoyant and bountiful. And the bed was so large that both princesses could starfish (which was usually just the job of Princess Number One).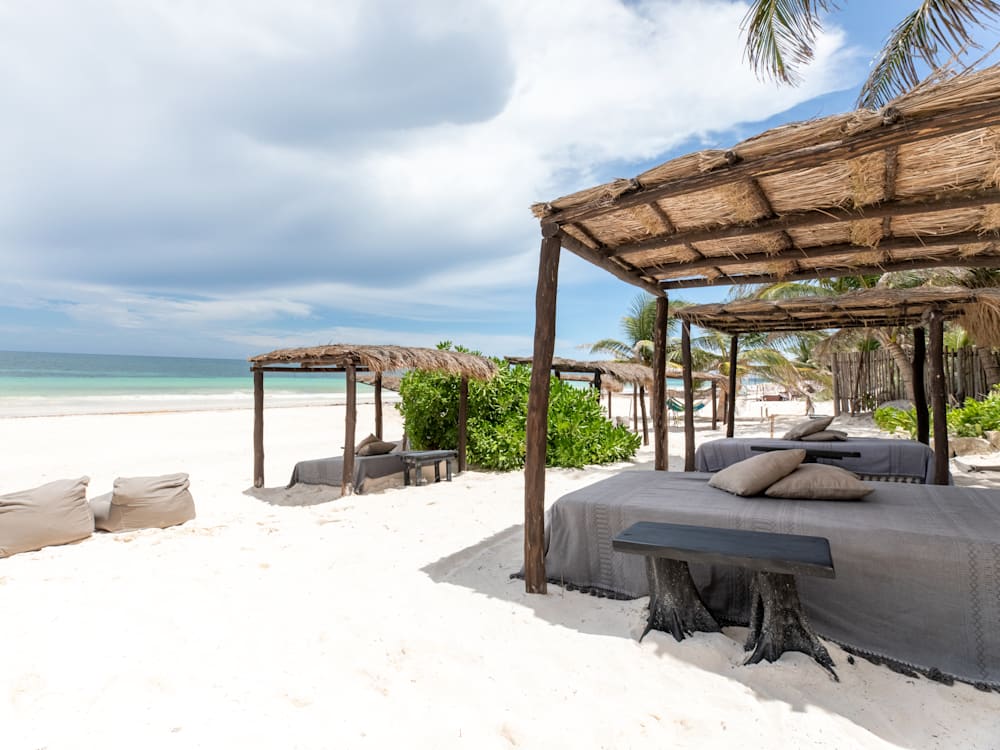 Princess Number Two (who still would prefer to be Princess Number One, thank you very much) considered attempting a somersault. No members of the royal family would be falling off the bed tonight. And the mattress…THE MATTRESS! It was like sleeping on a marshmallow, a cloud, fresh powdered snow and whipped cream all at once.
From their jungle room, they listened to the rain whipping the trees, the waves lapping the shore, and when they woke, the windows were fogged with condensation from the crisp central air against the moisture outside. They had slept more peacefully than they ever had before. They declared they would never leave this bed (move over John and Yoko).
Accordingly, breakfast was brought to them on a gorgeous black tray: watermelon juices and cappuccinos, huevos rancheros and mango fruit bowls, laid against the white of the bed. The sight was so beautiful the princesses were moved to influence despite themselves and took out their phones.
They were so enamored with their newfound comfort that they texted the photo to their subjects in their kingdom far far away. They let them know they were abdicating their thrones. They preferred to live happily ever after (three days, two nights) on their new bed in Tulum.
Find out more about the well-feathered Nest Tulum, or explore our collection of Tulum hotels
---
Nadja is, in her own words, an 'exuberantly-haired' writer. She authored I'm Supposed To Protect You From All This – a memoir about her mother, grandmother and great-grandmother – plus four graphic novels for children. She's headed up both print (Blown Covers; Resist!) and online (The Paris Review) publications, focusing on feminism, poetry and the promotion of female artists. She's currently editor-in-chief of literary magazine Astra, and the second issue, Filth, is available now.