Six and a half years after we accidentally fell in love at a bachelorette party, Mrs Smith – who was born in New York, and at 13-months-old taught herself to toddle out into Manhattan traffic and put her tiny arm out for a taxi – has just asked me to marry her.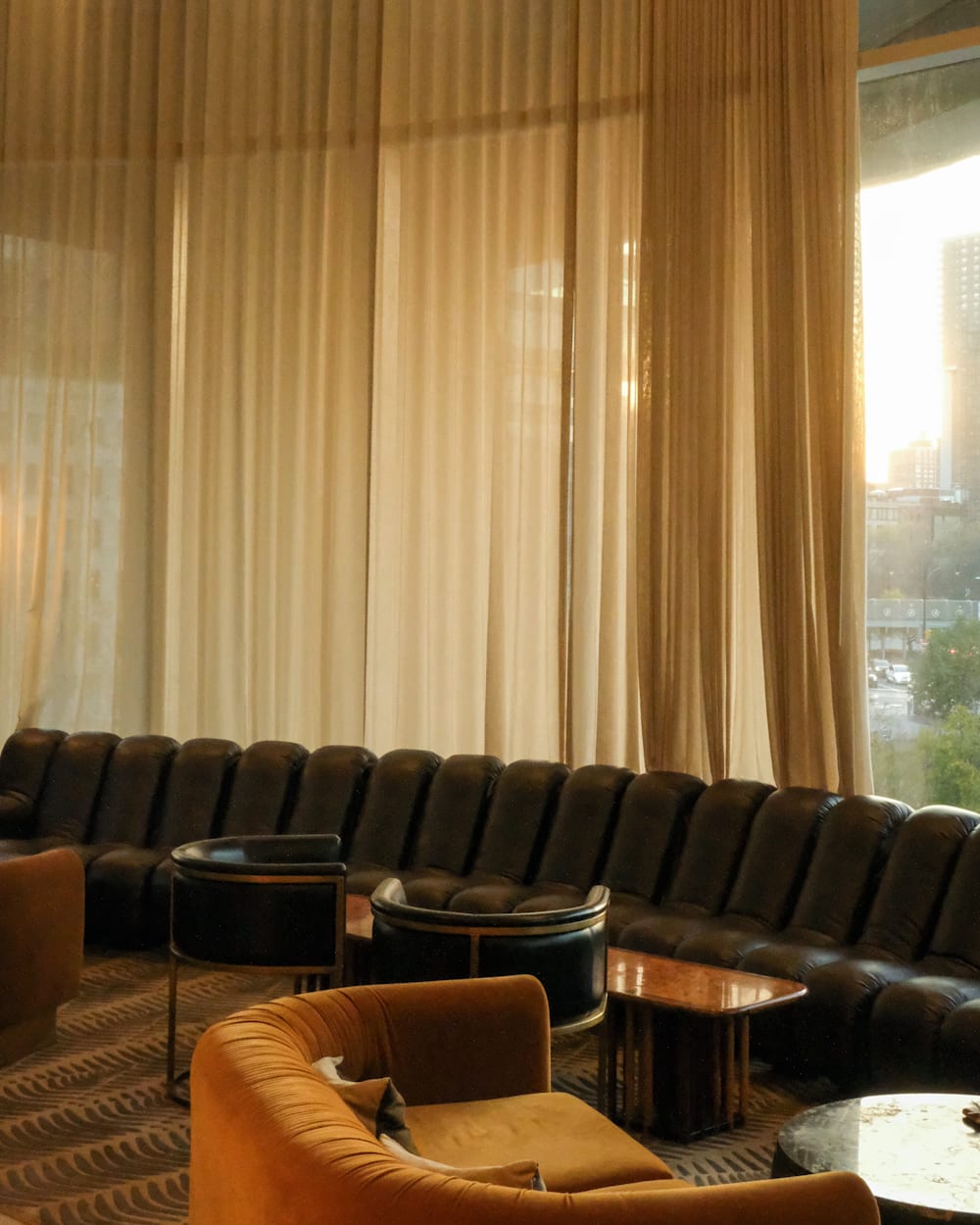 A transatlantic love story, the proposal itself happened on a Ramsgate beach, but we've taken the tour on the road to celebrate with her family, and our first stop is a stay at the ModernHaus SoHo: a soaring Oscar Niemeyer-ish collision of angles and curves in Soho, where Grand meets Sixth.
The ModernHaus lobby is neat and gleaming, with two grand-scale Harland Millers peeking over our shoulders as we check in. 'Hello!' I say, then, offer it like my name: 'She just asked me to marry her', in a tone not un-like Monica from Friends shouting 'I'm engaged!' from her Greenwich Village balcony some 20 years ago.
If New Yorkers are known for being aloof, the staff at the ModernHaus never got the memo. They react to the news like we've been friends for decades, and over the two days we're there, any cold feet we might have felt are swiftly submerged by the cold champagne that comes – seemingly endlessly – to our room.
A jet-speed lift takes us up to the 17th floor, a gold plaque with our door number winks us in. I can feel a smile tightening in my cheeks as I think about that moment. What makes ModernHaus extraordinary is it soars up 19 storeys into the sky – all glimmer, glass and board-formed concrete – from a low-rise, cobblestone SoHo street. This gives it views around the city that can almost feel like CGI. And in our room, they haven't just broken the fourth wall, they've broken the third wall too: half the room is window.
This city excels at delivering epic postcards to your eyes, and from the ModernHaus windows, there are so many postcards at once, it's almost kaleidoscopic. City blocks cut like pizza slices, and shifting weather patterns – a departing storm on one side, an explosion of sun on the other. Workers balancing on steel beams which makes you think of famous photographs, helicopters like little darts across the sky, the repeated Z's of wrought-iron fire escapes, and American flags waving like perfectly distributed geo-location tags.
From a chaise-longue by the window, whose blue is perfectly matched by a bright 1970 Calder above the bed, Mrs Smith narrates a little aerial tour – Uptown/Downtown, East Side/West Side, water towers/corporate towers – while I start to explore the room.
It's gargantuan by New York standards. The bed fulfils its brief: to make you realise that sleeping on anything else is surely squandering your one short life. The soaps are Santal 33, the sheets are Frette, and the shower-head feels like a true all-guns-blazing New York downpour.
Happily, it's a room that caters to exhibitionists of all risk levels. Even perpetual nudists, who are elevated enough to get away with whatever they want to show off scot-free. The glass wall of the bathroom lets you shower with a panorama view of the city, or you can choose privacy – or perhaps a middle-ground strip-tease? – with a Bond-like drop-down blind.
It's a fitting place to be, because merely being in the room feels celebratory. We're happy. We're hungry. We drop down to the fourth floor Jumpin' Jacks – a café by day, and cocktailed, candled affair by night – with its wavy windowed wall, and curve-hugging leather sofa like a many-fingered baseball glove.
It's exactly where we want to be. The cocktails are bracing, the R'n'B is tender, and the New York strip steak, served in summer with snow peas, is exaggeratedly good. Syrup bottles look like stained glass against the bright lights of the bar, and striking, subtly psychedelic paintings are hung with a serious curator's eye against sleek wood panelling.
Downstairs at the hotel's main restaurant Veranda, you can expect an X-marks-the-eyes Kaws, an eye-popping George Condo piece and much more: all original works pulled from co-owner Jack J Sitt's personal collection, which turn restaurants and corridors into something closer to a contemporary art gallery.
After dinner, we whip up to Jimmy's, the hotel's rooftop bar, to sit by its jewel of a pool that somehow always looks iridescent. Beyond the royal blue sun loungers and drum-like teak stools, the views double once again, because at night, the skyline is another thing altogether. More pinks than you'd expect, more blues, and – in August – more heat, and that beautiful, billion-window sense that anything could happen.
I should admit: I have sometimes been unsure about New York. I've thought of it like seasoning or salt, intensifying whatever emotion I'm feeling, good or bad. The last time I was staying in the city I walked through a dingy bit of town and wrote a very sad note in my diary: 'windows very small and smudgy' (I think I was depressed). I also think I should have (got engaged to the love of my life and) stayed at the ModernHaus.
It's the sense of utmost peace – who knew state-of-the-art soundproofing could be so sexy? – in one of the busiest cities on earth. Also: the sense of ease. The front desk staff feel more like old-school Upper West Side condo doormen, who after a few days you feel like you have known for years. Altogether, it creates a sleight of hand – through care and kindness – that makes its slice of real estate in chi-chi Soho feel effortlessly, beautifully, like home.
I don't know if you've ever heard the Judy Garland song 'I Happen to like New York', but I would recommend playing it now, and at most moments throughout the day when you're there.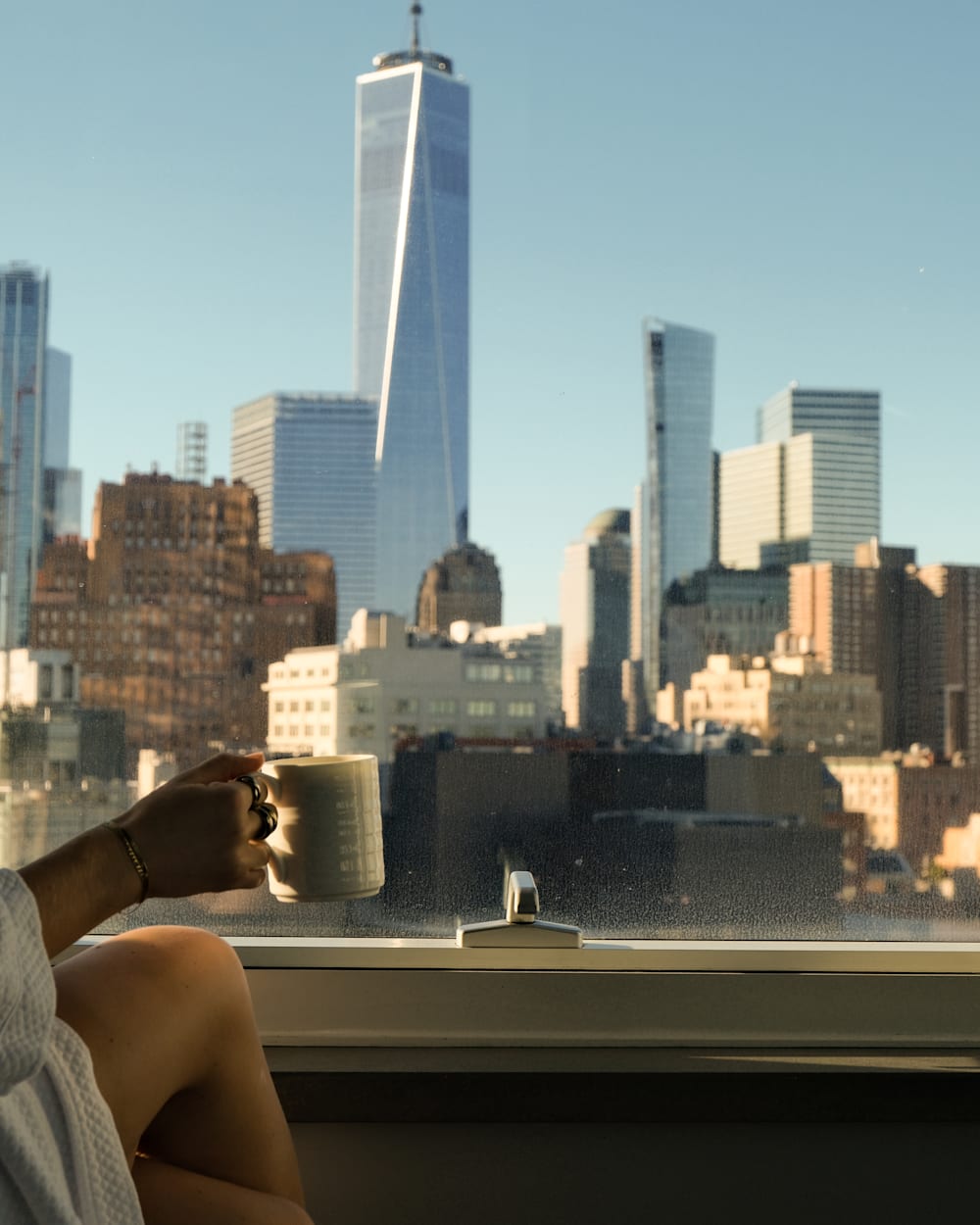 It's at once happy and haunting, crinkly and twinkling. It rocks back and forth, and builds, making its case perfectly…
'I happen to like New York, I happen to love this town
I like the city air, I like to drink of it
The more I see New York, the more I think of it'
It's the ideal soundtrack to a glass-walled room in the centre of it all.
If this has got you thinking about popping the question, see our selection of proposal-perfect hotels
---
After a stint living in Paris, where her first book won the renowned Shakespeare and Company's literary prize, author Rosa Rankin-Gee returned to the UK, living between London and Kent, where her latest novel, Dreamland, is set. It's been hailed as 'a triumph' by GQ, 'enthralling' by The Guardian, and 'shimmering' by the Mail on Sunday. Her work has also appeared in Esquire, Vogue, The New Yorker, The Paris Review Daily, and Harper's Bazaar.
All photos shot on a separate visit by Hannah Dace