It doesn't take much to cast me into my favourite fantasy: the one in which I am, in fact, French. As we drove through Provence into Luberon – sun on my face, tortoiseshell shades on, 'Je t'aime moi non plus' playing on the stereo – I was fully immersed again, channelling my inner Jane Birkin, marvelling at how the light falls differently here.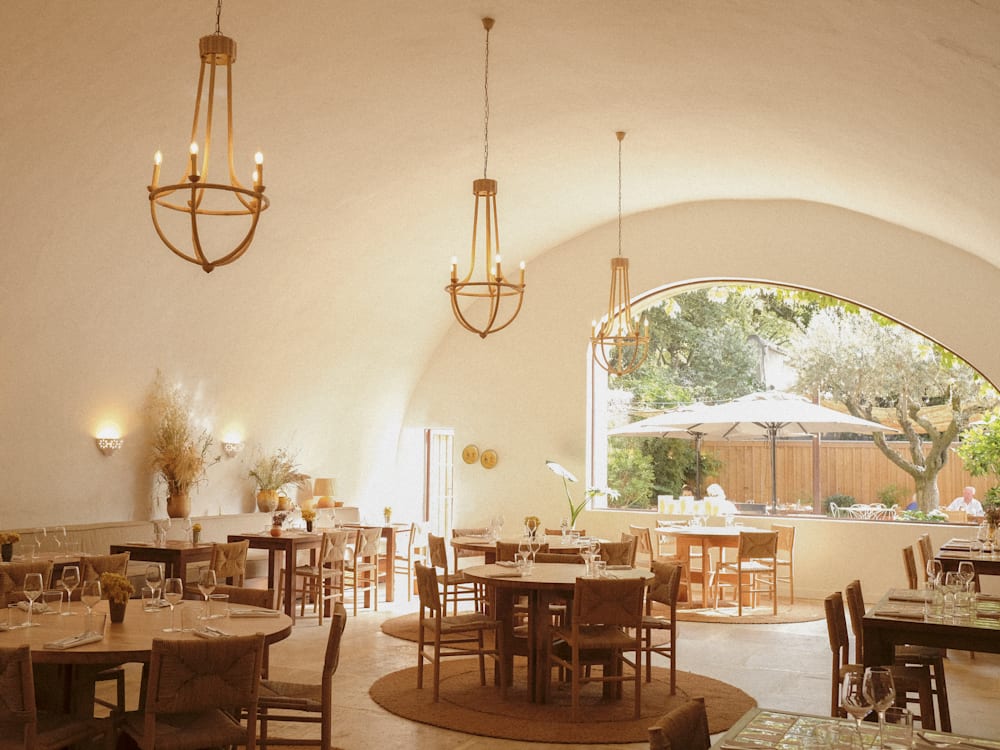 'Look, it's just like a Cezanne oil painting', I said to Serge (aka Mr Smith) in the passenger seat and all I needed now was a headscarf. Perhaps a convertible too. But the bubble burst as fast as the Citroën, approaching like a Formula One racer, desperate to overtake us.
The waves of relaxation I had started to enjoy were whipped up into a fit of pique. The expletives I found were distinctly English. We pulled into the village of Lourmarin just a little flustered.
The hotel is right in the heart of the village and therefore has no car park. With narrow streets (and narrower parking spaces) we opted for a spot up by the château and made our way down on foot.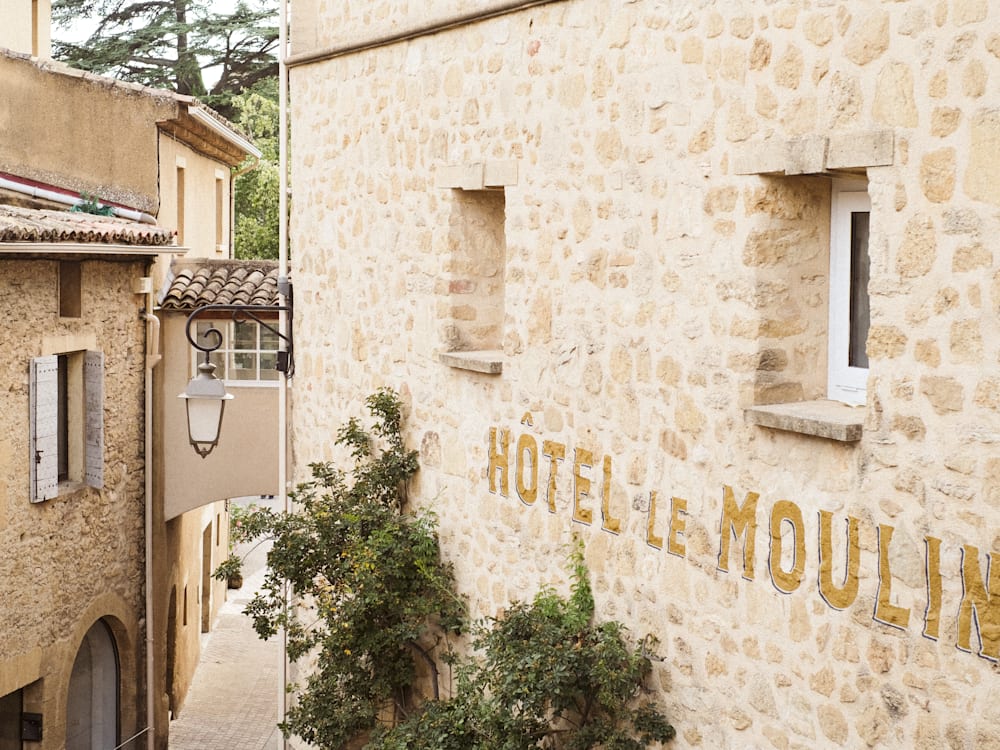 Le Moulin's entrance is unassuming – in fact, we walked right by it before realising we'd missed it. Or perhaps I was still distracted by the red mist. But as soon as we stepped inside, the road-rage was forgotten. Calming neutrals and sepia-hued tones washed over us and delivered me straight back into my Birkin and Gainsbourg dreams.
Mr Smith, being French, took charge of check-in, whilst I had a nosey around. There's no doubt you're in the south of France: thick stone walls, terracotta and ochre tiles, wicker furnishings, rattan shades and dried flowers – it's a classique French Farmhouse with modern refinements.
Our room was just as pleasing, oozing that nostalgic, Provençal charm and understated luxury. There is a je ne sais quoi about Le Moulin and I was in interior heaven.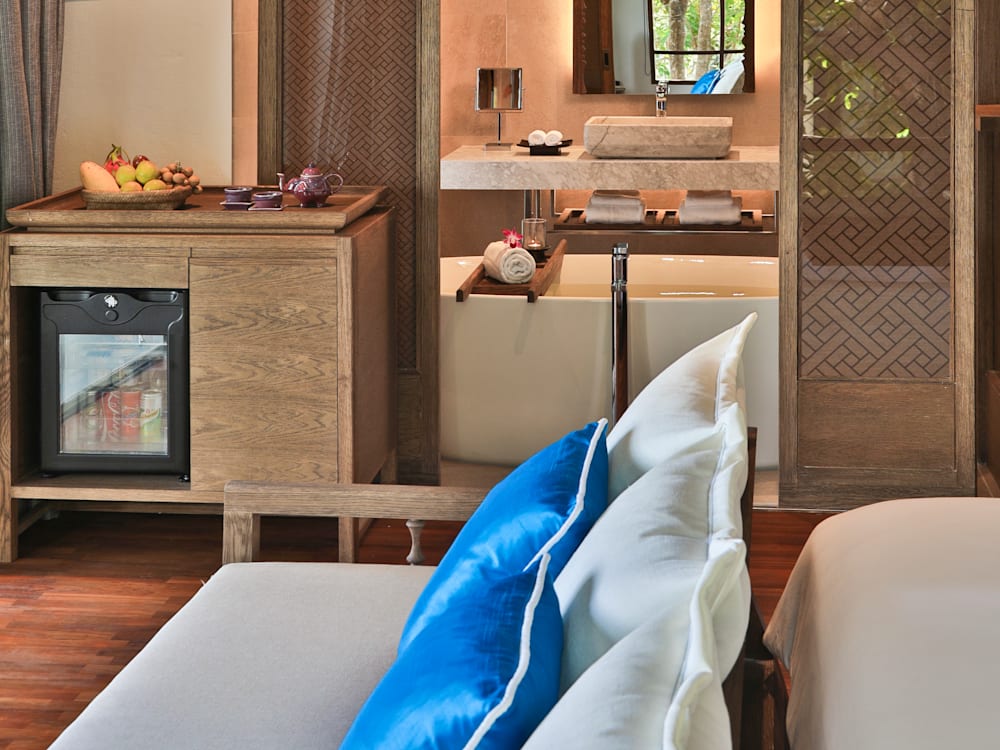 It was apéritif hour, so I threw on a linen dress, dabbed some rouge onto my lips and headed out. Le Moulin is on one of the main streets of Lourmarin and right on your doorstep are the charming French boutiques selling as many lavender scented drawer bags, provencal soaps and chic objets as you can fit into your carry-on.
Bars and restaurants line the narrow streets in typically French fashion. We picked the liveliest where the three main streets in the village converge – perfect for people watching – and sipped the lightest rosé you've ever cast your eyes on. No need to ask for 'blush' here. It was so sippable in fact that before I knew it, Mr Smith had ordered 'Deux verres supplémentaires, si vous plait!'
Our stay was towards the end of September when, despite the gloriously warm sunshine during the day, the evenings get chilly. We shivered back to the hotel just in time for our dinner reservation in the dining room. Solid stone arches and a vaulted ceiling are impressive reminders of the building's history (it's a converted 18th-century mill).
It's a large space, yet the atmosphere is cosy and relaxed. Feeling warm and fuzzy, we were ready for some hearty, home-cooked menu, and we weren't disappointed. Provencal olive tarts, followed by filet de boeuf, accompanied by a fine red. Parfait! Needless to say, we slept very well that night.
The following morning, craving some light exercise to compensate for yesterday's excesses, we took a stroll around town. Lourmarin, although lively, is very small, so after our morning coffee in the sun Mr Smith suggested we take advantage of the hotel's bikes to explore further afield.
Now, I should mention at this point that I passionately dislike cycling. I'm scarred from family holidays when we were forced to cycle some of the hilliest parts of France – on a bike with no gears, in sweltering summer heat, aggressive dogs chasing us – always to discover the restaurants which were our destination had already closed.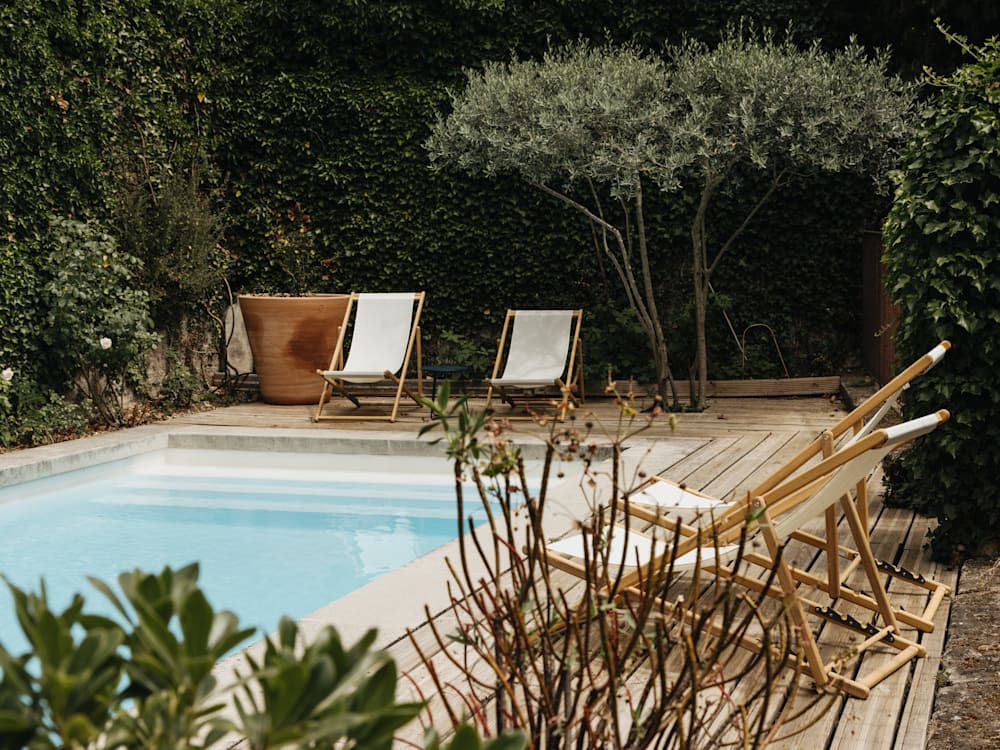 So, it's no surprise I didn't jump for joy at his suggestion. That was, until I realised that these bikes were e-bikes – what an ingenious game-changer. Hills were tackled with ease! My thighs were not burning! I didn't break a sweat! My headscarf remained firmly in place!
I enjoyed the panoramic views across the mountains, valleys and plains, with endless vineyards and honey-hued villages on the hilltops. It's no wonder artists, poets and writers have drawn inspiration from this part of France for generations.
The rest of our trip passed in a perfectly sun-dazed, rosé-tinted blur. We wandered the nearby chateau's olive groves, drooled over the local produce at the hotel's deli, Le Commissioner, and hid ourselves away at the secret pool. In under 48 hours I had fully adjusted to the new pace of village life and could quite easily have settled in for a while – just call us Monsieur et Madame Terrasse.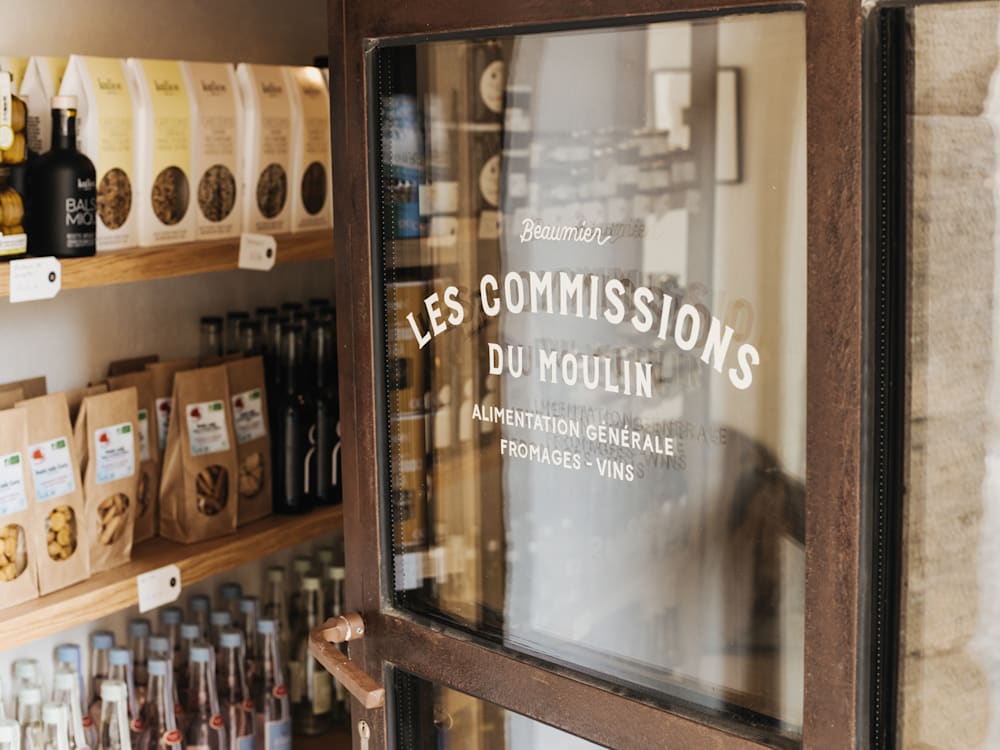 Back on the motorway towards Marseille airport, we left Jane Birkin and Serge Gainsbourg behind us. But it's through sepia glasses that we'll look back on our stay at Le Moulin.
Unassuming and authentic, it allows you to enjoy life's simple pleasures, and in this normally face-paced existence, reminds you how important it is to sometimes slow down. Or maybe that's the Citroën driving up your backside. Mon dieu!
Find our more about Le Moulin and explore our complete collection of Provence hotels
---
Charlotte Wenman is senior creative producer, helming photoshoots for a multitude of fashion, lifestyle and travel brands, working with the likes of Harrods, Soho House, Cowshed, Lemaire, Monocle, Suitcase and more. When not on set in far-flung locations, she's enjoying a slower pace of life in her newly renovated cottage in the heart of the Kent countryside.