If you snagged a sun lounger around a hotel pool this summer, then you likely spotted someone wearing a pair of Orlebar Brown swim shorts – a much-loved brand for men's holiday dressing since 2005. Fittingly, the idea came to founder Adam Brown while on holiday and in need of shorts that could take him from the pool to the restaurant and back again. The result? A swim short made to the same 17-piece pattern as a traditional men's suit trouser.
We caught up with Mr Brown as he launches the brand's first cold weather collection, comprising of slick outerwear and merino knits.
What led you to set-up Orlebar Brown, and did you face any challenges along the way?
It was November 2005 and I was at a friend's birthday in Rajasthan, India. I went to the hotel restaurant for lunch and they asked me to change out of my swim shorts, and into something more appropriate.
At the time I hadn't found the career I wanted, so the time was right and I was on the lookout for something to do. And so Orlebar Brown was born out of a play on words: I didn't want a swim short, I wanted a short I could swim in.
I've faced hundreds of challenges… I don't even know where to start. It all depends on what stage you're talking about. At the beginning, launching a website: how do you reach the customer, how do you tell the story of the shorts in an engaging way? As with any start-up there's always challenges every step of the way.
Describe Orlebar Brown in three words
Sunshine, travel and happiness.
How important is branding to you?
Very. Branding needs to express your intrinsic DNA, your values and who you are. It's not just a logo.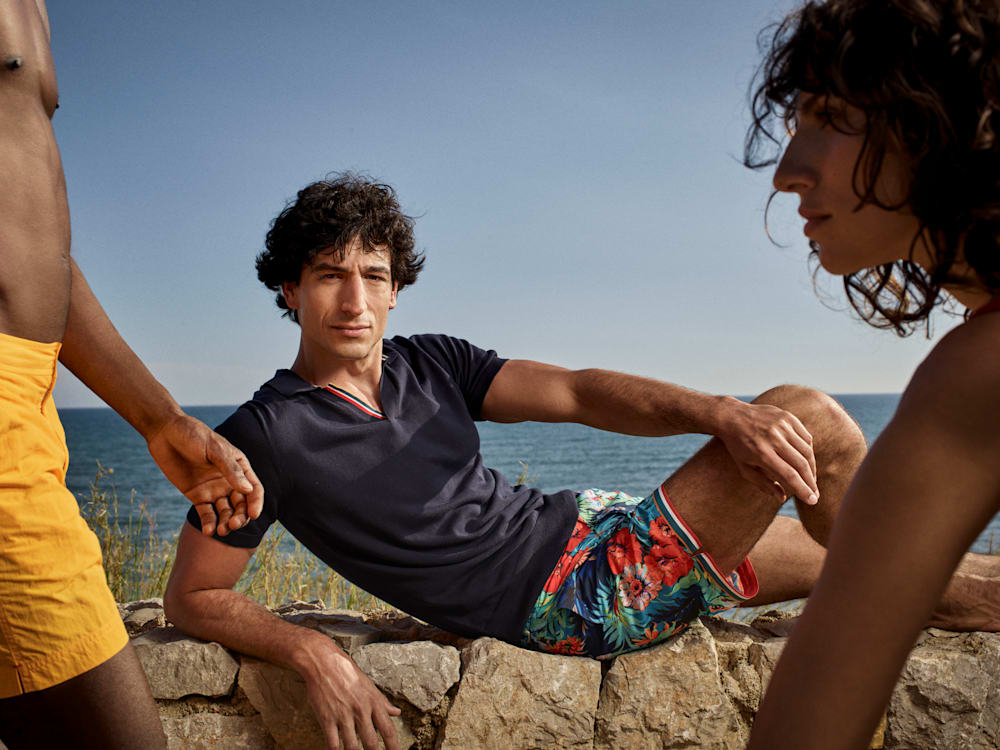 What's your favourite Orlebar Brown item?
The blue terry-towelling polo-shirt.
You've featured famous hotels and destinations onto your trunks. Is there another hotel that best embodies or resonates with your brand — and one that you'd love to collaborate with?
There are so many beautiful hotels in the world. Somewhere in St Barths, Capri, the whole Amalfi Coast actually. That very Slim Aarons, classic, timeless type of world.

Orlebar Brown believes in the power of a good holiday – what's one of your favourite holiday memories?
Definitely coming up with an idea for our brand – it completely changed my life.
You spend a lot of time in north Cornwall. What, if anything, about the area has informed your designs and the company itself?
I love the Cornish coastline: the spirit of freedom; the energetic outdoors lifestyle; the surfing, walking, rugged coastline; and the changing light. It's probably not the spiritual home of our brand, but it's somewhere that always influences me.
Do you have any local recommendations? 
The Pig at Harlyn Bay and The Hidden Hut (Porthcurnick Beach).
What do you always pack in your suitcase?
It all tends to be navy blue – my go-to colour. It always features heavily in my suitcase when I'm travelling. A pack of navy t-shirts, a pair of Bulldog shorts.
Where's next for you? 
I'm going to Mustique and staying at the Cotton House. Beyond that I want to go back to Namibia – I only went there for 10 days and it wasn't nearly long enough. I'd like to go and see the Atacama desert too, the salt plains and Patagonia.
Wondering where to show off your shorts? The eight best beach clubs in the world are a good place to start…