In the words of Jon Snow, winter is coming. Christmas is coming. But there's still time to squeeze in one last jolly before the festive season. And so, in the name of all that is holy and good, I ask myself: What would Jesus do? Jesus, I believe, would take to Tuscany.
Though some of our favourite haunts shut up shop after summer, it's well worth taking to the roads during Italy's vendemmia to visit those that don't – landscapes are at their most verdant, roads are quieter and truffle season is in full swing: all making that first sip of vino even sweeter.
OLTRARNO SPLENDID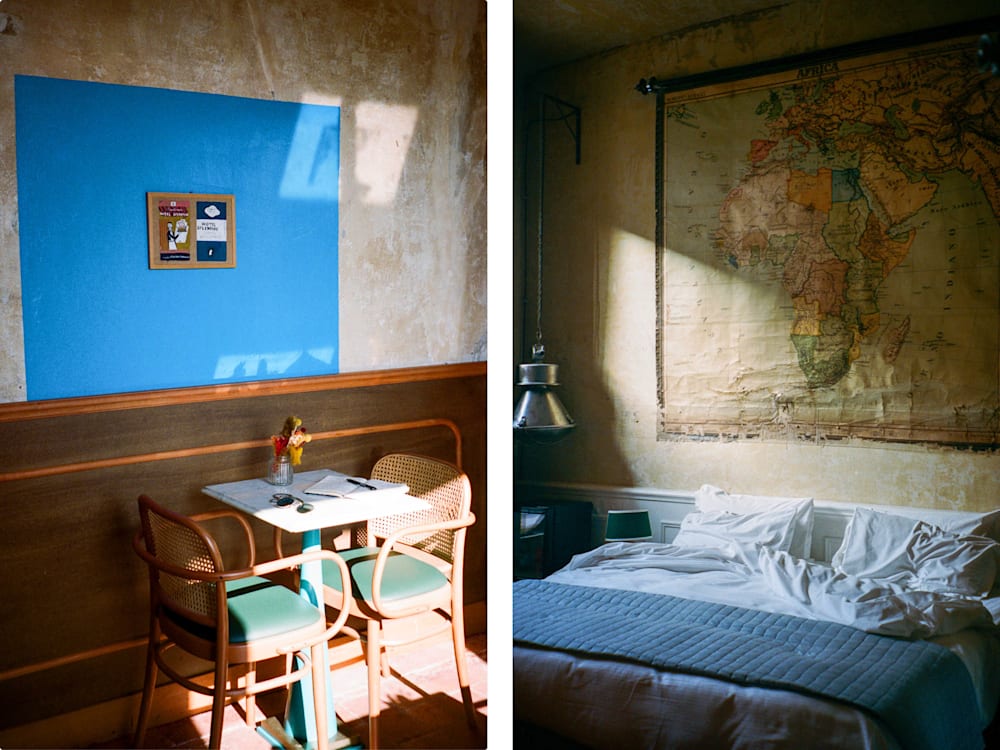 That's how I found myself at Oltrarno Splendid: an artisan-favoured escape in fabled Florence. The owners, Betty and Matteo (also behind Smith favourites Soprarno and AdAstra), spent the best part of a decade trawling markets and antique shops for vintage furniture and distinctive décor for the 14 individually-styled rooms – including the three gigantic retro maps that adorn the walls of mine.
The unassuming exterior, heavy double-height door and buzzing metal gate might make it feel like a Bourne Supremacy safe house, but once inside it's all Soho House-esque interiors and Italian flair. Take the breakfast salon, where beams of light bounce off faded walls and rattan chairs – the open skyline being one of the reasons, in fact, that this top-floor space was chosen – the abundance of light quite unusual for Florentine apartments.
I've yet to come across anyone with a bad word to say about Florence. The city is undoubtedly old – it's walls, streets, buildings – and yet it emits a juxtaposingly youthful energy. It's intimate, warm and abuzz with alfresco dining and drinking (you're never more than three off-kilter stumbles from a wine bar). Don't miss a nosey at the grass-covered terrace of the Società Canottieri Firenze. Locals congregate here – some bundled up in coats and scarfs, others with tops off and a tan – despite all basking in the same late-20's weather and beating sun.
Coffee is best at Ditta Artiginale by the Arno, lunch at Il Santo Bevitore and afternoons at Boboli Gardens, or browsing the flea market in Santo Spirito. Head to Piazzale Michelangelo for sunset, followed by a hearty dinner at Regina Bistecca (for the love of God, go hungry).
You might fall for Florence (as many before you have done), but it's time to make for the first of three stays in the sprawling countryside…
MONTEVERDI TUSCANY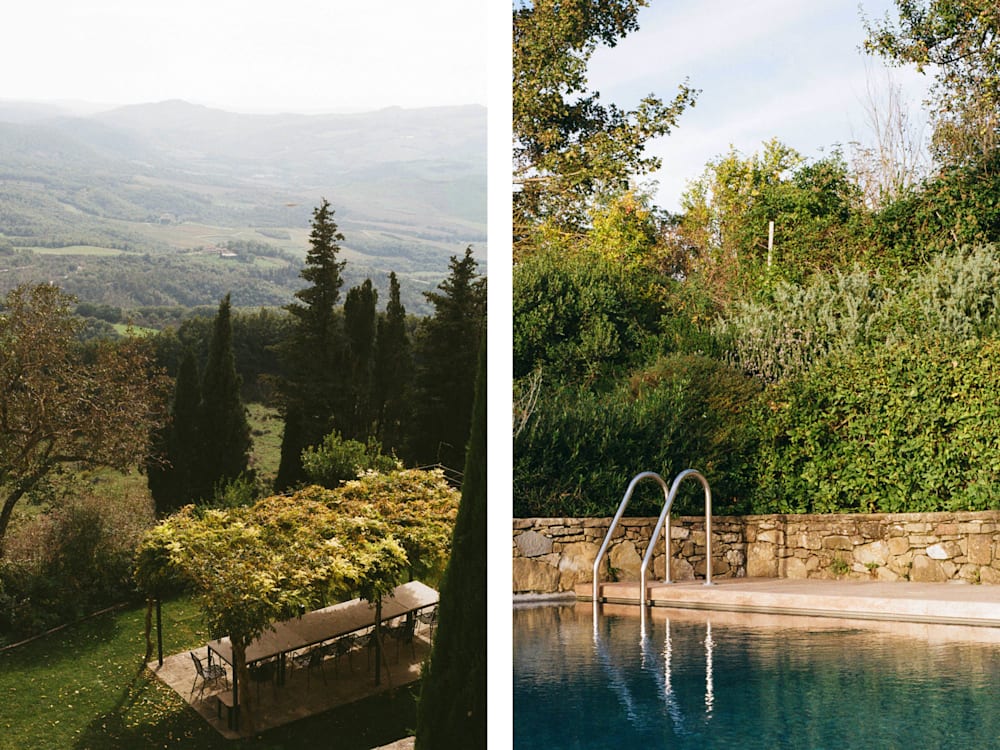 Owner Michael stumbled across the hilltop hamlet of Castiglioncello del Trinoro, in which Monteverdi Tuscany resides, two decades ago. Then, just a handful of people inhabited the borghetto – including Dino and Fernanda Salvadori, who lived in the house opposite the now hotel reception.
The designer, Ilaria Miani, plays with natural light, local materials and rustic details. Our room retained its attic roof doors and low wooden beams, but also had a newly-built exterior bathroom and terrace, fronted entirely by glass – from which I struggled, somewhat, to extract Mr Smith. Despite a healthy dose of panoramic views, I took a liking to the occasional slender windows framing just a glimpse of the seemingly eternal Tuscan countryside.
Visiting out of season – and maybe, in part, because of the lack of signposts on arrival – it feels like you, too, are stumbling across something exceptional for the first time. On check-out, you'll likely sense that you've started to make connections: much like you've just moved to a new village. Oh, and keep an eye out for Dino and Fernanda's nephew, who is said to now live and work here – a story that's come full circle.
CASTELLO DI VICARELLO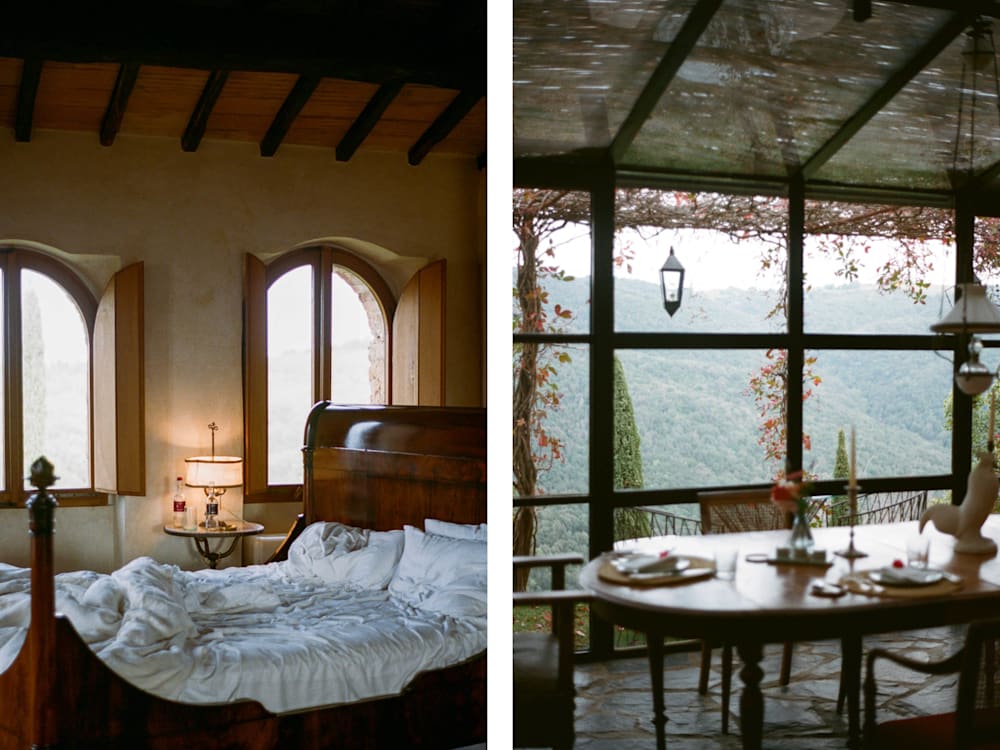 After a divine few days, drive on to Castello di Vicarello (stopping off in Montalcino for lunch). Here, you can float gracefully from infinity pool to open kitchen; from castle-top terrace to cosy, fire-lit lounges. With just nine rooms, this is the kind of stay that leaves a real imprint: the service is flawless, the setting is heavenly and the food otherworldly. Look out for the resident dog, Uva ('grape' in Italian) too.
The castle has been lovingly decked out in one-off pieces from around the globe – much like the British Museum, but without the illegality. I loved the open kitchen, which guests stroll through to chat to the chefs, smelling spices or snacking on fruits as they do so. In the dining room you'll find vast floor-to-ceiling windows framing the landscape, plus a feasting table adorned with antiques, freshly-cut flowers and silver candlestick holders (I couldn't help but picture an Italian model of Henry VIII or Louis XIV sitting here).
Ask the talented sommelier for his suggestions at dinner. Despite a somewhat vague description of my tastes, he dug out a bottle that I found I could drink as easily as if it were water (no need for Jesus's intervention here, however). Though I must confess that it might have been a bit too easy to drink…
BORGO PIGNANO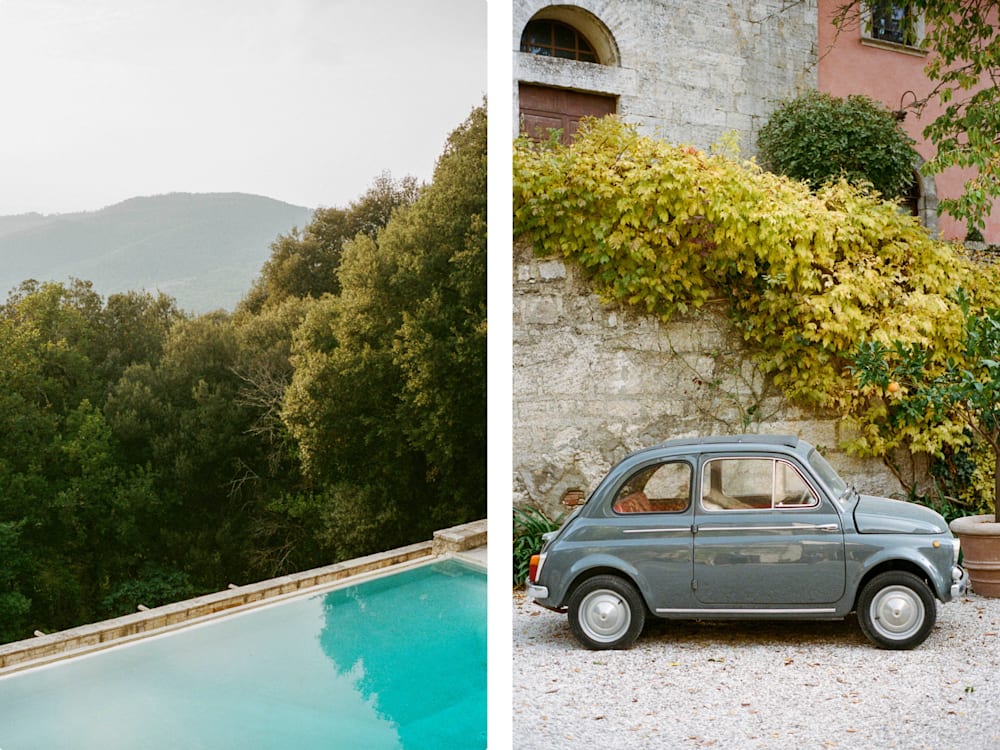 The last stop on the road-trip is Borgo Pignano – a fortified villa a couple of hours drive towards the Tyrrhenian Sea. There are activities in abundance (horse riding, truffle hunting, yoga, bocce, a spa and wine tasting – not to mention the owners' impressive collection of classic cars and motorbikes to peruse) but it's the pool that got the 'holy hell' from me; built, as it is, into the sides of a dramatic rock face.
Amble to the aptly named prosecco rock at golden hour, then back to the belvedere terrace – lord that terrace – and order sundowners from the circular bar. Dinner is quite the affair here (I loved the seabass), served up in the high-ceilinged reception rooms. Still wines are produced on site, with a sparkling wine in the works for next year (all delicious, she assures, with her fourth hangover in as many days).
But it's the ethos that really sets Borgo Pignano apart. It feels intentional, thanks to the owners' ambition to be ecologically self-sustainable (solar energy, sustainable sourcing, water conservation, biodynamic farming and on-site harvesting of cereals made into breads, rice, pasta and grains – and a whole lot more).
With much food eaten and much wine drunk, it's time to return home to a holiday season that promises much of the same. And look, I don't mean to preach, but Tuscany off-season is the Tuscany you should visit. Cross thy heart and all that.
Fill up your cup with our full collection of Tuscany hotels.
All photography by the author