The walk from Termini Station to the hotel is an estimated 30 minutes but it's almost impossible not to keep stopping.
You're transported into what feels like a Renaissance computer game; there's stuff happening at every level. Mopeds! Chic locals drinking Negronis! Really old beautiful things you couldn't even imagine! Roasted chestnuts! Priests and nuns! Ice cream! Tourists with sunburn!
The light is different, and so are the colours. Saturated golden sunshine mingles with the white marble, grey concrete, baked terracotta and varying shades of ochre buildings.
Our feet hardly touch the cobblestones as we're carried by hordes of sightseers that throng around the Fontana di Trevi. At 86 feet tall and built from bright white marble and travertine, the tourist Mecca does little to dampen its impact – although the water that spews from the baroque structure is almost entirely out of view through the wall of bodies.
Only a minute or so later we reach our destination – or so the map says. A little confused, boiling and sweaty, we search the jam-packed street lined with throbbing restaurants, a jumble of market stalls and clattering street sellers for the hotel sign but it does not seem to be anywhere. It takes a minute to register the restaurant Don Pasquale which I recall from the hotel guide, and at its entrance, on closer inspection we spot the small subtle plaque engraved with 'Maalot Roma'.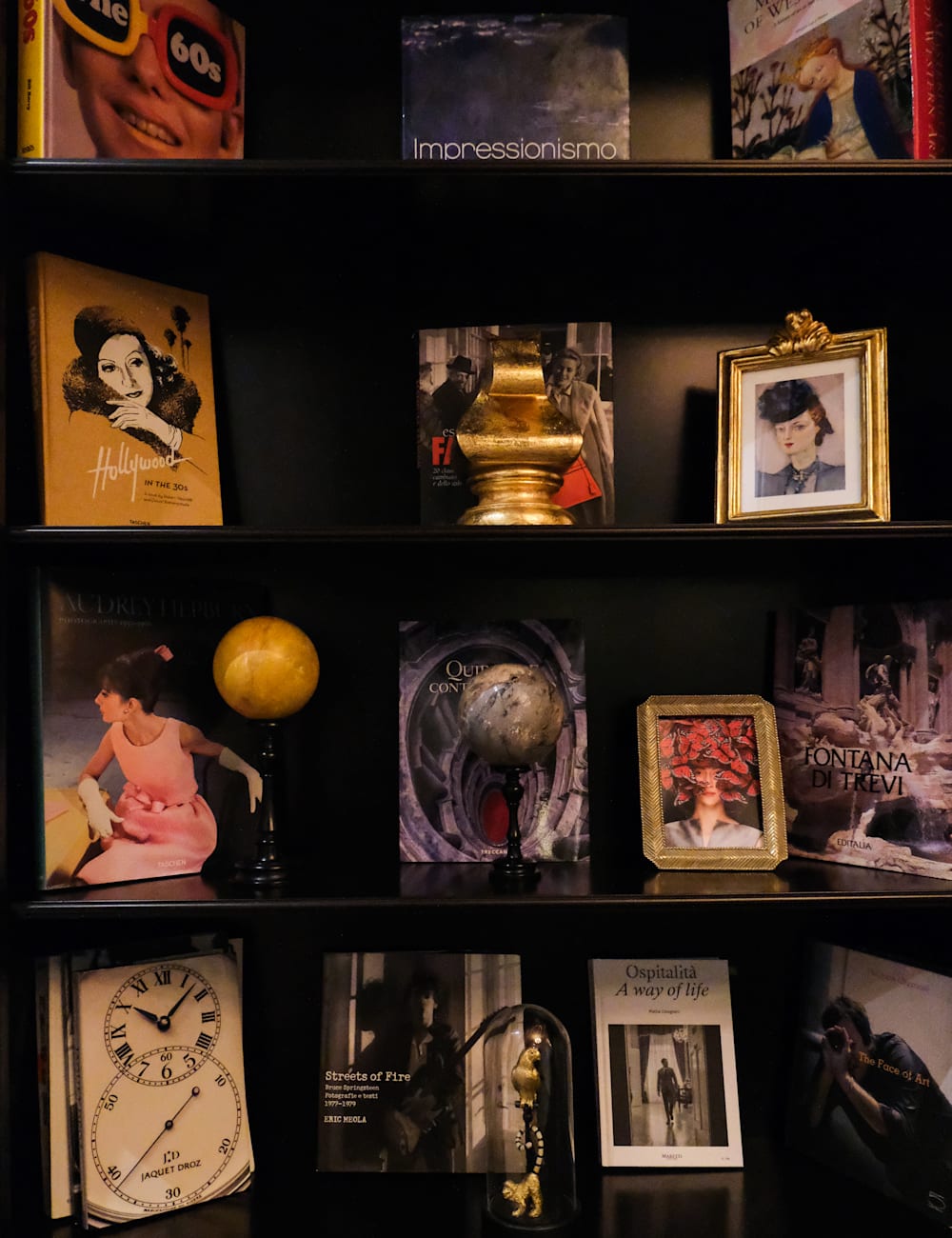 Inside, low Balearic house music drifts through this light, clean oasis of calm. The generous entrance features spotless black stone floors providing the perfect visual contrast to the high white walls, arched ceilings and pillars. A contemporary glass lantern hangs from an iron chain and, below, Regency style tables and chairs sit before a floor-to-ceiling panelled mirror.
To the left there's a lift, which serves each of the 30 individually designed rooms, and a bright yellow feature wall before which sits a plinth displaying a marble torso – a detail from Laocoön and His Sons.
To reach the check-in, one must pass through Don Pascuale's main dining room. Its glass ceiling floods the space with natural light and the herringbone wooden floor softens the bold interior featuring giant palms, crushed-velvet banquettes in peacock blue and deep red, zebra-print scatter cushions, emerald tile tables, exotic flowers and shiny black bamboo style seating with patterned pads.
Overhead an oversized chandelier with furled gold leaves carries two halos of little lamps wrapped in red linen shades. There's a panelled feature wall painted olive green sporting an overwhelming collection of framed digital art collages by Argentinian artist Stanley Gonczanski who's take on classic masters are anti-serious and ironic.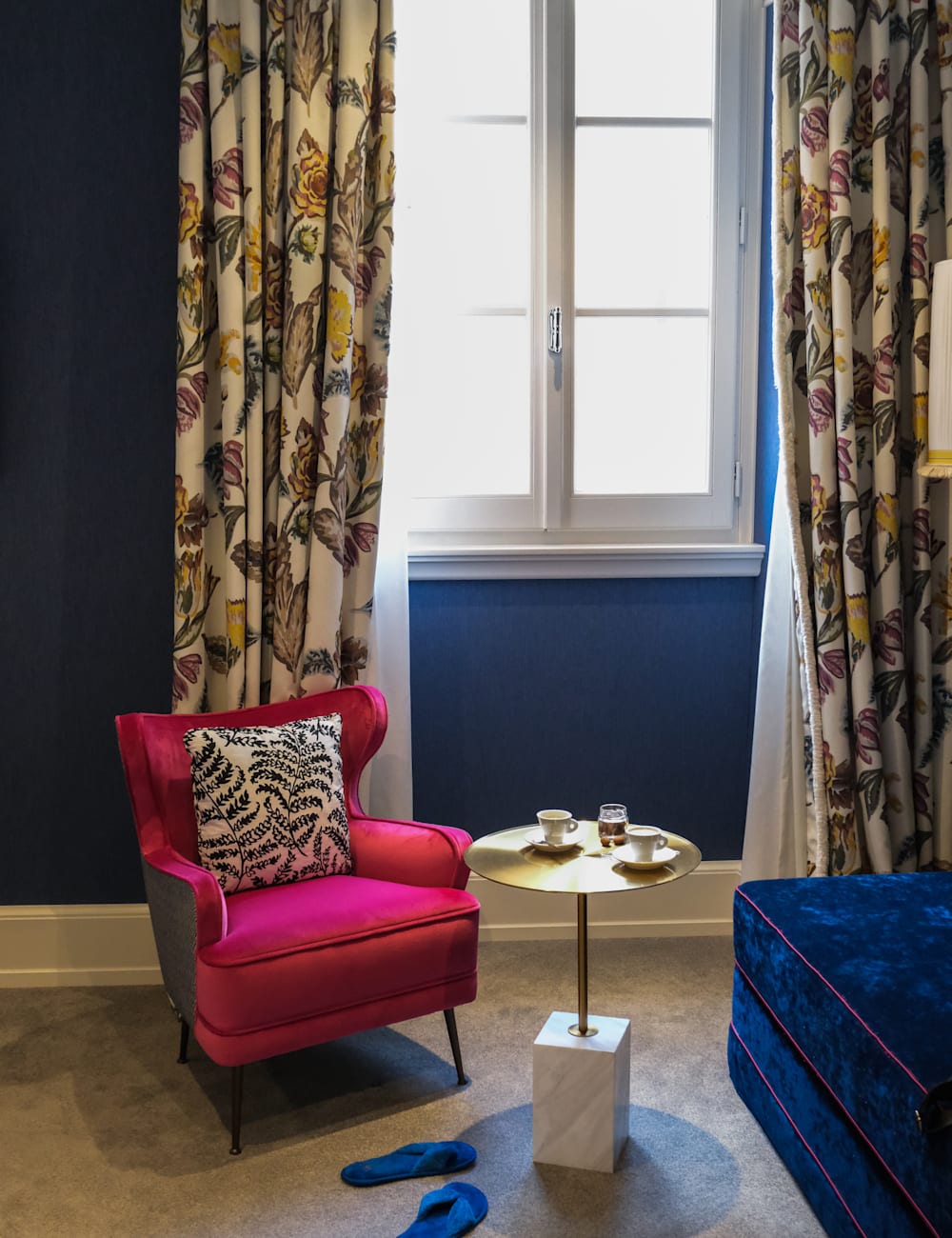 We're welcomed warmly by the concierge who repeatedly offers us prosecco which we turn down as we're keen to change our clothes and start exploring the city. As she fills out some forms my eyes wander across the striped borders, feature ceilings, ostrich feathers, bookshelves and coffee-table books – I couldn't quite place it at first, but the hotel's maximalist décor gives off a sort of Laurence Llewelyn-Bowen energy.
Our room is great. It actually feels like we might be the first people to stay there. It feels so clean and new. The turquoise linen walls are adorned with illustrations from old Vogue magazines in mirrored frames. There's a bookshelf with an easy mix of travel, fashion and music books published by Taschen, Assouline and Rizzoli.
The scalloped padded bedhead is upholstered in bright violet and stone-white silk linen and the long embroidered curtains match the scatter cushions on the lime green armchair. Despite all the colour it still feels tranquil, and the noise and chaos and smells from the street below are entirely shut out.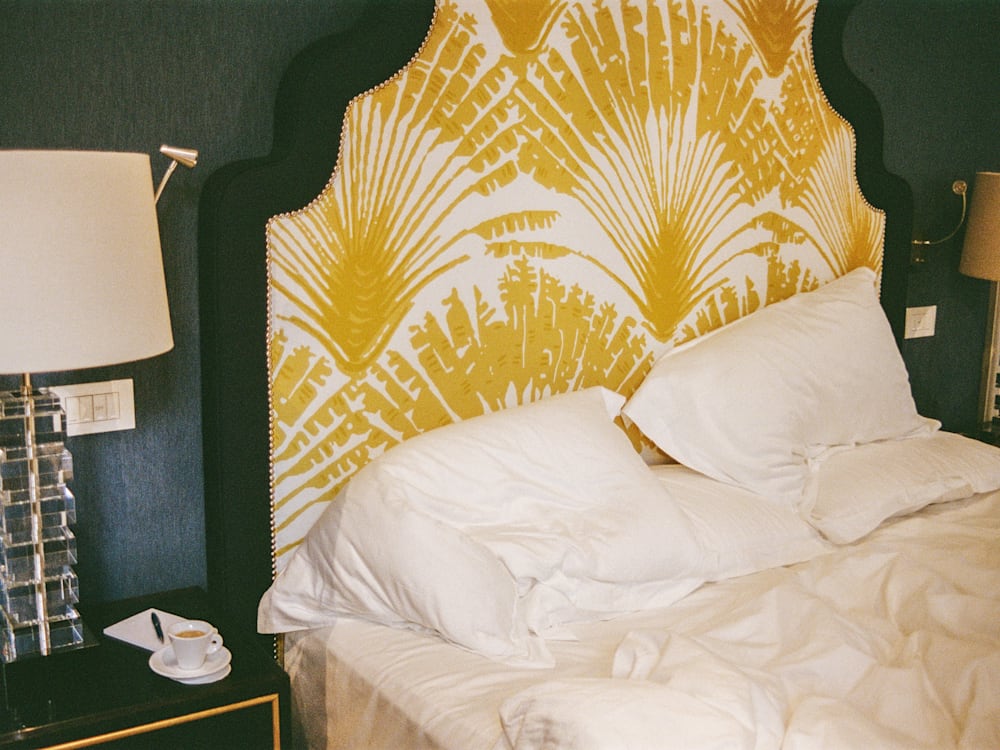 The lighting in the floor-to-ceiling Arabescato Corchia marble bathroom is motion-sensored, as is the walk-in wardrobe, giving the space a sense of luxury. The team have laid out a tray of petit fours, there's a fruit bowl with redcurrants, physalis, grapes and more and the fridge is stocked with soft drinks in glass bottles, and jars of nuts and other snacks in branded packaging.
The products in the bathroom – created in Italy, using organic and gluten-free ingredients – are also own-brand, the packaging emblazoned with the word 'love' in colourful lettering. There's a lot of care and consideration that has gone into creating the Maalot.
The hotel is as central as it comes. The Pantheon, Piazza Navona and the Spanish Steps are minutes away by foot (so is All'Antico Vinaio, the best sandwich shop in Rome). We walk to the Coliseum, to Villa Borghese and across the river to the Vatican City. It's a chance encounter, but in the square outside St Peter's Basilica we find ourselves at the front of a crowd as Pope Francis rides past us on his Popemobile.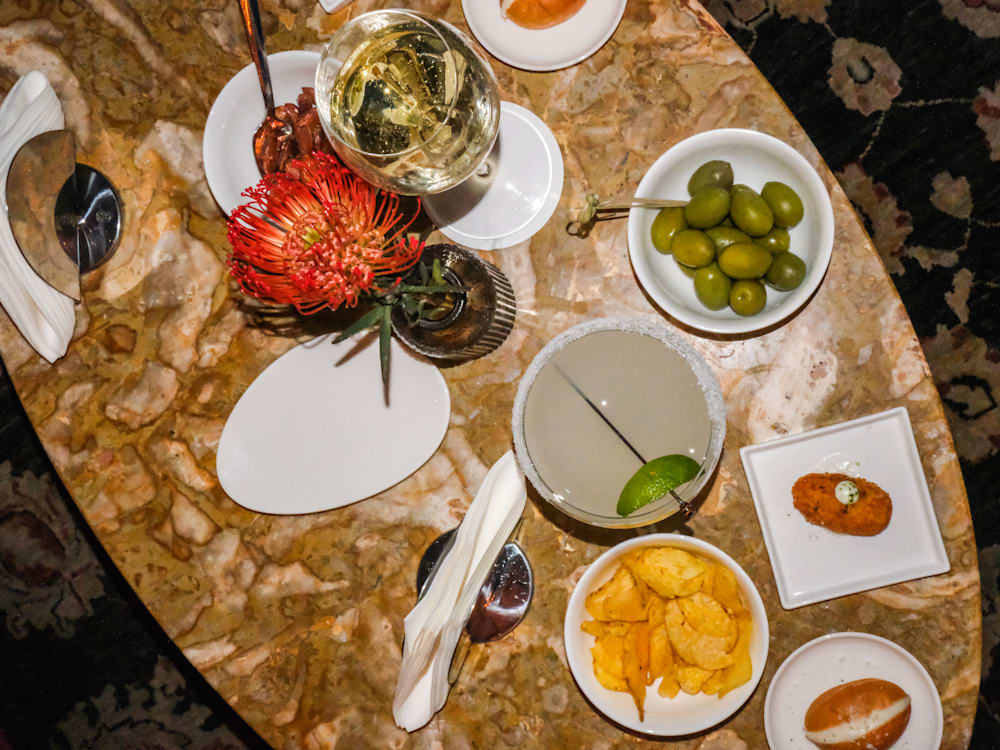 Stumbling back from a picture-book day out (and one too many aperitivi), we collapse onto one of the velvet sofas at the aforementioned Don Pascuale (actually named after composer, and former resident, Gaetano Donizetti's greatest work). The menu, created by chef Domenico Boschi, serves a mix of Roman cuisine.
We drink good wine, and to start I enjoy cauliflower, melting egg and truffle and to follow 'Costolette d'Agnello, la sua Crocchè, Scarola Uvetta e Pinoli' which is a very pretty dish with the most tender melt-in-the-mouth lamb. To finish, an artfully presented apple crumble.
The menu offers five enticing choices per course, however they do also serve a 'Don Burger', avocado toast and a club sandwich as a scene change for guests after a hotel classic. In an adjoining room there's a little cocktail bar that boasts one of the largest collections of rum in Rome.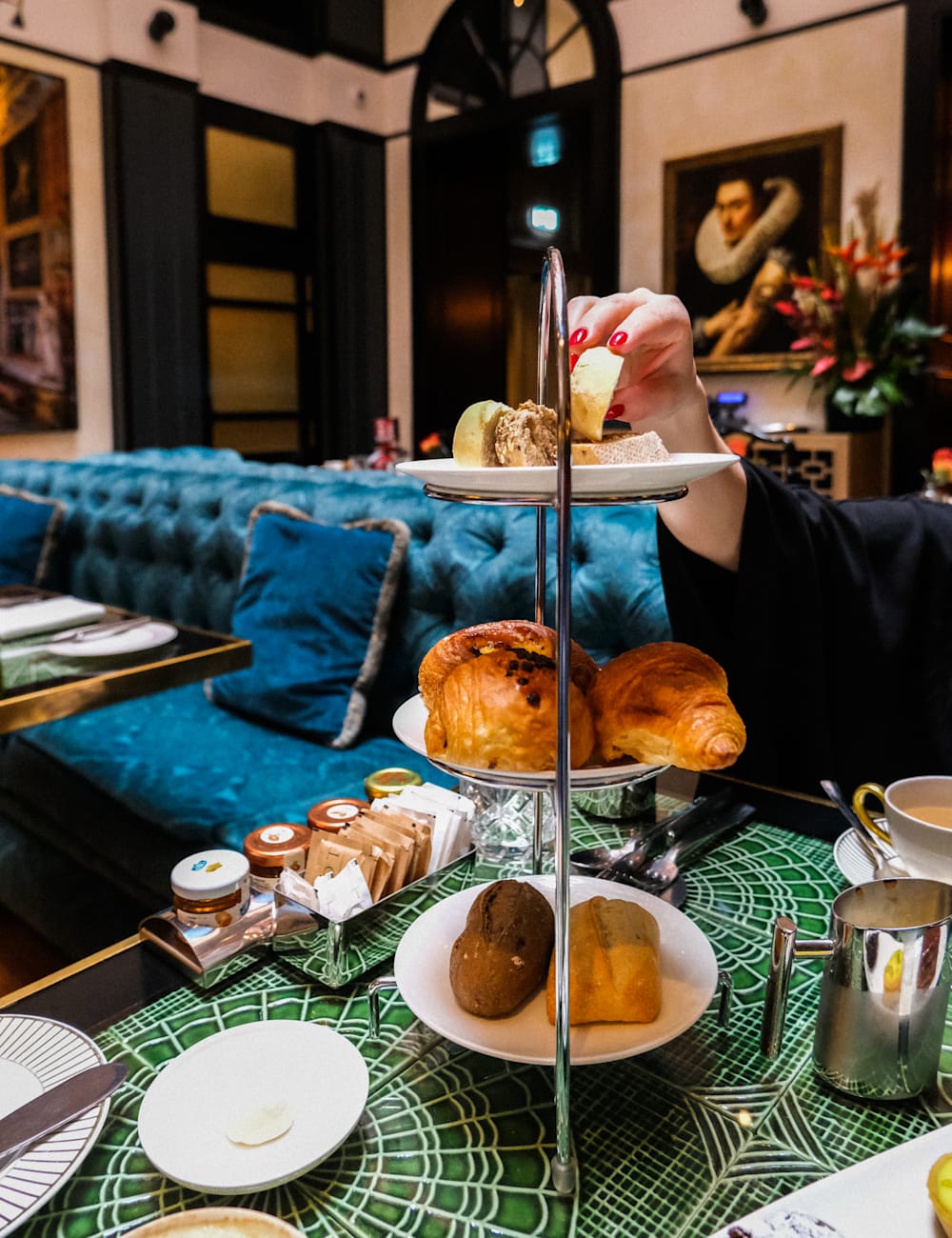 After an excellent night's sleep, before breakfast is served, we nip out to see the Trevi Fountain this time without other tourists which is pretty cool. Back at the hotel we're served a continental breakfast: a tower of pastries (sweet, savoury and Neapolitan rolls), cake, yoghurt, fruit, and scrambled eggs.
The staff speak perfect English and are on the whole very friendly, however at times appear as if they're led by a script rather than intuition. Over the course of the weekend we hear different members of the team entertain visitors with matching anecdotes and introductions. You kind of want them to loosen up a bit, but maybe this is just because the hotel is still in its baby years.
One thing we didn't try was the gym. You'd have to be a die-hard fitness fanatic to swap an hour wandering the city for the treadmill. We did see the sign though.
This was weekend to remember, in summary. Two nights, 30,000 steps a day, thousands of years in history, months of inspiration, a hundred bowls of pasta. It couldn't have been better. Veni, vidi, vici.
Find out more about Maalot Roma or explore our complete collection of Rome hotels
---
Sophie McElligott is marketing and communications director at AnOther Magazine, Dazed, Nowness, and Dazed Studio.
Photos shot on a separate visit by Michaela Watkinson