There's a few thousand years of drama squeezed into Santorini's myth-steeped sliver of the Aegean. Volcanic eruptions and buried cities shaped the island's past, and that's before we've got onto the hijinks of the gods and goddesses.
These days, the drama comes courtesy of gasp-inducing views – and the underwater caldera is the headline act. High up on its lava-sculpted southern cliffs, the stage is set for one of the world's most sought after sunsets. Take your seats (or your sun loungers) for Santorini's stand-out view from some of the island's most sumptuous hotels.
SANTORINI SKY
For seclusion seekers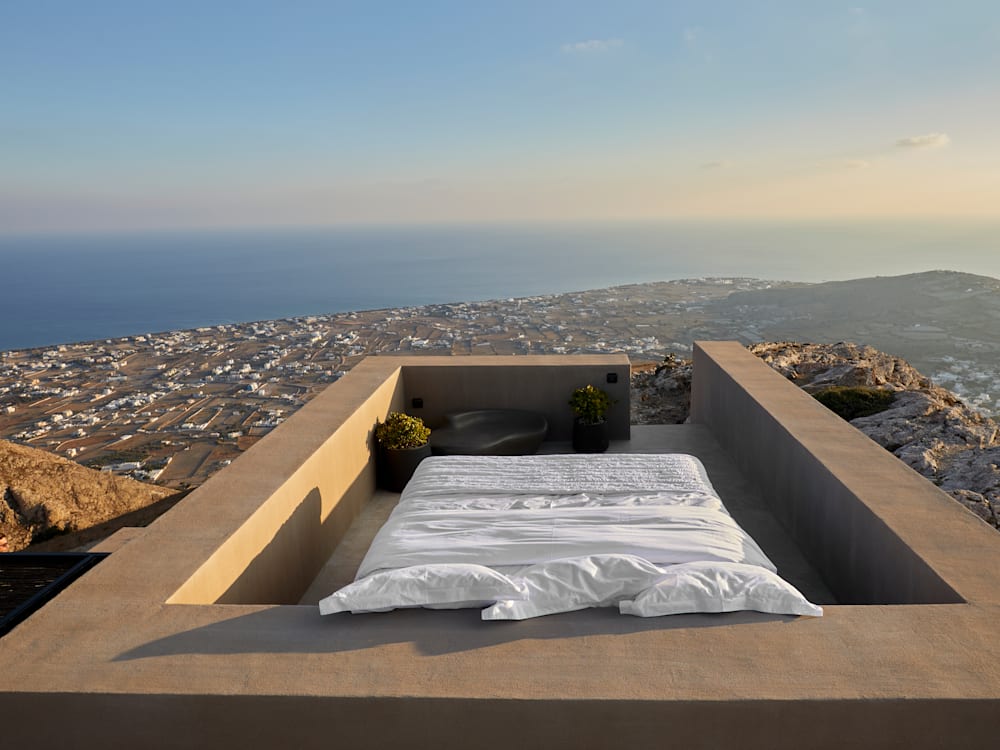 In case the sugar-white tumble of cliff-clinging hotels hadn't clued you in already, the best view of the caldera is a bird's-eye one. And at a leg-wobbling 2,000 feet above sea level, Santorini Sky has seized the high ground in spectacular fashion.
Spread across three lofty locations, this collection of villas has put an elevated spin on the island's finest offerings. Sleek neutral interiors spotlight the big-money view, fresh seafood feasts are ferried up from nearby Pyrgos's finest restaurants, and the high-tech Sky Dome has been hailed by some as the island's most seductive sunset-watching spot.
Holing up for dinner and drinks in a clifftop pod not private enough? Dedicated do-not-disturbers should snag the hotel's Lodge at Diabla, a farm shelter turned five-star eyrie that's about as far from the beaten path as you can get in your Birkenstocks.
The villas at Pyrgos and Elias are more neighbourly, but whichever you plump for, you'll have a private caldera-facing terrace and pool. Your head might be in the clouds, but hold off on pinching yourself – you're not dreaming, that really is the view.
KAPARI NATURAL RESORT
For classicists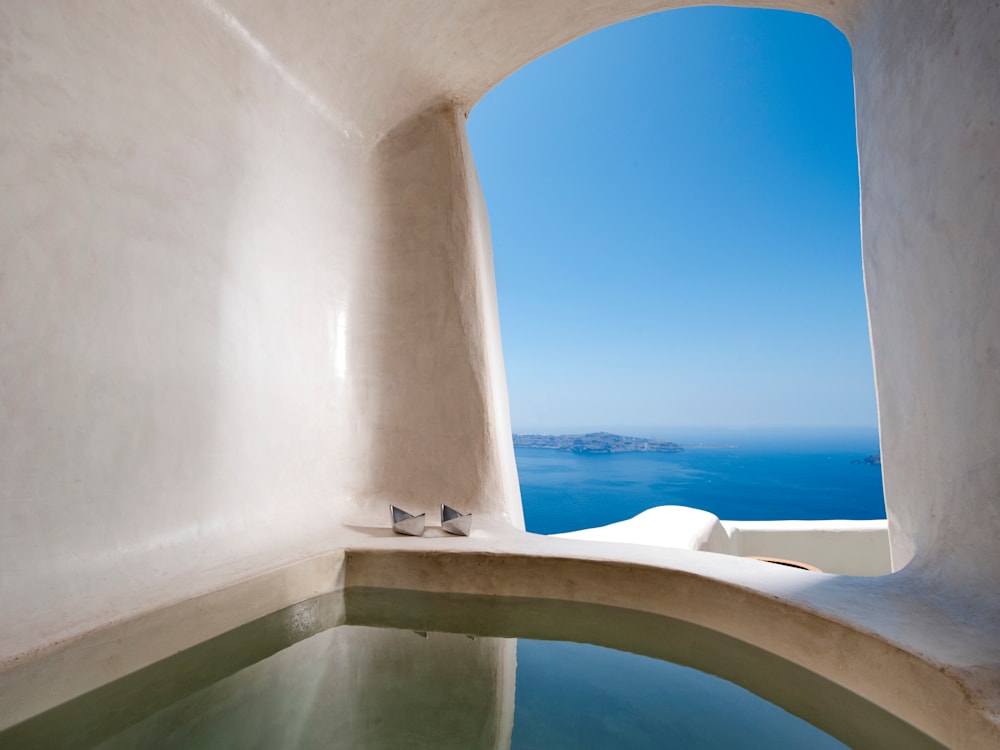 Sugarcube buildings sporting smooth curves and flashes of forget-me-not blue – the Imerovigli blueprint is so pretty, there's little need for reinvention. Kapari Natural Resort is as much a Santorini classic as a carefully cultivated assyrtiko.
In womb-like rooms, artful neutrals let the caldera claim centre stage, and private terraces provide an ideal spot to try out a time-honoured triptych of Greek pastimes – sunbathing, sipping fine wine and philosophising.
In true Cycladic style, the restaurant does a fine line in fresh-caught seafood and sunset views. But when you can scan Skaros Rock from your mallow-soft Duxiana bed, we won't judge if you take advantage of the 24-hour room service.
CHROMATA
For all-out indulgers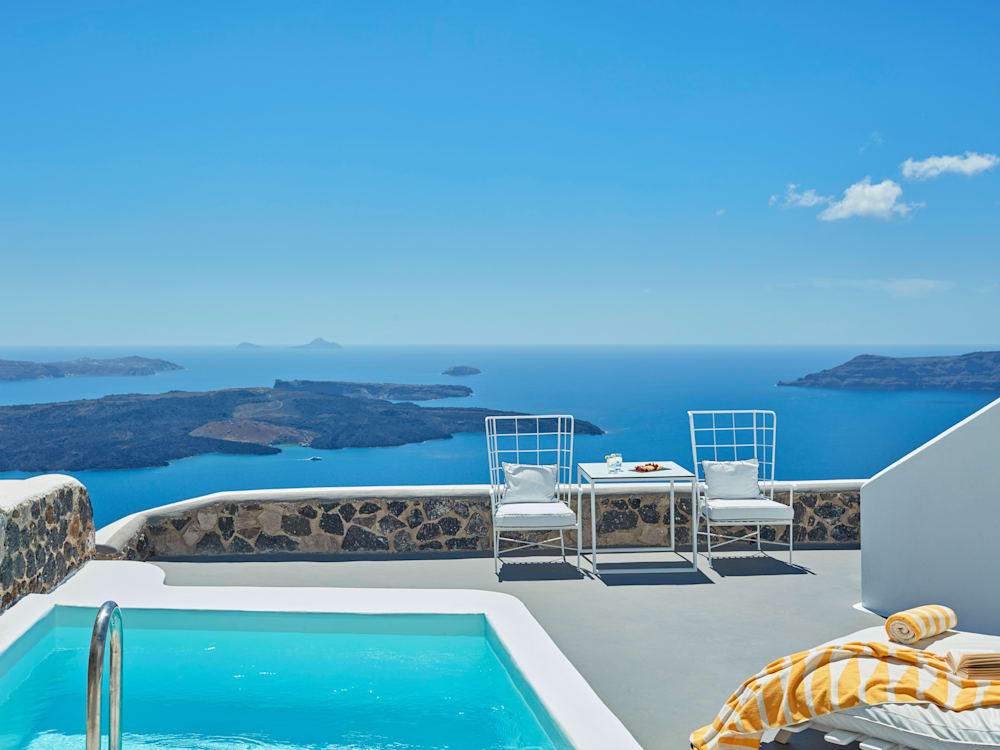 Prefer your panoramic view with a side of serious pampering? Slink down a narrow street from Imerovigli's main square to Chromata, where your highest maintenance wish is their command.
Soak up all the Santorini sun you want – here, the closest you'll come to breaking a sweat is on the saunter from your chic cave suite to the Aegean-facing infinity pool. Did you make it? Phew.
Pillowy daybeds are thoughtfully positioned for dramatic swooning, and a restorative tipple from the poolside bar should speed your recovery along. The cushy life continues in the Chroma restaurant, where seasonal Mediterranean treats are served in style – take the caldera-view table one night, the candlelit cave for two the next.
For all-stops-pulled cosseting, full butler service is an option. But the jasmine-perfumed pièce de résistance? A chauffeur-driven drive away is the spa at Chromata's sister hotel, where bespoke treatments range from in-and-out pick-me-ups to decadent two-day rituals. If 'treat yourself' is your holiday mantra, you might just have found your Greek-island match.
ASTRA SUITES
For starry-eyed lovers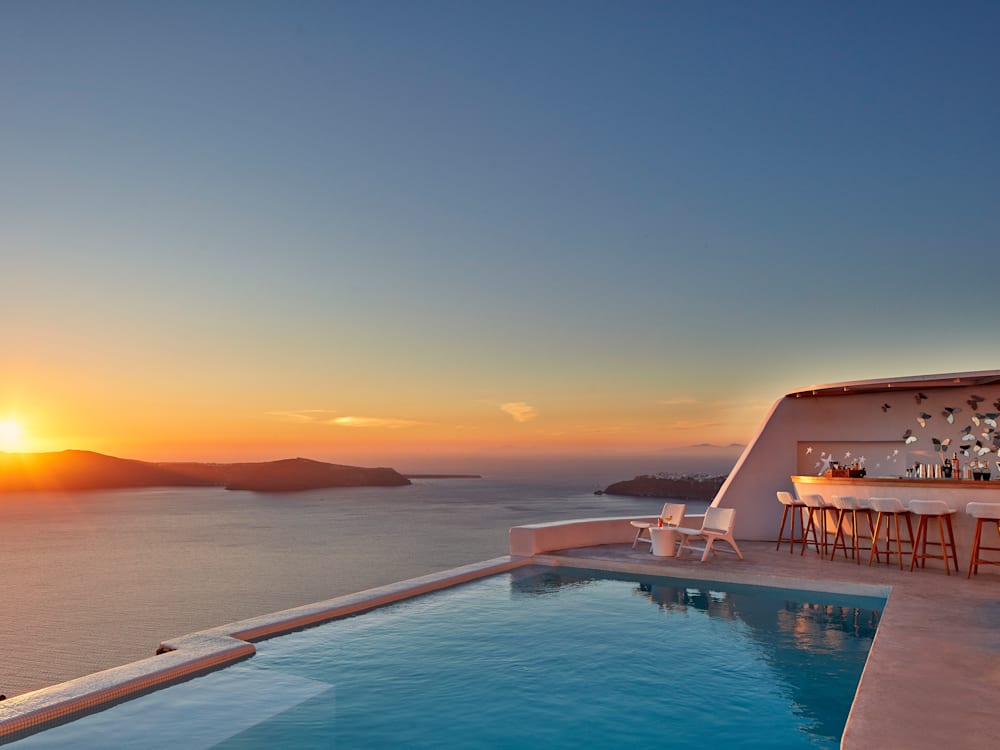 While we're playing matchmaker, allow us to introduce Astra Suites, Imerovigli's most seductive suitor. This luxury clifftop hideaway is quite the catch – we're talking soaring ceilings, flickering candlelight and, of course, heart-fluttering view over the caldera. Head over heels yet?
Aphrodite herself would take her hat off to the hotel's romantic touches. The honeymoon suite's pool is particularly swoonsome, cloistered away in a candlelit cave. But caldera-facing canoodling is not just for newlyweds – each airy suite has a private terrace, and plenty have pools. If you're feeling especially amorous, book the Jacuzzi in the spa for a private champagne-fuelled soak.
At the restaurant, the menu is a love letter to classic Greek cuisine – and the sunset-catching terrace the ideal setting to pen your own declaration, poetics perhaps aided by a glass of vinsanto or two.
AVATON RESORT & SPA
For design buffs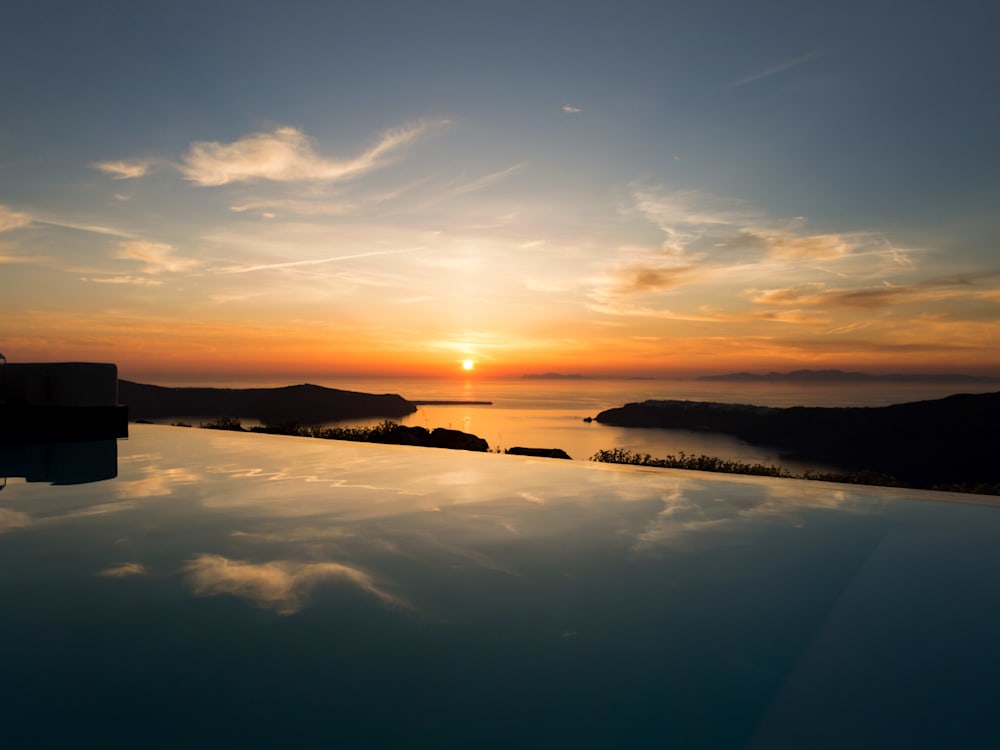 The caldera's cover-model looks and show-stealing sunsets have given it cult celebrity status, and the quintessential Santorini stay – whitewashed walls, clean curves – obligingly lets the VIP scenery hog the spotlight. It's not that Avaton Resort & Spa strays dramatically from this blueprint, but there's a wealth of carefully curated details within these pristine walls, and the style-savvy eye might start to wander…
Against pieces hewn from the island's ancient lava-darkened stone, vintage designer furnishings add a splash of mid-century chic. There are plenty of diversions if you don't know your Eames from your elbow, too. Fresh bouquets, brimming bowls of local fruit and honey- and herb-infused bath goodies beckon in the suites. The spa, with a Jacuzzi, infrared sauna and steam cavern sequestered under glittering star-like lights, makes a head-turning bid for your attention, too.
But inevitably, the star turn here is the view. Take in the full sweep of sapphire water and volcanic islands from the restaurant, where the mod-Med menu is as stylish as you'd expect. When Helios clocks out for the night, it's tradition to toast the sunset with the signature cocktail – champagne, Santorini dessert wine and strawberries. We'll drink to that.
CANAVES OIA EPITOME
For individualists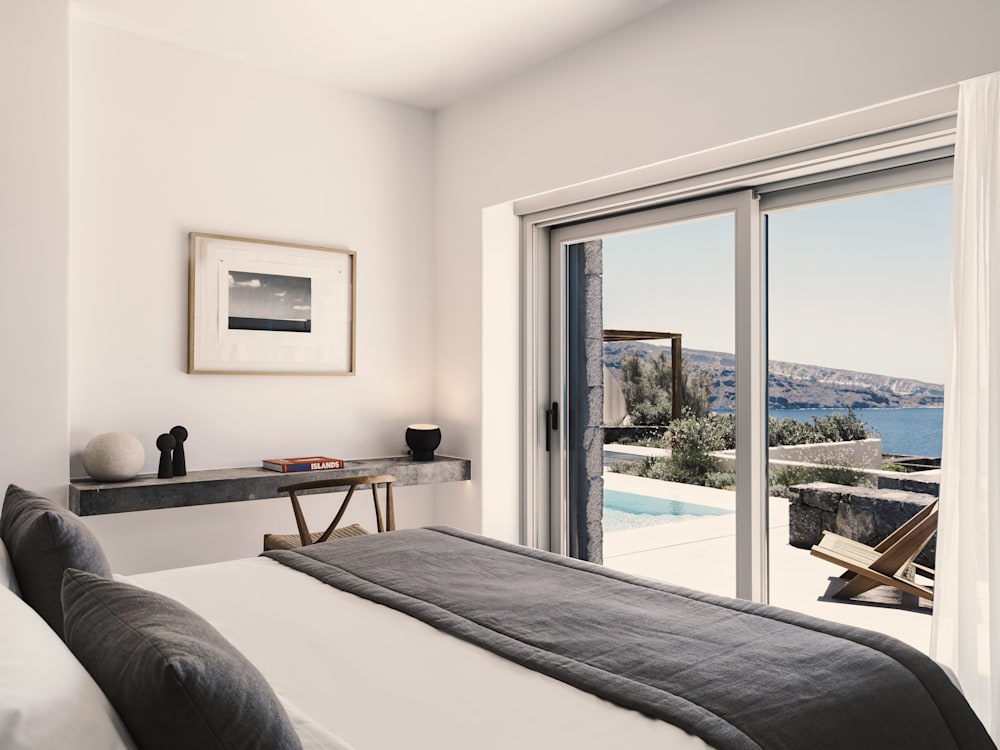 When Circe was banished to the island of Aeaea, she saw the sunny side, leaned in to the alone time…and turned anyone who disturbed her peace into pigs. Now, we're not suggesting spells are a solution to 21st-century stresses, but Canaves Oia Epitome makes a strong case for mythic levels of Cycladic seclusion.
This luxury clifftop lair has struck out from the mortals of Oia and taken root on the island's east coast, just across the caldera from Thirasia. Rugged and remote? Absolutely. Spartan? Certainly not.
Days kick off encouragingly with a multi-course champagne breakfast, courtesy of Michelin-pedigree chef Tasos Stefatos. A meal at his Elements restaurant might have you hailing the menu as a work of divine inspiration, but it's not just the grub here that'll have you getting your inner goddess on.
Signature spa treatments by Valmont promise pantheon-level pampering. Once all terrestrial troubles have been soothed, chart a course through volcanic-stone arches, across softly lit courtyards made for chiton-draped wafting and on into the floating-above-the-caldera infinity pool. Oh look – somewhere along the way, a cocktail materialised in your hand.
Retire to your private pool – every room has one – and survey the ant-like antics of the bay below. If all seems to be in order, slink over to the bar for a sundowner. Down on the shore, the bustle of Ammoudi beckons, but up here on the caldera's eastern edge, life feels a little more unearthly.
PERIVOLAS
For crowd-dodgers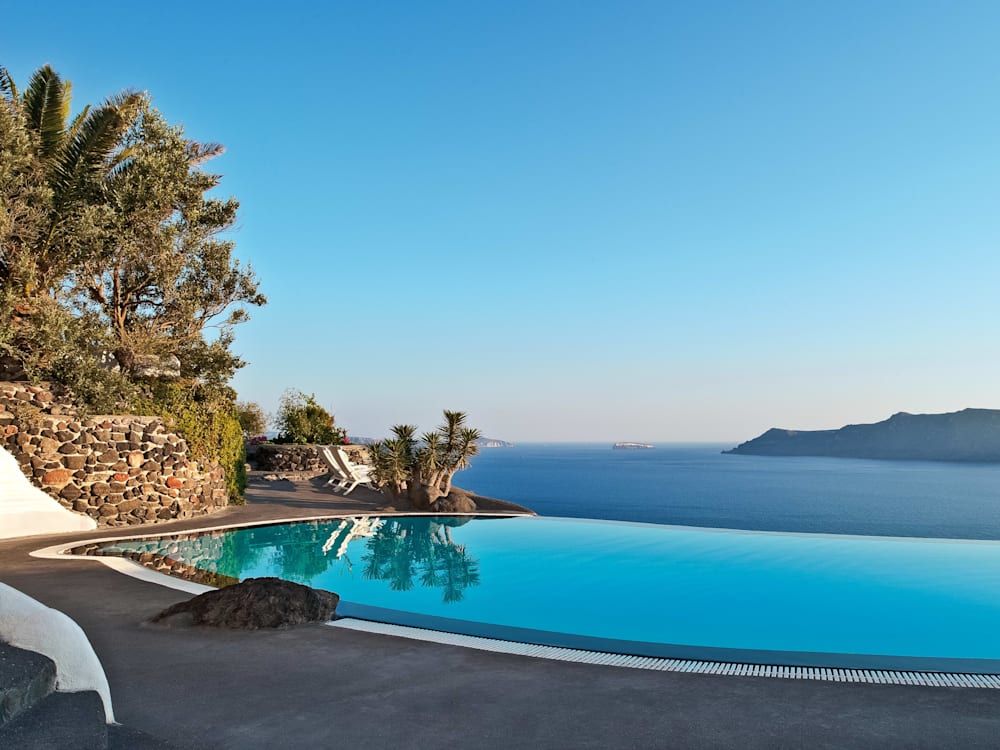 Ah, Oia. Cobblestoned streets, silver screen-worthy scenery – and an endless stream of sunset-chasing crowds. Received wisdom recommends steering clear during high season, lest you lose an eye to an over-eager Instagrammer's elbow. But for those in the know, succumbing to the siren song of Santorini's most visited village doesn't mean skimping on the solitude.
Peel off from the main pedestrian drag to find Perivolas, where centuries-old caves form a series of self-contained suites and the holidaymaker hubbub fades to a meditative hush. Here, it's all about the Cycladic basics – Aegean views, soul-warming sun and the finest vintages of vinsanto (seriously, the owners were once wine traders).
Whisper-quiet suites are all bright sunlight, surrealist curves and breezy accents in bougainvillea hues. The 60-square-metre spa will see off any residual real-world stresses – or symptoms of a night in the town's tavernas. As the light fades, locally sourced feasts are served on the terrace and cocktails are sipped by candlelight around the caldera-facing pool.
So next time someone says you can't see Oia's sunset without a sea of selfie sticks spoiling the view, you know what to do: smile, nod and start plotting your next stay at Perivolas. Shhh, we won't tell if you won't.
EROSANTORINI
For homebodies
Make yourself at home – easily said, less easily executed. Should I take my shoes off? Where do I put my bag? Can I sit here or is this sofa strictly decorative? We feel you, overthinkers. But we challenge you to not feel at ease at Erosantorini, a two-acre clifftop estate a mile from Fira where 'whatever you feel like' is a way of life.
Come on in to your pick of the whitewashed villa's four rooms – there's local honey, home-made olive oil and chilled Santorini wine waiting in the fridge and, yes, you can help yourself. Pour a glass (or, actually, just bring the bottle) and pad out to your private terrace for an Aegean-facing dip in the Jacuzzi.
When hunger strikes, head out in search of the chef. There's no set menu (or meal times, come to that), so request whatever strikes your fancy, or see what magic can be worked with the catch of the day.
Whole days can be spent caldera-gazing from the three-tiered infinity pool, but there's a library, wine cellar and marble hammam to tour, too.
What's that? You'd like a yoga class in the scented garden? Now you're getting the hang of it. Beyond the estate, the hotel can arrange tailored jaunts to the island's famed vineyards and local-secret swimming spots. On your return, a clairvoyant staff member has already primed your go-to poolside spot with a G&T and a parasol. Welcome home.
GRACE HOTEL
For culture connoisseurs
Grace Hotel cuts a fine figure from its clifftop perch. Clean white curves, sun-catching terraces and an angular infinity pool suspended above the Aegean see it comfortably at home among the Imerovigli in-crowd. But this boutique hideaway is more than just a pretty face. If the jazz drifting up from the poolside bar is anything to go by, this place is adding a high-brow tenor to the cool-kid village at the caldera's highest point.
There's a concept store stocked with a curated selection of Greek-designed goodies, and local artwork hangs in the bar, perfectly placed for some sage pondering over a signature rose-infused cocktail. In the rooms, funky light fixtures and furniture carved from Santorini rock put a fun twist on the classic Cycladic caves.
Here, some serious decisions must be made – what pillow fragrance will you plump for? Which Apivita products would you prefer? But the revelry resumes at the restaurant, where award-winning chef Spiros Agious's contemporary Greek cuisine is served alongside striking views of Skaros Rock.
Beyond the hotel, horizon-expanding experiences abound – staff can help you cross archaeological sites, mediaeval monuments, catamaran trips and private vineyard tours from your to-do list. If you reckoned Santorini's culture was all ancient history, think again…
Further expand your horizons by exploring our complete collection of Santorini hotels. Or, if it's a grown-up Greek getaway you seek, take a peek at our guide to the best adults-only hotels in the Greek islands.