We can't give you Versailles, but we can give you castles, lots of them, all over France. These regal retreats have all the turrets, towers and four-poster beds you could ever dream of, plus landscaped grounds, attendant vineyards and, of course, excellent pâtisserie. Now where did we put our periwig…
CHÂTEAU DE SAINT PATERNE
Normandy
Most French châteaux are fit for royalty, but Château de Saint Paterne in Normandy has hosted an actual sovereign, specifically King Henry IV of France, who spent the night here in the 16th century. Stay in the same suite by booking the aptly named Chambre d'Henri IV, or prepare to let down your hair by choosing the Chambres des Mystères, at the top of two winding flights of stairs. If you prefer to keep a distance from your loyal subjects, L'Orangerie is the suite for you, since it's set in an entirely separate building.
The castle has fairy-tale good looks, of course, with stone walls and tastefully classic interiors. The accommodating owner taught himself how to cook, so you can be sure of refined set menus night after night, and the drawing room is where to retire for more Calvados afterwards.
DOMAINE DES ETANGS
Aquitaine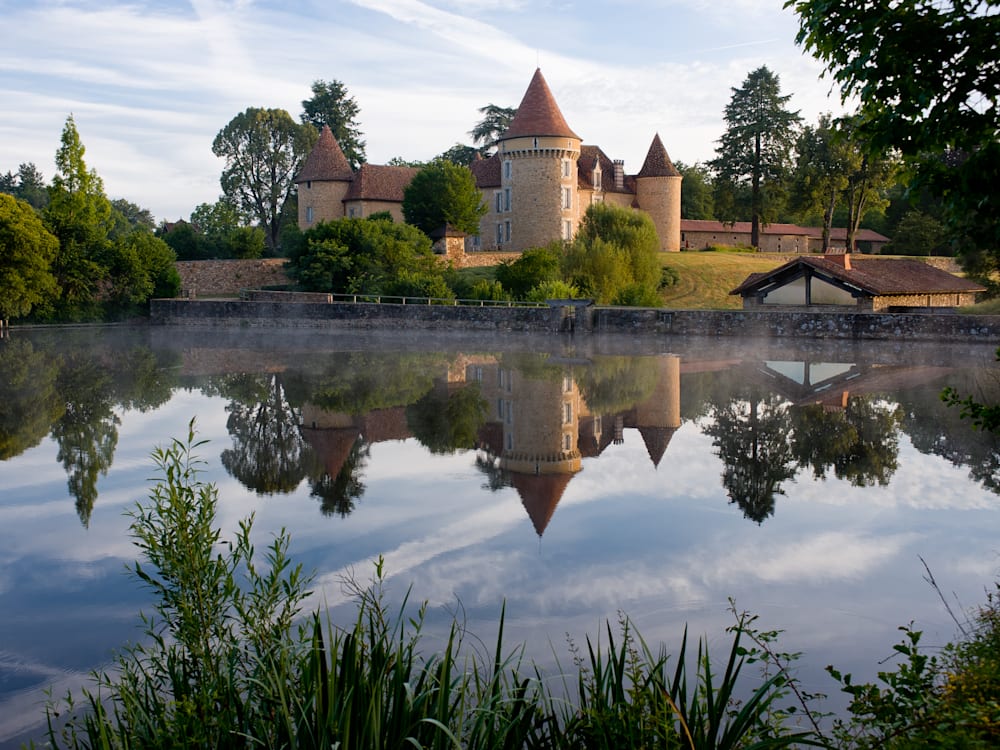 Calling all Cognac fans: Domaine des Etangs in the south-western départment of Aquitaine is the chic French château for you. As well as brandy's more refined sibling, you'll be able to imbibe wines, beers and cocktails (Cognac-based, of course).
The 13th-century château was once the fiefdom of the knights of Chasteignier de la Roche-Posay (nothing to do with skincare). Along with the requisite turrets and towers, the ducal dwelling is home to meadows, mills, a library (whose shelf selection was curated by Heywood Hill, of Mayfair, London, no less), seven lakes and an impressive private art collection. The estate's former longère, a traditional farm building, now houses the excellent restaurant. Ready for you to rule over are a whopping 2,500 acres of grounds, which also feature a spa where the treatments use just-picked plants from the garden.
CHÂTEAU DE SACY
Champagne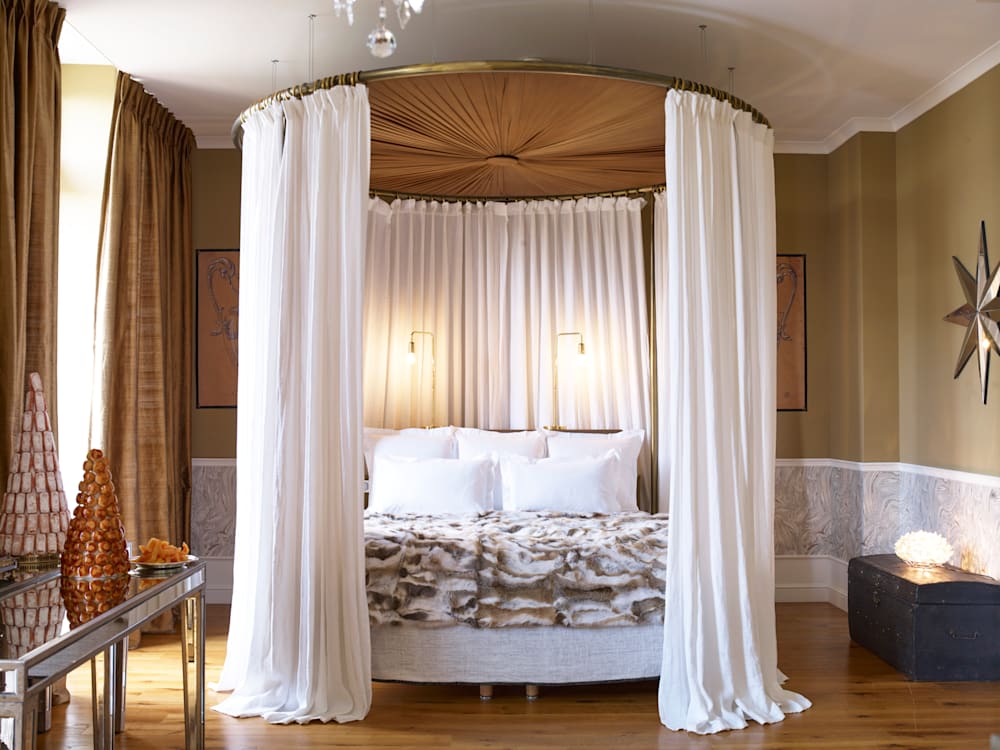 The great domaines of Champagne have more to offer than just supreme sparkling wine (though there are worse places to start), namely fine-dining restaurants, hill-top mansions and abundant antiques. Back to those grapes, though: not only are they esteemed all over the world (when pressed), but the rows of vineyards in this protected part of France look rather attractive, too.
At restored-to-glory Château de Sacy, the suites have been named after historical figures such as Marie Antoinette and Winston Churchill, and they're certainly suitably for royalty, with Toile de Jouy fabrics, canopied beds, gilded mirrors, more elaborate drapery, OTT chandeliers and even an especially showy circular bath tub. The French may be fastidious about what can and cannot pass for Champagne, but something Norwegian has slipped into this Appellation d'Origine Contrôlée: two wooden hot tubs for soaking and sipping with a view of the vineyards.
HOTEL CHÂTEAU DU GRAND-LUCÉ
Loire Valley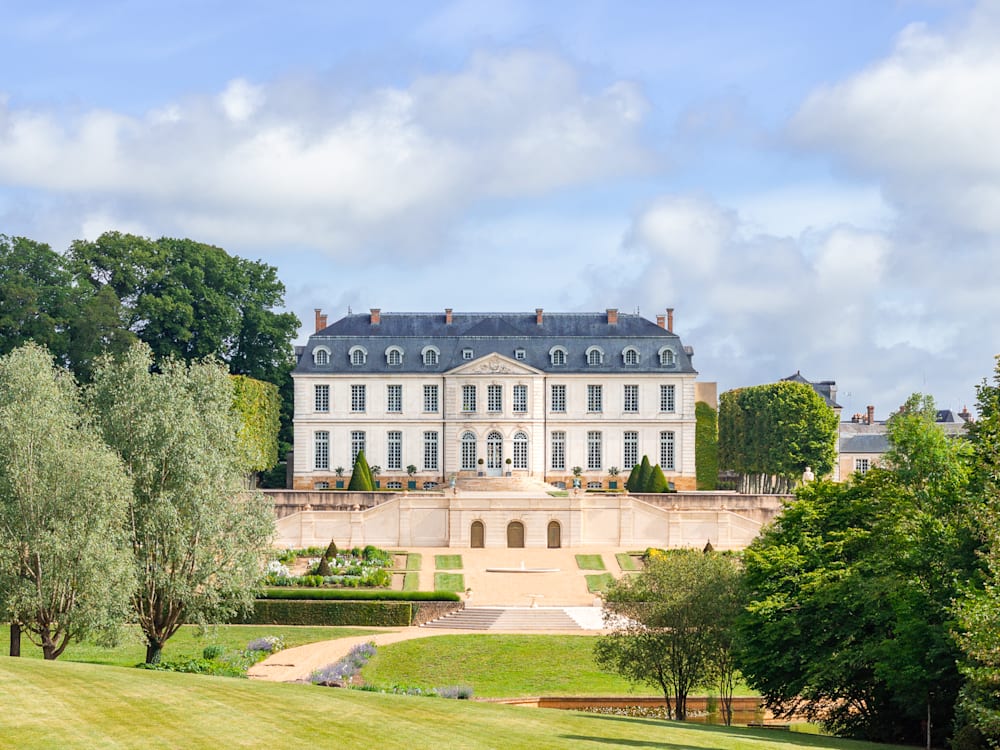 Go one up from royalty with a stay at the neoclassical Hotel Château du Grand-Lucé in the Loire Valley, where the 80-acre grounds are graced by statues of Greek and Roman gods, donated to the châtelain by his confidant King Louis XV. The museum-worthy bedrooms feature restored antiques, hand-painted de Gournay and Pierre Frey wallpaper, chaises longues to lay insouciantly on and the odd bust peering over you.
The dining room is just as grand, with an Aubusson tapestry and burnished-by-time mirrors; and the château's manicured, perfectly symmetrical gardens were clearly tended to by a staff of hundreds. The acreage is also home to a potager garden and orchards, which supply the chef with most of his fruit and vegetable needs, put to good use in his creative but classic French cooking.
CHÂTEAU DE LA RESLE
Chablis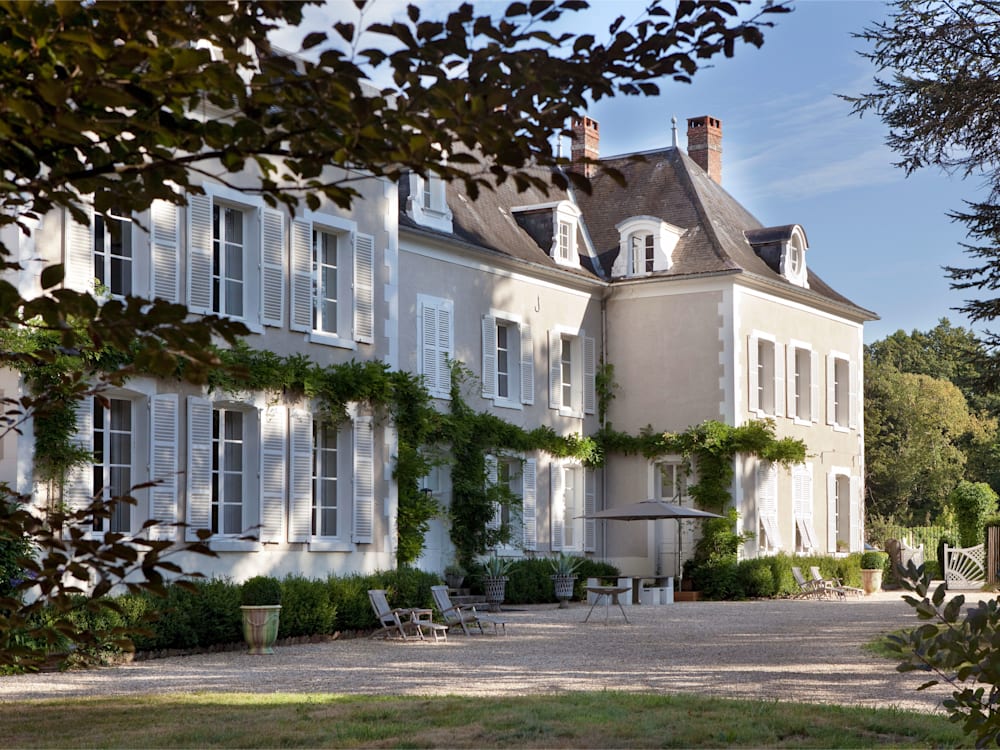 If you don't currently know your claret from your beaujolais, but would like to learn, make the Chablis Château de la Resle top of your fairy-tale wish list. The Burgundy seat offers more than just fine wine (especially delicious thanks to the cool climate of this part of France). In a curveball to the 19th-century all-French façade, the Dutch owners have graced the interiors with various works by artists from their motherland.
Back to the Gallic fantasy, though: days at this domaine are spent playing pétanque on the pristine lawn, swimming in the saltwater pool or simply sipping the appellation's wares. Guests can choose from rooms in the main house, the farmhouse next door or the (Mellors trigger warning) gardener's cottage.
CHÂTEAU ST PIERRE DE SERJAC
The Languedoc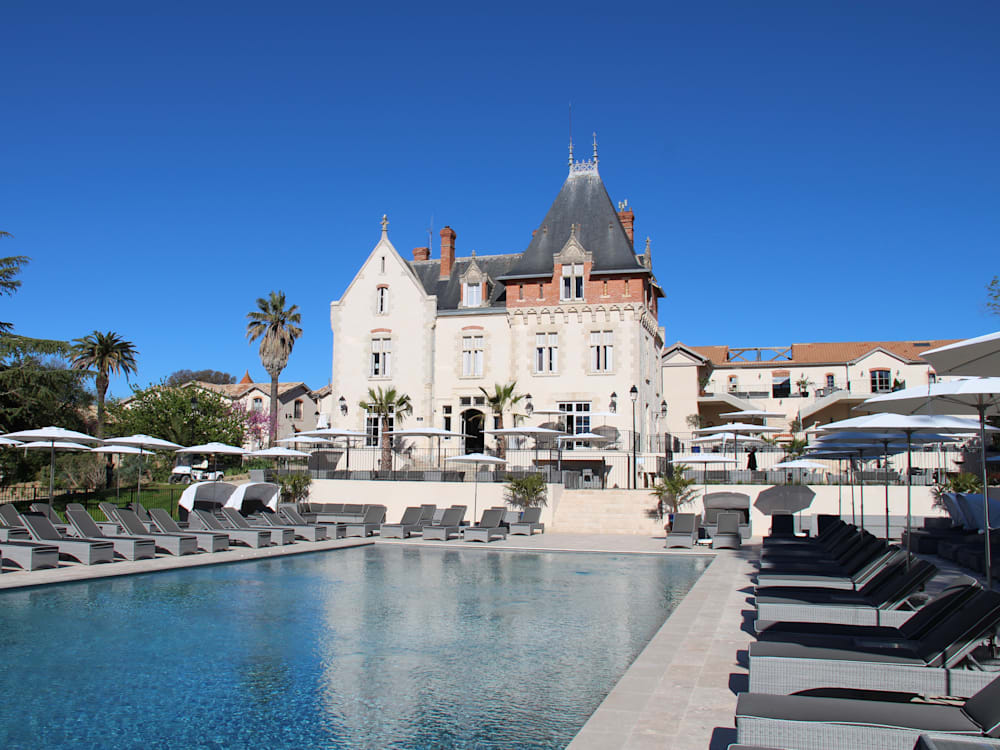 Down south in the Languedoc-Roussillon an hour from the city of Montpellier, Château St Pierre de Serjac has its own vineyard attached, producing chardonnay, pinot noir and syrah perfection. You're in expert hands: a winery has stood on this site since Roman times. The 19th-century manor also has a Cinq Mondes spa with a vineyard-facing hot tub, pétanque and tennis courts, a heated infinity pool and Francophile-pleasing bikes to borrow, with a scenic backdrop supplied for all cycling.
It may be a wine retreat, but it's not snooty in the slightest. Instead, it's especially family-friendly – original buildings around the estate are now self-catering cottages and maisons that can sleep up to eight guests. Some have their own pool, but with lengthy ones at the spa and in the gardens, there's unlikely to be a sun lounger shortage.
DOMAINE DE PRIMARD
Guainville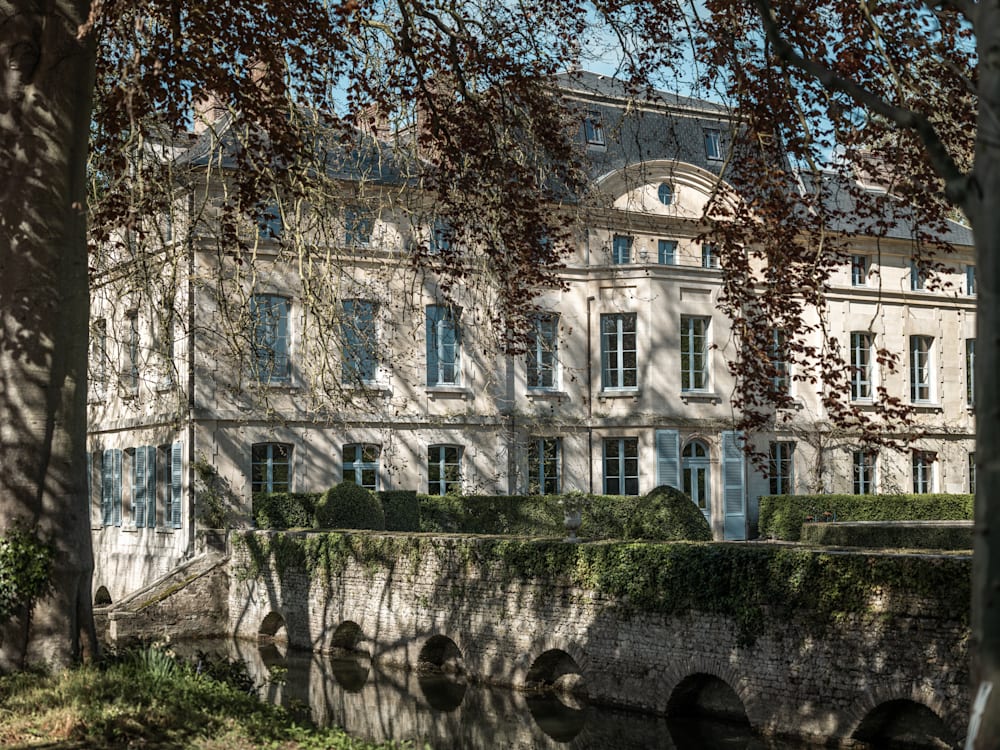 If you like your French châteaux to be reachable by rail, hop on the Eurostar to Paris and drive the short distance to Domaine de Primard, an 18th-century castle once home to Hollywood royalty whose rooms include roll-top bath tubs, sage and mint shades for the walls, and curving mink-coloured sofas.
And you might be in the glorious Gallic countryside, but that doesn't mean the grounds aren't roamed by some friendly Highland cows (officially coos). Along with some Scottish livestock, the estate features a kitchen garden, orchard, arboretum and hundreds of types of roses. Greenery-packed Gauinville may be 90 minutes out of France's capital, but you'd never know it once you're safely ensconced amid its stately country piles.
CHÂTEAU CAPITOUL
Narbonne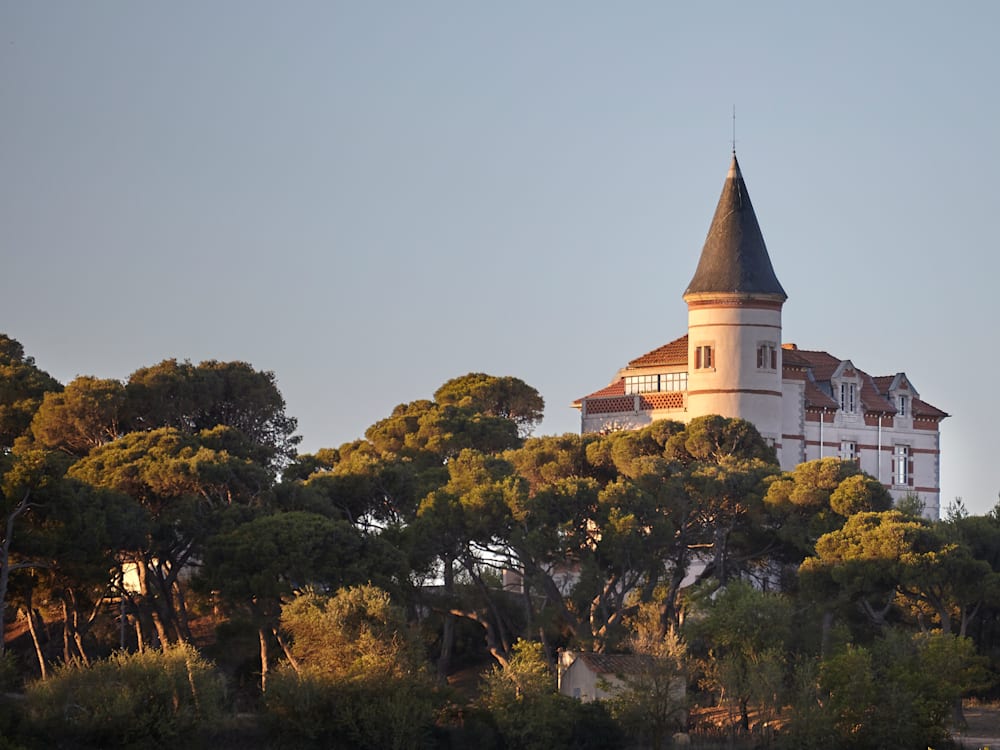 Sister to Château St Pierre de Serjac, Château Capitoul is on a domaine whose vines were planted by the always-epicurean Romans. The art nouveau castle and its spires came along in the 19th-century, with the estate also expanding to include a collection of villas, perfectly positioned for pastoral-pano admiration from their hillside spot.
Narbonne is between Montpellier and Perpignan, close to the south coast but technically on the Canal de la Robine. Guests can hike the Pyrenees, hang out with flamingoes at the lagoon, see more Roman relics in the form of the Horreum (a subterranean maze of warehouses) or visit a less famously unfinished cathedral: work began on Saint-Just et Saint-Pasteur in the 13th century but was never completed. You'll also be able to discover what wine made with centuries of expertise tastes like, right here in your own heavenly hamlet.
Got the taste for Gallic grandeur? Explore our complete collection of hotels in France