So no one believes you liked baklava before it was cool. And will they listen when you say you've loved Yorgos Lanthimos since way before The Lobster? Like Hades they will.
But when it comes to holidays (and the honourable quests of cruise ship-dodging and quiet sand-seeking) hipsters have the last laugh. From ancient forests to far-flung archipelagos, get your edge back with our guide to Greece's best lesser-known islands (and a few mainland regions) – plus how to get there and where to hole up once you do.
CYCLADES
Santorini and Mykonos have long dominated as the tourist-luring titans of the Cycladic islands. But trend-setting seafarers should sail on from Athens' three ferry ports to shores less trodden; treasure awaiting the adventurous includes quiet Aegean coves, archaeological wonders and, yes, a hearty sprinkling of those Instagram-star sugar cubes, plus a welcome extra dose of authentic local flavour.
Andros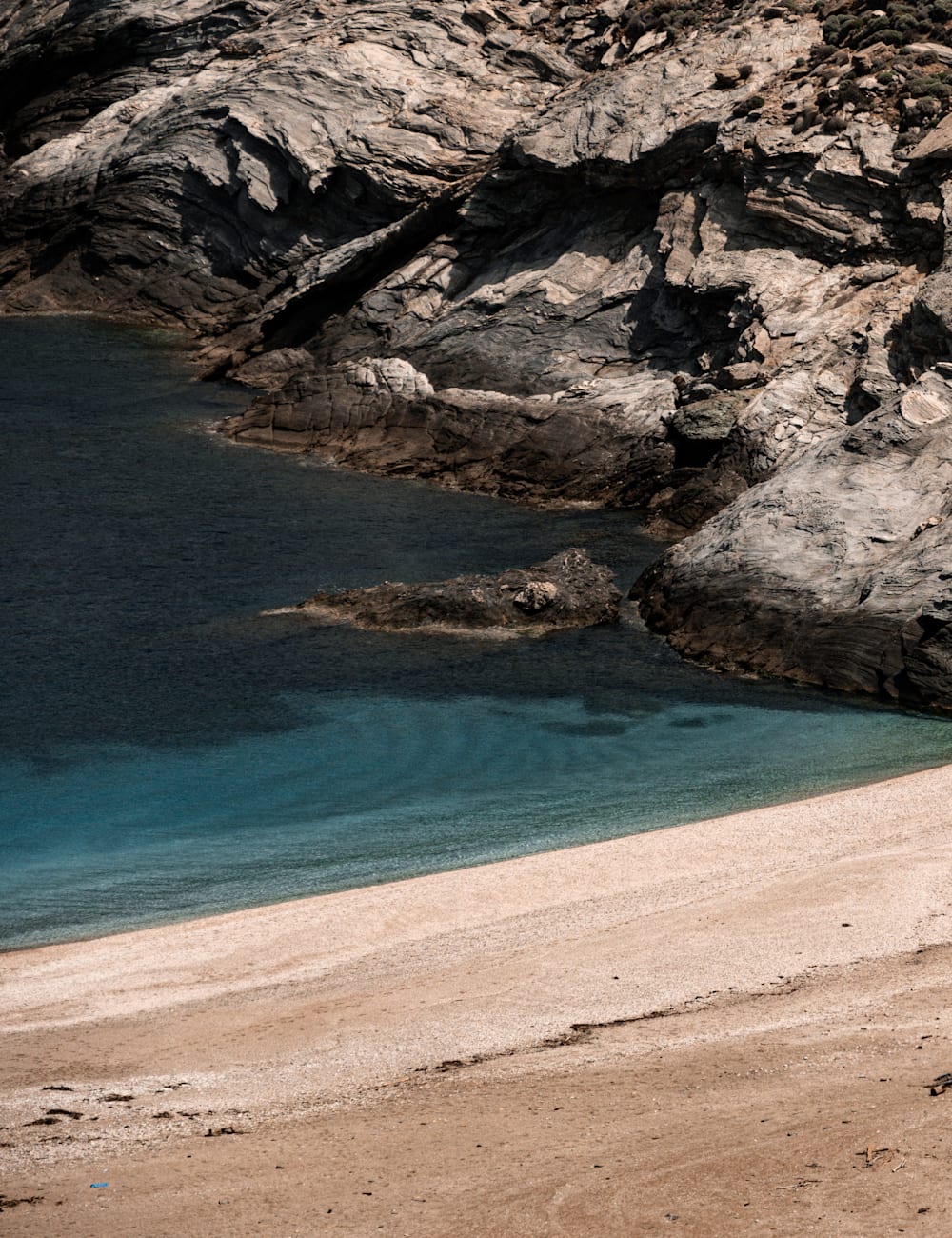 Dubbed the gateway to the Cyclades, the ferry from Rafina (an hour's drive from Athens) makes reaching Andros a breeze. The island earned the nickname Little England in the early 20th century, when grand shipping dynasties imported their luxurious London tastes. Anglicised airs and graces are evident in the main town's marble avenues and neoclassical mansions.
Really, though, Andros shines in its unfettered wilderness. Waterfalls, thickly wooded hills and wildlife-rich ravines seem to rebel against the island's refined history. Heritage hiking is the hot tip here – when local volunteers have scouted and spruced up a network of hundreds of old trails, it would be rude not to.
Beach-wise, it has golden-sand stretches to rival its better-known Cycladic siblings; the wildest and most winsome are on the north-east coast.
It's here you'll find Onar Andros, an eco-retreat perched among the mountains above secluded Achla beach. 14 cottages are scattered through protected wetlands, home to hares, rare monk seals and more – bring binoculars, basically.
This far out, you can forget phone signal. Instead, swap scrolling for snorkelling through sea caves, wild swimming in lakes and helping with (read: tucking into) the harvest at the local farm.
Naxos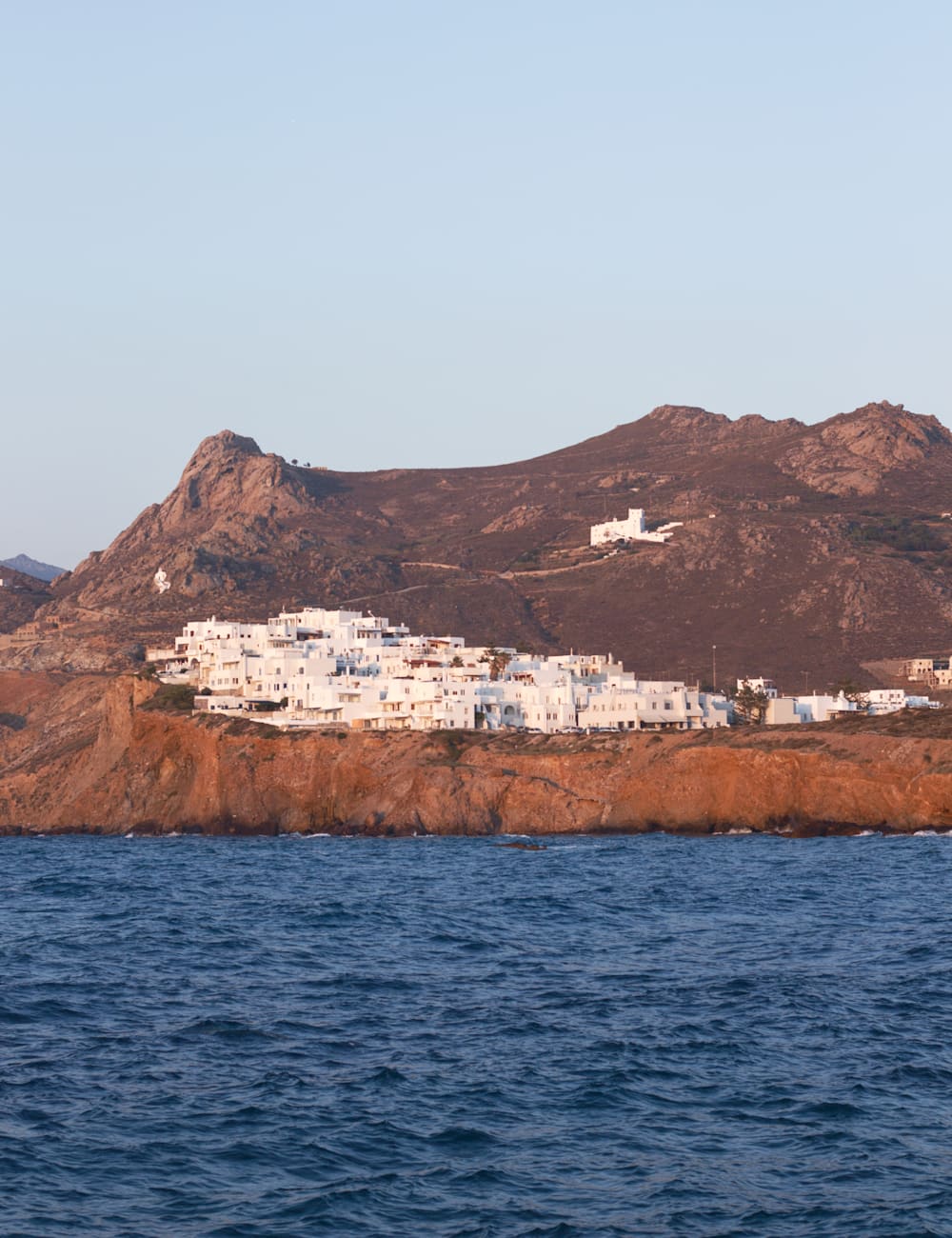 The largest and most central of the archipelago, think of Naxos as your island-hopping HQ. It's connected by ferry to all its Cycladic neighbours, as well as from Crete and Astypalaia. And if you're still finding your sea legs, the flight from Athens takes less than an hour.
That said, you might not make it past the port if you set any store by the island's most famous myth. Ariadne, so the story goes, was so captivated by the island's charms she missed the ship home.
Plaka's golden sands prove hard to resist, but strike out to Alyko to splash about in the shadow of an ancient cedar forest, or persevere past the pebbles on Grotta to snorkel around a sunken Mycaenian city.
To the east, tiny mountain-clinging villages are best approached by boat, and a hike pretty much anywhere here doubles as a history lesson – look out for Venetian castles and mediaeval towers on your way to the big-name antiquities, the temples dedicated to Apollo and Demeter.
If you do take a leaf out of Ariadne's book, boutique eyrie Ayiopetra is the place to stay. High in the island's rugged hills, the five suites overlook the Temple of Demeter and Zeus' birthplace, Mount Zas. But really, the soporific cicada buzz and olive-scented breeze are all it takes to convince that higher powers are at play here. And if any doubt remains, a farm-to-table feast at the restaurant would make a convert of anyone.
Syros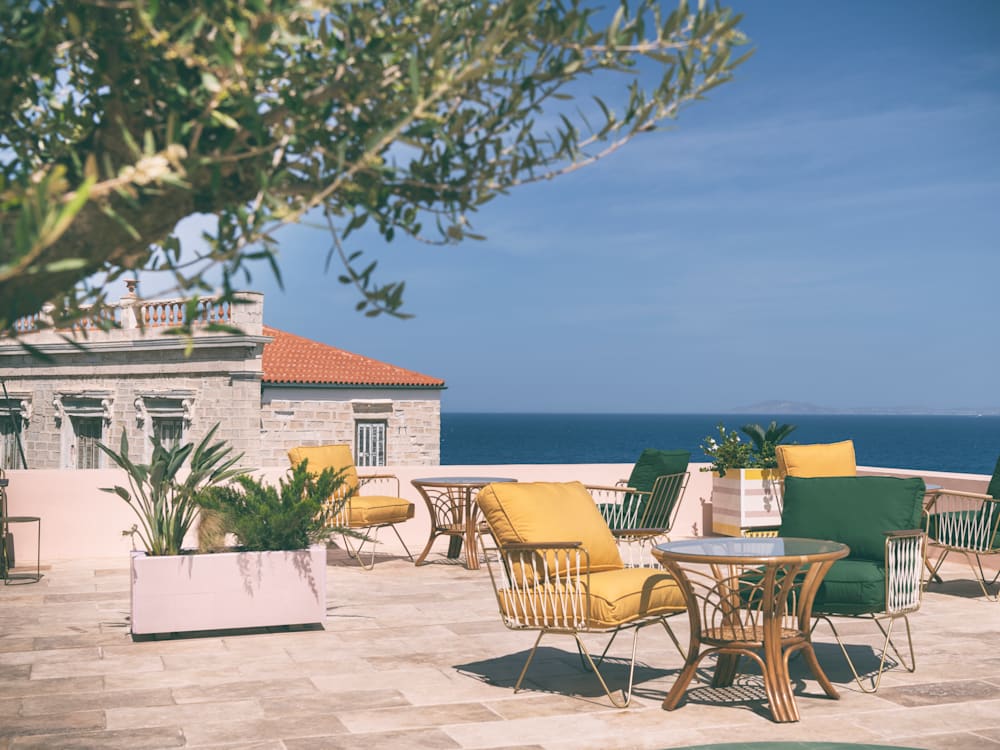 Just so over the standard Cycladic schtick? Syros, a three-hour ferry ride from Piraeus port, surprises from the get go. The port town Hermoupolis sidesteps sugar cubes in favour of colourful Venetian villas and leafy marble squares.
On the hill beyond, Ano Syros reaches skyward in a traditional tangle of whitewash and winding lanes, but clamber up to the Catholic Cathedral of St George for the double take-worthy reveal – a panoramic view of Tinos, Delos, Mykonos, Paros, Andros and Naxos. Other not-like-the-other-isles tricks up its sleeve include a prehistoric settlement and a tiny chapel tucked inside a sea cave.
Join the Hermoupolis high society at Aristide, a neoclassical villa turned boutique hotel that takes the town's tendency to technicolour and runs with it. Daring art-deco suites are dressed with jewel hues and tropical ferns; from the rooftop restaurant, the azure of the Aegean dazzles; and just to bolster the belle vie vibe, a private art collection completes the kaleidoscopic picture.
Sifnos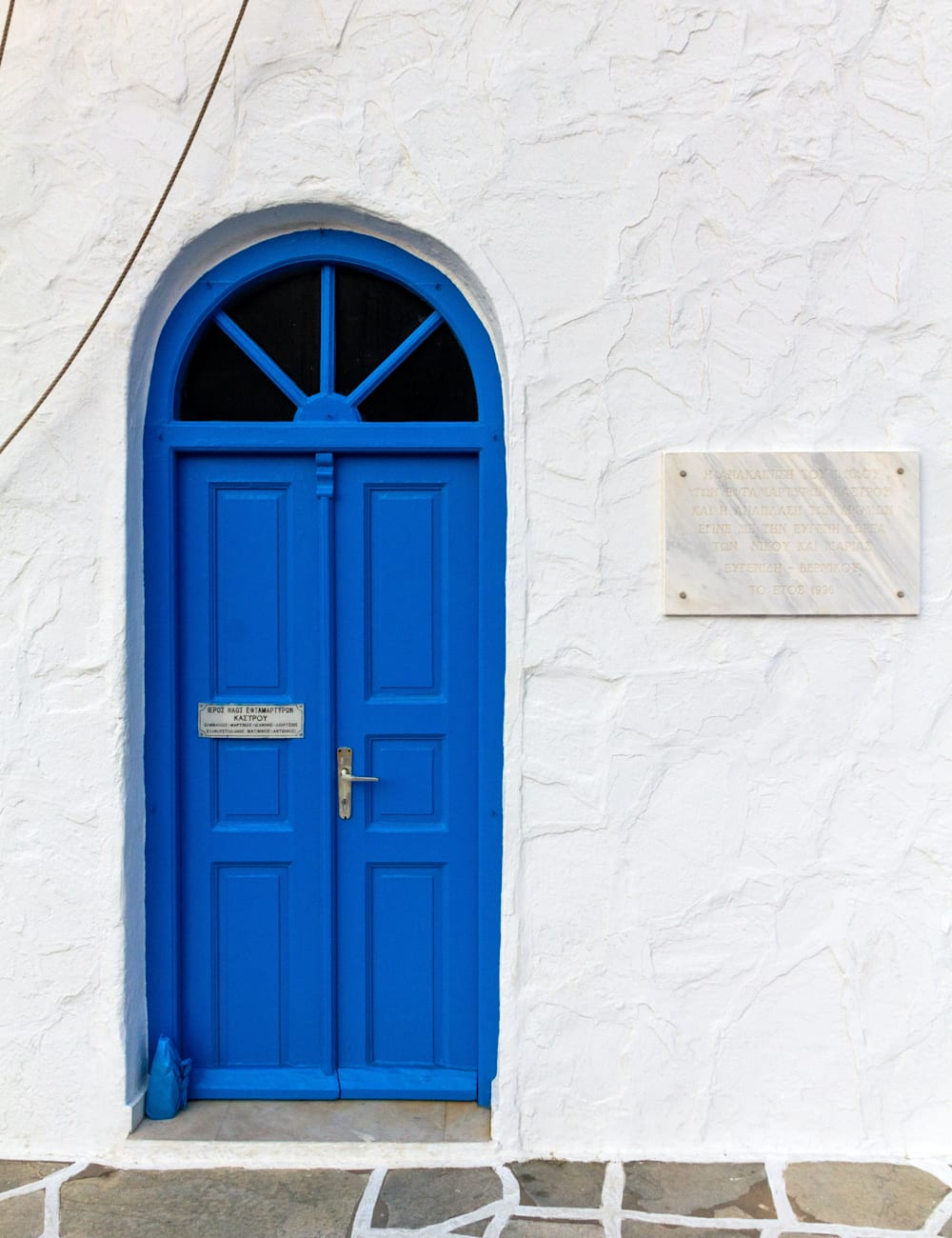 If the way to your heart is through your stomach, make haste for the ferry from Piraeus to Sifnos. Like all its Cycladic brethren, it has a bounty of soaring hills, historic sites and jewel-hued sea views. But Sifnos' real seductive powers lie in its culinary charms.
Local specialties include herbed chickpea fritters, raki sweet with honey and cinnamon, and lamb, wine-soaked and slow-cooked. Succumb to the stomach rumbles – you'll need the fuel for hiking up to mediaeval churches and cloud-skimming villages.
Over on the island's eastern cliffs, boutique stay Verina Astra has only amped up the star quality of the local food scene. At fine-dining spot Bostani, the traditional cuisine's rustic edges may have been refined, but produce is still pulled from the hotel's veg patch and local farms, and daily specials depend on what caught the chef's eye at market that morning.
Moving after a meal is entirely optional here – you'll get all the Aegean views you need from your private terrace or the vertiginous infinity pool, anyway.
Tinos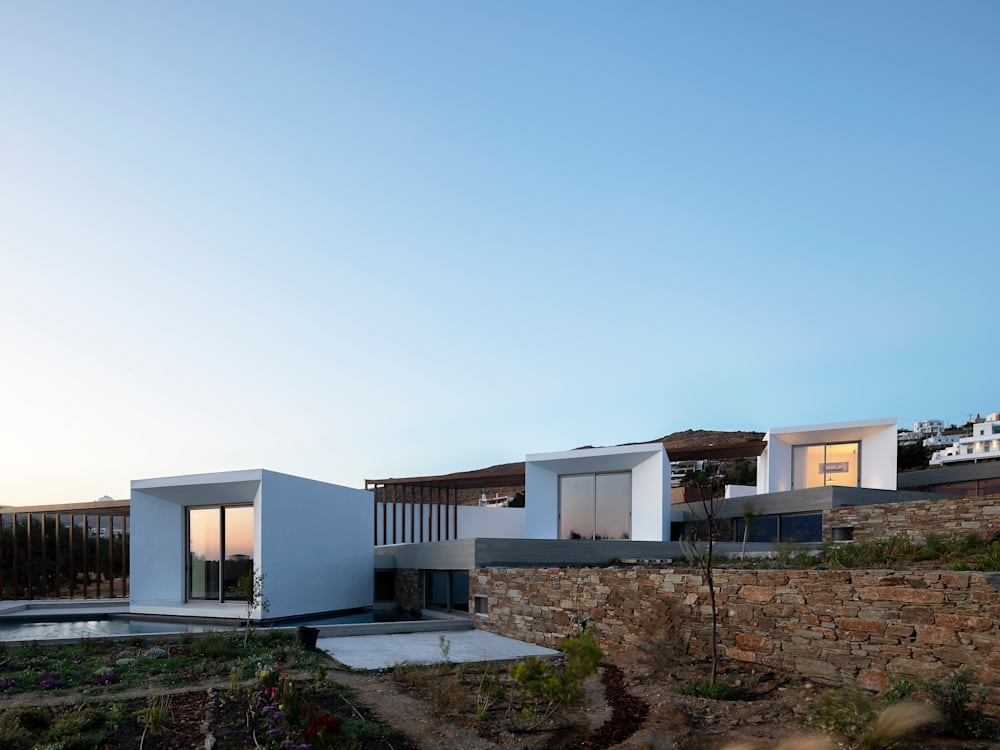 If the sound of the handmade island has you reaching for your reusable tote in anticipation of artisanal treasures, there's good news and bad news.
Tinos' crafty epithet comes mainly from a centuries-long love affair with marble. On sun-scorched afternoons, villagers splash themselves in sculptural fountains and cats laze under delicately carved doorways. Other island specialties – intricate dovecotes and dry stone walls – are equally tricky to take home.
But all hope is not lost, souvenir hunters. The island's capital is the place to get your hands on all manner of goodies from local craftspeople – folksy floral ceramics, hand-woven cloths, even (if your luggage weight limit will allow) your own marble masterpiece.
In even better news, the three private villas at boutique stay Pnoēs Tinos each feature handcrafted furniture and local art. All three also have a private pool and a hammam-style bathroom (stocked with artisanal island-made soap, of course). If you find yourself tiring of wafting around the gardens, munching fruit straight from the trees and picking herbs to season your supper, the black-and-gold sands of Agios Fokas beach are just five minutes away.
SARONIC ISLANDS
In a sheltered gulf between Athens and the Peloponnese (and reachable by ferry from Piraeus in under three hours), the Saronic Islands have long been a favourite weekend spot of city-fleeing Athenians. Soulful communities, slow living and some of Greece's most spectacular wild swimming spots – don't spread it around, but we'd say they're onto a good thing.
Hydra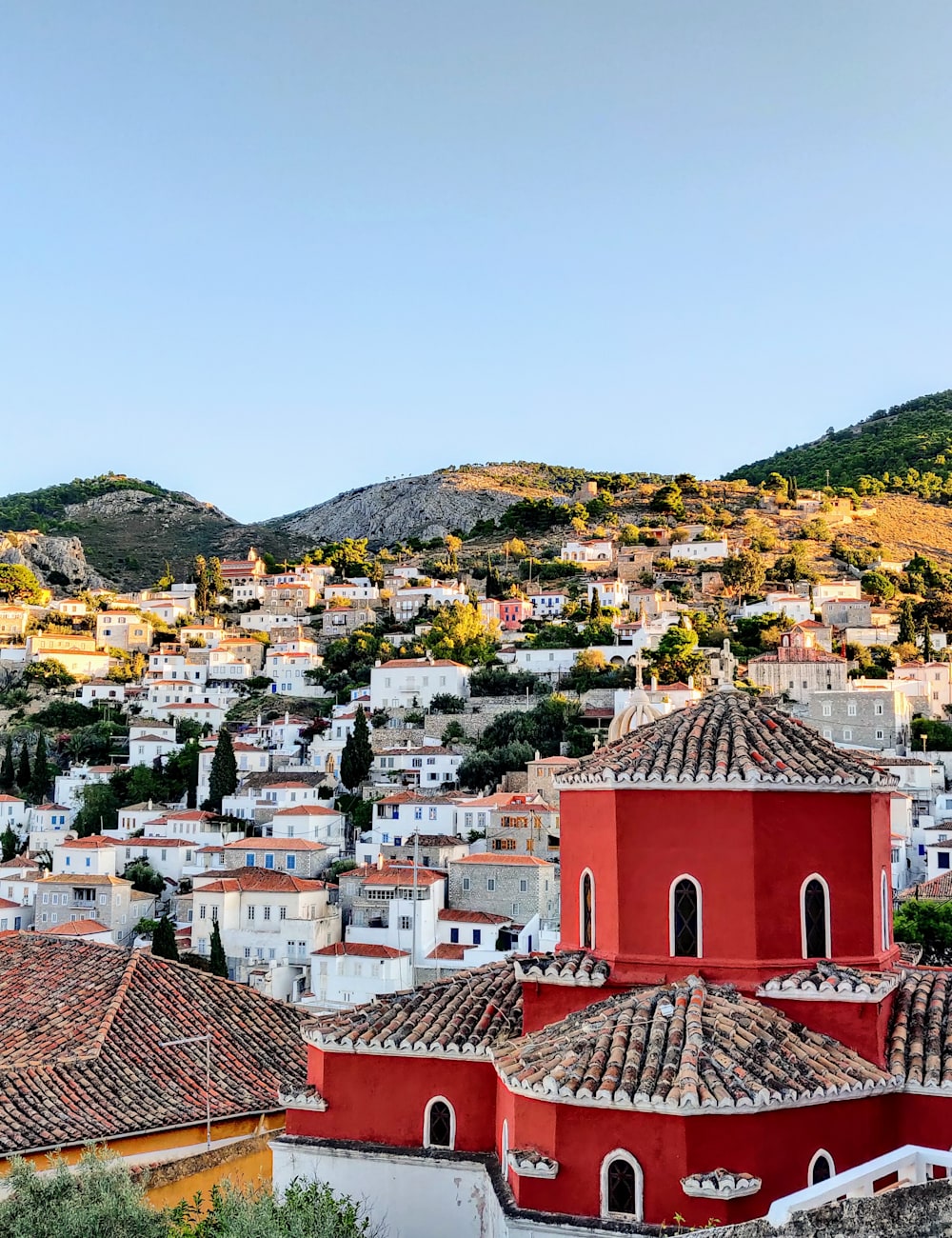 In its days as a sixties artists' enclave, tiny Hydra went tête-à-tête with Marianne for the title of Leonard Cohen's most winsome muse. Today, the sense of bohemian sanctuary is just as strong, thanks in part to strict preservation rules – no cars, no high rises and no airport (the ferry from Piraeus in under two hours).
From the harbour town, follow cobblestone streets up into the hills to sleepy villages full of prettily painted cottages, sun-dozing cats and, if you can find it, a miniature door concealing a collection of local poetry. On the coast, pine-scented coves and crystalline waters await; ambitious hikes and cliff-face swimming platforms offer higher-octane kicks. Otherwise, settle in a sea-facing square, tsipouro in hand, to watch the fishermen haul in the day's catch as the sun sets – hallelujah, indeed.
To secure your spot on Hydra's only sandy beach, make for Mandraki Beach Resort. This 19th-century naval base is now home to 17 steps-from-the-sea suites, each with period details. With a seafront sushi restaurant, a massage therapist on speed dial and a sunlounger with your name on it on the shore, this is the sort of stay worth waxing lyrical about.
Spetses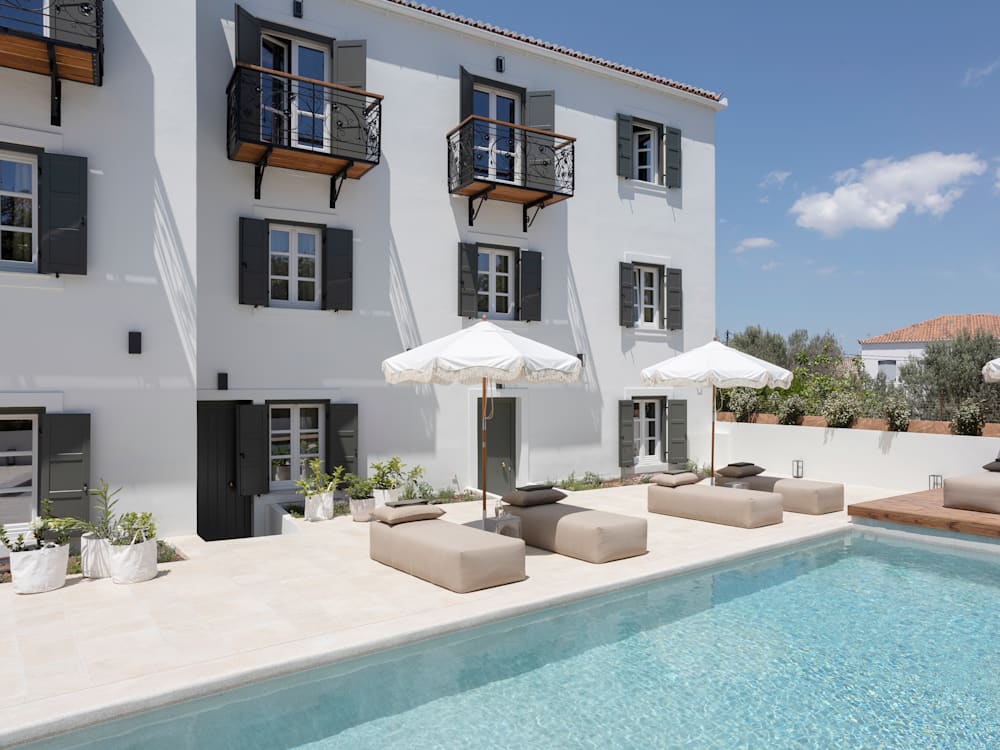 Sipping Greek coffee by the water in Spetses' eponymous harbour town, a severe case of yacht envy is inevitable. A short sail from the capital, this exclusive island has long been a favourite weekend getaway for well-heeled Athenians. Luckily, recovery lies in a few therapeutic purchases from the town's luxury boutiques. Past sunset, candlelit dinners and starry strolls round the old harbour soothe any remaining jolts of jealousy.
To escape the city jetset entirely, strike out west on e-bikes to the island's end-of-the-earth beaches. A pine copse abruptly gives way to soft golden sands at Agia Paraskevi, and just down the coast truly dedicated do-not-disturbers can swim through Bekiri Cave to reach a tiny subterranean beach.
If the words 'plant-based' and 'private yoga studio' set your wellness-influencer alarm bells off, relax. It's not for nothing that wholesome hotel Yayaki Spetses takes its name from the Greek word for grandmother. Home-cooked meals, poolside cocktails and picnics packed by the owners send this wholesome stay's feelgood factor through the roof. And if it all happens to be actually good for you too, so much the better.
DODECANESE ISLANDS
Try saying that three times fast after a few sips of tsipouro. Tucked between the Cyclades and the coast of Turkey, these islands are teeming with archaeological intrigue and eastern architectural influence. The nine-hour ferry from Piraeus is not for faint hearts or queasy constitutions, but seasonal flights from Athens mean the archipelago is all set as a summertime rising star.
Astypalaia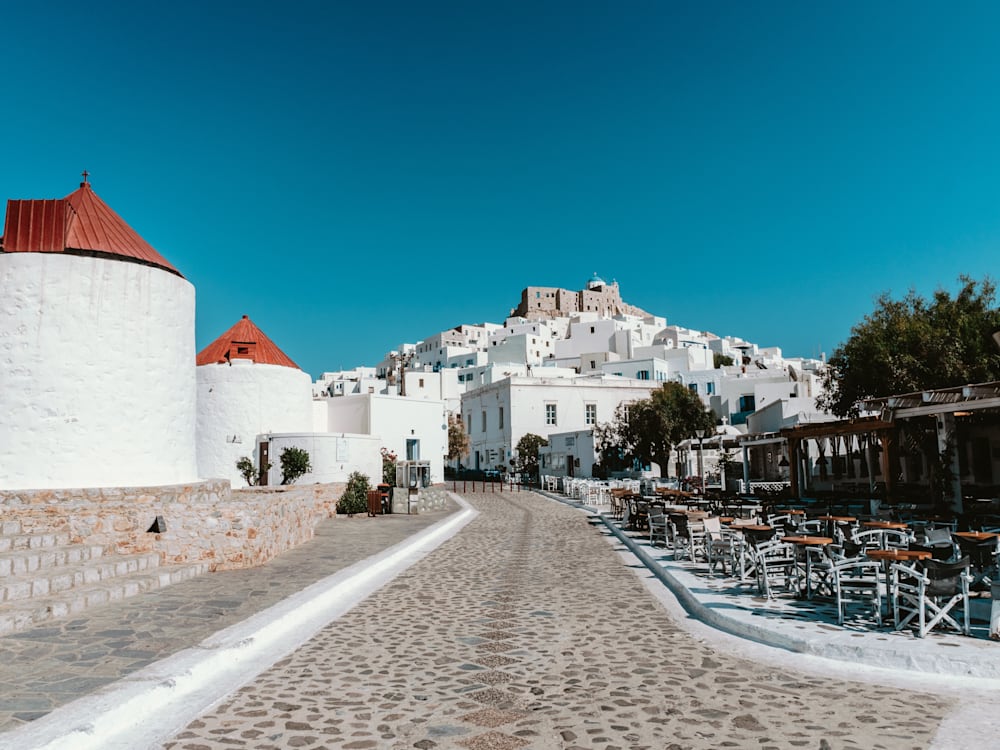 At the risk of sounding insufferably hipster-ish, Astypalaia is like Santorini before the Instagram hype set in. Quiet whitewashed villages, awash with cobbled alleys and cornflower-blue domes, – come on, the comparisons all but draw themselves. The parallels persist in pretty beaches and crystal waters .
But the island has its own distinct character in the sea-jutting old town, where Cycladic-style sugar cubes climb the hill to the 15th-century Venetian castle. Come dusk, when the castle is lit gold against the darkening sky, you'd be forgiven for making yet another clichéd comparison – like this, Astypalaia could have been pulled from the pages of a fairytale.
Like an induction from a laidback local, Saluti da Stampalia Suites eases you into Astypalaia life at your own pace. Here, life is slow and pleasures are simple: breakfasts of fresh-picked fruit and local thyme honey; paintings by Astypalaian artists; views across the deep-blue bay to the castle beyond; and, when you're ready to fledge the nest, a map to keep you on the cobblestoned straight and narrow.
THE PELOPONNESE
Just a few hours' drive from Athens, the Peloponnese has seen several civilisations' worth of action and has the historic sites to prove it – Olympia and Mycenae, for starters. Inland, expect idyllic scenes of goatherds and olive groves, whitewater rivers and verdant mountains crowned with monasteries.
Where the three peninsulas stretch finger-like into the Med, think more quaint fishing villages and classically beautiful beaches; the further south you venture, the more fellow sun-seekers you'll shake off.
Arcadia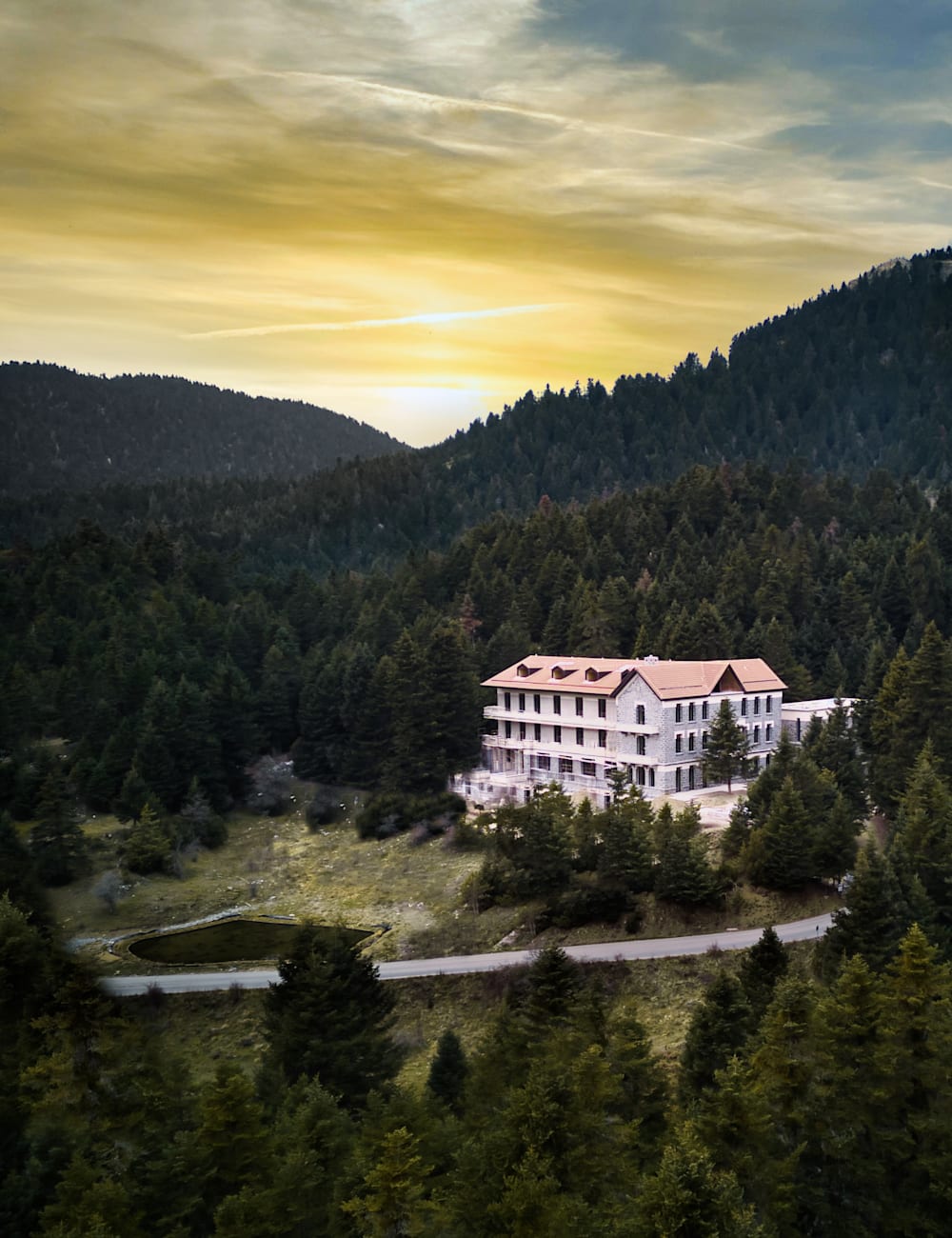 When writing about Arcadia, it's best to at least try to avoid going OTT on the utopian terminology. But look, they don't go making places synonymous with paradise willy nilly, and the region's mist-swirled mountains, lush valleys and ancient fir forests make a pretty solid case for its rep as a pastoral idyll. In Pan's playground, you'll find mediaeval castles, Byzantine towns, and Hellenic ruins to explore.
At deep-in-the-forest retreat Manna, Dionysian delights await – namely, a sumptuous spa, gourmet Greek restaurant and, naturally, an overflowing wine cellar. There's a lounger-lined lily pond and a swimming pool sequestered away in a cave, too, in case you fancy floating nymph-like in Arcadia's clear spring water.
Gerolimenas
If so far you've been feeling patronised by all the convenient ferries and couldn't-be-simpler direct flights, gear up for a real challenge. To reach Gerolimenas, right at the fingertip of the untamed Mani Peninsula, you'll fly into Kalamata, then find yourself some wheels for a two-hour drive. Outside the season, it's a flight to Athens followed by four hours on the road.
We'll spare you the schmaltz of saying the real joy is in the journey. But cruising along the coast, past the dramatic Caves of Delos and through lively Aeropolis (with a pit stop for the specialty suckling pig) surely beats staring at the back of an aeroplane seat.
And when you roll into Gerolimenas, the rewards for determined travellers are simple but sublime – lapis-blue sea, plenty of sun and proper, unparalleled peace and quiet.
Once a historically significant fortress, Kyrimai Hotel is now a stronghold of solitude. There's a sea-gazing pool, a stone jetty made for sunbathing and an award-winning restaurant, where the daily-changing menu depends on the fishermen's haul.
EPIRUS
Perhaps its the relative faff of reaching Epirus, in Greece's northwest corner, that's helped clued-in holidaymakers keep the region under wraps for so long. In summer, international flights touch down in the town of Preveza; otherwise, it's a flight to Ioannina or a five-hour (but frequently scenic) drive from Athens.
Let's keep it on the down-low, though, because this unspoiled slice of Greece has so much star potential it makes packing something of a problem – you'll need sensible togs for hiking the pine-clad highlands, something chic and floaty for the Amalfi-esque coast. The solution? Another suitcase, and an oath of silence.
Epirus Coast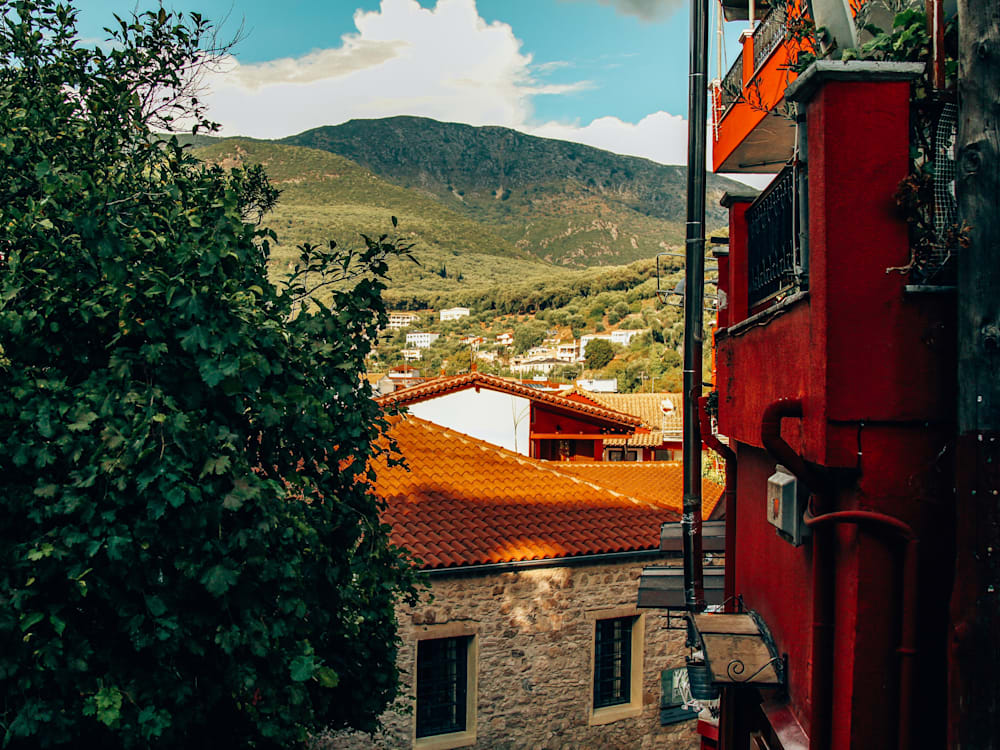 Here be sirens, according to Homer. You can scoff, sure; all we'll say is that the Epirus Coast has been called Greece's answer to Amalfi, so if your mini-break somehow stretches into a month-long stay, don't say you weren't warned. Beyond a bounty of beaches – including the longest sandy stretch in Europe – offshore temptations for adventurous sorts include sailing, snorkelling and swimming out to uninhabited islands.
The Riviera comparisons fall into place in towns like Parga and Preveza, where Crayola-coloured houses cascade down the hillside to the sea and life moves at a more stately pace.
Ten minutes outside Preveza, Meraviglia Slow Living takes this sedate rhythm and, well, strolls with it. Aris Tzimas, the local builder behind the luxury stay, took two decades to formulate his vision.
But good things come to those who wait – specifically, it turns out, seven stylish suites, each with a private pool and sweeping sea views, plus decadent brunch spreads delivered straight to your door.
Metsovo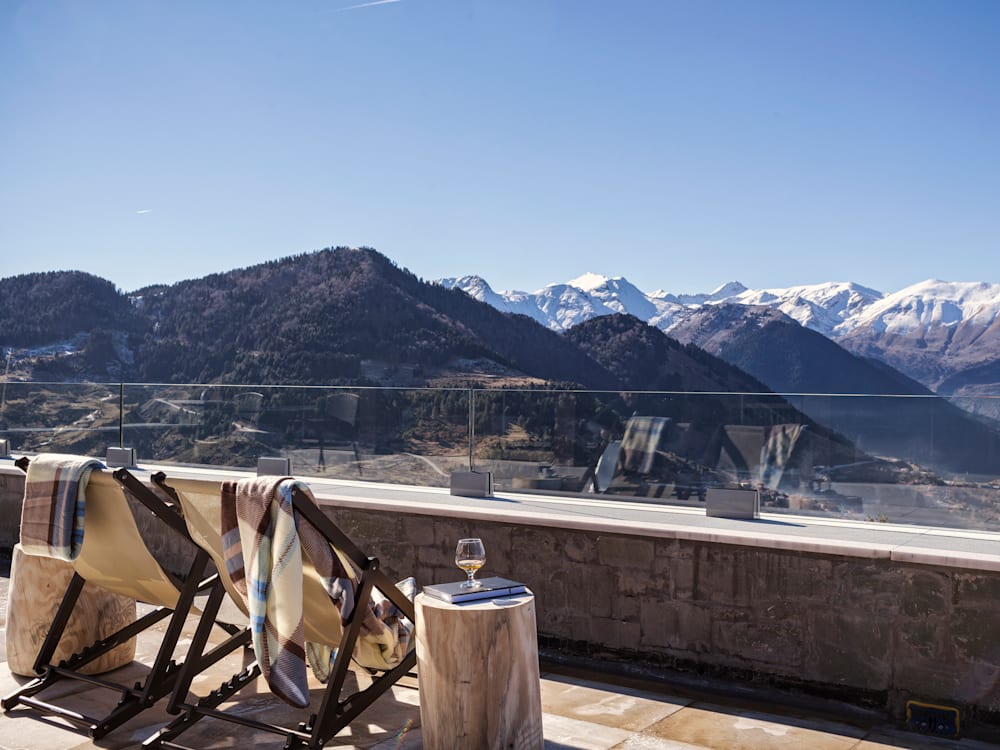 If you feel something a little magical about Metsovo, it's not just the altitude going to your head. High among the misty peaks of the Pindus mountains, with cobbled alleys weaving through clusters of traditional stone houses, the town scores pretty high on the storybook scale.
Dense pine forest, where brown bears, wild cats, wolves and eagles roam, only ups the once-upon-a-time factor. An induction into the centuries-old local culture kicks off at the folklore museum, followed by a lingering taverna lunch of the town's specialty smoked cheese and red wine.
Grand Forest Metsovo more than makes hay of its mysterious setting. Suites are decked out with moody dark wood and hand-woven textiles from the town's artisans, and foraged goodies find their way onto the menus in the restaurant and spa alike. Make no mistake, though; the main event here, whether viewed from the rooftop infinity pool or your private terrace, are the miraculous mountain vistas.
Ready to embark on your odyssey? Explore our complete collection of Greece hotels
---
Amy Martin is a writer, actor and travel buff, based between London and Cornwall. When she's not lurking around a theatre or scribbling in a notebook on the Penzance to Paddington line, you'll find her at the cinema, on a long coastal walk, or watching Pride and Prejudice (1995 or 2005 is fine).