Before I left for Chengdu, I saw an advert for the city at the airport. It said: 'More than just pandas'. At the time, I wondered why a tourism board would waste money on a campaign that was so clearly unnecessary (You had me at 'pandas' etc).
Now that I've spent the weekend in Chengdu's Qing Cheng mountains, I understand. There are indeed a plethora of reasons to visit this region, none of which come quickly to mind when you think of China.
Mr Smith and I are expecting a baby and this trip was our last chance at a babymoon. We're not usually the types who would settle down for an entire weekend in a spa hotel, but given my restrictions on physical activities, Six Senses Qing Cheng Mountain looked like a good fit. We arrived on the weekend before National Day, a major public holiday, and were greeted at the airport by the hotel's car service – an immaculately kept Tesla that glided across the freeways while we munched on free fruit in the back.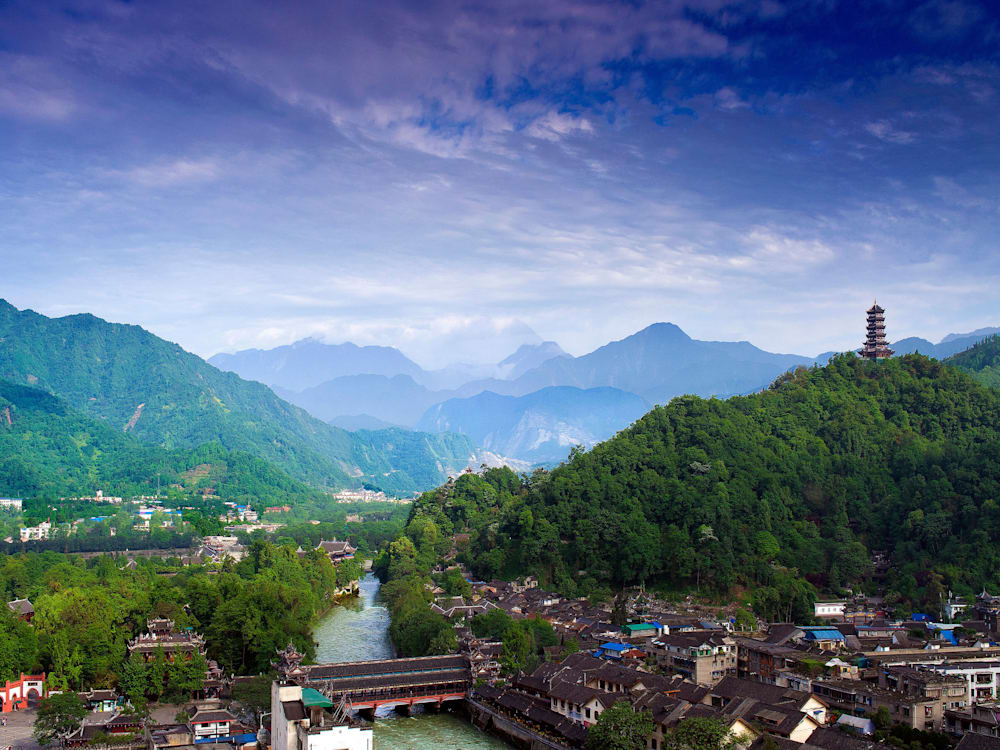 Given our relative newness to travel in China, and the distance of the hotel from the city (Qing Cheng Mountain is around an hour from the centre of Chengdu), this set the tone for our reliance on the hotel's services. On checking in, we were introduced to the incredibly friendly guest services team, who were keen to fill us in on the hotel's many facilities. We were told that, should we ever tire of walking, we could call a buggy at any time to take us any distance across the grounds, no matter how short. We got used to this quite quickly.
Facilities-wise, the hotel has enough to occupy you for several days. There is a beautifully designed spa with an extensive menu, a pool, a cinema, a bar, and an organic farm. There are three restaurants, which make good use of the home-grown produce, and a snack area with free popcorn and ice-cream on tap. This is handy, because there's not much in the local village in the way of food.
The hotel is designed with sustainability in mind, and the rooms are minimalist but spacious. Blessedly, there are no plastic bottles to be found anywhere on site. Our suite was located on a beautiful wooden platform surrounded by bamboo, with a view of the mountain that reminded me of traditional Chinese ink paintings. For the first day, we barely left this comfort zone, finding ourselves unusually relaxed, and wondering how the air in China could be so fresh.
By the end of the second day, we had tried every restaurant, and decided that the best by far is Zi Qi Yuan, serving Szechuanese dishes and a wellness menu. Here we dined on purple taro balls and mountain funghi, washed down with light ales that are brewed locally. Because of the lack of choice in the area, you might expect the hotel to cash-in by pushing their prices up, but the restaurants are surprisingly reasonable. However, you should budget for three meals out a day, none of which will be cheap.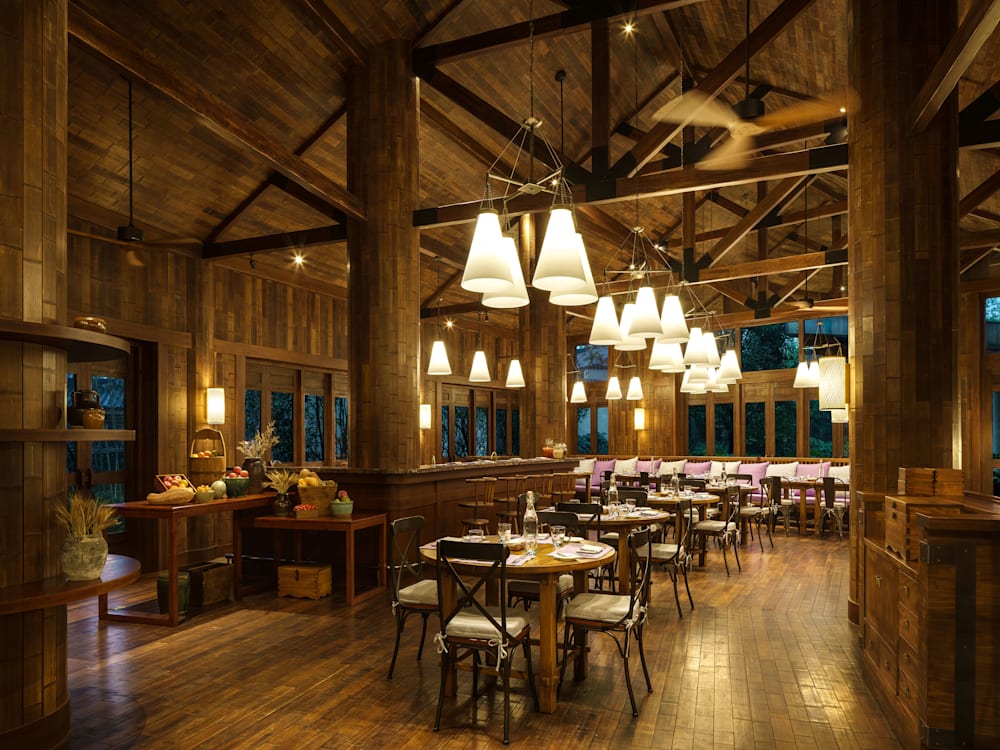 On the third day, having replenished our resources in the hotel, we ventured out of the compound and into the mountains. This began, of course with a trip to the panda park, which was organised by the hotel. They sent a guide, who knew everything about pandas and brought a brilliant extra dimension to the outing. If you wanted to save money, you could go to the park without, but we enjoyed her input (and the included car service).
Later that day, we attempted a mountain hike, and discovered what that advert was trying to tell us. Mount Qingcheng is the birthplace of Taoism, and as we wandered slowly up the mountain, occasional temples and traditional structures would appear in the mists. After a short walk, we reached a lake, and crossed it by ferry to arrive at a cable car, which took us to a temple on a peak.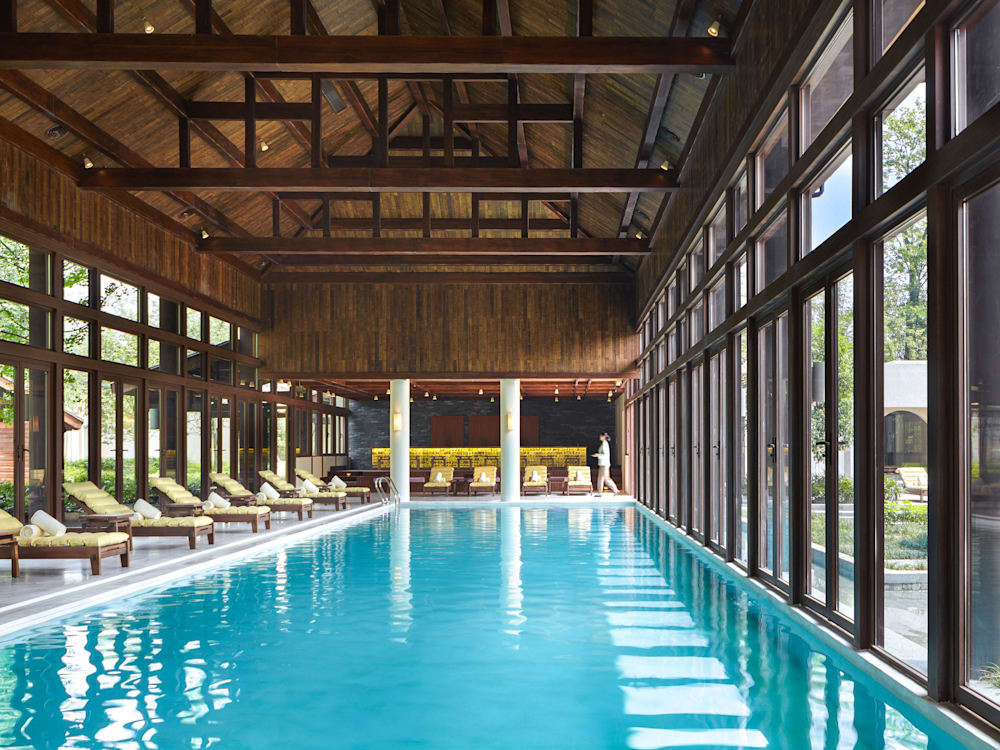 It is one of the most evocative places that I've ever been, filled with poetry and history, and apparently not fully established on the global tourist trail. I recommend you go now, as someone told us that Chengdu is one of the fastest growing tourist destinations in Asia.
By the time we left Six Senses spa, we were fully immersed in the life there. We had become so used to the accommodating attitude at the hotel, that we didn't even take precautions for rain, assuming that, if we got caught out, someone would instantly bring us an umbrella and a buggy. I decided that this must be what it felt like to be a Royal. I was convinced that the hotel staff were not just doing their job, but must really, really like us.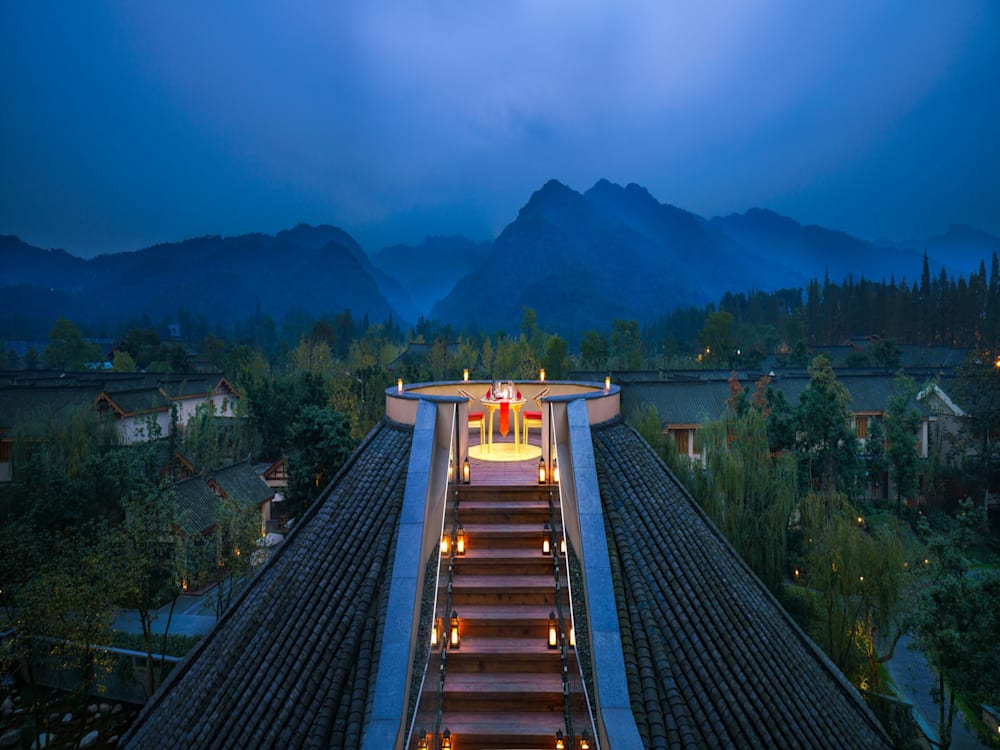 And, yes, I was laden with panda merch, but our experience was about much more than even those cute, remarkable, oddly inefficient celebrity animals. On the plane, I asked Mr Smith what he would miss most about Qing Cheng Mountain. 'Our friends' he replied.
We respected them so much, we didn't even steal the toiletries from the bathroom.
This review was first published in 2019 so some hotel details may have changed
---
As a culture writer, Emma has penned pieces for the likes of The Guardian, Vice, Wired and Channel 4. As Emmy the Great, she's released four acclaimed albums, collaborated with the likes of Dev Hynes and Fatboy Slim and composed music for radio, TV, film, gaming, and theatre.