Palaces and forts are in no short supply in Rajasthan – dubbed India's 'Land of Kings' after the days when rival dynasties ruled each of the state's major cities. Today, you can trawl the honeycomb halls of Jaipur's Palace of the Winds, survey the Thar desert from the red sandstone ramparts of Jaisalmer Fort and sail past the white marble pleasure palaces of erstwhile Mewar princes on Lake Pichola, Udaipur.
It's enough to give you delusions of grandeur. So, when it comes to laying your head down after a day's sightseeing, no ordinary dwellings will do. Head to one of the many havelis – lavishly-decorated private mansions built by wealthy merchants or Rajput royals – that have been reincarnated as boutique hotels.
BUJERA FORT, UDAIPUR
Hilltop haven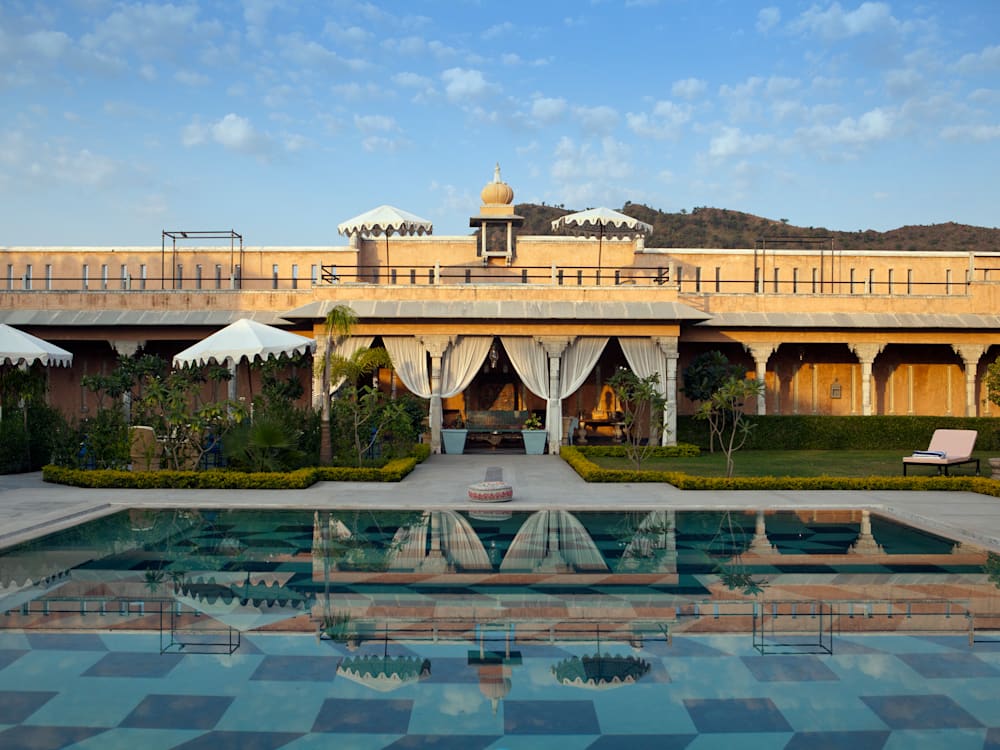 Hard to believe Bujera Fort isn't a centuries-old royal palace, but rather the next-level retirement project of an English chap that dates from, erm, 2015. Richard Hanlon snapped up a scrubby plot five miles outside Udaipur and worked with a local architect and craftsmen to realise this vision of cloistered courtyards, marble-decked suites and onion-domed rooftops.
Testament to his talents in interior design and antique sourcing (he previously worked for both Kit Kemp and Sotheby's), a riotous mix of Indian and Anglo décor fills the rooms. Peep through the reclaimed doors and windows to see chintz upholstery, Staffordshire bone china and a grand piano rubbing shoulders with block-printed cotton quilts, silver-inlay furniture and Persian carpets.
The vibe is eclectic country home by way of the bazaar. Mealtimes offer a similarly winning fusion, as the kitchen team whips up wholesome River Café recipes (cauliflower cheese, fruit crumbles) using produce from the hotel's own veg plot.
Although Udaipur, known as the Venice of the East for its watery beauty, is only a 20-minute taxi ride away, it can prove challenging to prise yourself away from Bujera Fort's Edenic gardens.
I spend most of my stay reading on the lawn beneath one of the embroidered parasols, surrounded by mango and citrus trees, surveying the hillsides for any sign of the leopards who apparently prowl the surrounding Aravelli Hills (the only creature I encounter is the affectionate resident labrador, Sadie) and undoing the muscle knots from India's notoriously long train journeys with an Ayurvedic massage and poolside yoga lessons.
After dark, when the temperature drops, guests gather around the roaring bonfire for G&Ts and return to find a hot-water bottle has been slipped beneath the covers of one's stately four-poster bed.
RAAS JODHPUR
The urban aristo
Right in the heart of Jodhpur's old town, local brothers Nikhilendra and Dhananajaya Singh give a masterclass in how to convert a storied haveli into chic pied-a-terre: Raas Jodhpur. Look for subtle contemporary interventions like the Le Corbusier-esque white extension peeping above 18th century walls. Hand-cut fretwork screens, known as jali, cast patterned shadows on cool stone passageways. Archways salvaged from the old stables that stand alongside the swimming pool.
Despite the interiors getting top marks, you'll be excused for getting distracted by that view. This 39-room bolthole has an unrivalled vantage point of Mehrangarh – 'a palace that might have been built by Titans and coloured by the morning sun' as Rudyard Kipling remarked. It means 'fortress of the sun' in Sanskrit and the towering clifftop complex certainly is a dazzling sight.
Arguably, though, it's even better at night, when the looming ramparts are illuminated and a spread of spicy dishes is served up at the hotel's al fresco restaurant, Darikhana. If you like the cut of Raas Jodhpur's jib, remember they have a sister hotel just outside Udaipur and tented camp deep in rural Rajasthan.
SURYAGARH, JAISALMER
Sand(stone) castle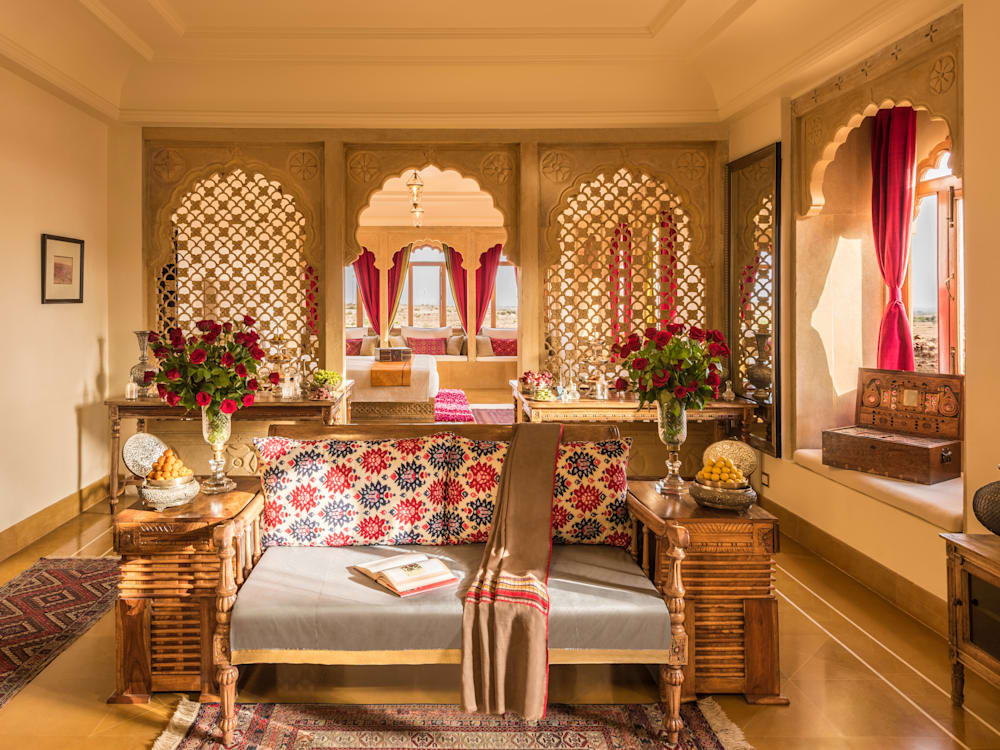 If Disney did Medieval Indian citadels, they'd probably look like Jaisalmer – all spice-scented bazaars and twinkling jewellers' workshops within an 800-year-old, 99-bastioned shell that rises above the dunes.
Like Bujera Fort, Suryagarh occupies a tranquil perch just outside of town (a 30-minute drive, to be precise), meaning it's not confined to the Golden City's labyrinthine lanes but instead sprawls over manicured grounds where peacocks strut around ponds and charcoal-fired feasts are laid out beneath the stars. Archery workshops, yoga classes and Manganiyar folk music performances take place in the gardens, too.
With rooms decked in dusty neutrals, décor nods to the desert setting. As does the blissful sand ritual treatment in the hotel spa, which turns out to be exactly what the muscles require after a camel-riding excursion (clinging to these ill-tempered steads tends to work some underused muscle groups).
THE JOHRI, JAIPUR
Bazaar bolthole
Bowls of marigolds bid a sunny welcome to the Johri: a five-suite urban sanctuary. Nestled within Jaipur's jewellery market, the haveli's history is very much intertwined with the city's gemstone trade – built by the Kasliwal family, who kept Jaipur's maharajahs decked in bling back in the 19th century and run the city's famed emporium Gem Palace.
Still under their ownership, it's won rave reviews from Vogue India and The New York Times since becoming a hotel in December 2020. In large part, that's thanks to inspired interior design by Naina Shah – the New York-based couture embroidery queen, with Alexander McQueen and Gucci on her client list – which manages to be both resolutely Rajasthani and winningly Wes Anderson. We're talking candy-striped upholstery and clever pastel colour-blocking meets vintage pichwai paintings of Hindu deities and a set of chairs carved to resemble tigers.
Each suite is dedicated to a different gemstone and painted in corresponding hues – it's just a matter of deciding whether the sapphires (the powder-blue Neelam suite), rubies (Manak) or pearls (Moti) are more your style. Downstairs, leopards and flamingos strut across the walls of the Pukhraj Lounge, where Jaipur's most stylish residents hold court over similarly photogenic cocktails, like the amber-hued, marigold honey-infused gin Epiphany.
And lest you forget the property's glittering pedigree, the name Johri means 'jeweller' in Hindi.
Continue the grand tour with our complete collection of Rajasthan hotels
---
Estella Shardlow is a freelance travel writer and editor whose work has appeared in The Times, Suitcase, The Telegraph, Food & Travel and more.