'Everyone looks beautiful in Marrakech', Talitha Getty told Vogue in 1970, and she's not wrong. Basking in the Red City's youthful soul – not to mention its 300-plus days of annual sunshine – is a foolproof route to glowing good looks. But feeling your best? Well, getting waist-deep in a large body of water works well for us. We've scoured the piscine-scene for Marrakech's best riads with pools; each one them worth splashing out for…
RIAD ANTARA
Medina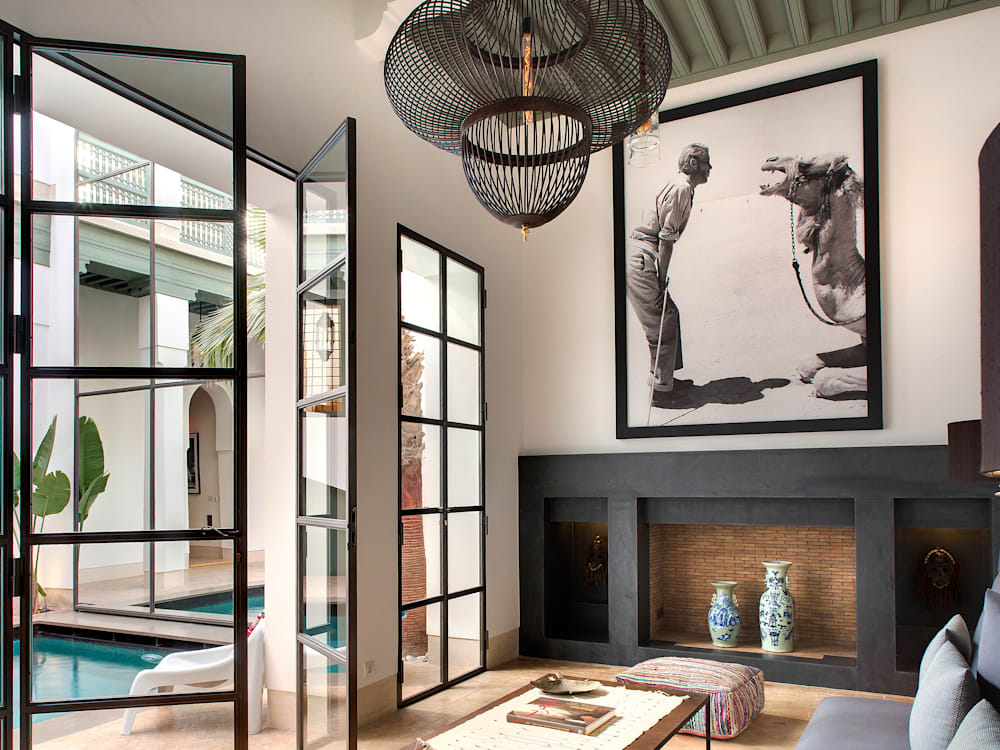 Cool, calm and collected, Riad Antara has all the hallmarks of a chic Parisian play pad. That said, its Moroccan roots are strong; once a residence of the Saadian dynasty, its modern iteration is just as regal with soaring ceilings, a grand courtyard and terracotta rooftop terrace from which to top-up your tan by day and stargaze by night.
It's hard to believe you're just a stone's throw away from the bustling souks of Medina, such is the pin-drop peace you'll encounter in each of Antaras' beguiling boudoirs where Pantone-approved palettes of sage cosy up alongside bold dashes of red or yellow, funky zellij flooring and oversized, statement artworks to strike the perfect balance between the pared-back and un peu trop.
And, swimsuits at the ready; the solar-heated pool looks like something straight from a Hockney painting, with a mirrored wall which gives the impression of endless space, as well as being (we know you were thinking it too) a jolly good opportunity for a mid-splash selfie.
PALAIS RONSARD
Palmeraie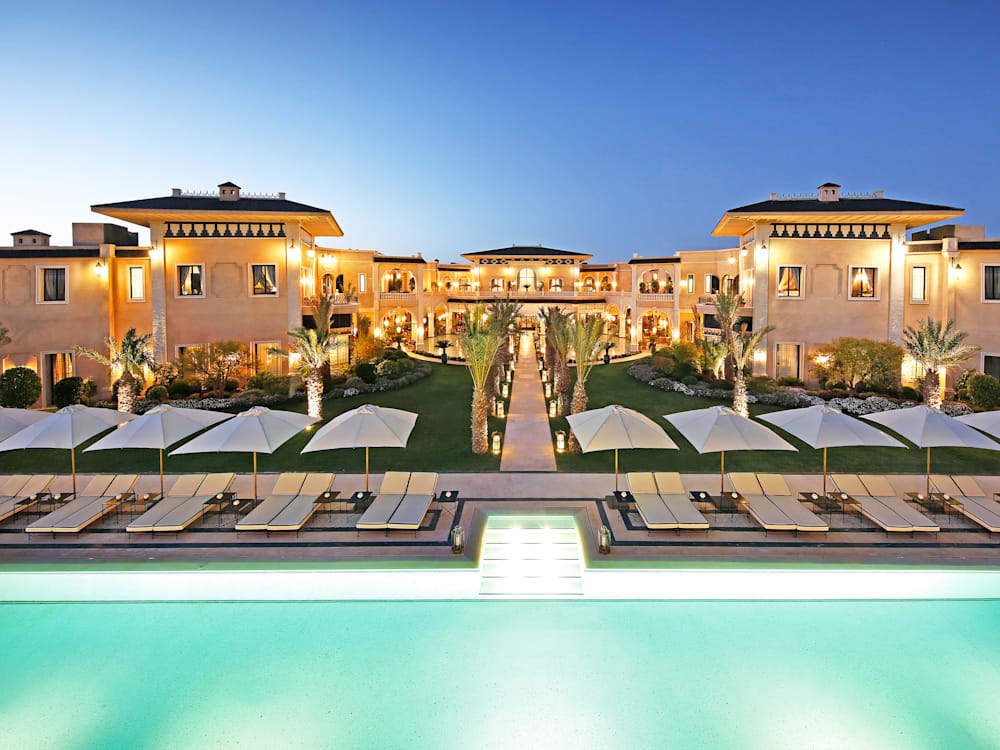 While Palmeraie's five-mile stretch of palm trees (planted by the Almoravid dynasty in the 12th-century, don't you know) may be woo-worthy, it's also incredibly dry. Not so at Palais Ronsard, though, where you'll never be far from a pleasingly large body of water.
The lengthy outdoor pool sits within rose-scented gardens, with paired-up loungers and, crucially, parasols (the city might be red but you don't have to be); the satisfying symmetry of the 1930s art-deco mansion is amplified with the addition of a decorative circular pond and – good news for Brits who can't say no to a bath – come with a sizeable marble or freestanding tub.
Interiors are a Neo-Moorish-Italianate mash-up straight from the imagination of French designer Gil Dez, who's gone full-throttle with hanging lanterns, potted plants, rich textures and whimsical objets d'art.
The duet of restaurants are each a triumph of all-Moroccan fare, with al-fresco seating under colonnaded galleries and seasonal produce plucked straight from the gardens, which, with centuries-strong olive trees and views to the Atlas Mountains, make a fine, and fragrant, spot for a post-plunge potter.
THE OBEROI MARRAKECH
Annakhil
Arches! Tassels! Patterns! Marble! The Oberoi Marrakech does not hold back when it comes to decor, and frankly we're glad of it, after all, there's nothing like a tad of unfettered opulence to dust off life's proverbial cobwebs. A decade in the making, the kingly hotel is set on an old citrus and olive farm at the foot of the Atlas Mountains, giving it the monopoly on food-for-the-soul views of those jagged, snow-capped peaks.
For all Oberoi's giddy excess, it's superb display of the country's finest craftsmen; mashrabiya latticework, hand-painted zellij tiles and a palatial courtyard with intricately carved wall details that echo those of the 14th-century Ben Yousseff Medersa.
Superlative though it may be – and, we don't say that lightly, as well as a 790-foot-long canal that cuts through the Madison Cox-designed gardens like an aquatic runway, you'll also find the Ayurvedic spa serenely set on its own private island – here, it's modest thrills that win out (well, as modest as you can be in a mammoth marble palace), namely splashing away in the palm-flanked pool as the sun puts on a show.
P'TIT HABIBI
Medina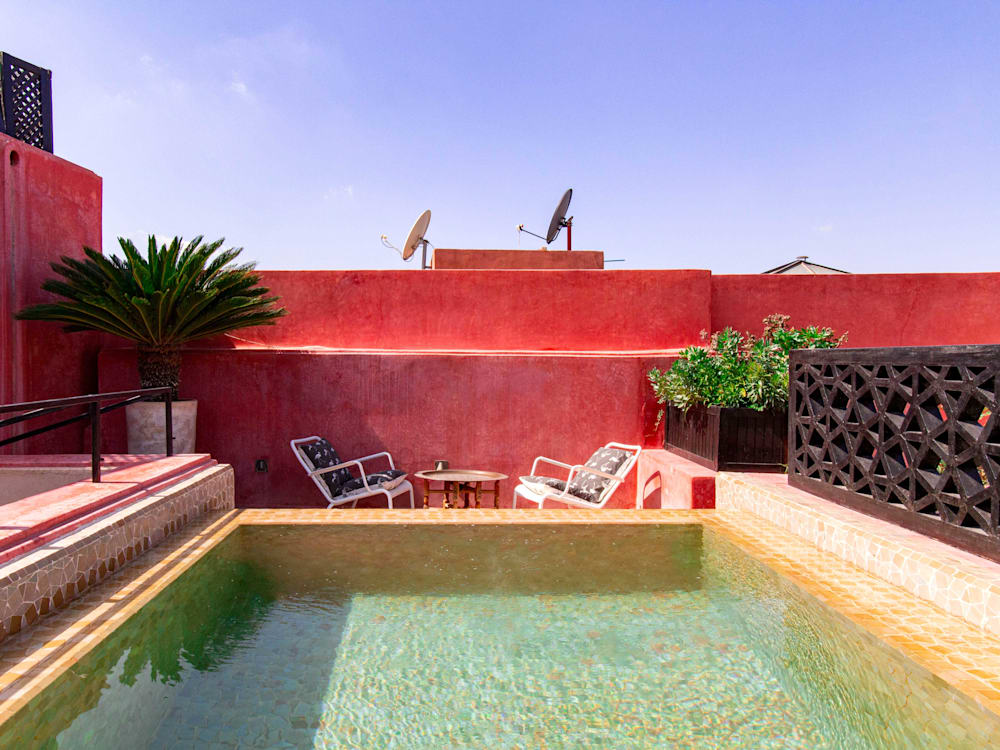 It's fair to say P'tit Habibi feels less like a hotel and more like a house. The house of, say, a style-conscious Swedish couple plucked straight from the 1960s with a penchant for all things swinging.
Brimming with mod-orange florals, mirrored tables and vintage French film posters, the design of this pint-sized boutique stay is chock-full with bohemian appeal and leans discerningly into the mythology of sixties Marrakech, where rock'n'roll heavyweights like the Beatles and the Stones, exiled scribes such as Burroughs and Bowles and a whole flock of jet-set gypsies where lured in by the city's 'anything-goes' attitude.
Speaking of 'anything goes', have you ever brushed your teeth in front of an alien? Because you can here, if you book the Wangarata room with a Space Invaders mirror.
Thankfully (for some, at least), it's not all so far out; the riad's traditional streak prevails among the zellij tiled floors and headboards, Boujad rugs, classic central courtyard (where movies are screened on outdoor projector), and up on the rooftop where one can enjoy the other cinematic moments of the Red City from the bubblegum pink poolside.
MAISON ANAROZE
Medina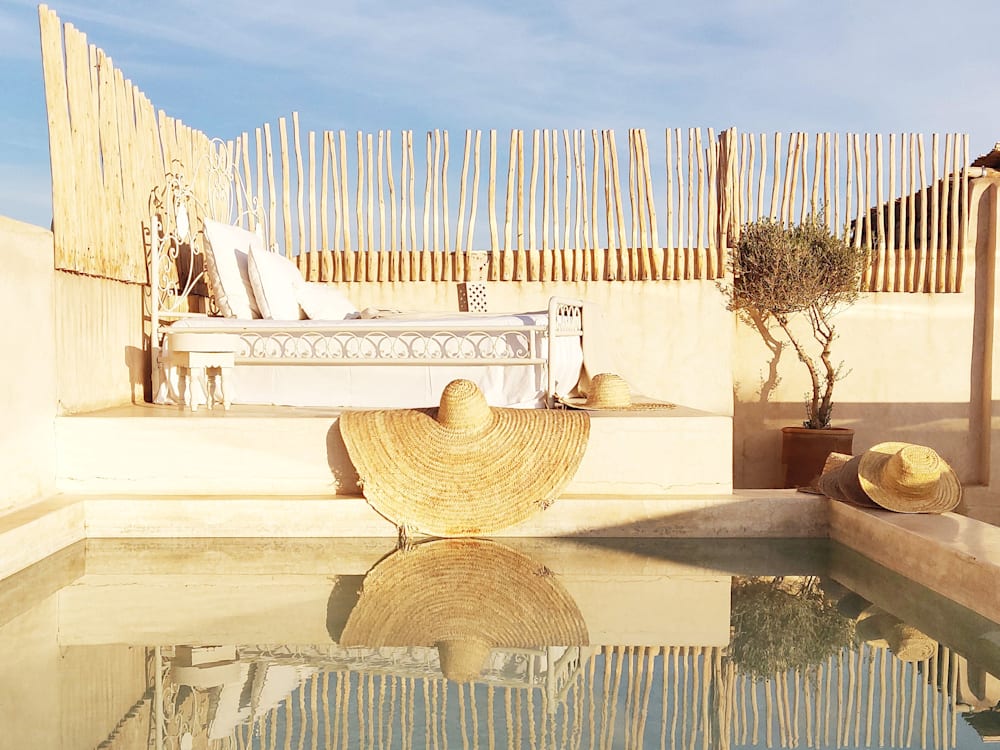 Minimalists, listen up. Maison Anaroze is a bone-white, beach-inspired haven in Medina's urban heart where grown-ups (sorry kids, you've never been that great with a white surface) can treat themselves to some well-needed rest and relaxation.
Or at least, that's the idea. But with nine Berber-style rooms, this exclusive-use stay can sleep up to 18, and we all know what happens when you get the gang together… So assuming you'll bring your yoga pals instead, your itinerary might include morning meditation, spa treatments, afternoon siestas on a cloud-like day-bed and evenings spent deciding, once and for all, who can do the best crow pose.
Though if a few of your more unruly friends do manage to sneak their way onto the guestlist, there's three pools for cosplaying your unfulfilled spring-break fantasies, a mixologist-for-hire to help you, and a private chef who can rustle up refined banquets under the stars for when you remember that you're actually 35.
KSAR KASBAH & SPA
Medina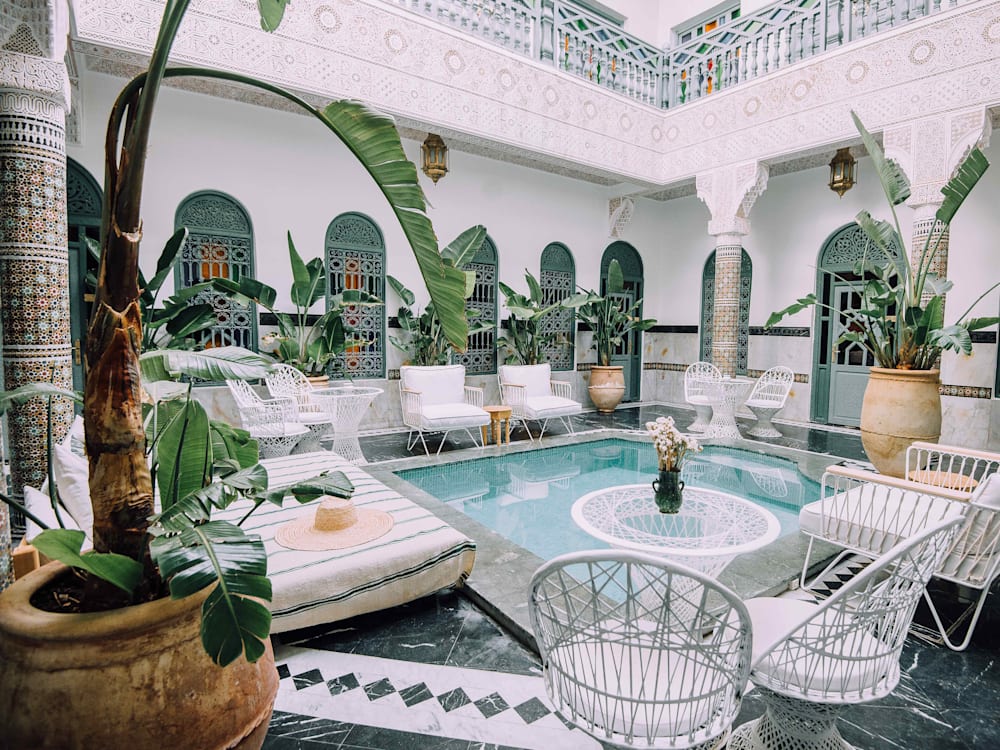 Crouched down a blink-and-you'll-miss-it Medina backstreet, from the outside, Ksar Kasbah & Spa is nothing to write home about, a unremarkable wooden door among other wooden doors. But, as the age-old adage goes, it's the inside that counts, and behind this wooden door Ksar does not disappoint.
Just ask the hotel's cooler-than-though clientele who you'll find filling up their Instagram feed with snaps of the rainbow-coloured stained glass windows and fluffy homemade pancakes. Rooms keep things simple, but are replete with one-off flea-market finds like Berber rugs and Tuareg mats that give them an air of authenticity.
Ksar's communal spaces are what really get us ticking, though. Take the rooftop lounge, where dusk-coloured kilim cushions make the perfect perch from which to soak up the sights (Medina's terracotta rooftops) and sounds (the sunset call to prayer) of the city from above, or the lush green courtyard where the pretty tiled pool is positively splashing.
RIAD SAKKAN
Medina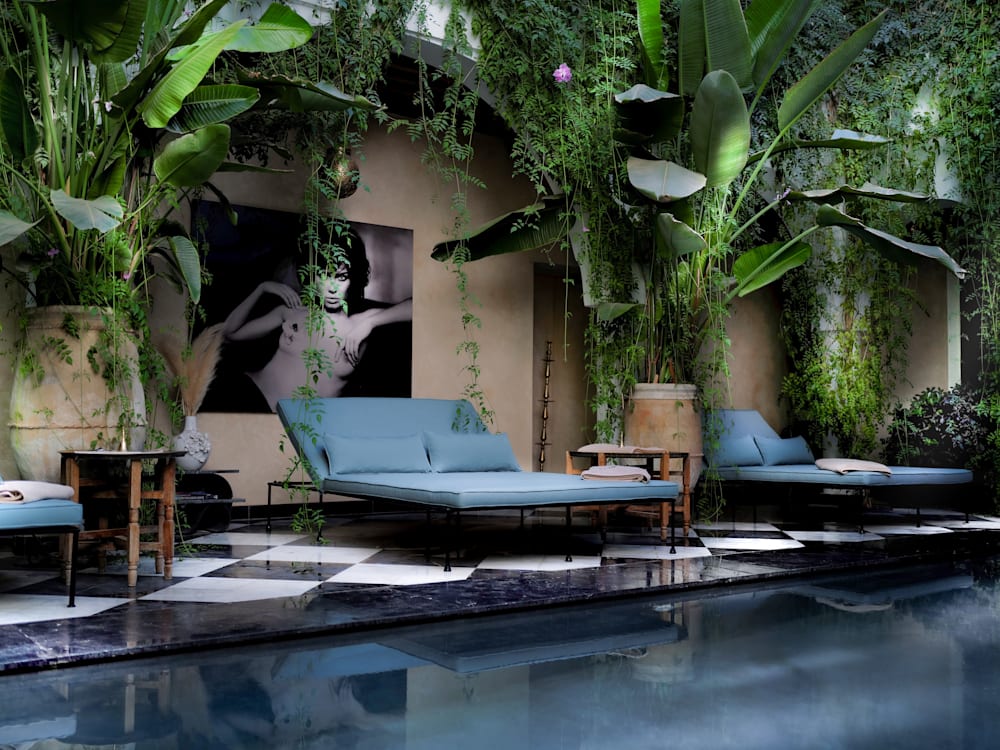 Talk about bringing sexy back; Riad Sakkan is a red hot stay in the hot red city that's got us feeling, well, a little flushed if we're honest. Don't worry, though, in the courtyard garden's enticing oasis (checkerboard floors, cloudy dust-blue day beds, and climbing plants snaking up the walls) there's a generous pool from which to cool off at – provided, that is, you avert your eyes away from Marc Lagrange's provocative black-and-white photos of brooding, bouffanted models seductively scowling into the camera.
Though intimate, rooms smoulder with sex appeal, some painted defiant tones of charcoal, crimson, some with equally smouldering fireplaces, or luxe leather floors.
Some even have portraits of old snake-hips himself framed above the bed (hey, Mick). What unites them is drama, and you'll find plenty more of that up on the rooftop where aphrodisiacs like candied apricots are dished out amid magnificent city views. Architecturally traditional but delightfully avante-garde, this is one Moroccan temptress that keeps us coming back for more.
Feeling refreshed? Dip your toe into all of our other hotels with swimming pools